A Literary Long Weekend in Los Angeles
A Bookish Visit to the Land of Bukowski and Didion...
To celebrate our partnership with Kimpton, enjoy 20% off their Best Available Rate. Cozy up in your hotel room with one of our seasonal book recommendations, or venture out on a book lovers' travel itinerary.
Los Angeles still comes to mind for most as a place of palm tree-lined streets, movie stars, and perhaps, a cultural wasteland. In a vastly diverse city of millions, those images have their space, but there's room for so much more. If you find yourself in Los Angeles for a weekend, there is plenty of literary tourism to embrace. It's a city not only written about, but written in, so there are landmarks a plenty. So much so, that I'm confining this weekend to the Eastern sides of Los Angeles.
Friday: Downtown
Start the day downtown, as I do. I suggest making a stop in Grand Central Market, to see the way that new commerce and old mainstays coexist in this rapidly redeveloping neighborhood. After you're sufficiently fed and caffeinated, it's time to take a walk around the neighborhoods of John Fante and Charles Bukowski.
Thanks to the constant rebuilding and revitalization of downtown Los Angeles, John Fante's Bunker Hill is long gone. It's now full of high rises and recent redevelopment, unlike the Victorian houses of Fante's Ask the Dust and Dreams from Bunker Hill. The Angels Flight funicular, located across Hill Street from Grand Central Market, used to take residents up to their homes on Bunker Hill. Currently out of operation, you can still see the world's shortest railway before you walk up the hill. The Walt Disney Concert Hall and the Broad Museum are worth seeing, if you have time, before making your way south on Grand Street to the Central Library.
The Central Library was built in 1926, and shows the same sort of hodgepodge of influences that many buildings in Los Angeles bear. Check out the murals depicting the history of California, or any of the exhibits in the galleries in the library. If you're in luck, there may be an event in the LAPL's outstanding Aloud series while you're here, and you can hear a favorite author (or two) discussing their work at the library.
As your afternoon moves along, you can head east to the Arts District. Located a mile east of Bunker Hill and its environs, it's also home to two of Los Angeles's newest bookstores. Hennessey + Ingalls recently opened a new location in the Arts District, and Artbook opened a shop adjacent to the Hauser, Wirth, and Schimmel gallery. For the art book aficionado, both stores are delightful. Well-lit, and well-designed (as any art book store should be), these stores both offer a wealth of visual imagery. Before or after browsing art books, there are beers and snacks a plenty in the blocks surrounding these two shops.
Thus fortified, it's time to head west to a couple spots between Bunker Hill and the Arts District to round off your time downtown. There's one last store to visit, and it's the one I call home. The Last Bookstore is downtown's behemoth of a bookstore. There are two floors of books, music, and art to explore. I suggest visiting our staff picks table to find a title our staff loves, as well as making sure to visit our neighboring galleries on the mezzanine.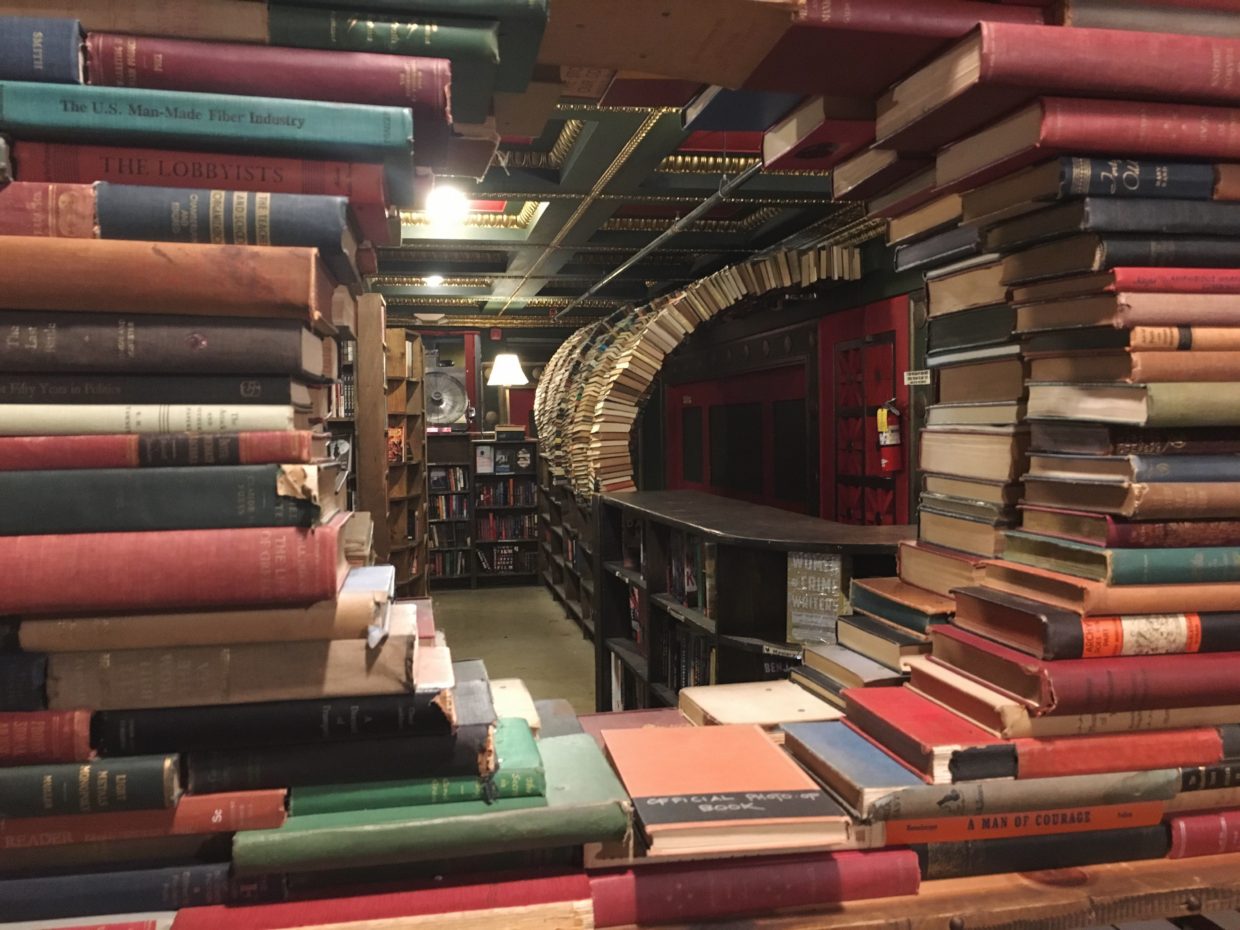 To cap off the night, it's time for one last drinking suggestion. If you don't mind a dive bar, Charles Bukowski used to drink at the King Eddy Saloon, located halfway between gentrifying downtown and Skid Row. If a dive is less your style, head to Cole's on 6th Street. Cole's, along with Clifton's Cafeteria on Broadway, are two of the few restaurants and bars downtown still in service from the days of Fante and Raymond Chandler.
Saturday: Hollywood & Los Feliz
I'm going to suggest something wild for Los Angeles. Spend some time walking today. Get out on foot a bit, so that you get a feel for the city. It's a city of cars, but spending some time walking will be worth it.
Begin the day in Los Feliz, and work your way west. Vermont Avenue is home to Skylight Books, a popular neighborhood bookstore with excellent events and a shy store cat. Their selection is well curated and their space is inviting, with a large tree growing in the middle of the store. I like to sit under the tree growing in the middle of the store to browse through books and enjoy events.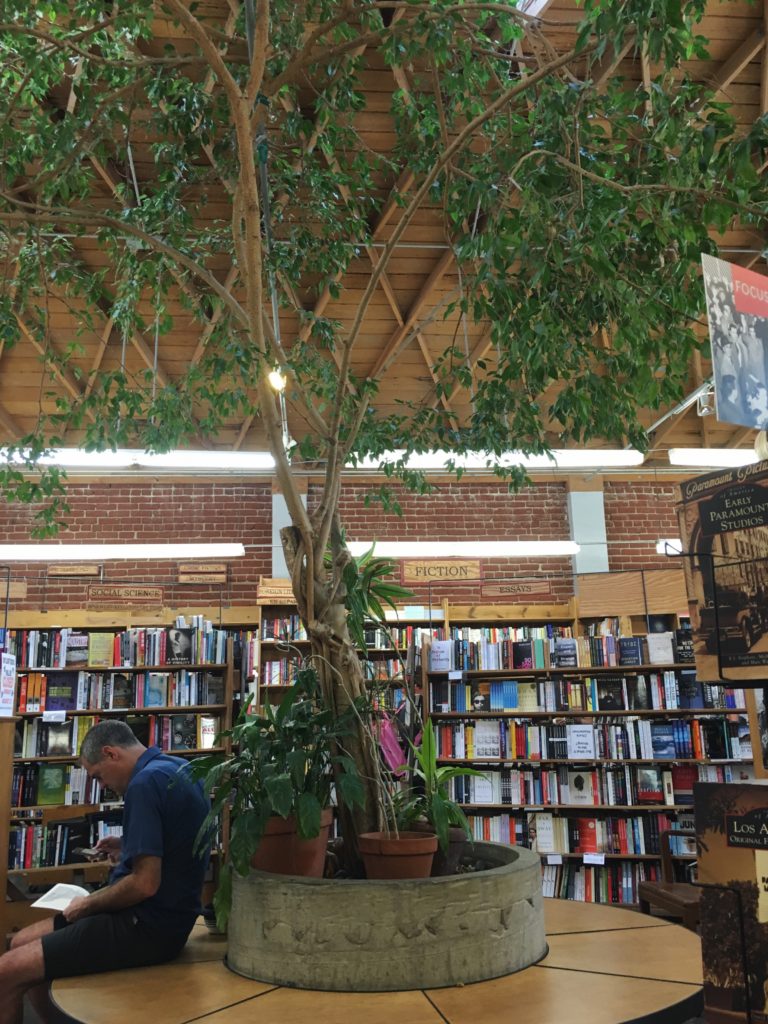 Before you leave Vermont Avenue, walk a block south of Skylight to find two Charles Bukowski murals paying homage to one of the quintessential Los Angeles writers. Walk a few blocks west to Franklin & Kenmore to find the location of Philip Marlowe's apartment in Raymond Chandler's novels, and imagine yourself as a hardboiled gumshoe investigating for a dame.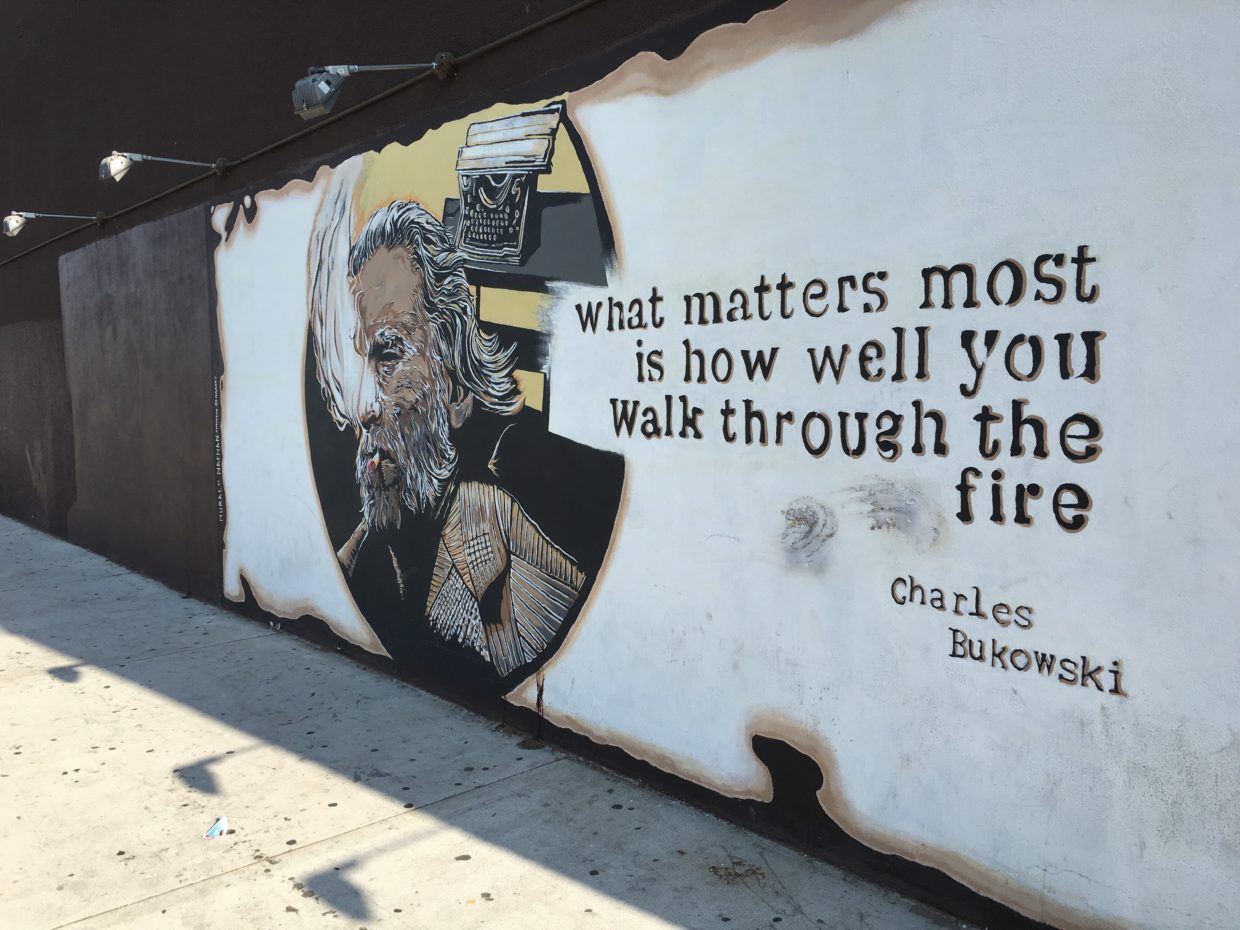 Head west into Hollywood, and have lunch at a spot that feels straight out of the Big Sleep, in part because Chandler wrote chapters of it here. Musso & Frank's restaurant has been operating since 1919, and has played host to many literary figures in their Hollywood years. While Fitzgerald and Faulkner were trying out screenwriting in Hollywood, they were both known to frequent Musso & Frank's. Charles Bukowski drank here too, as did Kurt Vonnegut and Joseph Heller.
After lunch and maybe a martini, it's time to go down the Sunset Strip to Book Soup, Los Angeles's "bookseller to the great and infamous." It's still got a rock and roll vibe from its proximity to so much of Los Angeles's musical history, and I think it still ranks as the bookstore where you are most likely to have a celebrity sighting. Book Soup is now a sister store to Vroman's, where I'll send you on Sunday. On the way to Book Soup, watch for the intersection of Sunset and Selma. It was once home to the Garden of Allah hotel, where many authors once stayed. F. Scott Fitzgerald, Ernest Hemingway, and Dorothy Parker all lived there while writing in Hollywood. Like many things in Los Angeles, after its destruction there was nothing left to commemorate that infamous hotel.
Attend an ASSSSSCAT! at UCB Franklin in the evening, if none of the bookstores have events that catch your fancy. Each show features a guest monologist, and are just as likely to have an author as a guest as they are an actor or musician. Arrive early so you can explore Counterpoint and Harmony bookshops located a few storefronts away on Franklin. Harmony is where the rare and collectible books are stored and Counterpoint is a dense treasure trove of used books, records, and even tapes. Exploring Counterpoint's stacks is a favorite way to wile away an evening before or after a trip to UCB.
Sunday: Pasadena
Drive the 110 to Pasadena, as Maria Wyeth does in Joan Didion's Play It As It Lays. Unlike Maria, you'll be driving with a purpose instead of using the drive to fill your days.
Start your day at the Huntington. Home to both beautiful gardens and a rare book and manuscript collection, it alone can fill a day. Have tea and a pastry in the tea house, and then head over to the Library. I'd encourage wandering a garden or two, as well as some of the galleries on your way over to the library.
Home to a Gutenberg Bible and a First Folio of Shakespeare's works, the Huntington Library is a delight for book lovers. While I'm clearly a fan of words, I get excited to see an original Audubon as much as a handwritten manuscript from Jack London. It's worth taking your time making your way through the library.
One of the Huntington Library's collections is the papers of Octavia Butler. They are available to researchers, but as 2016 is the tenth anniversary of her death, there are also public exhibits of her papers and works. The Armory in Pasadena is showing a collection of artwork inspired by Octavia Butler's papers organized by Clockshop. The show runs October-January, so you have time to plan your trip around a visit.
After soaking in the art at both the Huntington and the Armory, head east down Colorado to Vroman's, the oldest and largest indie in the Southland. You can also refuel at the cafe at Vroman's before browsing their shelves. They have everything you could need in a bookstore, from great suggestions from their staff to a perfect pen.
---