A Literary History of the Writerly Love Affair with Bookstores
Jorge Carrión: All Bookshops Are Local and Global
On a flight between Guatemala City and San Francisco, I met a tough, taciturn trucker who told me: "We take only our travels to the grave." I agreed completely, as I was 22 and had endless leagues ahead of me. I would now add other clichés to our travels: our loves, our friends, and our reading matter. All of which converge in bookshops, spaces par excellence for what we have come to understand as modernity, a haven for nomads and foreigners, a land of book lovers, a cave or sanctuary where friends and accomplices meet, a hospital for flâneurs and beggars, a source of courtesy, and, in history and importance: unique.
Good bookshops are questions without answers. They are places that provoke you intellectually, encode riddles, surprise and offer challenges, hypnotize with that melody—or cacophony—which creates light and shadows, shelves, stairs, front-covers, doors opening, umbrellas closing, head movements indicating hello or goodbye, people on the move. Juan Bonilla recounts that when the Guatemalan writer Augusto Monterroso visited New York, a friend would drop him off at the Strand Bookstore at nine in the morning and pick him up at nine at night.
Only an edgy, stimulating, and seemingly unanswerable question can keep one on the alert for eleven hours (allowing one hour for the Waldorf salad and cheesecake…) in the labyrinth that every bookshop is. A pleasing labyrinth where you can't get lost: that comes later, at home, when you immerse yourself in the books you have bought; lose yourself in new questions, knowing you will find answers.
The best non-fiction narrative I know about bookshops is 84, Charing Cross Road by Helene Hanff; its great conundrum begins with the traits of booksellers. We've all read about the anatomies and poetics of writers, bibliomanes, and librarians, but what the hell does it mean to be a bookseller? The letters the American writer exchanges with the staff of the Marks & Co bookshop over 20 years, beginning at the end of the Second World War, dry up when her main correspondent, Frank Doel, dies.
Only then does his widow write to Hanff: "I now also realize that he was an extremely modest person, because I have received letters from many people who praise him and from book professionals who say he was an authority." What does this mean? That modesty is a bookseller's main attribute? Is it true? In the best story I know about bookshops, Stefan Zweig's "Mendel the Bibliophile," the protagonist is defined less by his status as a secondary character in a Vienna full of intellectual stars as by his memory.
This means, perhaps, that for two centuries booksellers were the personification of modesty; real-life versions of Funes the Memorious, from Borges's story of the same name. Ever since the business was computerized and (almost) everything became accessible with a click, however, memory has ceased to be important: modesty remains as the sole survivor.
"You have to remember that books must be the central focus," I was told the other day in Zaragoza by Julia and Pepe, who fell in love in a bookshop and founded Antígona 25 years ago: "That's why we strip them of their publicity wrappers." Theirs is a radical project: they don't have a webpage, they don't serve wine or coffee, they feed a community that, in a fundamentalist vein, prefers first editions. They are the penultimate Mendel, the penultimate booksellers to still carry their whole stocklist in their heads.
Because all bookshops are local and global; they are political nodes and businesses, embassies of democracy and free trade.
In the second-hand bookshops on Mexico City's Calle de Donceles, where computerized catalogues have yet to arrive, it's a struggle to find anyone who knows anything: only after dealing with a legion of shop assistants do you come across a real bookseller. I'm not being apocalyptic: the history of the world is the history of a memory that fades generation after generation, of something that is lost so something new can be attained. And thousands of second-hand bookshops, in Mexico and the rest of the world, are still run by booksellers of all ages who love, know, and hold their books in their memories.
But from the moment the modern bookshop first appeared, at the beginning of the 19th century, when windows opened them to the street, and the number of readers multiplied, as did the publications that were showcased, the most important development for the bookselling world has been the computerization of stock. And its extension online. Sharing one's own memories with the memories of everybody else.
In the end, a screen encompasses less than the gaze of someone who walks into a bookshop to browse. That's why a physical bookshop is superior to a virtual one: it's still possible—for the moment—for it to create better contexts. Complex systems. At a planetary level. A literary bookshop opens up lines for establishing relationships and fugues, brings thousands of titles, designs, and publishers' logos into conversation. It functions as a surrealist machine making unexpected analogies.
Therein lies the challenge in the two dimensions of every book project: ensuring that books are the focus of those scant centimetres of pixellation and those solid, three-dimensional square metres, but also creating a place for other protagonists in the world of books, like writers, or the booksellers themselves. Bookshops should show off, on their walls and webpages, the writers who have visited them and the booksellers who have made them what they are. It's strange that this happens in cafés and restaurants of distinction but is so infrequent in bookshops.
In Errata, George Steiner evokes the places that were as important to his education as schools, and bears witness to the legendary Gotham Book Mart on Forty-Seventh Street: "Its walls were papered with photographs, usually signed, of Joyce, T.S. Eliot, Frost, Auden and Faulkner and more recent powers."
Galleries of contemporaries, visiting books, press cuttings, and biographies: bookshops and their booksellers should shed some of their modesty and make their histories more visible. Histories that are declarations of intention, and a genealogy.
Memory and modesty are poor allies. Only by being aware of the importance of book professionals in cultural history will we preserve their legacy. The genealogical tree of republican booksellers can still be pursued from Lima to Montevideo, from Buenos Aires to Havana, from Caracas to Seville. On both sides of the Atlantic, their traces are bridges shrouded in mist, and it is up to us to redefine their surroundings. Bridges like the one Eliseo Torres crossed due to the Spanish Civil War, or the one that led Abelardo Linares to buy from Torres's widow the million books the Galician left in his Manhattan bookshop.
This was one of the book streams that fed the Renacimiento bookshop in Seville, whose name (Renaissance, in English) couldn't be more inspiring. Like so many others before and after, Torres was a publisher and a bookseller; Renacimiento is also a publishing house. And Iberoamericana in Frankfurt and Madrid. And Laie and La Central in Barcelona. And Eterna Cadencia in Buenos Aires. And Maruzen in Tokyo. In fact, it is difficult to find great bookshops across the world that haven't also been involved in publishing books.
I remember the volume published by Berlin's Autorenbuchhandlung to commemorate the shop's 35th anniversary. Hans Magnus Enzensberger, Jonathan Franzen, Péter Esterházy, Elfriede Jelinek, and many other well-known writers were brought together in an anthology of texts and images expressly created to pay homage to a bookshop that played a key role in the reunification of Germany, in democracy and capitalism. Because all bookshops are local and global; they are political nodes and businesses, embassies of democracy and free trade. The conundrums a bookshop poses aren't interchangeable, but they are personal. Every reader has their own bookshops, their own collection, and their own memories.
Before books nourished the library in Alexandria, before sellers on the hoof sold books at Europe's inns, before literary criticism and the novel and the printing-press were invented, before Diderot wrote, in his Letter on the Book Trade, that the "stocks of a bookseller are the base of his business and his fortune," before the Roca bookshop opened in Manresa (we're in 1824), or the Calatrava religious bookshop opened in Madrid (we're in 1873), before Adrianne Monnier and Sylvia Beach opened and shut their legendary bookshops on Rue de l'Odéon in Paris, before—even—George Orwell worked in Booklover's Corner in London on the eve of the Spanish Civil War and that bookshop turned into a café for chess players and then a pizzeria, well before all that happened, I went into the Robafaves bookshop in Mataró.
Because the others wouldn't exist without our first bookshops. And if as a youngster you didn't turn into a lover of bookshops, into a book junkie, it's unlikely you'd then decide to pursue them on your travels and research their histories and myths and—in a word—read them.
Being a reader and a traveler is like being a bookseller.
That flight in the Americas 15 years ago was really a bridge between the Guatemalan bookshop El Pensativo and the California's City Lights. The previous Christmas I'd had a stop-over at Shakespeare and Company in Paris: George Whitman was still alive, but his body was increasingly ectoplasmic; he wandered around the corners of his kingdom like the ghost of King Lear.
I bought books and postcards in the three bookshops: I asked for visiting cards and commemorative booklets; I took photos and notes. Over time, I discovered that Lawrence Ferlinghetti had created San Francisco's Beat bookshop by imitating Walt Whitman's model. And that on a chessboard in a corner of Lima's El Virrey, there were marks left by exiles driven out of Montevideo by Operation Condor, and of the bookshops that the Sanseviero family had owned in other Latin American cities. And that Altaïr in Barcelona was inspired by Ulysse, the space created by the great traveler Catherine Domain.
And that there were many bookshops that shared a name in the same language or in several: Odisea, Antígona, Central, Ciudad, Laberinto, Rayuela, Bartleby and Co. And that's how my own questions, my own hypotheses and networks began: my own collection of bookshops. I soon became aware that it was impossible to visit each one, because between one journey and the next, some have disappeared, or moved, or acquired a profile that asks another question. Everyone builds their own bridges—more or less foreshortened, more or less forgettable—often on columns sustained only by a whim. And by love.
The discovery, the last time I was in Istanbul, of Pandora, which is divided between two currents: texts in Turkish and texts in English; my visit in Bogotá to the grandiose, white Fondo de Cultura Económica bookshop; the time spent among the wood of The Book Lounge and The Hill of Content during my days in Cape Town and Melbourne—all were less emotional than my return to the bookshops I already knew.
To Clásica y Moderna in Buenos Aires, to Stanfords in London, to Bertrand in Lisbon. Next year I will go back to Green Apple Books in San Francisco, which is less famous but just as memorable as City Lights. Persisting. Rewriting. Always failing, but each time getting a bit better. Witnessing whether they've frozen or changed. Mystifying in order to demystify—since that's what all this is about. Building layers of reading. Adding a few lines to the book of sand in a history that has yet to be written.
José Saramago said that being a bookseller is like being in love for life. In that sense, being a reader and a traveler is like being a bookseller. And I know this may sound clichéd and facile, but the fact is, there is already enough pessimism in the world as it is.
__________________________________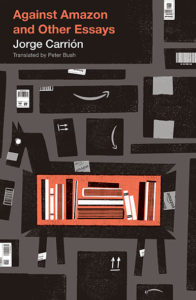 Excerpted from Against Amazon and Other Essays. Used with the permission of the publisher, Biblioasis.Copyright © Jorge Carrión, 2019. Translation copyright © Peter Bush, 2020. Reprinted by permission of Biblioasis.
---