A Letter From Dorothy Gallagher to Her Late Husband Ben Sonnenberg
"I've grown used to silence, I live without voices or footfalls."
Tell me this: Do you think that in the years since you died my life has continued as before? Do you think that I still walk through our rooms, that my clothes hang in the closets, our pictures crowd the walls, the bookcases are crammed full, all our belongings remain in place? Do you imagine that when evening comes I light the lamps and our friends gather?
No, none of that. I'm not there anymore. Almost everything is gone—sold or given away. When I closed the front door for the last time the rooms were empty, the shelves and walls were bare, not a clue to our life remained. Strangers walk through those rooms now. They look through the windows at the sun setting over the Hudson, they invite their friends to make merry, they think our apartment belongs to them.
Shall I tell you where I live now? In two rooms that would fit into our old dining room. No, don't worry. You haven't left me in penury. I live in a penthouse, I have a terrace, the sky is all around, I look out at Central Park at the pond where weeping willows grow, I see across to Fifth Avenue where the buildings glow like fire in the setting sun.
I found this place a year after you died. At first I thought, No, too small; then I remembered: I live alone now. That first hot summer I grew tomatoes in planters and cosmos in pots. Mockingbirds built a nest on the rooftop. They sang all day long and hatched babies that grew big enough to flap into my open door. One day I saw a hawk hovering, the next morning there was no birdsong.
For a long time after I moved here I felt a mistake had been made, as if I'd gotten on the wrong bus and ended up in someone else's life. Every day I sent you an email, the same message each time: Wish you were here, wish you were here, wish you were here. Sometimes I called our old telephone number and stayed on the line, trying to hear something in the silence.
I came back from the drug store with the antibiotic. I made you some tea with honey and lemon.
I've grown used to silence, I live without voices or footfalls. Sometimes a siren shrieks on the street below, sometimes the telephone rings, but most of the time I hear only the ringing in my ears and the refrigerator cycling on and off. And the wind: how it howls up here on the seventeenth floor!
But then comes a day like today, in the middle of February, when there is no breath of wind. The sky is solid pewter, snow is hanging in the air like a gauze curtain, the buildings across the park look like a painted set behind a scrim. And, if you'll believe it, two mourning doves are huddled on the terrace rail.
Didn't I tell you to be careful? Don't catch my cold, I said. Wasn't that dumb? I was the careless one, and you were at my mercy. Maybe I leaned over to kiss you, we shared a fork, I coughed. Sure enough, a few mornings later my cold sniffed in your nose, by nighttime it rattled in your chest, by morning you were laboring for breath. It was only a cold; a bad cold, yes, but you'd had colds before. What could happen on that perfect, sunny June morning?
I came back from the drug store with the antibiotic. I made you some tea with honey and lemon. Just for a moment I looked down to read the instruction label on the pill bottle. I looked up. To see what? Your mouth slackly open, a dark stream of tea spilling down your chin. And your brown eyes, lighter and clearer than the tea, wide open, staring at nothing. Life gone! In the blink of an eye! While I was talking to you! Were you still in the room? Did you hear me scream your name?
I know, I know. We talked about it often enough. When death came, I was to let it be, you were to die when you died. We didn't think to reckon on panic. And so it all happened as we agreed it would not: the frantic 911 call, the medics, the chest compressions, the respirator, the ambulance racing to the hospital, the ICU where you lay for six days, on a ventilator, sedated into coma, except for a few minutes every now and then when you rose to consciousness, when, during one of those moments, I asked you: "Do you love me?"
And you, who couldn't speak for the tubes down your throat and the oxygen mask on your face, flashed your eyebrows three times. Like Groucho Marx. I took that as yes. What if I'd asked: "Do you forgive me?"
Sometimes I think about a horror story I read long ago. On a moonless winter night a poor miller and his wife sit by the reside in their cottage. They are grieving for their only son, accidentally killed by falling into his father's threshing machine. Suddenly a genie materializes. He offers to grant the parents one wish. Naturally, they wish to have their son restored to life.
Very well, says the genie, and vanishes in a puff of smoke. Soon there is a knock at the door of the cottage. Joyfully the miller and his wife fling open the door. There stands their son, his body mangled and dripping with blood, just as he had been in the last moment of his life.
So we'll talk about our life together, and about illness, the elephant in our ointment.
What's the meaning of that story? Never trust a genie? No one gets the better of death? But just let the genie appear to me and I'd give him a try. I'd ask that you be restored to sentient life for an hour, even half an hour. I'd specify a date: Friday, June 11th, 2010, when the calendar I've kept from that last year shows me that we were alone in the apartment. I'd specify a time, five o'clock in the afternoon, when the sun inclines over New Jersey, making the river sparkle like reworks, and you wake up from your nap.
An ordinary afternoon then, except that I seem to be starting a cold. We're in the bedroom as we usually are at that hour: you in bed, me sitting at the table between the windows. You've had a two-hour nap but you're still tired; you're always tired these days. Your voice is so weak that I lean forward to hear you. What did we talk about on that actual afternoon? I can't remember, nothing important: What happened today . . . who called . . . what will I cook for dinner.
But on this day that the genie has granted us we'll have no idle chat. We know what will happen: we know that our time together is coming to an end; that in seven days, just as I'm reading to you from the label on the container of the pills meant to cure you, you will die of the virus that is showing its first symptoms in me today. Do you see what I've asked the genie for? Not so much. Everything. Just few minutes when we can say goodbye.
So we'll talk about our life together, and about illness, the elephant in our ointment. You're marrying a cripple, you said to me in our earliest days. Do you remember what I said? Oh please, I said, don't romanticize yourself, you're not a cripple, you're diseased. We laughed, but at what?
After all, you were no less a cripple for being made so by multiple sclerosis, a disease famous for its inexorable crippling effects, a disease with no cure, barely any mitigating treatment, really nothing to be done. A stranger might well have asked: What is she thinking? More to the point, What isn't she thinking?
__________________________________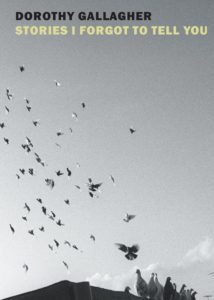 Excerpted from Stories I Forgot to Tell You. Used with the permission of the publisher, New York Review Books. Copyright © 2020 by Dorothy Gallagher.
---