A Friendship in Letters:
Flannery O'Connor and Katherine Anne Porter
Talk of Peacocks, Easter, and Porter's Ship of Fools
A coreligionist of Flannery O'Connor's, here Katherine Anne Porter alludes to the tragedy of Good Friday evident in the appearance of Easter lilies. The observation better illuminates the title of Porter's story "Flowering Judas." The title specifically evokes the brief triumph of betrayal on that terrible day:
Roxbury Road, Southbury Connecticut
6th April Easter Sunday, 1958
Dear Flannery: I'll never forget you standing there in the new spring landscape watching your peacocks coming towards you in their kind of waving, floating amble,—such a smiling pleased look in your eyes, it did me good to see it.
It was a long trip home, stopping by way of New York to go to Martha Graham's new show, and then to a party for her afterward. There I saw Eudora Welty, and told her I had seen you on your very own territory and how delightful it had been: and then we talked about you, your writing, a subject we enjoyed agreeing upon—we think you're a marvel, as do a great many others.
I hope this reaches you before you set off for that European journey, for I want to tell you how glad I was to see you, and how I should like to see you again; I wish you might come to see me sometime, even if not now—later maybe!
My Easter lilies shed tears on Good Friday, just as they are supposed to. But alas, I got up early to see the sun dance, on rising, and he never showed up! It is a dull dark rainy wintry day, no Easter at all, but this is my favorite feast day, just the same, and I wish to send you my recollection and good wishes to celebrate it and to thank you and your mother again for such a pleasant time.
*
Porter led a peripatetic, bohemian life and was married several times. Realizing her friend could benefit from a pilgrimage to a shrine, O'Connor emphasizes the healing qualities of Lourdes:
Milledgeville
Georgia
23 May 58
I had hoped to write you an I-am-here note from Lourdes but most of what I intended to do, I didn't. I hope you'll visit there sometime. While the village is hideously pockmarked with religious junk shops, the grotto is alive with something else entirely. The conjunction of faith and affliction speaks very well for faith. No one who isn't in the position of Job avoids glibness on the subject.
Actually, this is to tell you how much we enjoyed your visit. The Gossetts were over yesterday and told us you had finished your novel. Ah Lord, what a feeling that must be! I am very glad and will be gladder to read it when it is out.
The enclosed is from the head peacock with his regards. He remembers anyone who looks at him with the proper appreciation. Not long ago there was a cow-trading man here who watched him strut for some time. When the performance was over, he said, "Don't that rascal have long ugly legs? I bet he could outrun a Greyhound bus."
The bird bore it very well.
*
The reference to the peacock parallels a similar response by the priest to the bird's sacramental presence in "The Displaced Person." Porter affirms O'Connor's description of Lourdes and the prospect of her own pilgrimage:
June 5th, 1958
Dear Flannery: Not often do I inflict my handwriting on any one, but I have a triple-copy page (and you know what that means) of Ship of Fools in my typewriter and almost my one working superstition is that it's very bad luck to take an unfinished page out of the machine. Well, of course [it] doesn't bring bad luck, it's just a misfortune in itself not to finish! Yes I am making final copy now and feel much better about almost everything.
Maybe the head peacock will be pleased to know I have his stately feather properly displayed between two thin sheets of glass—a really ornamental object that delights me. I send you thanks, and convey to him, please, in your mysterious language to them, my admiration. I should love to go to Lourdes, and believe I may some day, even so soon as next year . . . I have hesitated a long time here, looking at your straight simple words about the "conjunction of faith and affliction" and there is something I want to say, but I know now I cannot—the right words are too deeply hidden; and yes, I am sure this means I should not speak, for the danger is glibness, as you say.
The heavenly summer is here at last, full of singing birds and blooming shrubbery. This time next year I'll still be in Virginia, and maybe you can come to visit me there!
__________________________________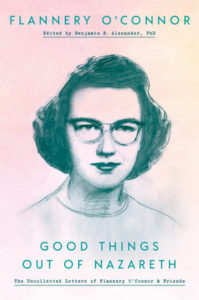 From Good Things Out of Nazareth: The Uncollected Letters of Flannery O'Connor and Friends. Used with the permission of the publisher, Convergent Books. Edited by Ben Alexander. Copyright © 2019 by Benjamin B. Alexander.
---