A Firsthand Account of a 10-Year-Old Girl Fleeing Guatemala for Mexico
Claudia D. Hernández Heads for the Northern Border
Javi's instructions were clear and simple:
–Pretend you don't know each other.
–Keep some distance from the coyote and from each other.
–Don't talk to strangers or stray off the road.
–Everywhere you go, pretend that you're on vacation.
We did exactly as we were told. Before dispersing into small groups, another coyote approached Mamá. This coyote was the opposite of Javi. He was older and had a thick mustache. He was short and chubby. He introduced himself as Marco. He wasn't interested in checking out Sindy or Mamá. He had a serious face, and I felt safe around him.
"Why can't he be our coyote?"
"Shhh!" Sindy hissed, reminding me to keep my mouth shut. Marco gave Mamá some documents. She put them in her purse right away. All these things were happening right in front of me, and I felt lost. Confused.
"What did the coyote give you, Mamá?"
"¡Nada, don't worry about it!"
Then Javi came over to our group pretending to be a tour guide and said, "Please follow me. I'll be your guide for this trip."
We each carried a light backpack with only the most essential clothing items. I always kept my thick sweater tied around my waist. Mamá carried a large purse under her arm and a small amount of cash handy. The rest of the money was hidden in her underwear. As we began walking I felt scared, but Mamá held my hand tight. Consuelo and Sindy walked behind us. We kept our distance from the rest of the group. We stuck together like a pack of wolves.
That same day in la capital, we boarded another guagua that took us toward Tapachula, Chiapas—México. We were fortunate to sit together. Mamá made sure of it. She pleaded with a couple to trade seats so that both Consuelo and Sindy were behind us.
Marco didn't board the bus with us. Javi sat in the front talking to a young woman from El Salvador. She was beautiful and wouldn't stop laughing at his jokes. I couldn't hear anything he was saying, but his facial expressions were animated and comical.
A few minutes later, I began to feel sick from watching the trees pass by my window at 70 miles per hour. I fell asleep on Mamá's lap. Three hours later, we arrived at Tapachula.
Tapachula felt immediately like home, as though we had never stepped foot into another country. As we walked through the central park, I looked at the shoe shiners, who were just patojitos, small children, who had grown strong perhaps too quickly. We were the same age, but I knew we were different. At home, I would go to school and play marbles, freeze tag, or fútbol with my friends. I didn't have to shine anyone else's shoes.
The streets were filled with hawkers. The singsong shouting routines of the street vendors rang in my ears as they tried to convince each passerby that they were selling the most innovative goods from another world. They were selling anything from sunglasses and purses to food. The food smelled good. I was always hungry.
The streets were also filled with music and laughter. I could hear marimba jingling in the distance; I was delighted by my surroundings and foolishly pointed to Javi, who was discreetly guiding us from a distance.
"Look Mamá, there goes the coyote!"
Mamá had no choice but to squeeze my hand, hard enough to silence me the rest of the way.
We were a small group of ten people: the four of us, the pretty Salvadoran girl with her mom and little brother, an older couple, and a single man. I wondered who or what this man had left behind. Was he traveling alone like Mamá had done three years earlier? If he'd left his children behind, I hoped he would go back for them just like Mamá was now doing for us.
Javi was in charge of our group. The first thing he did was to take all of us to a flophouse in the outskirts of Tapachula. I had never stayed in a flophouse before. We hardly traveled as a family. We only went back and forth from Mayuelas to Tactic and once in a while to la capital, where we usually stayed with Papá's family.
Our first night in Tapachula had no moon; it was cold. Our flophouse room was just like the rooms in Mamatoya's house, except Mamatoya's rooms were spotless. This room had four dirty purple walls, two windows, two twin-size beds, and a metal door. I slept with Mamá, and Consuelo slept with Sindy. One of the windows didn't have glass, just some iron bars that apparently didn't convince Mamá. She kept her eyes open all night. The next morning, my sisters and I woke up with swollen bites, bites from mosquitoes that had easily come through the barred windows. Mamá had dark circles under her eyes.
________________________________________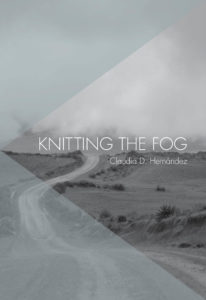 Excerpted from Knitting the Fog. Used with permission of Feminist Press. Copyright © 2019 by Claudia D. Hernández.
---