A Family Tree Forever Changed By Disaster
Sarah Abrevaya Stein on the Great Fire of Salonica
One month after Greece entered the First World War on the side of the Allies, on a hot, windy August afternoon in 1917, the Salem family was enjoying a restful Sabbath in the delightful suburb of Salonica where Fortunée and Ascher, the parents of Esther (1895–1998), had settled some decades earlier. Las Kampanyas was known for its grand vista, and the Salem home offered a generous view of Salonica's red tile roofs, the bay, and Mount Olympus beyond.
On this particular August day, Esther's father's enjoyment of the view was marred by the sight of flames in the distance. He called to the family to come quickly. "I went to look," wrote Esther in a letter to her brother Jacques, "and indeed a large part of the city appeared to have fallen prey to the flames. After this we couldn't stop watching the fire. We wanted to pull ourselves away but as if magnetized, we were drawn to the small corner of the terrace on the water, where we saw the whole city."
Esther's brother Karsa arrived from town, frantic. Newly renamed Venizelos Street, where the family business was located, had burned to the ground. "Oh, the images that I have seen!" Karsa sobbed. "Children, women, all fleeing, and despite the horror, the city is calm; the exodus is happening in a mournful, heavy silence. A woman gave birth on the pavement! People surrounded her as she shrieked! . . . Oh, I am broken! Papa, go and see what must be done!" In a panic, Ascher rushed out, taking the keys to his store and leaving his wife, Fortunée, and the children at home.
As the hours passed, Esther and her family watched Red Cross and British trucks race by. Among the fleeing masses, the "parade of ghosts" that Esther saw stumble by the home was a number of family members, including her cousin Eleanor (Daout Effendi's daughter) and her husband and children. Eleanor's family, and  a good number of strangers, took shelter with the Salems. The garden, courtyard, and house were quickly transformed into a makeshift refuge as closets were emptied to provide clean clothes and sheets for the victims.
At last Esther's father returned, "his eyes swollen in his sockets and very red, his face pale as candle wax." Unable to save the family store, Ascher managed to rescue only a handful of account books before fleeing to the smoky streets. Despite the chaos, he had located his father-and mother-in-law, Daout Effendi and Vida, and their son Emmanuel. As the night wore on, the flames spread. Even the sea was burning, dotted with blazing sailboats. "In vain did I close my eyes in the dark," Esther wrote later, "for my imprinted retinas still saw the burning ships on the trembling sea."
Esther and her family visit a number of tombs. She stands at her paternal grandfather's grave.
Emanating from a neighborhood adjacent to the crowded port known to Salonica's Jews as Agua Nueva (New Water), the fire wrought catastrophic damage in the city's historic Jewish quarter, in the commercial district, and in the port, where most of the city's Jews lived and worked. When the fire began, the movie theaters were packed, and an Italian marching band was performing in Liberty Square. As the flames spread, the French military strategically bombed a number of buildings (including Salonica's new Talmud Torah), hoping to arrest the fire's course. These efforts were futile. The fire only grew in intensity, ultimately raging for 30 hours, and covering a square kilometer thick with urban life. Thirty-two synagogues burned, along with nine rabbinical libraries, 600 Torah scrolls, and eight Jewish schools. Though no deaths were recorded, 50,000 Jews were left homeless, along with 10,000 Muslim residents of the city and somewhere between ten thousand and 15,000 Christians. The damage was estimated at a billion French francs, 75 percent of which was Jewish-owned property. The city, already transformed into a wartime refugee hub, became a smoldering landscape of displacement overnight.
By morning, firefighters had managed to contain the conflagration. From the Salem home in Las Kampanyas, the city was obscured by clouds of black smoke. "Salonica has forever perished!" mourned Esther. Some weeks after the fire, as Esther closed a letter to her brother Jacques, she sent him a tender embrace, saying, finally, "I hope to go and join you, for life is becoming impossible here." This was as much despondency as Esther would allow herself. With time, she proved more resilient than her city.
It would take years for Salonica to recover. One Salonican Jewish schoolteacher, writing in 1923, bemoaned the fact that the synagogue in which he taught lacked a roof to replace the one burned in 1917, leaving him to instruct his students with snow and rain lashing their faces. "Most of all," he fretted to his superiors, "we have suffered from darkness. Many days the darkness was such that a student could not see enough to read the book he had in front of his face." For the Levy family, too, the impact of the fire was profound and long-lasting. Esther's father's business had burned to the ground, and insurance could not begin to cover the losses. Her uncle Daout Effendi wrote that the fire had deprived him of "all my things and personal property," including precious papers and a collection of rugs he had been preserving for his children's inheritance.
The Salem family home had been spared by the flames, but the family's beautiful garden—site of so many joyous gatherings—was soon requisitioned by the municipality, which was desperate to house the displaced. Citing a Ladino proverb drawn from musar, rabbinical ethical literature, Esther lamented: "The house of the rich empties out and still the house of the poor does not fill up; how well we understand this sad truth." Esther was 22 years of age, unmarried, and suddenly facing depleted family coffers just as she was meant to be propelled into a new life. For her and the rest of the Salem family, as for so many others, the fire of 1917 sent them, at least for a time, on a sharp downward trajectory. Esther would, nevertheless, follow her brother Jacques to Manchester a year after the war's end, emigrating with her brothers and their parents—though not in the position of economic strength they had anticipated.
Before the Salem family left Salonica for Manchester, photographs reveal that they participated in the tradition of ziyara (a visit) to Salonica's Jewish cemetery. The sun is low in the sky: it is early morning or late afternoon, roughly 1919. The women wear broad-brimmed hats and are bundled in overcoats adorned with fur stoles. Esther's hat is trimmed with a large silk flower, her mother Fortunée's topped with egret feathers. Michael, 13 years of age, wears a fine suit and tie under a wool coat, a bowler on his head, no doubt an outfit made for his bar mitzvah a few months earlier. His younger brothers sport youthful caps, wool coats, and, in Adolphe's case, the short pants befitting his age. Esther and Jacques stare directly at their photographer. They are in their twenties. Jacques couldn't have been released from captivity on the Isle of Man more than a year earlier. Understandably, their parents, Fortunée and Ascher, look somber, as they prepare to leave their homeland under difficult circumstances. Fortunée's face is drawn, her lips are pressed tightly together. She does not look at the camera.
Esther and her family visit a number of tombs. She stands at her paternal grandfather's grave. The family then visits another, larger grave: the tomb of the Levy patriarch, Fortunée's father, Sa'adi a-Levi. There, the Salems gather to pray and pose.
Several photographs capture the moment. This in itself is an unusual occurrence, for cameras were considered an indulgence in those years. Today, glass plates documenting the excursion are preserved in England by Esther's nephew Alan. The plates are yellowed; one is stained. Still, they offer an extraordinary glimpse of a family in transition.
In one of the photographs, Esther and her mother stand to the left of Sa'adi's tomb, their eyes obscured by their wide-brimmed hats. To the right of the tomb stand two men, one wearing a fez, the other a large kippah and a traditional Salonican robe. Each holds a prayer book, and the latter rests his arm against the tomb. In all likelihood, they are honadjis, cemetery guides, hired to lead the Salems in prayer. It may be that the Salem men didn't feel comfortable navigating traditional mourning prayers and rituals on their own (Ascher's grandson confirms that his grandfather was not observant), or their patronage of the men was a small act of charity, a way of supporting the cemetery and its workers. To the left of the two men stands Esther's young brother, Michael, in profile, his face obscured by a tear in the negative. The damaged image also removes some of the assembled from sight, though the full group of family members appears in a second image. Stretched out behind them is the expanse of Salonica's Jewish cemetery, hundreds of thousands of tombs scattered across a hillside. Beyond the cemetery's grounds, animals graze in empty fields.
The Hebrew-language epitaph on Sa'adi's grave is only partially visible in the Salem family's photograph. It appears in full in a 1931 book on the Jewish cemetery of Salonica:
He who lies [here] in refuge
was the chief poet who composed several
poems for the visit of the sultan and his entourage [in 1859] and songs to be sung for Purim
and many Jewish hymns in praise of the Almighty,
pleasant melodies for Israel. To every gathering, for the sake of heaven, with all of his strength and with his feet, he would run like a deer.
This man is Sa'adi a-Levi.
This tombstone was erected here in honor of a man full of wisdom.
From him [came] counsel and insight. He was girded with justice and faith.
Behold it is he "the great and blessed" Sa'adi a-Levi Ashkenazi, "may his soul
rest in paradise."
He was the first Jew in this city who brought to light newspapers. In 1875 he published a newspaper in the Sephardic language
La Epoka
In 1895 he published in the French language
Journal de Salonique.
He "departed for his eternal home" on the 8th day of Tevet 5663 [1903].
The epitaph is unusual for its length, biographical detail, and literary style: it was clearly designed to impress. If photographs are any indication, Sa'adi's tomb exerted a gravitational pull upon the extended Levy family, for whom visits to the grave—and, in time, bereavement over its destruction—became a ritual.
In June 1919, Esther and her family at last departed Salonica, five years after they intended. The family traveled by ship to Marseille, lugging 12 suitcases in their wake, a 13th having been left behind so as not to jinx the voyage. One train carried the group to Paris, another two trains and a ferry took them to their new home. There, in a leafy suburb some five miles from the heart of Manchester, the Salems would cultivate one of the most robust branches of the extended Levy family tree.
———————————————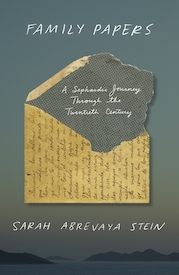 From Family Papers by Sarah Abrevaya Stein. Reprinted with permission of the publisher, Farrar, Straus and Giroux. Copyright © 2019 by Sarah Abrevaya Stein. 
---