A Conversion of Suffering: At the Intersection of Poetry and Psychoanalysis in Paul Celan
Jamieson Webster Analyzes the Prose of a Famous Poet
It is dangerous for a psychoanalyst to write about poetry, like inviting you to watch me fall into Freudian clichés, interpreting a poem away. Dangerous, like taking on a poet who comes to my office—what if analytic work brings this gift to a halt? If it isn't the fault of the analyst who stuffs the poet full of meaning, then it could simply be the machinery that analysis brings to life to change suffering, an economy that is also the engine of poetic production.
I say this, and yet I have all the faith in the world that there can be a conversion of suffering that will lead back to, if not create the means for, poetry. But both parties take a risk—one whose stakes are high—for, as I've seen time and time again, being unable to write can often bring suicidal impulses to the surface since writing is frequently the last, or only, handhold.
I have been reading Paul Celan since I was 17 years old, for more than two decades now. This year marks 100 years since his birth and 50 years since he committed suicide. I read him when I need to rehabilitate my relationship to language, to strip life's routines from speech, language degraded as "communication"—trying to say it right as part of an overwrought wish to be understood, whatever that even means.
This relationship to Celan feels private. When I hear him, he is mine alone—"pour the wasteland into your eye sacks/ the call to sacrifice, the salt flood"; "Skywide the eyelid stretches toward this spring/lidwide the sky spread"; "Autumn eat its leaf out of my hand; we are friends."
I believe there are only a few writers who can occupy a space like this for each of us. I've never wanted to write about him, though I have, and here I am, again.
I found myself wishing I was Celan's psychoanalyst.
Reading Celan is also something that I believe, perhaps wrongly, that I do for my patients, in order to continue to be able to listen to their words. It never occurred to me to wonder what Celan would have been like if he had been a patient, nor whether psychoanalysis could have saved him. He was my own secret psychoanalyst.
Then I read Microliths, the collection of his unpublished prose. We don't often think of Celan as a prose writer or aspirational novelist and it isn't really his proclivity; paragraphs grow aphoristic, become dense, break off. But in them you are closer to his thoughts, especially about poetry.
Pierre Joris begins his preface with a letter from a very young Celan to the poet and magazine editor Max Rychner from November 1946. The letter obviously demonstrates his facility, but it also contains, so early, the elements that would come to define his poetry. The letter is a mournful plea to this man who found and read him,
And so I learned, slowly, to give answer to myself. Was it just this? No, because I also called out to the chestnuts, to the pink hawthorn and the grasses, to a woman, I called them all and I also spoke to them, until we became familiar with each other, and could just whisper. In the end we knew each other so well that it became a silent conversation. Thus arrived a period of speech-filled silence and I no longer wrote poems. I believe that back then already I knew that I was a poet. . .
Do I know it today, as I know that only beyond words and between them those spaces open up which, shadowed by the words' branchwork and dipped into darkness, hide the small thickets from which fire leaps? Did I penetrate all the way to this fire? You say so in your letter and this is where my loneliness ends.
A stranger offering to publish your work feels miraculous, and yet Celan can't stop himself from imagining that his poems, written in German, may then be read by his mother's Nazi murderer—the story of the deux Allemagnes that has not "lost its (sad) meaning." The fate of a kind gesture is no different from writing poetry—the space that opens is also one that dips down into darkness.
Celan wanted to be heard, as any of us do. The "Goll affair" as it was called—when Celan was viciously and falsely accused of plagiarizing by the widow of a poet he translated—devastated him, triggering several severe breakdowns. It was not simply the persecution, but the threat to the support he craved and the possibility of hearing his words as his.
Reading this early letter and his later desperate testimonies on his own behalf, I found myself wishing I was Celan's psychoanalyst: "Forgive me, dear Rychner, this darkening toward the end of a letter that should only have been allowed to express the joy to have found the approval I had dreamed of when, surrounded by spears, I saw a leaf fall and knew that it was a message."
Forget my wish, forgive me its selfishness. Joris reminds us that Celan felt fascism would return and was right. Reading Celan then is not only "homeopathy" but an important way to get closer to our "inhuman condition." I take Joris' wager.
What is homeopathic for the reader is treacherous for Celan: namely, going in the direction of poetry, "the special angle of inclination of the one who speaks" fatefully determined by language. "You have to come through here, life!" But first, "the darkness of the poem."
Receptivity "to the abyss," goes against the light of the world that hides its crimes, maybe even hides them in language reduced to chatter, 24/7 news cycles. The poem is burdened by language, by "world-cargo"; but it accepts this weight against the promise of a "culture ballast" (like the fight for recognition of Goll's widow). The poem must be "illegitimate." It is not interested in immortality but the trace of what is mortal in a voice: "the poem: a self-realization of language through radical individuation, i.e. the single, unrepeatable speaking of an individual."
In these times of maximal violence that hides in plain sight, Celan holds out to us this little gift of reality in the intimacy of a silent conversation.
Poetry attests to the rarity of the self-realization of language in a world that seems hell-bent on destroying this possibility; rare, even as it belongs to each of us, happens every night in our dreams.
Celan went toward darkness, a direction I think psychoanalysis also goes, but, much as I accompany my patient there, Celan went alone and was unjustly punished. Celan's poems exist in a landscape of attempts at radical individuation, the compression of language that is his alone, the unrepeatable way it addresses your body.
The language of the poem, Celan writes, "hopes to be another, a more primary one," "dark in fact in the sense of an opacity particular… to any given object" "it wants to be understood from its self, as an abiding," "like a breath, like each word spoken in whatever direction, 'and everything that he blew upon was lost'." Celan warns us: whoever doesn't fight against evil will lose the protection of this radical invisibility, poetry's darkness.
Who doesn't long for darkness in our obscene LED times of sheer mass psychology? Who has the courage to abide? In the fight against evil, the poem is "an attempt to gain reality, to make reality visible. Thus reality for the poem is in no way something fixed, predetermined, but something that is at issue, something to be questioned. In the poem something real happens, reality unfolds." The gain is small, but significant,
Microliths they are, little stones, barely perceptible, tiny xenocrysts inside the thick tuff of your existence—and now you try, word-poor and perhaps already irrevocably condemned to silence, to read them together into crystals? You seem to wait for reinforcements—say, where should these come from?
Could the necessary reinforcement come from psychoanalysis? Any reader? Is there a difference? I don't know. Maybe it doesn't matter.
Psychoanalysis, I fear, has more to learn from poetry in a world overflowing with mediatized meaning and hollow words, words, words. Psychoanalysis, like poetry, is fragile in this space; somehow in excess of the world and yet gathering and containing this excess that it is in a momentary encounter.
How can you hold so much together in something so small, mere lines or minutes? It is the question I ask myself everyday with my patients. In these times of maximal violence that hides in plain sight, Celan holds out to us this little gift of reality in the intimacy of a silent conversation. I take hold of his open hand, as his patient, as his psychoanalyst, as his reader.
__________________________________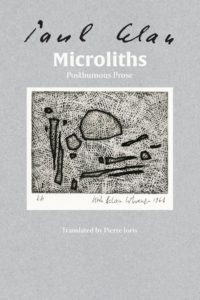 Microliths They Are, Little Stones by Paul Celan, introduced and translated by Pierre Joris, is published October 2nd by Contra Mundum Press.
---