A Brief Literary History of Absolutely Terrible Dads
Happy Father's Day! Please Enjoy These Bad Dad Memoirs
I think about it often, and it makes me laugh every time I do: poor, dumb Isaac coming around to the notion that Something Might Be Up.
It was on the third day of travel, as he and Abraham made their lonesome summit of Mount Moriah. For hours the only sounds had been the slapping of their sandals against the orange earth and the endless, insect drone of the heavy sun. Finally, after working up the courage, Isaac calls for his father's attention.
Abraham turns to face his child. He has the fervid, wide, watery eyes of a man who has seen the angels. In one hand he carries a torch, its heat ambient with the desert; in the other, a stone chiseled sharper than pounded bronze. Sweat pours thick from his eyebrows and his hundred-year-old skin stretches taut across his jaw.
"I am here, my son," he says.
"Behold the fire and the wood," says Isaac, "but where is the lamb?"
But where is the lamb.
Biblical scholars believe this Old Testament story where God asks Abraham to sacrifice his son is a lesson in unconditional faith; I think it's a good bit. Like the comedy classic Bambi meets Godzilla, the source of the humor is wild, violent disproportion. But instead of a purely physical asymmetry, in the case of Isaac and Abraham it's also a social and psychological one. Even if he's developed nebulous suspicions, Isaac is too young and too innocent to grasp the full scope of the betrayal to come. His father, meanwhile, has been carrying on a meticulous lie of omission concerning his plot to disembowel and immolate his kin.
Bad Dads have been a plot point for nearly as long as literature has existed.
Bad Dads have been a plot point for nearly as long as literature has existed. As far back as Abraham, Agamemnon, and Cronus, Bad Dads—patriarchs who shirk or otherwise disrupt their traditional role—have appeared as either instigators of tragedy or as tragic figures themselves. I'll eagerly read just about any Bad Dad story, but the ones I favor are among the funniest, and they largely come from a contemporary American subgenre: the Bad Dad memoir.
The form came into being with Frank Conroy's 1967 Stop-Time. William Styron praised the debut work for its "almost total lack of self-pity," but the restraint was only a first step in the book's true accomplishment, one that most Bad Dad memoirs have since shared—the humor. Conroy's signature dry and witty tone relied on his being able to laugh at his younger self the way he might at Bambi or Isaac.
There's rarely any redemptive triumph in Bad Dad memoirs; being able to laugh about the whole big ugly thing is often all the authors get. One study I came across while working as an academic research assistant indicated that writing about trauma doesn't aid (and might actually hinder) therapeutic healing. The authors of Bad Dad books do not emerge "stronger" for their experiences, and some directly critique this very concept—the narrative arc of these books rarely leads to a happy, victorious ending. But achieving a comedic remove also grants Bad Dad authors an analytical one. We'll never have the satisfaction of seeing Isaac turn his family skills of ingenuity, invention, and creativity back on Abraham, but seeing a Bad Dad author bring a book to fruition is, in part, to watch an incompetent underdog come to exert some mastery over their situation; the idiot child becomes an intelligent adult capable of telling their own story. It's not exactly triumphant, but it's something.
Father's Day rarely brings me any joy. (What, my father? I'd rather not talk about it.) I do enjoy a good Bad Dad memoir, though. Here's a few I often turn to: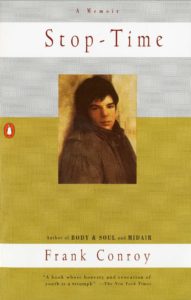 Frank Conroy, Stop-Time
Michael Chabon refers to Stop-Time as the "great grandaddy" of literary memoir. He's not quite right—Conroy was just one member of a larger movement legitimizing the artistic merit of nonfiction—but Stop-Time is still a model for young memoirists for a reason.
Between his father's insanity, his stepfather's incompetent grifting, and his mother's ambivalence, Conroy is effectively forced to raise himself. He does so with grace, becoming a charismatic and effortlessly funny young man good at having his back to the wall—which, throughout the narrative, it often is.
By the end of the book, however, we begin to see a sad truth take shape: the comedic tic that defines him is not just a personality trait and storytelling device, but also a coping mechanism for latent trauma. What emerges is a surprisingly bitter ending from a work that otherwise seems to pride itself on being wry and detached.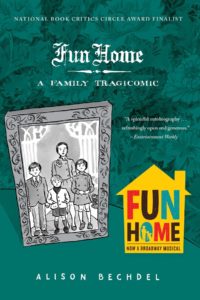 Alison Bechdel, Fun Home
In her opening chapter, Alison Bechdel describes her father as "an alchemist of appearance, a savant of surface, a Daedalus of decor" (potentially an alliterative reference to Geoffrey Wolff's 1979 The Duke of Deception, itself a fantastic Bad Dad memoir). These titles refer to her father's knack for home restoration, but also to his ability to maintain a double life: despite his marriage and three children, he was a gay man who had a particular interest in teenage boys.
Given these circumstances and her abundant skill, telling a linear, narratively boilerplate story would have made for a great book on its own. Instead, however, Bechdel opts for a delightfully complex structure—one that is self-consciously literary and deeply self-referential, with each narrative recursion adding more metaphorical and emotional nuance. Anyone who came of age in a library will see themselves in Bechdel to some extent, and those who did so due to family circumstances won't be able to put her down.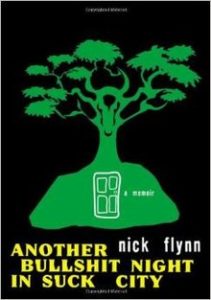 Nick Flynn, Another Bullshit Night in Suck City
Nick Flynn's Bad Dad memoir is possibly the funniest on this very funny list, in part because it has to be; if it weren't, it'd be too bleak to endure. The book opens with Flynn meeting his father after a lifetime of estrangement while working at a homeless shelter. Side plots include struggles with various addictions, his mother's suicide, and Flynn nearly becoming homeless himself. If it weren't so droll and mordant, it wouldn't work.
In addition to being excellent, the book is notable for how profoundly weird it is around the edges. Flynn is a former poet, and seems suspicious here and there of conventional narrative's ability to convey what he wants. Thus, some odd chapters: one comprised entirely of different ways to describe drinking, nicknames for alcohol, and terms for being drunk; and two separate one-act plays. Getting away with these quirks is a feat unto itself.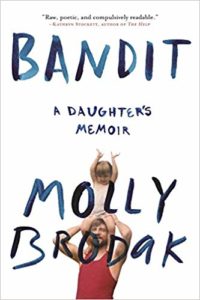 Molly Brodak, Bandit
Molly Brodak's Bandit is both the best and the strangest memoir I've read in years, Bad Dad or otherwise. The paperback is 300 pages long, but features over 80 chapters; it dispenses with the key plot points by the fourth page (her father was a chronic bank robber, gambler, and gaslighter); the 32nd chapter, midway through the narrative, is a reflection on how, as a teenager, Brodak didn't trust the veracity of memoirs she read—effectively serving as a critique of memoir generally. It is a book as deeply suspicious of itself as it is of the dubious Bad Dad that drives it.
Brodak's sense of comedy has a brilliant edge as well. Where Conroy uses his dark humor as a defense mechanism, Brodak employs it for revelation. In some sense, the only way dark humor ever works is if some people get the joke and some are left in horrified disgust; Brodak works to make sure the reader is in on her punchlines. To be with her in the moments where she wavers between laughing and crying is as intimate a reading experience as there is.
---