A Brief History of Mass-Manufactured Clothing
Sofi Thanhauser on the Early Days of Ready-to-Wear
Ready-to-wear garments have become ubiquitous, but before the late nineteenth and early twentieth centuries, ready-made clothing practically didn't exist in the United States. Most people wore clothing made at home, while those who could afford it dressed in clothes made by a tailor or a seamstress. A government report issued in 1811 found that "two-thirds of all garments worn by inhabitants of the United States" were homemade.
During the course of the 19th century, clothing was to become mass-manufactured. These changes came in slow increments. As we have seen, undershirts and pantaloons made by impoverished pieceworkers were the first mass-produced garments after the rise of textile mills, followed by corsets at mid-century. Before the Civil War, the only ready-to-wear outer garments available were made for sailors, and slaves. The very first off-the-rack clothing was sold at "slop-shops," which sprang up on the streets adjoining wharves in the early 19th century in Boston, New York, Philadelphia, Baltimore, and smaller cities with whaling or fishing trades. This clothing was produced in only one size, to be modified by a sailor heading out to sea as best he could.
Mass-manufactured garments for enslaved peoples developed as an industry in 1840-60. By buying cheap, mass-produced clothes, planters discovered, they could avoid using valuable slave labor in stitching. Trade routes between New York and other eastern cities and the port of New Orleans were established to ship ready-made clothing of cheap, coarse fabric to large plantations. The New Orleans dealer Folger and Blake Company claimed in one advertisement that planters would "find it greatly to their advantage to purchase their clothing ready-made" for slaves, while numerous New York firms specialized in what was known as "Negro clothing." Seamstresses in northern cities were an economical option, with opportunity costs of labor lower than those of slaves. Unsurprisingly, the clothing firms demanded high productivity from home or factory workers, in oppressive conditions, for low pay.
The major leap forward for the ready-to-wear industry came with the advent of standard sizing.
Sewing machine advertisements traced the landscape of clothes making as it evolved. In its first advertisement, on November 7, 1850, Singer addressed the promise of "SEWING BY MACHINERY" to "Journeyman Tailors, Sempstresses, Employers, and all others interested in Sewing of any description." Later in the 1850s, the I. M. Singer Company advertised a "new, improved sewing machine especially adapted to the making up of Negro clothing."
For the broader consumer market, the major leap forward for the ready-to-wear industry came with the advent of standard sizing. During the Civil War, conscripts were measured for their uniforms. This mass of body measurement data allowed for the creation of a range of generic sizes. Although these were later refined during the Spanish-American War and then the First World War, the standard sizing of garments was generally adopted for the production of ready-to-wear by the end of the 1860s. It was adopted even sooner for home dressmaking. In 1863 printed paper patterns in standard sizes became commercially available, developed by a New England tailor named Ebenezer Butterick.
After the Civil War, factories that had produced uniforms transitioned to producing men's suits. Cloaks and jackets for women soon followed. These were at first little-known garments in the United States, where the masses wore shawls, and what few cloaks were seen were worn by wealthy women, and imported from Germany. Even in these early days, mass-produced clothes promised to make elite fashion available to an underclass who could never before have  afforded it.
By the 1880s women's clothing was being mass-produced in distribution networks organized initially by German-Jewish immigrants. The ready-to-wear garment industry grew dramatically. The value of production more than doubled between 1880 and 1889. Capital investment went from $8 million to over $22 million, and the number of manufacturers doubled: from 562 to 1,224. The number of workers increased by the thousands, and the majority lived and worked in New York City. Although ready-to-wear for men had come before women's wear, women's fashion comprised 76 percent of the industry by 1920.
Clothes were produced according to seasonal patterns in a system directed by "jobbers." Twice a year, jobbers outlined a merchandising plan. They acquired patterns through various means: designing them in-house, copying them from others, or buying precut patterns. The jobber bought cloth directly from textile mills, sold the materials on consignment to a submanufacturer, and then bought back finished goods. Within this system, exploitation was virtually ensured.
Even in these early days, mass-produced clothes promised to make elite fashion available to an underclass who could never before have  afforded it.
The American advertising industry was born in the 1920s also, and it played a critical role in developing the fantasy of ready-to-wear. Helen Woodward, a 1920s ad copywriter, instructed those in the advertising business, "Never see the factory in which it was made . . . don't watch the people at work. . . . Because, you see, when you know the truth about anything, the real, inner truth—it is very hard to write the surface fluff that sells it."
New ways of purchasing clothes concealed the realities of factory life from consumers. Department stores rose up in American cities in the 1880s, and by 1915 ready-to-wear departments had become regular features in these stores. Here, industrially produced products could be displayed in palatial settings, showing no hint that they were made in sweatshops. For those who lived in the country, as most Americans still did, ready-made clothes became available with the founding of the United Parcel Service in 1907 and the arrival of mail-order catalogs from Montgomery Ward and Sears, Roebuck & Company, among others.
In the early decades of the 20th century, as women's dresses became mass-produced commodities, yardage decreased, and simpler styles began to appear. In 1913 an average woman's outfit required nineteen yards of fabric. By 1928 the average outfit consumed only seven. Manufacturers understood that styles that consumed less fabric were cheaper to produce. Not only did clothes become lighter, but their market became younger. By 1922, the primary market for nearly every category of garment was people under thirty.
Despite the advertising dictum that consumers ought not to be told the origins of their garments, some of the first consumers of mass-produced women's fashions surely knew the origins of the clothes, because they were the garment workers themselves.
Poor shopgirls and garment workers were enthusiastic consumers of mass fashion. In 1913, home economist Bertha June Richardson complained that New York City's poor shopgirls dressed "beyond their station." In tenement neighborhoods, she observed women who earned five or six dollars a week, at most, with "plumes on their hats, a rustle of silk petticoats, everything about them in the latest style."
Buying mass-produced clothes was touted as a way to "Americanize" immigrants. "I'd like them better if they didn't wear such queer clothes," said an alleged American housewife "of her foreign neighbors" in a study carried out by consumer economist Elizabeth Hoyt in 1928. However, when immigrants espoused mass fashion zealously, a moralizing middle class referred to these fashionable poor as a "Monkey's Parade." To them it was unthinkable to see "shop apprentices, the young work girls, the boy clerks, and so forth, stirred by mysterious intimations, spending their first- earned money upon collars and ties, chiffon hats, smart lace collars, walking-sticks, sun-shades." Bertha June Richardson, in her 1913 study of "the woman who spends," attempted to explain to her audience of middle-class social reformers why immigrant girls in city settlement houses cared so much about clothes:
Did you ever go down to one of our city settlements full of the desire to help and lift up the poor shop girl? . . . There must be some mistake, you thought. These could not be poor girls, earning five or six dollars a week. They looked better dressed than you did! . . . In time you learned that it was only an attempt "to bridge the difference" between themselves and those with larger opportunities by imitating all they could see.
Inequality was great and growing in the 1920s, and clothes offered a form of satisfaction to the poor. This was not without political implications. Historian Stuart Ewen has argued that "mass fashion provided a means by which poor people could develop an appearance of upward mobility, construct a presentable, public self by which that mobility might in fact be actualized." The existence of this fashionably dressed working class served a critical role to combat a growing challenge from socialism, Ewen argues. "Where working people had once looked as poor as they were, now they were able to take on the appearance of abundance," he wrote.
Buying mass-produced clothes was touted as a way to "Americanize" immigrants.
Consumer culture in this period was an explicit response to the threat of communism. These were the years immediately following more direct forms of political repression: the Red Scare, the Palmer Raids, and the massive deportation of immigrant workers. If those were the stick, consumerism was the carrot. Capitalists promised that consumerism would bring more good to people than socialism or communism. "Mass production," wrote the merchant Edward Filene, "holds possibilities of accomplishing for mankind all of the good that theoretical reformers or irrational radicals hope to secure by revolutionary means." Filene's version of consumption could not only displace revolution, but democracy. "The masses of America have elected Henry Ford. They have elected General Motors. They have elected the General Electric Company, and Woolworth's and all the other great industrial and business leaders of the day."
American advertising worked explicitly to transmute the dissatisfaction of the working class away from social reform, and toward consumerism. Gratification that used to come from meaningful work could now be purchased. With the rise of assembly-line-style manufacture, work itself became a dull, monotonous task. Business economist Paul Nystrom argued that the monotony of industrial work had produced a widespread sense of "disappointment with achievements" and a widespread "philosophy of futility." Advertisers, he argued, should use this to their advantage. By closing off avenues for political change, fatigue with the boredom of industrial life could be transformed into "fatigue . . . with apparel and goods used in one's immediate surroundings."
Helen Woodward certainly agreed. Personal frustrations of all kinds could be redirected toward purchases, not politics. "To those who cannot change their whole lives or occupations," she began, "even a new line in a dress is often a relief. The woman who is tired of her husband or her home or a job feels some lifting of the weight of life from seeing a straight line change into a bouffant, or a grey pass into beige."
Advertisers of the 1920s boldly appropriated the language of the suffrage movement. One Toastmaster ad touted "The Toaster that FREED 465,000 HOMES . . . From ever watching, turning or burning toast." At the same time, they reminded women endlessly that if they did not take care of their appearance, they would not be able to keep a husband, along with the wage he brought home, threatening their security. "A man expects to find daintiness, charm, refinement in the woman he knows," Woodbury Soap reminded readers in 1922. "And when some unpleasant little detail mars this conception of what a woman should be—nothing quite effaces his involuntary disappointment."
________________________________________________________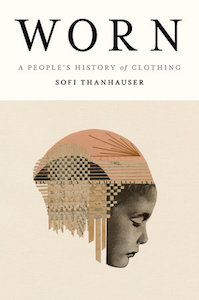 From Worn: A People's History of Clothing by Sofi Thanhauser. Copyright © 2022 by Sofi Thanhauser. Excerpted by permission of Pantheon, a division of Penguin Random House LLC. All rights reserved. No part of this excerpt may be reproduced or reprinted without permission in writing from the publisher.
---