A Brief History of All the Women Who Have Won the Nobel Prize
"They must represent us all; they must, with their words, illuminate the universal via the specific."
Last October, Annie Ernaux became the seventeenth woman to win the Nobel Prize in Literature. She is also the first French woman, the sixteenth French citizen, the ninety-sixth European, and the 119th person to win. Reacting to the news, Ernaux said: "To receive the Nobel Prize is, for me, a responsibility to continue . . . speaking from my condition as a woman, it does not seem to me that we, women, have become equal in freedom, in power."
Months later, Ernaux framed her acceptance lecture around this sense of responsibility, stating: "I do not regard as an individual victory the Nobel prize that has been awarded me. It is neither from pride nor modesty that I see it, in some sense, as a collective victory."
Ernaux's claim of a collective ownership for a highly individualized award aligns her with the sixteen other women who have won the prize since its inception in 1901—as does her emphasis on the tension between the patriarchal system the Nobel stems from
(and represents) and the structural position of some of its winners, particularly women. When asked if she anticipated the prize, 2013 laureate Alice Munro replied: "Oh, no, no! I was a woman! . . . I just love the honor, I love it, but I just didn't think that way." Learning about her win from a group of reporters as she returned home from a hospital visit, eighty-seven-year-old Doris Lessing was flustered: "They told me a long time ago they didn't like me and I would never get it. . . . They sent a special official to tell me so." Surrounded by snapping cameras, she promised: "I swear I'm going upstairs to find some suitable sentences, which I will be using from now on."
Beyond a sense of breaking into a boys' club and the communal weight that comes with this entry, there is little on the surface to connect the Nobel women writers. There is commonality in impact, accomplishment, and gender, but there is relatively little in terms of nationality, genre, style, and experience. So, what does it mean to win a Nobel Prize as a woman or for each winner, in their specific time and place, to carry the acclaim of this recognition? And what can we, as readers situated in our own times and places, learn from how these women, in their acceptance lectures, make sense of this recognition?
What does it mean to win a Nobel Prize as a woman or for each winner, in their specific time and place, to carry the acclaim of this recognition?
Writers who win the Nobel Prize must have "in the field of literature, produced the most outstanding work in an idealistic direction." This is the criteria set in the will of Alfred Nobel, a Swede who perhaps changed the world most by inventing dynamite. Though his own professional domain was destruction, he wanted his namesake prize to recognize people whose work has "conferred the greatest benefit to humankind."
This edict applies vague gravity and hefty responsibilities to the laureates. Women who have won the literature prize have been assigned roles like "the epicist of female experience" or the "Geiger counter of apartheid." They are understood to represent specific nations, ideologies, and generations. At the same time, they must represent us all (particularly all women); they must, with their words, illuminate the universal via the specific.
Laureates are chosen by a committee whose membership draws from The Swedish Academy, a group of eighteen literary professionals (De Aderton, "The Eighteen") with a lifetime tenure. The academy was installed by King Gustav III in 1786, so it predates the Nobel Foundation by 115 years. The committee selected the first woman Nobel laureate eight years into the existence of the award. This was five years before they ever elected a woman to their ranks (the same woman in both cases: Selma Lagerlöf, who borrowed from realism but returned to the romantic in her folkloric fiction).
Alfred Nobel chose the Swedish Academy as the arbiter of the literature prize, just as he chose groups to select laureates from the other categories (chemistry, peace, medicine, economics). His only instruction for the committees was that, in selecting laureates, "no consideration be given to nationality, but that the prize be awarded to the worthiest person, whether or not they are Scandinavian."
So, with minimal-yet-lofty guidance, a nineteenth-century armaments tycoon bequeathed a prize that still inspires fierce arguments, intense celebration, and online gambling across the globe. Of course, geography and international politics are inextricably linked to all Nobel Prizes, with literature proving no exception. Too European, too white, too male, too contrary to, or too swayed by illusory cultural tides—criticisms of the committee's choices abound annually. Summaries of who the laureates are and where they come from arguably reach more people than the winners' written works (except in the case of Bob Dylan), making identity and nationality a major part of each award.
Though Selma Lägerlof won in 1909, nearly half of the total awards to women are concentrated in just the last eighteen years. Most of the women laureates are from Europe, as are most literature laureates in general. The first Latin American author ever to win was a woman (Chilean poet Gabriela Mistral, awarded 1945), and she remains the only Latin American woman to have won. American novelist Toni Morrison is the only Black woman recognized to date, and the body of winners remains overwhelmingly white. In terms of lived experience, the winners have faced famine, war, displacement, illicit romance, racism, motherhood, prestige, derision, and more.
Again, what does it mean for a woman to win the Nobel Prize in Literature—for the life and work of the writer? For some, like Belarusian Svetlana Alexievich (inventor of "the documentary novel") and Austrian poet and novelist Herta Müller, it means sudden visibility: newspaper coverage, reprints, new translations. For others (Lessing, Morrison and South African novelist Nadine Gordimer), it's a capstone in a monumental career that people have been predicting for years.
For all of them, it means roughly one million dollars in prize money and at least a temporary surge in book sales. And it's perhaps a varied experience for the winner personally. Wisława Szymborska's friends called her win "the Nobel tragedy" because the intensely private Polish poet was unable to write for years after the onslaught of attention. Meanwhile, Morrison gathered friends to celebrate with her in Stockholm. "I like the Nobel Prize," she said. "Because they know how to give a party." Winning the prize in 2015 did not protect Alexievich from being forced into her second exile in 2020. Facing abduction and arrest, she fled—leaving behind manuscripts, her home, and a part of the world whose story she invented a new genre to tell.
No matter what the recognition means for these women personally, their names will always be paired with the phrase "Nobel Prize winner" anytime they appear in print. No matter what prospective readers understand about the Nobel Prize's history, process, and statistics, this moniker will likely suggest to them something important about the writers' work. And no matter where the writer is from, no matter what or who they write about, in accepting the prize they all accept a huge task: finding the "suitable sentences" to deliver a lecture (or, in Munro's case, a conversation) that articulates the importance of literature and the meaning of their own life's work.
No matter what prospective readers understand about the Nobel Prize's history, process, and statistics, this moniker will likely suggest to them something important about the writers' work.
Read together, the reflections of the Nobel women reveal a diversity of ideas about what literature can do and a sense of a practitioner's responsibility to these ideas. While the lectures vary widely in content—from Lessing's and Gordimer's concrete political lessons to Szymborska's larger abstract musings to fables personal (Müller) and universal (Morrison)—each contains observations that are at once totally complex and completely true.
With characteristic directness, "master of the contemporary short story" Munro asserts that she knew she could write about small-town Canadian life because: "I think any life can be interesting, any surroundings can be interesting."
Morrison, whose novels explore so many facets of Black American life with language that is as precise as it is poetic, argues that "language can never live up to life once and for all. Nor should it…Its force, its felicity is in its reach toward the ineffable."
Lessing, so often setting a prickly (sometimes cynical) tone in her novels of frustrated politics, colonialism, and imagined futures, is hopeful: "It is our stories that will recreate us, when we are torn, hurt, even destroyed. It is the storyteller, the dream-maker, the myth-maker, that is our phoenix, that represents us at our best, and at our most creative."
Müller's work paints visceral, impressionistic scenes of stifled lives under Nicolae Ceaușescu's dictatorship in Romania. No stranger to having words withheld, she explains: "After all, the more words we are allowed to take, the freer we become."
"In the language of poetry, where every word is weighed, nothing is usual or normal . . . not a single existence, not anyone's existence in this world." Only Szymborska, who once wrote "After every war / someone has to clean up," can be so gentle and so firm at the same time.
Gordimer, whose novels dissect the human wreckage wrought by institutionalized racism and cycles of violence, confirms that "writing is always and at once an exploration of self and of the world; of individual and collective being."
Each writer's Nobel lecture includes something that could be applied across the work of the other women who have won, something that collects the individual work under an umbrella of "benefit to humankind." Each writer is capable, in her own way (reflective of her style, time, place, and politics), of explaining how the recognition of her work is part of a long, shared story. But if any of the lectures contains something akin to a slogan, it must be Alexievich's (fitting for a writer whose work, at its core, is aimed at weaving disparate perspectives into an intricate whole). In accepting the prize, she reminds readers and writers alike: "I do not stand alone at this podium. . . . There are voices around me, hundreds of voices."
_____________________________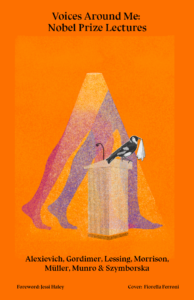 This essay is adapted from the foreword from the collection Voices Around Me: Nobel Lectures, which features the full lectures by Alexievich, Gordimer, Lessing, Morrison, Müller, Munro, and Szymborska. Open access publisher Cita Press honors the principles of decentralization, collective knowledge production, and equitable access to knowledge. The pieces brought together here reflect these values in ways that represent each writer's unique commitments, experiences, and style. We present this book—free, online first, and with an accordant new cover by Fiorella Ferroni—with the open invitation to share in these women's work and ideas. We hope you return to them, together and apart, often or sometimes, but always with the understanding that there are voices around us, and that language gives us a chance to speak and also to listen.
---