A Bad Marriage, a Good Dog, and the Beginning of a Long Career
Ben Moon Remembers His Late Friend, Denali
When Denali was three months old, I introduced him to the hallowed canyon walls of Smith Rock. At first Denali was confused by climbing. Why do you tie my leash to the tree roots at the base of the wall, then you tie into a different rope, and then you leave me down here? He would whimper and bark, trying to tell me I should come down. Eventually, he recognized that I always came back for him, and he would do the full body wag, excitedly welcoming me back to the ground. I hugged him, and as he licked every inch of my face, I dreamed that my other companion in life could be as happy as Denali was to see me. 
Melanie and I were married seven months after we met. On a cold spring evening in Grand Haven amid the sandy backdrop of my favorite beach, I proposed to her in the dark. My motivations came from behind my heart, like I had someone pushing me between my shoulder blades and I was powerless to resist. I reasoned that it felt like the logical step in life that I had to move through. A saner foundation for marriage would have come from a place of undeniable love. 
Melanie's family valued recreation and fun for fun's sake in the outdoors, something I had always yearned for. Instead of snowboarding, rock climbing, and mountain biking, my family focused their energies on necessity, making sure the vegetable garden flourished and the freezer was stocked with wild game. My dad was a conquistador of the useful and taught me how to hunt and fish and work hard, all life skills I now cherish, but we lacked the financial resources for ski trips or vacations in the tropics. 
Melanie's mom heaped compliments upon me, and even though things were not going well, my deepest desire was for someone to affirm that I seemed to be on the right path. This encouragement of the relationship was unfamiliar, as my mother had not allowed me to date in high school. 
I was finishing up an internship at the local hospital under the mentorship of the lead athletic trainer and an orthopedic surgeon overseeing the health of all the athletes at a nearby high school. My graduation from GVSU, athletic training board exams, 23rd birthday, and wedding date all piled on their own stressors, and all were to happen over the course of a few weeks. I was having paralyzing anxiety attacks, and I had no idea what to do. 
I made an appointment with the family doctor I had seen since I was a toddler, and shared my symptoms of being overwhelmed and having insomnia and chest pains. Without hesitation, he diagnosed my condition as anxiety and handed me a blister pack of anti-anxiety medication. Then, with Melanie sitting next to me and with the same frankness of delivery of a cancer diagnosis, he asked, "Are you sure that you're marrying the right person?" 
The feeling of freedom I experienced while dancing up the vertical rock faces at Smith Rock was in drastic contrast to the other reality I was facing.
I was too stunned by the boldness of the question to react. I laughed nervously and said, "Yes, of course!" to defuse the awkwardness that hung in the air. In the lead-up to the nuptials, my intuition was nearly always a cacophony of shrill warnings, but I was too bullheaded to heed them. I was going to get married come hell or high water, even though I was woefully lacking in experience with romantic relationships. 
The wedding was held in the backyard of Melanie's childhood home with over a hundred in attendance. The support on my side of the aisle consisted of only my parents and sister, my best man, and a friend I had grown up with who had a crush on Melanie's younger sister. 
I blame no one for my marrying the wrong person for reasons other than love, only my own stubborn naivete. I went along with the formalities like a head of cattle being herded through a stockyard. 
After the wedding, I juggled my athletic training duties at the high school with a gig at an outdoor gear shop called Earth's Edge, a few blocks from Lake Michigan. Rock climbing, snowboarding, mountain biking, and backpacking were occupying most of my thoughts in those days. I was too excited about the freedom to pursue these newfound passions to turn any attention to the needs of my marriage. 
Reading Climbing magazine, I was astonished by the breathtaking imagery of seemingly impossible climbs. I dreamed of one day attempting to climb in these locales. I had spent hours in climbing gyms and was ecstatic to have the opportunity to climb outdoors for the first time, testing my novice skills on a short overhanging climb at Devil's Lake in Wisconsin. 
After reading a review of the best cameras to use while rock climbing, I felt an impulse to purchase my first film camera and ordered a Yashica T4 point and shoot. Little did I know then how important a role this creative curiosity would play. 
The feeling of freedom I experienced while dancing up the vertical rock faces at Smith Rock was in drastic contrast to the other reality I was facing, the deterioration of my relationship with Melanie. The increasing frequency of our fights left me feeling trapped and lonely with a frustration I felt deep in my chest, a feeling that I was losing control. All I could think about was climbing and living the life I didn't know how to manifest but knew was out there.
The finances grew tighter every day as I struggled to find job a that matched my recently completed degree in sports medicine. I searched all over town for work in my field, but I found only short-lived gigs as a personal trainer in dank fitness centers, positions for which I was vastly overqualified after the thousands of hours I had put into working with athletes. 
I began teaching climbing at a cutting-edge climbing gym, but it was tied to a corporate fitness facility, and I was required to wear a white Adidas polo while I hung from a rope setting climbing routes on the wall. Men were also not allowed to remove our shirts while climbing, no matter how hot and sweaty the gym got. Everything felt controlled, and it stifled my spirit. 
A restlessness welled up as I became acutely aware that suburban life simply did not suit me. The frustration of working jobs beneath my skill set pushed me to fall back on the building projects that I had helped my dad with as a teenager, and I began framing houses for a local builder. 
The Pacific Northwest winter did little to lift my mood, and Denali's distaste for the incessant Portland rain seemed even stronger than mine. He would refuse to go outside until his bladder absolutely could not hold on any longer. If the grass was muddy, he'd lean toward it with two paws on the sidewalk, the other two barely touching the grass, and take a leak into the lawn with only minimal contact with the mucky soil. It was as if he wanted to avoid prolonged contact with the dampness lest he imply that he actually enjoyed the wet climate. Denali's distaste for the rain matched his unease in the city, yet he would come to life once we pulled into our high-desert camp for a weekend of climbing at Smith. 
Denali matured quickly, and around nine months of age he began to develop the confidence to become a more adventurous crag dog. I was invited on a trip to the Needles, a picturesque granite mecca just south of Yosemite Valley in the Sierra Nevada. The crew included the legendary climbers Tony Yaniro and Sue Nott, and renowned rock climbing photographer Jim Thornburg.
Even when Denali was a puppy, he would mirror my moods.
Each day, in order to get to the granite spires where the climbs were located, we made the four-mile uphill approach. The last mile had some scrambling over granite boulders that seemed to intimidate young Denali. Hesitant and crying at first, he eventually realized it was quicker to just learn how to overcome each obstacle than be lifted over them. 
This was my first time really testing my knee on climbs after an ACL repair surgery, and also my final trip with Melanie before things really fell apart. I became frustrated over petty things on that trip, and we bickered regularly. I was distracted by the beauty of the perfect granite climbs, learning from Tony, following the climbing master up pitch after pitch of perfect granite cracks.
Jim Thornburg asked to take my photo on a spooky arête—basically a 150-foot corner of a building that lacked any real handholds. I grimaced my way up the climb while Jim snapped image after image. One of them ended up as a full-page image in Climbing. Little did I realize then how much Jim's work and that trip would influence my own career in photography. 
One evening back in camp, I was looking for Denali when I realized he had crawled into our tent. Wait, wasn't the door zipped closed? I always shut it to keep the mosquitoes out, I thought. 
I looked closer and realized Denali had used his claws to slice through the screen door of the tent. 
A black Lab in our camp had been bullying Denali, so he crawled in to hide in the safest and most convenient place he could find. The mosquitoes found me eventually. 
Upon our return to the city, I felt daily life grinding my morale to its lowest depths. The stress of finding a job in an overwhelming city, balancing the finances when money seemed to never be quite enough, and never truly connecting with and loving my partner broke me. 
The bickering between Melanie and me dragged us both down. Tempers flared and both of us began to wander, Melanie in action, and me in my imagination. We both worked at the climbing gym, and Melanie began falling for one of the facility's employees, a tall, long-haired front desk clerk named Brody. I was no match for his smooth lies and easy charm, and it is no wonder Melanie was caught up in the fantasy of a man who tempted her with every quality she felt I was incapable of offering. 
Even when Denali was a puppy, he would mirror my moods. Ever observant and in tune, he acted upon his anxiousness about the situation between Mel and me by gnawing on baseboards and shredding baskets in our apartment while Mel and I were at work. Denali could clearly see the dysfunction of the marriage, but I was so close to it all that my anxiety blinded me to reading the signs. 
I dreamed of a woman who could understand me, to shine past my darkness and bring hope into my heart. I realize now that happiness starts within, that we alone are accountable for our actions. Yet a loving touch or a well-timed word of encouragement can forever alter our life's course. In those lonely moments when I felt misunderstood and unseen, Denali's presence helped me stay grounded.
No matter how bad I felt about the constant bickering or how the weather and business of the city life brought me down, one trip over the mountains to Smith Rock or to the beach would bring me back to feeling human again. Denali would go from being apathetic and anxious in the city to a playful and enthusiastic companion amid the expanse of the high desert or Oregon coast. 
__________________________________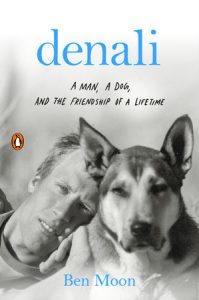 From Denali by Ben Moon, published by Penguin Books, an imprint of Penguin Publishing Group, a division of Penguin Random House, LLC. Copyright © 2020 by Ben Moon.
---