9 Fantastic Sci-Fi and Fantasy Books For February
Riveting and Romantic Reads From Roshani Chokshi, Brent C. Lambert, S.B. Divya, and More


I'm always amused when there are unintentional moments of kismet in these lists, especially as publishing is the kind of industry that sets publication dates so far ahead, yet you get the sense that some of these dovetailing books existing in the same month are mere coincidence. Like two speculative novels contending with Argentina's period of dictatorship—one an alternate universe where it continues on, the other a ghostly grief story that happens to inhabit the same real-world timeline.
Then there are two genderswapped retellings of famous folktales, "The Crane Wife" and "Bluebeard," in which men step into the roles that were female victims in the source material. One is sharp and cruel, the other lush and sumptuous. And while the latter of the two is ironically fitting for a Valentine's Day release, there's also a charming queer romance to round out the month, regardless of relationship status.
*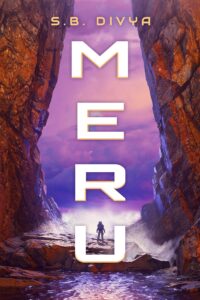 Meru by S.B. Divya
(47North, February 1)
I was working at Tor.com in 2016 when S.B. Divya's science fiction debut Runtime was published, a propulsive novella about the cyborg Tour de France. It's exciting to see Divya develop similar themes about posthumanism on a larger scale in this space opera, set in a future in which humans have been landlocked on Earth after destroying not only its environment, but Mars' as well. But there's always the possibility that future generations have learned, which is where Jayanthi comes in: A human raised by alloys (Earthlings' descendents from their initial space forays), she believes that she can make a case for settling the new planet Meru, with her sickle cell anemia being an advantage for survival. Joining her in this on-the-ground experiment is Vaha, an alloy pilot looking to prove zir worth in the sky.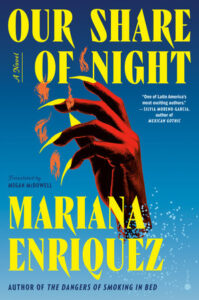 Our Share of Night by Mariana Enriquez, translated by Megan McDowell
(Hogarth, February 7)
Mariana Enriquez's (Things We Lost in the Fire) first novel translated into English is a gothic horror tale set during and after Argentina's dictatorship, pinning the passage of time onto a story of a grieving father and son. In 1981, Juan's wife dies; son Gaspar struggles with two daunting inheritances, his mother's familial estate in Argentina and his father's abilities as a medium. The latter is a double-edged sword, as they are being stalked by the Order, an immortality cult tied to Juan's wife's family: If they discover that Gaspar has manifested the terminally ill Juan's abilities, then they will take him to contact the dead; if they believe that he has not, then they will kill Gaspar in order to prolong Juan's lifetime, no matter how cruelly.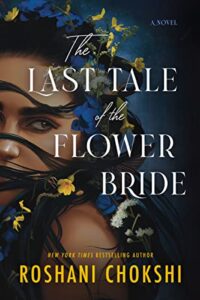 The Last Tale of the Flower Bride by Roshani Chokshi
(William Morrow, February 14)
I only remember snatches of Bluebeard—a house with many doors, never to be opened; a forbidding husband and a bride with insatiable curiosity—but like Antigone, I won't need to reread it before cracking the spine on Roshani Chokshi's latest. Because her take on the ominous folktale opens with a man known only as the Bridegroom, who freely tells the reader how alluring he finds the "not-quite women" of dark fairy tales. Little does he know he's about to be swept off his feet by Indigo Maxwell-Castañeda, who will put a ring on his finger and a roof over his head… so long as he never asks too many questions about her fortune or about their new home, The House of Dreams. Like Indigo, the book draws you in in the opening pages, and you're helpless to do anything but follow along, romanced but also tensing for the moment that the fairy tale romance sheds its skin and reveals its true self.
The HarperCollins Union has been on strike for a fair contract and better pay since November 10. Here's how you can support the HarperCollins Union.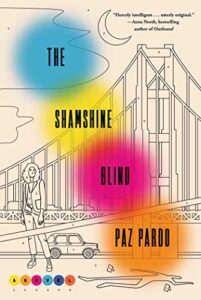 The Shamshine Blind by Paz Pardo
(Atria Books, February 14)
This speculative noir is set in an alternate-universe 2009 in which the United States cowers from Argentina's use of "psychopigments" to win the Falklands War. What's more, these chemical recreations of human emotions dominate the black market, whether they're being used as weapons or recreationally: Slate Gray (ennui), Blackberry Purple (terror), Sunshine Yellow (happiness)… or the inevitable knockoffs, like Shamshine. These counterfeit pigments are Agent Kay Curtida's specialty, working with the Psychopigment Enforcement Agency outside the ruins of San Francisco. But when she gets a lead about a new psychopigment intended to induce blind faith, Kay winds up down a typical dangerous rabbit hole, but these bullets are inconvenient or debilitating emotion. Complicating the traditional noir with a narrator besieged by unreliable feelings makes this debut super intriguing.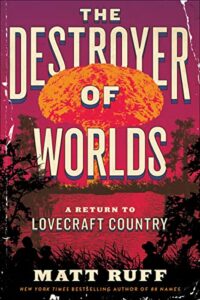 The Destroyer of Worlds: A Return to Lovecraft Country by Matt Ruff
(Harper, February 21)
Despite it being seven years since Lovecraft Country was published, half of that time has passed for the characters at the heart of Matt Ruff's horror fantasy novel and its sequel. Now it's 1957, and each of the key characters from the first book's eight interconnected stories are once again facing down family histories and dark temptations. Atticus Turner and his father Montrose are retracing the route taken by ancestor who escaped slavery, only to come across an old nemesis. In order to stave off terminal cancer, Montrose's half-brother George makes a deal with about as close to the devil as you can get: Hiram Winthrop, or rather the white sorcerer's ghost, who he must resurrect if he wants to live. Ruby Dandridge is running out of the potion that lets her move through society as her white alter ego Hillary Hyde. But most pressing is that Caleb Braithwhite, the big bad banished at the end of Lovecraft Country, has found his way back, and he wants revenge.
The HarperCollins Union has been on strike for a fair contract and better pay since November 10. Here's how you can support the HarperCollins Union.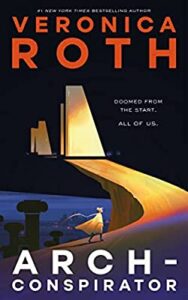 Arch-Conspirator by Veronica Roth
(Tor Books, February 21)
If you're like me, you may not have read Sophocles' Antigone since undergrad. A spotty memory of the play is no hurdle, as Veronica Roth (perhaps best known for the dystopian YA Divergent series) breaks down the double helix of the Greek play and reforms it into a thrilling dystopian novella. While the beats remain the same—Antigone has lost her incestuous parents, Oedipus and Jocasta; her militant uncle Kreon forbids her from burying another lost family member—Roth reimagines them within the context of a world in which humanity Archives the ichor of its dead and rebirths them through gene-editing. People like Antigone and her siblings, conceived without tampering, are considered soulless. Multiple perspectives allow for exciting interrogations of ethics and of what it means to resurrect someone, figuratively or literally. This is the first of three new novellas for Tor Books.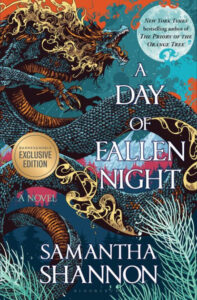 A Day of Fallen Night by Samantha Shannon
(Bloomsbury, February 28)
Samantha Shannon's 2019 fantasy The Priory of the Orange Tree stunned with its interwoven conspiracies and confidences among a bevy of unforgettable characters: queen, mage, alchemist, dragonrider. Now, Shannon returns with a standalone prequel set centuries before that manages to sound even more epic than its predecessor. Teenage royal heir Glorian Berethnet, like her eventual Priory descendant Sabran the Ninth, struggles to live up to the family legend of ancient knight Galian, revered for banishing the wyrm known as the Nameless One. The same factions exist here, but the Priory of warrior-mages must ensure its own survival, and the recent resurgence of the wyrmkind threatens to upend the entire queendom of Inys.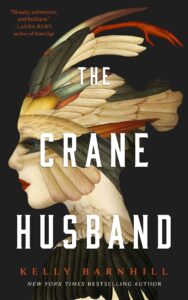 The Crane Husband by Kelly Barnhill
(Tordotcom Publishing, February 28)
Kelly Barnhill dreamed up this dark, surreal retelling of "The Crane Wife" while venturing across the country in an RV during 2020 covid lockdown, inspired by the collapsing Midwest farmhouses she witnessed in her wanderings. Despite the genderswap, the themes of the Japanese folktale remain; but instead of a crane wife plucking out her feathers so that her husband won't know of her true form, it's a crane husband who crowds into a farmhouse without bothering to hide what he really is. But the narrator, a fifteen-year-old girl, can plainly see how this crane cuts her artist mother with his sharp edges, even as the mother abandons her children in order to weave the tapestry that her crane husband demands.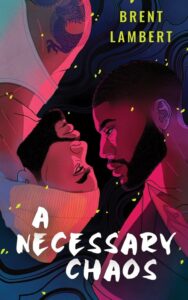 A Necessary Chaos by Brent C. Lambert
(Neon Hemlock Press, February TBD)
This novella sounds charming as heck: Secondary world contemporary fantasy in which two queer Black mages, Althus and Vade, are assigned to spy on one another. But then—say it with me—they catch feelings, which makes it a hell of a lot harder to carry out orders from their respective sides to kill one another. As Brent C. Lambert has shared on Twitter, this is a world in which the dramatic conflict comes not from racism or homophobia, but from the push-and-pull of yearning versus duty to your side. But also, there are ghost dragons. I can't think of a better Valentine's Day read.
---