9 Classics of Literary War Porn
Roy Scranton on Artfulness and the Horrors of War
War porn, n. Videos, images, and narratives featuring graphic violence, often brought back from combat zones, viewed voyeuristically or for emotional gratification. Such media are often presented and circulated without context, though they may be used as evidence of war crimes. 
War porn can mean a lot of different things: GoPro video of Marines pissing on a corpse, cockpit footage of an Apache killing a bunch of civilians, pictures of naked prisoners being tortured, a short story about shooting a water buffalo, a novel about a bombardier, a cinematic masterpiece about D-Day or Guadalcanal. War porn can focus on bodies and blood, or it can focus on the morally tortured soul of the grief-stricken killer. It can be crafted with the sophistication of great art, layering the titillation and eroticism of violence through post-traumatic flashbacks, meta-narrative conceits, and the melodious rhythms of lyrical poetry, and it can come at you hard and fast and mean, with the immediacy of a murderer's boast. To be honest, it's sometimes hard to tell what really distinguishes war porn from other kinds of war stories, except to say it has something to do with the discomfiting connections between lust and aggression, pleasure and violence, sex and death. Maybe you just know it when you see it. The following writers knew it when they saw it, and wrote wonderfully about it.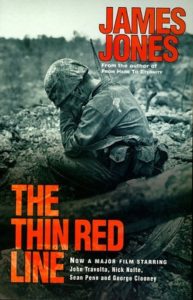 James Jones, The Thin Red Line
Hot gay grunt sex, beautifully orchestrated combat scenes, masterful use of free indirect discourse, and the most anthropologically astute portrait of the US Army as an institution you'll ever read, all set in a lush tropical wonderland. Malick's movie adaptation is pretty, but it misses the mark; James Jones's novel The Thin Red Line is a sui generis epic telling the story of how a social organism—the infantry unit "C for Charlie Company"—changes and grows through its campaign across Guadalcanal. Jones told his editor Burroughs Mitchell he meant to write a Proustian combat novel, and if any book ever achieved that rare mixture, it's The Thin Red Line.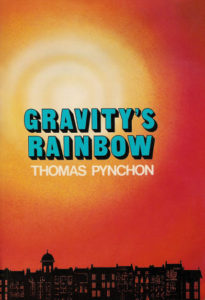 Thomas Pynchon, Gravity's Rainbow
Coprophilia. Incest. Nazis. Rockets. Sex with kids. And lots and lots of rubber. This dark psychedelic novel set in the closing days of World War II won the National Book Award in 1974, which was received on behalf of its reclusive author by stand-up comedian Irwin Corey, and would have won the Pulitzer too except that one of the Pulitzer board's members found it too obscene. Stylistically brilliant in its subtle shifts from scene to scene, weird interior to weird interior, intimidatingly erudite, relentlessly perverse, and hopelessly complex, Gravity's Rainbow is perhaps the closest thing America has produced to James Joyce's Ulysses. It might be genius, it might be a joke, but it's a compelling work of war porn either way.
Laurence Sterne, The Life and Opinions of Tristram Shandy, Gentleman
Your English professor may have told you this was a humorous, meta-narrative satire of empiricist philosopher John Locke's epistemology, but you were never so mistreated in your life as when you were subjected to that malicious lie. The substance of Sterne's novel is the harrowing story of Tristram's Uncle Toby, tragically wounded while fighting the French in Belgium, and the struggles he faces returning to postwar civilian life in England. His mind and masculinity shattered by war, Uncle Toby forces fellow veteran Corporal Trim to help him obsessively reconstruct the scene of his trauma, almost like Robert DeNiro and Christopher Walken in The Deer Hunter, to the point where Toby's "hobby-horsical" repetition compulsion threatens to overwhelm his life, endangering even his late chance at happiness with the Widow Wadman. As Toby and Trim succumb to the brutal eroticism of violence, Sterne shows us that no one touched by war can ever truly leave it behind.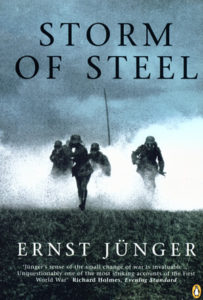 Ernst Jünger, Storm of Steel (trans. Michael Hoffman)
Near the end of this ghoulish, utterly unique memoir of World War I, Ernst Jünger counts his scars: "Leaving out trifles such as ricochets and grazes, I was hit at least fourteen times, these being five bullets, two shell splinters, one shrapnel ball, four hand-grenade splinters and two bullet splinters, which, with entry and exit wounds, left me an even twenty scars." As steely in its observations as it is refulgent in its depictions of war's spectacle, Storm of Steel is the kind of book that could only have been written by someone both steeped in German Romanticism and hardened by hellish fighting. Jünger later took a bunch of acid and wrote some very weird sci-fi novels, and that was after he ran into trouble with the Nazis during World War II for being too right-wing. But whatever we might think of Jünger's politics, the harrowing beauty of Storm of Steel is undeniable—Jünger truly loved war, its vistas, its terrors, its violence, its grotesque machinery, and its demands on men's courage and character, and his love shines through in every sentence. War porn of the highest caliber.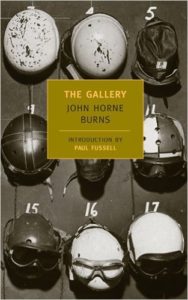 John Horne Burns, The Gallery
The fighting itself is mostly background in this series of portraits of American-occupied Naples during World War II, but front-line fighting is, really, only a tiny part of the overall business of war. Occupation, on the other hand, is a massive undertaking—in this case involving Red Cross volunteers, whores, grifters, soldiers sick with venereal disease, REMFs, gay lieutenants on the DL, and a rogue's gallery of beggars, thieves, and liars. Burns's novel shifts between closely observed and imagined portraits of a motley bunch of Americans and Italians in flagrante, and a kind of impressionistic, stream-of-consciousness autofiction drawn from his own experience. Nothing I've ever read, not even John Hersey's worthy A Bell for Adano, captures the peculiar moral putrefaction military occupation breeds, though Joseph Conrad's Heart of Darkness and Graham Greene's The Quiet American offer comparable variations on the basic idea: a walled-in world characterized by a vast gulf between the mighty and the fallen, easy cruelty and easier self-deceit, and the fact that everything—and everyone—is up for sale.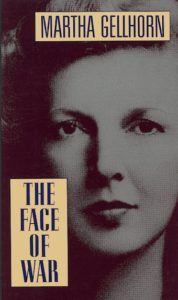 Martha Gellhorn, The Face of War
After a career spent reporting from 20th-century war zones, which she began as a freelancer during the Spanish Civil War, Martha Gellhorn no longer believed in the power of ideas or in the integrity of the press, but she still believed in setting the record straight. Looking back over the decades, this seems to have meant recording a lot of blood, sorrow, and mean stupidity, and a lot of beautiful, brave young men becoming beautiful silent corpses. The Face of War collects Gellhorn's tough and lucid reporting from Spain, Finland, wartime Germany, Vietnam, and other blasted wastelands, testifying to both humanity's callousness and Gellhorn's steely drive to document it. Raw, powerful, angry war porn.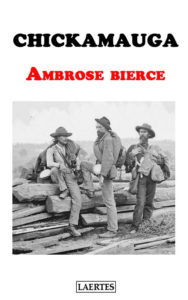 Ambrose Bierce, "Chickamauga"
It's hard to know what to say about this tiny nightmare from Civil War vet Ambrose Bierce, except that it's must-read war porn. A child of six loses his way in the woods, chasing a fantasy of knightly heroics, only to come upon the battlefield at Chickamauga, a field of horror beyond comprehension, rendered even stranger by Bierce's grim, patient prose. Deeply uncanny, Bierce's "Chickamauga" cuts to the bone, from its laconic irony to its final, disorienting twist.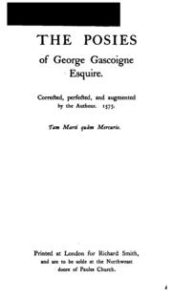 George Gascoigne, "The Fruits of Warre"
Gascoigne stands alongside Thomas Wyatt and Philip Sidney as one of the writers responsible for creating modern English poetry, merging Chaucerian rhythms with French and Italian sophistication, though his greatest fame might derive from his failed bid to become one of Queen Elizabeth's courtiers: Knowing the Queen was out hunting one day, Gascoigne hid in the forest dressed as "Sylvanus," wild man of the woods. As the Queen's party approached, Gascoigne leapt from behind a tree and began declaiming his devotion, in a costume of green hose and shrubbery. The Queen listened for a moment then, bored, rode on, but Gascoigne ran alongside, persuading Elizabeth with stamina if not with wit. She stopped to let him finish, and as he reached his conclusion, Gascoigne cracked his oak staff in two with a flourish. Half the rod flew into the air and nearly hit the Queen's horse, which startled violently. "No hurt!" the Queen cried, probably saving Gascoigne's life, though his hopes for court were ruined.
Gascoigne not only saw the transition between different periods of English verse, but between changing conceptions of war and military service. Like Miguel de Cervantes, Gascoigne saw the feudal ethos of aristocratic military service being replaced by a newly professional and strikingly mercenary understanding of soldierly life. "The Fruits of Warre" embodies this transition, disdaining chivalric conceits in favor of a morally complex, contradictory account of suffering, treachery, greed, physical courage, bad leadership, stupidity, miserliness, shitty weather, worse luck, slander, mistaken fame, lies, betrayal, hunger, fatigue, imprisonment, and death, drawn from Gascoigne's two years fighting the Spanish as a soldier of fortune in the Dutch lowlands. Not as racy as Gascoigne's novella The Adventures of F.J., as gory as Shakespeare's Coriolanus, or as epic as Marlowe's Tamburlaine, "The Fruits of Warre" is nevertheless vintage Elizabethan war porn.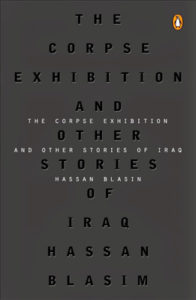 Hassan Blasim, The Corpse Exhibition (trans. Jonathan Wright)
This collection of gorgeous, punishing, Borgesian short stories by Iraqi-born writer Hassan Blasim spoke powerfully to the eight-year-long US occupation of Iraq when it was published here in 2014, though the stories actually grew out of Iraq's two previous wars: the Iran-Iraq war of the 1980s, and the so-called Persian Gulf War, which began with Iraq's invasion of Kuwait and ended with the "highway of death," a decade of sporadic, wanton American bombing, and crippling economic sanctions that killed between 200,000 and 600,000 Iraqi children. Blasim's stories worry the problem of what it means to make art from violence, over and over from different perspectives, dazzling, horrifying, and fascinating by turn. The Corpse Exhibition is exemplary war porn, but it also thinks deeply about what war porn is and means. As one narrator, a master artist, tells his young student: "Every body you finish off is a work of art waiting for you to add the final touch, so that you can shine like a precious jewel… To display a corpse for others to see is the ultimate in the creativity we are seeking…"
---