5 Literary Classics That Should be Adapted as High School Rom-Coms Immediately
Where's the Next Cruel Intentions?
Okay, so a little background on this quasi-ridiculous exercise: after seeing the latest adaptation of Jane Austen's Emma, I decided it was time to rewatch Clueless, and let me tell you, it (mostly) holds up. And so I wondered: whence the high school-set, romantic-comedy adaptations of classic literary texts? They were all the rage there for a while, and the format has led to some truly great movies: Clueless, of course, being at the top of the list, not to mention 10 Things I Hate About You, Easy A, and Cruel Intentions, which are all also at the top of the list. Maybe Hollywood just need some more ideas? In that case, I am here to help, with my totally un-screen tested, off the cuff, tongue in cheek ideas for how you could turn some fine literary classics into fine cinematic joyrides. Forgive me, Reader. (Call me, Hollywood.)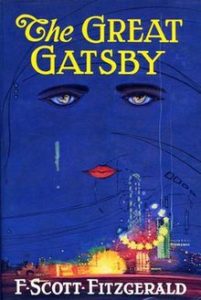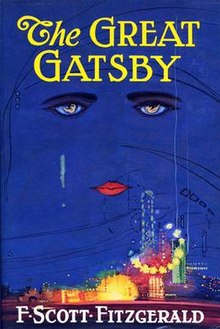 F. Scott Fitzgerald, The Great Gatsby (1925)
At the indecently expensive East Egg High, Daisy and Tom are the It couple, and everything is like, totally perfect—until, mid-semester, a mysterious transfer student, known only as J., appears in first-period English: well-dressed, handsome, and obviously richer than Bloomberg. He watches Daisy from behind his classic Ray-Ban Clubmasters, which yes, he is wearing indoors; she pretends not to notice him. But she does notice him. How can you blame her? After all, Tom obviously sucks, and is, we discover, secretly sleeping with a Myrtle, girl who goes to the local public school. That weekend, J. throws an enormous party at his parents' house, and invites everyone, even this weird nerd named Nick. At the party, he meets Jordan, a certified Horse Girl who actually already knows J., from an exclusive summer camp they went to.
Article continues after advertisement
She wouldn't normally talk to Nick, but she's drunk, so she tells them that at this camp, J. and Daisy were totally A Thing. J. overhears the conversation, and recruits Nick to help him win Daisy back from That Lunk Tom. It works; they begin a secret affair. But then Tom finds out, betrays J. as being New Money to everyone, and Daisy goes back to him. On their way back from yet another party, Tom hits Myrtle, who was waiting for him, with his car, killing her. To protect his son, Tom's dad tells Myrtle's dad that it was this new kid, J., and Myrtle's dad goes over to J.'s house and kills him, and then himself. By the way, the whole thing is being live tweeted by Nick, who is basically that school's Gossip Girl. The end.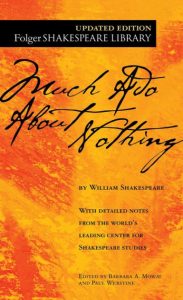 William Shakespeare, Much Ado About Nothing (1623)
Benny is the star quarterback of the football team who thinks having a girlfriend is the worst thing a guy could do to himself; Bea is a ripped jean-wearing, Sartre-reading hipster who hates all football players. Unfortunately for them, Bea's best friend, Hermoine, is totally in love with Benny's best friend, Claude, the tight end. When the school hosts a masquerade ball for Homecoming, Benny and Claude's friend Pedro pretends to be Claude and dances with Hermione. She is obviously not fooled, only slightly confused, because who would be that dumb, but later Claude declares his love for her and they start going steady anyway. At the same dance, someone shoves Benny and Bea together, and she, also not fooled, begins to talk about how much she hates him while he splutters behind his mask. But Pedro thinks Benny and Bea look pretty darn good dancing there together, and so he and Claude and Hermione hatch a plan to get them together: Pedro and Claude let Benny overhear them talking about how Bea is in love with him, and Hermione "accidentally" lets Bea see some of her texts suggesting that Benny is in love with her. Tra la la.
Meanwhile, John, whom we've never met before but is the second string tight end, decides to fuck with his competition by making it seem like Hermione is cheating on Claude with John. It works! Claude calls her a slut in front of the whole school and then quits the team because he is too sad to play sports. Bea is enraged and decides to test Benny's supposed love for her by asking him to beat the crap out of Claude. (This is what football teens do, right?) Benny says solemnly that he will do this for his new alternative girlfriend. But then, someone posts an Instagram picture of an angle that shows the truth: it wasn't Hermione with John, but John's girlfriend in a wig. Normal! We'll skip over the fake suicide stuff because it's really too dramatic, even for high schoolers. In the end, everything is fine, and Bea and Benny go to prom, where they are elected King and Queen by a class that knows how much Bea will hate it. And she does. But also, she kind of loves it. The end.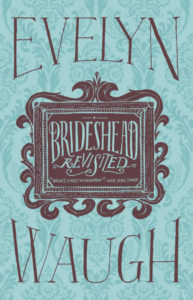 Evelyn Waugh, Brideshead Revisited (1945)
Easy: just move the whole story from Oxford to high school and show me an actor so attractive that he will believably not be bullied for carrying around a teddy bear and I am sold. Also we'll need to update it so Sebastian and Charles live happily every after together—or at least only break up later in college!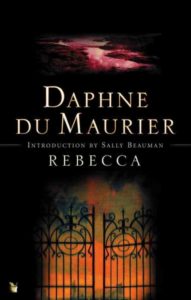 Daphne du Maurier, Rebecca (1938)
Julie is the new girl at somber, silent Manderley High. She just moved to this tiny town in Connecticut from LA, and at first she thinks that people on the east coast are just that much creepier and more depressive—but soon she discovers that just before she arrived, one of the students drowned herself in the nearby lake. Not having known the girl, whose name was Rebecca, Julie finds it hard to mourn, and it isn't long before she begins dating a senior named Max. He wants to keep their relationship a secret, but won't explain why—Julie agrees, but soon they are discovered by Danielle, who was Rebecca's best friend. Danielle tells Julie that Max was Rebecca's boyfriend, and the two were the most adored and admired couple in school. She also tells Julie that she's going to help her at their new school, where surely she will now be regarded with suspicion. But she does not help her! She compares her to Rebecca and backstabs her at every turn, but Julie doesn't really understand what's going on. When it's time for prom, Danielle presents Julie with a gorgeous dress, which she promises her Max will love.
But when Julie shows up wearing the dress, the whole room goes silent and Max goes white. This is the dress Rebecca wore to prom last year. Julie runs off in disgrace. Later that night, Danielle comes to her house and tries to get her to kill herself, just like Rebecca did. But just as Julie is about to jump out of her bedroom window, she sees a car crash across the street, and runs down to call for an ambulance. The next day, Max comes to see Julie, and tells her that in fact his relationship with Rebecca was a sham; she and Danielle had been in love, and he had been acting as her boyfriend so Rebecca's religious parents wouldn't find out. Danielle had a very embarrassing video of him that they were holding against him so he wouldn't tell. He breaks down and tells Julie that it's his fault Rebecca killed herself; that he had said some awful things to her—but it turns out that it was actually Rebecca's parents that drove her to this end. Together they finally convince Danielle of this, and she burns their house down. The end.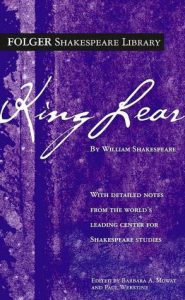 William Shakespeare, King Lear (1608)
King Lear as Queen Bee: Leanne, now a senior, has ruled the school with an iron fist, but now wants to bequeath her throne, her power, and all her Head Cheerleader duties to one of her three sophomore minions. But which one? Georgia and Regan elaborately suck up to her, making their pitches as to why they should be Queen, and they win Leanne's approval, but Cordelia, her favorite, and the only nice one, will not sing her praises. So Leanne excommunicates her and tells Georgia and Regan they can be co-Head Cheerleaders next year, publicly declaring that they will succeed her. Obviously Georgia and Regan secretly hate Leanne, and, eager to begin their reign, begin to plot against her, letting slip secrets and making little underhanded comments.
They steal her clothes, begin to take her place. Regan steals Leanne's boyfriend, only to dump him later once he was fully in love with her. Leanne sends an email to the whole school about her friends' treatment of her, but it's too late, and she's mocked. Cordelia is the only one who doesn't make fun of her—and once Leanne is fully discredited, the two turn to her, who is the only one among the four who was every actually popular, that is, liked by a lot of people. They spread a nasty rumor about her, and secretly, Georgia adds another rumor about Regan, so she can have the throne alone. But her boyfriend, who has been watching all of this with dismay, exposes her treachery to the whole school. Now everyone is totally shamed, no one is popular, and Leanne goes to college. Also Cordelia turns out to be fine because she didn't care about being popular anyway. The end!
---