5 Great Books of Hollywood Outsiders
From Christopher Isherwood to the Weirder Side of Cult Life
The Los Angeles literary genre became a household staple when my family moved there from Italy in 1994. My parents unloaded garage sale finds of Joan Didion, Nathanael West, Christopher Isherwood, and Raymond Chandler, and countless celebrity biographies at the house every weekend. The books were intended as literary tour guides to understand a certain kind of loneliness, a feeling of being unhinged that was specific to the city, particularly Hollywood; the pinnacles of success and dark areas of addiction of Jerry Stahl's Permanent Midnight, the sordid repertoire of Kenneth Anger's Hollywood Babylon, and Marya Wyeth's painful meanderings in Joan Didion's Play It As It Lays were a warning about the things that could happen to the women of the land: psychiatric ward internments, suicides, divorce, and nocturnal excursions on freeways.
For me, the texts functioned as group therapy, introducing me to a circle of ghosts and living legends that provided much needed comfort: everyone went through it—brutality, fear, solitude, miraculous streaks of good luck, bursting bank accounts and overdrawn notices. Whether or not you became successful, the toll was always the same. Nathanael West's The Day of The Locust reassured me that madness was not elitist. It visited the rich and the poor, the industry's insiders and newcomers without distinction. Jean Stein's oral history West of Eden, Eve Babitz's L.A. Woman and Slow Days Fast Company, and David Ulin's anthology Writing Los Angeles live by my bedside table and serve as a plane ticket from Italy whenever I want to escape to grandeur, desperation, and lust.
But as much as I love a good LA-based novel or essay, I've noticed that the stories that truly kept me company were the ones about outsiders, the people who lived on the fringes of show business and re-invented the rules according to their own vision. Maybe everyone in Hollywood feels like an outsider, but below are my favorite ones.
Article continues after advertisement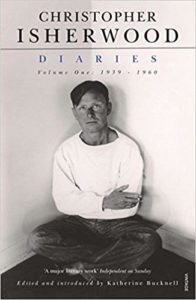 Christopher Isherwood Diaries, Volume 1, 1939-1960, ed. Katherine Bucknell
A European writer in exile, Isherwood immigrated to the United States in 1939 with his friend W.H. Auden and joined the community of expats, artists, and intellectuals who had fled Nazism. As uncontrollably cool as Isherwood was, there was no way he could not have been an outsider: British, gay, a pacifist, an ardent explorer of Hinduism, mysticism, and vedantic consciousness, and the future life partner of a man thirty years younger than him.
He worked in Hollywood as a writer for hire, but to him it was a way to have an income: "The studio, is just an office I visit in the daytime." His diaries offer a unique insight into the feelings of those who had been lucky enough to escape the war. He essentially became an outsider observing outsiders, people striving to find a moral balance between everything they had left behind (war, deportations, bombings, persecution) and everything they were stepping into (sunshine, movies, ocean).
How did they navigate the duality of this shaky territory? Where and how did their sense of guilt for having escaped come into play? The diaries are also filled with observations about Hollywood figures like Greta Garbo. In particular I adore his account of a picnic with the diva and the guru Krishnamurti: "Garbo was anxious to meet Krishnamurti. She was naturally drawn to prophets––genuine or otherwise . . . She wanted to be told the secret to eternal youth, the meaning of life—but quickly in one lesson, before her butterfly attention wandered away."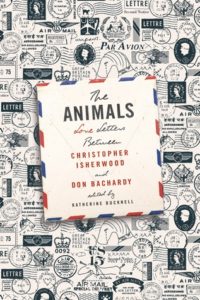 The Animals: Love Letters Between Christopher Isherwood and Don Bachardy, ed. by Katherine Bucknell
Katherine Bucknell deserves a monument for the archival work she's done editing Isherwood's diaries. It's thanks to her research and drive that I encountered the epistolary relationship between Christopher Isherwood and his lover, the American portrait artist Don Bachardy. The two met in 1952, becoming involved shortly thereafter and openly living together in Hollywood for decades as a gay couple with a big age gap. Through their letters (and the subsequent podcast curated by Bucknell, where Simon Callow interprets Isherwood's letters and Alan Cumming plays Bachardy) I fell in love with this brave and visionary couple.
The letters reveal what it means to be a real artist, true to your calling, essentially timeless and disconnected from fashion, moralist impositions, and lifestyle trends. Isherwood allowed their love story to develop over years and long distances (Hollywood, New York, London, and continental Europe) so that Bachardy could develop his artistic career and see the world. The Animals is both a book about love and a book that teaches us the grace of being part of one's artistic milieu (literature, film, art, ballet in this case) without falling into the trap of having to adhere to its rules. Isherwood and Bachardy wrote to each other for years in the guise of horse and cat. Bachardy was "Kitty", "Fluffcat," "Sweetpaws," and Isherwood is "Drub," "Dobbin," "Old Pony." The safe animal world they created was their way of making sense of their existence, lived simultaneously on the fringes of society and in extreme engagement with it.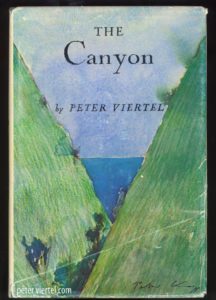 Peter Viertel, The Canyon
This somewhat autobiographical coming of age gem from 1940 is virtually impossible to find today. The protagonist, George, grows up in a canyon by the ocean with a small gang of friends, a delightful cast that includes Betsy, a sensual tomboy who opens him up to his budding sexuality. As the kids grow they become more aware of their class differences, and the wild, free life of the canyon grows more complex and layered. At 17 the group breaks up for good. In the novel, a twenty-something George ponders those days of early youth and the way in which a small neighborhood was once considered a town.
Even though this is not a proper Hollywood book, it is written by a personality who is Hollywood as they come. Peter Viertel was the son of poet and theatre director Berthold Viertel, and screen and fiction writer Salka Viertel, who was a great friend of Greta Garbo and a godmother figure to Isherwood. They immigrated to America during the First World War when Peter was still a boy. On Sundays, the Viertel house hosted members of a certain kind of bohemian expat community, including Marlene Dietrich, Charles Chaplin, and Aldous Huxley. This novel is in a way a reflection of Peter's own relationship with the land and people he was tied to from an early stage in life. Somewhere beneath the surface is the suggestion that if you move to Los Angeles, Hollywood will find a way to creep inside the hidden canyon of your community, break up your friendships, and instill its barriers, determining from early on who is in and who is out.
Isis Aquarian with Electricity Aquarian, The Source: The Untold Story of Father Yod, Ya Ho Wa 13, and The Source Family  
Thanks to the documentary Wild Wild Country, it has become easier to understand why hundreds of wide-eyed young people would live communally, run organic restaurants, and follow a charismatic guru who acts like a rock star. I have always been fascinated by Father Yod, an otherworldly Hollywood Hills figure who started a commune and married 14 women, all of whom were young, beautiful and seemingly either pregnant, breastfeeding or with small children on their hips.
This book, edited by one of these very women, Isis Aquarian, whom I had the pleasure of interviewing for Document Journal has been an essential travel companion for me since I first discovered it. Part oral history, part photography book, it documents the lives of the members of the Source family, the other side of the coin of the Manson family. As Isis says: "We were the beautiful, rich and generous. We had sex, drugs and rock and roll, but we encountered the spirit." Father opened The Source Cafe in the late 1960s on Sunset strip, hosting a bunch of kids in a mansion in the hills in exchange for their work at the restaurant.
In its heyday, the Cafe's patrons included Jack Nicholson, Frank Zappa, Julie Christie, Marlon Brando, and Warren Beatty. But not long after the Manson murders of 1969, Hollywood had little patience left for white robes and polyamorous cult leaders, and the very people who had enjoyed the "divertissement" of this peculiar gang of Hollywood cool kids were the ones who drove them out of the city. Though the family possessed the aura of rock stars (father fronted a psychedelic rock band called Ya Ho Wa 13. The CD is included in the book) this remains a story of outcasts and lost souls. When the family broke up, several of them relocated together to Hawaii in 1974, only to be rejected by the locals there. With nowhere to go and very little money left, Father Yod made a grand exit by jumping off a cliff with a hand glider on a windy day. He broke his back, refused to go to a hospital, and died surrounded by his most faithful "children." This exceptional book goes hand in hand with the The Source Family a feature length documentary directed by Jodi Wille and Maria Demopoulos.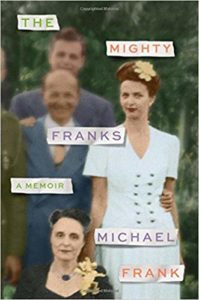 Michael Frank, The Mighty Franks 
The Hollywood memoir as a genre in itself deserves a whole other best-of list in my personal repertoire. I wouldn't be the person I am today if it weren't for Carrie Fisher's Wishful Drinking, Drew Barrymore's Little Girl Lost, Priscilla Presley's Elvis and Me, and the classic Mommy Dearest by Christina Crawford. Within this genre, Michael Frank's recent memoir, The Mighty Franks, is a tsunami of everything I love most: a dysfunctional family with no sense of boundaries, Laurel Canyon, European Jewish émigrés, amazing style, and a passion for arts and film. At the center of this story is the relationship between young Michael and his mercurial, seductive aunt Harriet, or "Hankie," who elects him as the heir of the family's artistic legacy––aunt Harriet Frank Jr. and Irving Ravetch are screenwriters and producers, and the title The Mighty Franks is Hankie's way of addressing the family.
This is also a larger story of a bizarre clan in Laurel Canyon, where brother and sister have married sister and brother, and their mothers (Frank's grandmothers) live together. Young Michael has the task of deciphering his complicated family's dynamics and is forced to hone his eavesdropping skills: "I had learned that it was never wise to start listening at the beginning of a conversation, because that was when people were most suspicious . . . . I had learned to be patient, endlessly patient, since much of what I overheard was dull and some of it wasn't even comprehensible to me." This is a beautiful story of a boy trying to piece together his family's glorious and glamorous past, and facing the choices he has to make in order to grow up.
Chiara Barzini's novel, Things That Happened Before The Earthquake, is out in paperback now.
---