5 Books You May Have
Missed in October
Rock-and-Roll, Diplomacy, Arms Dealers, Football, and More!
Generally I try to include women authors in this column, but this month, after the remarkable election results of November 7, I couldn't resist letting a few titles do the talking. I hope you'll forgive me just this once. I hope you're already thinking about what we can do to effect change, and I believe part of that change includes thinking about reading books that expand our notions of what is possible—but also show us what needs to be changed in the United States of America. 
This month's list includes novels about dogma, rock-and-roll, diplomacy, arms dealers, and football. If that sounds suspiciously patriarchal, fear not: These authors tell it slant, bringing truly different perspectives to their subjects. 
*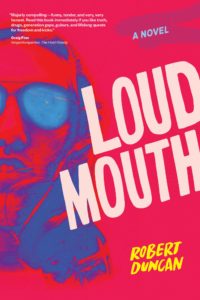 Robert Duncan, Loudmouth
(Three Rooms Press) 
Loudmouth follows Thomas Ransom, whose Southern family's relocation to Manhattan results in strange, street-centric childhood. As a teenager Ransom—an almost-exact avatar of his creator Duncan—discovers rock and punk, and becomes a very young editor of a music magazine. (Duncan became managing editor of Creem at age 22.) Thomas Ransom writes for many magazines and interviews all the rock gods, from Joe Strummer to Bruce Springsteen, finds critic Lester Bangs dead of an OD, and befriends a painter who changes his life. Wait, what? You'll have to read to find out, but the important thing to know now is that Duncan (who lives in San Francisco with his wife Roni Hoffman, the rock photographer) didn't succumb to the fate of Bangs or gain the fame of Springsteen. Instead, he examines an era that saved him from the torpor of his parents' dysfunction and gave him an appreciation for different paths.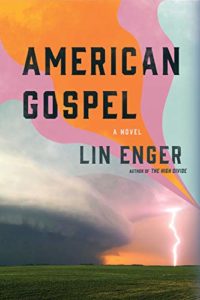 Lin Enger, American Gospel
(University of Minnesota Press)
In American Gospel, it's 1974 in the Minnesota North Woods and an elderly farmer named Enoch Bywater has experienced a vision of The Rapture during a cardiac event. Alive and kicking afterwards, he announces this sweeping up of righteous souls will occur on August 19th. Neither his thirtysomething journalist son Peter nor Hollywood star Melanie Magnus (back in town for many reasons) can convince him otherwise. Peter aims for a scoop, so he sends out his father's loony story—and soon people are flocking to Battleground, "just north of Bemidji", hoping for their own sliver of divine intervention. Enger, brother to novelist Leif (Peace Like a River, etc.) uses his Minnesota experience to great effect, having been brought up there and currently teaching at the state university at Moorhead. Whether it's the scandal of having a Unitarian for a mistress or the pigheadedness of a pig farmer, Enger nails his state's specific flaws, while showing us its natural beauty (a lake is "lavender blue," e.g.).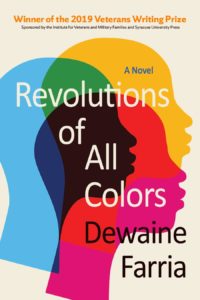 Dewaine Farria, Revolutions of All Colors
(Syracuse University Press)
Revolutions of All Colors won the Syracuse University Veterans Writing Award; the author is a former Marine who served in Jordan and the Ukraine, and has held UN Peacekeeping positions in Russian North Caucasus, Kenya, Somalia, and Occupied Palestine. He knows whereof he speaks in writing a novel about our nation's relationship to war, peace, and the arms dealers who influence both of those conditions. Brothers Gabriel and Michael Mathis each have tough roads as men of color, Michael as a bisexual person; their friend Simon has a tough road coping with the gap between his Special Forces experience and his MMA dreams. The three men whose lives Farria traces through Oklahoma, Afghanistan, New York, Somalia, Ukraine, and New Orleans defy their families and communities to find real love, and that's something special. What's even more special is how Farria uses their stories to demonstrate how difficult it is to reconcile patriotism at any level with injustice.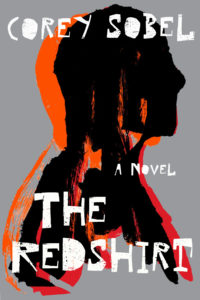 Cory Sobel, The Redshirt 
(University Press of Kentucky)
The Redshirt may be the only novel about football I'll ever read, but what a novel about football it is. I highly recommend this heartfelt, unusual, book to every American who has ever watched a football game, attended a college sports event, studied for a test, loved another person. . . In other words, Sobel's debut works for us all. It's even been shortlisted for the Center for Fiction's 2020 First Novel Prize, that's how good it is. Based on the author's high-school football career that continued through his years at Duke University, the novel introduces Miles Furling, who believes his life's purpose is football—despite his being deeply in the closet and well aware of that fact. Although King College's football team isn't the top-drawer program he'd hoped for, he knows deep down that the College will allow him to pursue studies in the literature that he loves. Meanwhile, no one understands why ReShawn McCoy, the country's top recruit, also chooses King. When the two young men wind up as roommates, a lot of secrets are revealed, but those secrets are less important than the picture readers will get of the brutal costs college football exacts on its players. Did I already say "Highly recommend"? I highly recommend this surprising book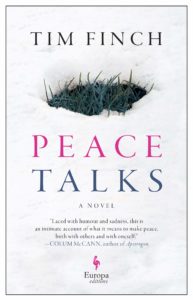 Tim Finch, Peace Talks
(Europa Editions)
Despite Tim Finch being British, I'm choosing his second novel Peace Talks for this month's list because its title is so apt. Kidding, really; I chose all of these books long before the election was called, and Finch's book deserves its place here as surely as any of the others I considered. It's about a career diplomat, Edvard Behrends, whose latest post is a resort hotel in the Tirol. Deeply grieving his wife Anna, Edvard is poised to make real difference in a high-level peace negotiation. And he may do that, if he can pull himself out of the alcoholic stupor in which his prolonged mourning threatens to drown him. Finch, also a high-level peace negotiator, plays with notions of personal versus political in a book that may be more of a meditation than a narrative. Think Clouds of Sils Maria rather than The Constant Gardener and you'll sink right in to this serious but also luxurious story. After all, how many of us get to contemplate death at an Alpine hideaway amidst the best of food and drink?
---