5 Books You May Have Missed in January
From David Joiner to Shahriar Mandanipour, and More
Three novels and two short-story collections make up this month's list, taking you from contemporary Japan to wartime Iran to an English boarding school and to a trailer on top of a bleak New Mexico mesa. Let the books you might not have gotten to in January keep you company during February's cold nights—thank goodness it's a short month!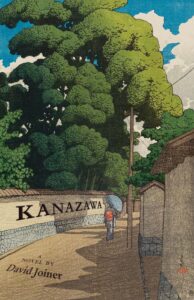 David Joiner, Kanazawa
(Stone Bridge Press)
In Joiner's novel, the eponymous city holds great symbolic meaning, for readers as well as for its protagonist, an American man married to a Japanese woman. Kanazawa, bordered to the east by the Japanese Alps, is not only an old and storied place; it was one of the few Japanese cities spared by Allied bombs during World War II, meaning it still has houses, shrines, gardens, and more from the country's past eras. Author Joiner has spent years in Asia (both in Japan and Vietnam) and made his most recent home in Japan in Kanazawa. For him, setting a quiet, literary novel there makes sense, and he engages readers' senses as a way of introducing his beautiful surroundings, describing sedate machiya homes, carafes of hot sake, aromas of temple incense, the prick of a snail shell on a lip. By keeping his sentences and structure simple, Joiner allows his decidedly Western prose to reflect a sense of Asian place without making Asia seem "exotic," especially important in a plot that centers on an American husband wanting to stay in Kanazawa while his Asian wife seeks a life in Tokyo. More important, however, is the author's deep study of and devotion to the works of Kyōka Izumi, a pre-war Japanese novelist whose own devotion to the Edo period figured in his highly stylistic fantasy and grotesque writing.
Shahriar Mandanipour, trans. Sara Khalili, Seasons of Purgatory
(Bellevue Literary Press)
Mandanipour's book is a collection of short stories from a man who, while certainly the leading light of Iranian letters, sadly lives in exile due to his country's political upheavals. Mandanipour also served in the Iran-Iraq War, and his stories set on its frontlines bristle with horror, although those set further away feel almost darker for their distance, filled with actions dictated by conflict yet devoid of any power. "Shadows of the Cave," which opens the book, nearly undid me, its protagonist's quiet resistance to the state in a cemetery so simple yet so emotionally fraught. "King of the Graveyard" has a different scenario, but its similar setting will remind all readers of how closely Mandanipour understands the worlds of the living and the dead to exist. But it's the title story (some of the pieces were written as early as the 1980s) that will haunt you, about an Iraqi soldier left in a no-man's-land patch, a story that proves all wars contain the seeds of madness—or maybe are grown from seeds of madness. Mandanipour received decent review coverage for this stunning book but deserves a much wider readership.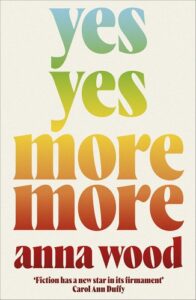 Anna Wood, Yes Yes More More
(The Indigo Press)
Wood's collection of short stories comes from England but it's available for sale in the United States and it's far too good to stay across the Atlantic Ocean. I won't be ashamed to say I was pulled in by the strong, colorful, typographically driven cover, as well as its Carol Ann Duffy blurb, because both are terrific. But I stayed for Wood's writing, which is as fresh and elastic as the skin on the midriffs of teens Annie and Jane in "Rise Up Singing" as they wander the streets of Bolton, "only a little bit trippy" after their literature class. There's little biographical information to be found about Anna Wood, and in her photo on the Indigo Press website she looks to be in midlife; her brief author bio indicates that she has a master's in writing from the University of East Anglia, and has had a couple of awesome fellowships (Fine Arts Work Center in Provincetown as well as the Elizabeth Kostova Foundation in Sozopol), but very little to herald stories that hold this much joy, ease, and real life. But as Annie says of preparations for an evening out, "It was a gentle excitement"—Wood isn't winding readers up for shock, rather reminding us all of moments when we teetered on the edge of danger and came back, back home, back inside, back to ourselves.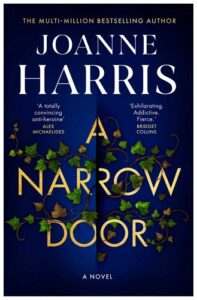 Joanne Harris, A Narrow Door
(Pegasus Books)
Harris' novel was, yes, reviewed in the New York Times, but I think its publisher small enough that it hasn't gained the readership it really should, despite Harris's long, star-studded career (Chocolat, Five Quarters of the Orange, etc.). After last year's novel in fairytales, Honeycomb, Harris is back with her take on dark academia, setting A Narrow Door at the same 500-year-old boarding school where her 2007 Gentlemen and Players occurred (and subsequent novels A Different Class and Blueeyedboy). With a new school Head who decides to admit girls for the very first time. St. Oswald's, will be experiencing new students—but there's also murder found, in its very grounds. Headmaster Rebecca Buckfast narrates both a mystery and a roman à clef as she explains to elderly Latin master Roy Straitley ("Strait is the gate, and narrow is the way… as the book's epigraphy reminds us) that it's true: Women do hold men's sins against them. They even use those sins to create stories that help them survive.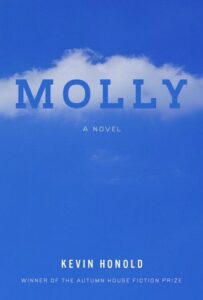 Kevin Honold, Molly
(Autumn House Press)
Honold's novel won the 2020 Autumn House Fiction Prize, selected by novelist Dan Chaon. That was enough to get me to read it and I'm very glad I did and I hope you will pick it up, too, because Honold's voice swirls around a reader from "I don't know where it began or ended, that road running through the desert." Raymond is nine in 1968 and he's under the care of the titular Molly, a waitress and his Uncle Ed's sort-of partner; they live in the recently deceased Ed's trailer atop a mesa in Santa Juana de Arco, New Mexico. "To a nine-year-old boy," Ray tells us, "what lay on the other side of the mountains was irrelevant." That makes him miserable when his uncle is alive, because Ed was "restless" and hard for a child to understand—but it stands "Ray Moon" (as Molly calls him) in good stead when he and the unsinkable woman who steps in to save him must make a world for themselves. The only plot, people sometimes say, is "A stranger comes to town." Molly may be new to Raymond's world, but what Kevin Honold does with this kind, weary woman has the kind of beautiful strangeness that heralds a classic.
---