5 Books Making News this Week: Poverty, Politics, and Palestine
Tales of Two Americas, Fantasyland, Nathan Englander's Latest, and More
The shortlist for the $50,000 Neustadt International Prize for Literature, sometimes seen as a forerunner to the Nobel Prize, includes Edwidge Danticat, Aracelis Girmay, Jamaica Kincaid, Yusef Komunyakaa, and Patricia Smith. Colson Whitehead's Underground Railroad shows up on yet another shortlist—for the 2017 Dayton Literary Peace Prize. Other fiction finalists include Yaa Gyasi's Homegoing, Annie Proulx's Barkskins, and Peter Ho Davies' The Fortunes. Nonfiction finalists include Ko Kalia Yang's The Song Poet, Ben Rawlence's City of Thorns, and J.D. Vance's Hillbilly Elegy.
Award-winning Canadian journalist Deborah Campbell searches for her Iraqi "fixer," who ended up in Syria's brutal prisons; Nathan Englander's new novel revolves around a general in a coma (think Ariel Sharon) and a mysterious prisoner in an Israeli jail, Salman Rushdie's latest is "a dirge for the American dream," John Freeman's new anthology about the two Americas draws raves ("urgent . . . sharply inquisitive and provocative"), and Kurt Andersen's Fantasyland explains why to so many Americans, "opinions and feelings are the same as facts."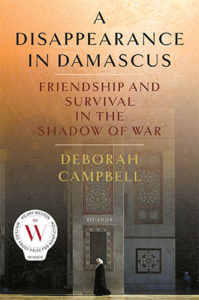 Deborah Campbell, A Disappearance in Damascus
In 2007, on assignment to cover Iraqi refugees in Syria, award-winning Canadian journalist Campbell hired an Iraqi woman named Ahlam as her "fixer." The two become close, and when Ahlam is arrested and held in Syrian dictator Bashar al-Assad's brutal prisons, Campbell sets out to find her.
Scott Anderson (New York Times Book Review) raves: "Deborah Campbell has written a searing and extraordinarily affecting account of her experiences in Syria in the mid-2000s, one that reads in equal parts as memoir, history and mystery story."
Rayyan Al-Shawaf (Washington Post) writes, "Although occasionally marred by Campbell's awe-struck view of her biographical subject, A Disappearance relates an unsettling true story with journalistic adroitness and novelistic flair. And there is plenty to admire about Ahlam (intelligence, pluck, resilience, nonsectarian dedication to helping Iraqis). 'Like army commanders, sea captains and wilderness explorers, Ahlam's stubborn fearlessness made those around her feel fearless too,' Campbell writes. Because of Campbell's style of immersive journalism, the reader comes to know the author's fixer-turned-friend intimately."
"It's a compelling story, a page-turner," writes Laurie Hertzel (Minneapolis Star-Tribune), "and one that sheds light on the fraught political situation in the Mideast."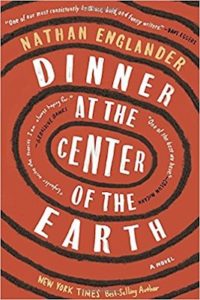 Nathan Englander, Dinner at the Center of the Earth
A general in a coma (think Ariel Sharon), Prisoner X (a former Mossad agent) and his Israeli jailer are central to Englander's second novel. "I call this novel sort of like a turducken of a novel," Englander tells NPR's Scott Simon. "It's like a political thriller that's wrapped up in a historical novel that's really a love story that ends up being an allegory."
"In pared-down prose, channeling John le Carré, the novel is about the failure of the peace process in the Middle East," writes Rachel Donadio (New York Times) in the introduction to her interview with Englander "It is set between 2002, during the Second Intifada, and 2014, when Ariel Sharon died, after having been in a coma for years. Mr. Englander conjures up a world of Israeli intelligence and waiters in Parisian cafes who are not what they seem, and the book's characters include Prisoner Z, an American spy for Israel who winds up in an Israeli prison, accused of treason; the General, who is modeled on Sharon, and his nurse, who is the mother of Prisoner Z's guard."
PW's take: "With chapters that toggle back and forth in time and in location, the narrative begins on the Israeli side of the Gaza border in 2014, before jumping to Paris and Berlin in 2002, a hospital near Tel Aviv in 2014, the Negev Desert, and back again. Englander…is a wise observer with an empathetic heart."
"Nathan Englander is a fabulist: That's the first thing to keep in mind," writes David L. Ulin (Los Angeles Times). Ulin calls Englander's new novel "a kaleidoscopic fairy tale of Israeli-Palestinian reconciliation . . . or its inverse. Shifting fluidly among characters and settings, the book divides its action between 2002 and 2014.The central character, if we can call him that, is Prisoner Z, a young American Jew-turned-Israeli operative who betrays his mission (or does he?) for a larger cause. That we do not understand, until late in the novel, what this means suggests the complex dance that Z must undergo."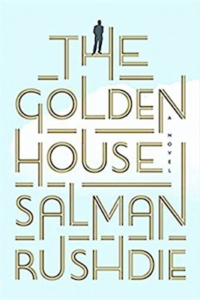 Salman Rushdie, The Golden House
Rushdie's timely new novel begins with the Obama inauguration and ends with the election of a green-haired clown named the Joker. Following the wealthy Nero Golden and his family, newly relocated from Bombay to a West Village enclave, he echoes "all the discontent of a furiously divided country."
"Replete with allusions to literature, film, mythology, and politics, the novel simultaneously channels the calamities of Greek drama and the information overload of the internet," notes PW in a starred review. "The result is a distinctively rich epic of the immigrant experience in modern America, where no amount of money or self-abnegation can truly free a family from the sins of the past."
Alex Clark (The Guardian) is a fan. "Rushdie has always been an impish myth-manipulator, refusing to accept, as in this novel, that the lives of the emperors can't be blended with film noir, popular culture and crime caper. On the evidence of The Golden House, he is quite right."
So is Mark Athitakis (USA Today), who writes, "Nero isn't a facsimile of President Trump, but he's unmistakably Trump-ish, and our current brackish political atmosphere colors The Golden House, which ranks among Rushdie's most ambitious and provocative books. Its story stretches from the first Obama inauguration to the present day, with Nero and his family serving as symbols for America's current identity crisis. It captures Rushdie's concern that America's "dark side . . . roared out of its cage and swallowed us."
And so is Steven G. Kellman (San Francisco Chronicle), who writes: "The Golden House is a dirge for the American dream. It is a Greek tragedy with Indian roots and New York coordinates. The new order in which the resplendent veneer of the Goldens is exposed as pyrite illuminates 'a kind of radical untruth: phoniness, garishness, bigotry, vulgarity, violence, paranoia.' Rushdie's latest novel is a tonic addition to American—no, world!—literature."
Ron Charles (Washington Post), not so much. He writes, "Perhaps it wouldn't feel so arduous to plod through this pile of worn phrases if the plot moved more quickly. There are elements of intrigue, including a bizarre sexual bargain on which the story hinges, but the most exciting revelation erupts late in the book, long after the mystery of Nero's origins has cooled."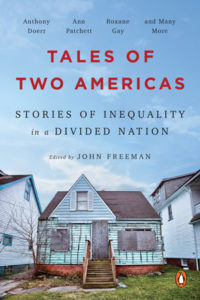 Tales of Two Americas, ed. John Freeman
Freeman—editor of Granta and now Freeman's—reaches out to 36 prominent authors, including Rebecca Solnit, Anthony Doerr, Edwidge Danticat and Sandra Cisneros, for fiction, essays and poetry for this anthology, which Kirkus calls "urgent, worthy reportage from our fractious, volatile social and cultural moment." The Booklist starred review praises the book's roster: "masterful and affecting stories, essays, and poems by 36 writers profoundly attuned to the sources and implications of social rupture. These are sharply inquisitive and provocative works . . . "
Jason Heller (NPR) calls the book "both fiery and nuanced." "[Freeman's] introduction to the book is one of its most impassioned entries. In it, he observes how the act of walking through an American city with eyes wide open can radically expand our capacity for empathy, or as Freeman calls it, our 'bandwidth of care'—not to mention our resolve to work toward something better. Cities, he says, have become 'meccas for luxury and creative economy work' that still 'depend on service labor to run their dream machines,' places where the nation's widespread inequality coalesces yet often goes ignored."
"The anthology examines what Freeman describes as 'a lurking feeling of displacement in America,' through thoughtfully arranged reflections on the way so many of us feel disconnected from ourselves, from others, and from place," writes Michael Kleber-Diggs (Minneapolis Star-Tribune).
"There's neither glossy escapism nor gritty dystopian metaphor here," writes Erin Keane (Salon). "Tales of Two Americas is instead committed to a realistic portrayal of the differences between those with easy access to America's opportunities and those without."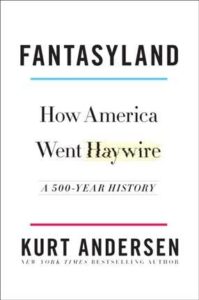 Kurt Andersen, Fantasyland: How America Went Haywire: A 500-Year History
The former Spy editor, novelist, journalist, and current host of NPR's Studio 360 argues that this country has been drawn to fake news ever since the myth of George Washington cutting down the cherry tree.  His timing couldn't be better.
Hanna Rosin (New York Times Book Review) writes:
If . . . you remain confused about what happened in the last election, Andersen's retelling of history will clarify things for you. As a host of public radio's Studio 360, a best-selling novelist and a cultural omnivore, Andersen has been tracking and storing the data on the nation's unraveling for decades. And he knew that what happened that November night, and in the subsequent months, was not just inevitable but in many ways our nation's natural destiny. As he explains in what must have been an alarmingly self-confirming last chapter: Donald Trump is "stupendous Exhibit A" in the landscape of  Fantasyland,  a fitting leader for a nation that has, over the centuries, nurtured a "promiscuous devotion to the untrue."
"Andersen's theory is that we've become a nation in which 'opinions and feelings are the same as facts,'" writes Kevin Canfield (San Francisco Chronicle). "In Fantasyland, his extremely well-timed history of hucksterism, credulousness and questionable beliefs, he demonstrates why this is such a troubling state of affairs."
Paul Alexander (Newsday) concludes:
In this absorbing, must-read polemic, Andersen exhaustively chronicles a development eating away at the very foundation of Americanism. And what does it all portend? "Nations and societies have survived and recovered from far more terrible swerves, eras that felt cataclysmic as they were happening," Andersen writes. "The good news . . . is that America may now be at peak Fantasyland. We can hope."
---