5 Books Making News This Week: It Girls, Infidelity, and Illness
Eve Babitz, Matthew Klam, Nina Riggs, and More
German author Jenny Erpenbeck wins Italy's Premio Strega Europeo for her novel Go, Went, Gone. Susan Bernofsky's English translation is coming in September. Amy Liptrop wins the PEN Ackerley Prize for autobiography for her memoir, The Outrun. "In this exhilarating and rigorously unsentimental memoir," notes Peter Parker, chair of judges, "Amy Liptrot describes returning to her native Orkney after her life catastrophically unravels in London. Liptrot writes with wonderful clarity and invention about the experiences of being an alcoholic and about her immersive encounters with the weather, landscape, seascape and wildlife of the remote northern archipelago in which she starts to put her life back together." Parker tips hat to the first-ever all-women shortlist: "This is of course something to celebrate, but was entirely unplanned: it just happened that Decca Aitkenhead, Amy Liptrot and Lara Pawson wrote three outstanding and compelling books that are beautifully written, have a welcome geographical reach (taking us to the West Indies, the Orkneys and Africa), and are characterised by the kind of unflinching self-revelation that was such a feature of J. R. Ackerley's own books.")
Also: The return of It Girl Eve Babitz's first novel, the return of 2000 literary It Guy Matthew Klam, the third translated novel in Yuri Herrera's border trilogy, Nina Riggs's "surpassingly radiant" cancer memoir, and Diksha Basu's first novel—set in her hometown of Delhi among the suddenly rich.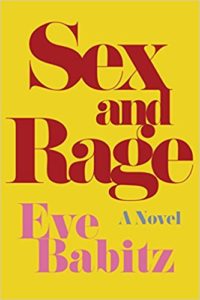 Eve Babitz, Sex and Rage
First published in 1979, Babitz's novel has been reissued, with better reviews now than then, when Kirkus called it "A trendy, self-involved frolic that doesn't come close to delivering what seems to be promised in either the title or the subtitle."
Lindsay Miller (PopSugar) calls Sex and Rage her "ideal Summer read."
It's escapist but witty, entertaining but introspective. The main character, Jacaranda, is somewhat improbably named after the purple flowering trees that spring up on seemingly every street in LA for a few weeks in May and June. Over the course of the story, a lot simultaneously does and does not happen. Jacaranda meets fascinating people, drinks dozens of cocktails called Pink Ladies, takes a load of drugs, goes on a road trip with a woman named Sunrise Honey, sells her first book, and realizes she is an alcoholic. There are vivid descriptions of surf sessions early in the morning off the Santa Monica shore. There are insanely decadent dinner parties studded with attractive and glamorous people.
Michelle Dean (Los Angeles Times) compares Babitz's essays (in her recently reissued Eve's Hollywood and Slow Days, Fast Company)—"all exercises in charm, gossipy without quite tipping over into pure name-dropping"—with Sex and Rage—"less controlled, and in my view, a more interesting work from Babitz. Jacaranda shares some of her biographical markers but not all of them, giving her room to experiment. And though the book is plotless, told in vignettes, and this will bedevil some readers, there is something about its portrait of an It Girl on the verge of a nervous breakdown that softens and opens the type. 'People told Jacaranda she was lucky,' Babitz remarks early on, but luck is not enough. 'Jacaranda wanted to see things before her luck ran out and she came upon the prophesied brick wall.'"
"Babitz's iconic status is why Jacaranda is such a fascinating character," writes Liska Jacobs (Los Angeles Review of Books), noting that Babitz "had numerous famous paramours: Harrison Ford, Steve Martin, Jim Morrison—yes, she is that L.A. Woman. She seduced both Ruscha brothers" . . . and is most well known for posing in the infamous photo "Duchamp Playing Chess with a Nude."
"She signals Babitz's fear of time passing, of being an almost former it-girl," Jacobs adds. 'So many of the ones like her, the ones who were brought aboard to amuse the barge, disappeared,' Babitz writes: 'They O.D.'d on Quaaludes and Tuinals or got hepatitis and had to retire forever.' At 28, around the same age Babitz was when Eve's Hollywood was first published, Jacaranda knows the party will eventually end."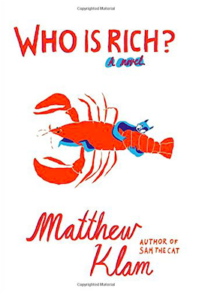 Matthew Klam, Who Is Rich?
Klam's 2000 debut, Sam the Cat and Other Stories, was greeted with laurels—he won Whiting, Guggenheim, NEA, O.Henry and PEN/Robert Bingham awards and The New Yorker named him one of the 20 best writers under 40 in America. Now he's published a long awaited first novel.
Jake Tapper (CNN) touts Who Is Rich? on The Lead: "It's a wonderful book" Tapper says, and later tweets, "Just finished @MatthewKlam's Who Is Rich? . . . compelling, both intimate and meta, gorgeous and hilarious."
Jia Tolentino (The New Yorker) calls Who Is Rich? "a gem within the canon of infidelity literature." She continues:
The idyllic Matticook College Summer Arts Conference is a combination of group therapy and dick-measuring contest, with a note of isolated romance—a last-day-at-summer-camp feeling—wafting in on the ocean breeze. "Everybody knows a spot like this, a fishing village turned tourist trap, with pornographic sunsets and the Sea Breeze Motel," Klam writes. It's a tempting setting for an affair, an even more tempting setting for a novel, and a perfect setting for a novel about how one shapes the story of one's own affair.
"This is an irresistible comic novel that pumps blood back into the anemic tales of middle-aged white guys," writes Ron Charles (Washington Post). "Klam may be working in a well-established tradition, but he's sexier than Richard Russo and more fun than John Updike, whose Protestant angst was always trying to transubstantiate some man's horniness into a spiritual crisis."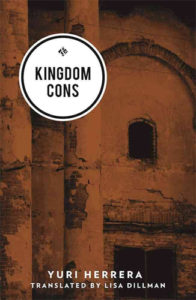 Yuri Herrera, Kingdom Cons, tr. Lisa Dillman
Kingdom Cons is the last of Herrera's loose "trilogy" of novels set in the border regions between Mexico and the U.S. to be translated into English. (The others are Signs Preceding the End of the World and The Transmigration of Bodies, for which translator Lisa Dillman won the 2016 Best Translated Book Award.) "Herrera's Spanish is highly idiosyncratic, often coining new words and finding very creative uses for old ones," points out Scott Esposito in explaining the complexities of translating his work. "In addition, Herrera's sentence structure, imagery, and means of storytelling are very distinctive and original, all things that make his books challenging to bring into English."
"Herrera has described the special insight of his characters as coming from what he calls fronterizo, or the border condition," notes Cora Currier (The New Republic). "They inhabit political borders, class boundaries, bilingual corridors—places characterized by 'the exchange of goods and symbolic values, the creation of new identities, of new linguistic forms, of new political practices.' They translate, they negotiate, they sing. They can see because they are always on the outside of something. Language is central. Framing the world is essential to navigating it. Such a power with words can be put to good or evil, and Herrera's characters instinctively turn to the good."
Miles Klee (New York) is a fan: "Slim and seductive, infused with the border-land, narco-world suspense that has marked Herrera as one of Mexico's finest novelists, it promises to be a sizzling summer read."
"Herrera's graceful prose fits emphatically into the rich 20th century Latin American literary tradition, of which it is a continuation," writes Juan Pablo Villalobos  (PENAtlas). "He comes from the same line as Miguel Ángel Asturias, Augusto Roa Bastos and Juan Rulfo, and establishes himself as a direct heir to the literature of the Boom, influenced just as much by the North American literary tradition."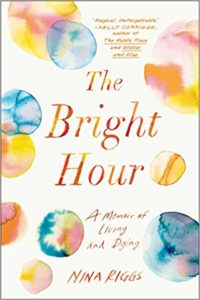 Nina Riggs, The Bright Hour
After Riggs' essay "When a Couch Is More than a Couch" in the New York Times's "Modern Love" column went viral, she began the memoir of her final days with breast cancer. She describes that writing as "a process of letting go and accepting the absurdity and the beauty of the everyday life in the moment when there isn't really a future you can count on."
Nora Krug (Washington Post) writes, "Written in the present tense, it feels present, as if Riggs is in the room talking to you—that witty friend who makes you laugh and ponder big thoughts even as she quietly suffers. It makes the last pages especially moving."
"She has produced a work about dying that evokes whimsy and joy," writes Anjali Enjeti (Atlanta Journal-Constitution), "one that sublimely affirms that the inevitability of death carries with it its own kind of light and grace. 'We are breathless but we love the days,' she writes. 'They are promises.'"
"The Bright Hour is not without its terrors," concludes Laura Miller (Slate). "In the memoir's most extraordinary chapter, Riggs describes heading off to a retreat center run by Catholic nuns, to take a few days alone to write. After the kids head off to school, she packs, thinking that she is 'readying myself to leave them. I am practicing . . . This is just practice.' The moment she sets foot in the retreat, despite the peaceful surroundings, she has a panic attack: 'I can feel that John and the kids are out there—their world spinning along. And I am here—separate, cut off, alone.' This moment, this sudden encounter with nothingness, is as close as a dying memoirist can come to fingering the edge of the knife about to cut her throat. Fear is strangely absent from the most popular books of this kind, and perhaps The Bright Hour is too raw to join their numbers. But Riggs' willingness to include that darkness is what gives her last work its surpassing radiance."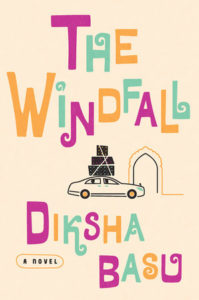 Diksha Basu, The Windfall
Basu's comic first novel captures the rise of the Jha family from middle-class community to a McMansion in a New Delhi suburb. "I myself grew up in New Delhi in the 90s and I saw the explosion of wealth all around me. And it was hard to ignore and that's what led to this novel," Basu tells NPR's Lulu Garcia-Navarro.
"Never underestimate the neuroses of the extremely wealthy," writes Jennifer Senior (New York Times). "Their nerves are attached to jumper cables."
She adds, "The story has its share of identity mix-ups and sitcom misunderstandings. It features a lovely midlife romance. It's hardly a surprise that Paramount TV and Anonymous Content recently optioned the book as a TV series. There's even a Hollywood—or Bollywood—ending."
Terry Hong (Christian Science Monitor) calls the novel "breezily entertaining," and adds,
"Windfall also manages to seamlessly insert urgent, relevant themes of gender inequity, socioeconomic prejudice and aggression, familial expectations and constrictions, isolation, entitlement, and more . . . Basu writes what she knows, clearly familiar with adroitly navigating between East and West."
The Windfall makes Rolling Stone's Culture Index, described as a "fun and heartfelt comedy of manners, which looks at the ups and downs of upward mobility, the things you gain and what you leave behind. "
---