5 Books Making News This Week: Erotic Adventures and the End of the World
Tom Perotta, David Williams, Victoria Redel, and More
A victory lap brings Colson Whitehead back to Canio's Books in Sag Harbor on August 12—not far from Azurest, where the book party for his first novel, The Intuitionist, was held in the summer of 1999. This fall Whitehead's The Underground Railroad will be honored with the Chicago Tribune Heartland Prize for fiction. The nonfiction Heartland award goes to Matthew Desmond's Evicted, and the Chicago Tribune Literary Prize goes to Marilynne Robinson. The Restless Books Prize for New Immigrant Writing for Nonfiction goes to Grace Talusan for her memoir The Body Papers. "Talusan uses documents—such as immigration papers, cancer test results, and legal certificates—to map an associative path to memory and the epicenters of reverberating injury and trauma," the judges note. "She presents the concept of 'the body' as a concentric circle that expands outward: the female body, the body of the family, the body of the Philippines, the body of a writer's work."
Victoria Redel's new novel defines the value of friendship, Fleur Jaeggy is back with a collection of "jewels of intellect and compassion," Danzy Senna's Maria yearns for "a simple, fixed identity," Tom Perrotta's latest takes on "the reshaping of American erotic life by technology," and an apocalyptic first novel is set in Amish country.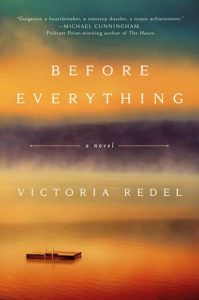 Victoria Redel, Before Everything
Redel's new novel draws upon her lifelong relationship with her best friend from grade school. "Going through the experience of having someone really beloved get ill and decide to stop treatment, that was absolutely a true kernel for this story," she tells Kate Tuttle (Boston Globe).
Moira Macdonald (Seattle Times) writes, "Written in an impressionistic series of chapters and subchapters (each with its own brief title), floating back and forth between the group's past and present, Before Everything creates a tight, vivid world; you picture Anna at the center of a circle, with the four others (and Anna's semi-estranged husband, Reuben) arranged around the edge, looking inward."
Annie DeWitt (Guernica) offers high praise:
Before Everything catalogues the lives of five women—from their adolescence to one of their deaths—in short, syncopated sections that jump back and forth in time and point of view. The architecture of Redel's often lyrical prose soars beyond ambition and signals the arrival of a true master. The book's short, blunt sentences thrust us into the "ongoingness" of a scene, to enlarge a fleeting moment and make us examine it. "Something flashed blue. A wing, blue. A jay?"
These five women have marriages and lovers and hosts of admirers and friends. However, their relationships, as women and confidants, define them.
"Before Everything is not just beautifully written but also intensely moving," writes Matt Bell (Vulture).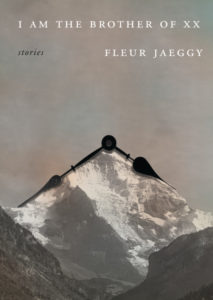 Fleur Jaeggy, I Am the Brother of XX 
The latest translation into English from the elusive Swiss-Italian novelist and translator is a welcome addition to her work. Kirkus says: "Most of the 21 stories in this wide-ranging collection are only a few pages long, and they're jewels of intellect and compassion."
Jaeggy's new story collection, notes Joseph Schreiber (Numero Cinq), "serves to showcase her exceptional ability to create an atmosphere of brittle, gothic claustrophobia with a contained, simmering intimation of violence that, on occasion, rises to the surface. With twenty-one stories in 128 pages, some of the pieces are no more than two or three pages long—exercises in tightly condensed sentiment. There are, however, a number of tales that have a more reflective, nostalgic, and personal tone. Some of these even feature appearances from real-life friends and acquaintances like Ingeborg Bachmann, Joseph Brodsky, Italo Calvino, and Oliver Sacks. The translation by Gini Alhadeff, captures well the crisp poetry of her prose."
Claire Kohda Hazelton (The Guardian) writes, "Told in Jaeggy's characteristically jagged prose, these dark stories of madness, loss, and murder are urgent and evocative. Central to each are surreal images reminiscent of paintings by Leonora Carrington or Max Ernst: 'her hands, like the claws of a crustacean, clutched at a little mound of dust.' This is an intensely beautiful and original collection that bristles with a strange and often disturbing magic."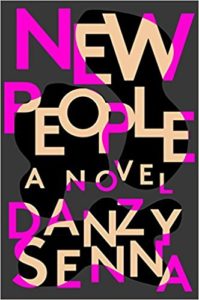 Danzy Senna, New People
Senna's third novel focuses on a troublesome character named Maria. "I wasn't trying to write a female character who was necessarily the person I would want as my best friend," she tells NPR's Scott Simon. "Maria's a very conflicted and problematic and sort of deceitful character. And as a novelist, we want the character that's going to kind of cause trouble, in their own life and those of others, and that's where the story is, and the pulse."
Gene Seymour (Newsday) writes, "It says a great deal for New People—Danzy Senna's martini-dry, espresso-dark comedy of contemporary manners—that its compound of caustic observations and shrewd characterizations could only have emerged from a writer as finely tuned to her social milieu as Austen was to hers. So it's only fitting that its principal character is as infuriating, willful and challenging to a reader's sympathy as Emma or Elizabeth."
"It is to Senna's credit that New People resists easy analysis of Maria's plight," writes Rebecca Steinitz (Boston Globe). "Is she crumbling under the pressures of bifurcated race and class identities and desires, that is, America itself? Is she permanently wounded by adoption (diagnosed with attachment anxiety as a child, the adult Maria has come to believe that '[t]here was no difference between separation anxiety and attachment anxiety')? Is she unable to reconcile her perfect life with the fact that she hates sex with her perfect fiancé? Yes, yes, and yes, for New People shows psychology and society to be inextricable."
Gabrielle Bellot (Los Angeles Review of Books) concludes:
Maria's journey, through the avenues of New York City and of herself alike, represents what animates so much literature and art: a yearning for us to understand ourselves and to find where we fit in. The novel's ultimate message seems, however, to be one both true and unsettling, if unsurprising: that color-lines have never left America and likely never will, and that those of us who walk between the lines may always be tormented, always followed by something dusky and doubtful we cannot quite catch sight of.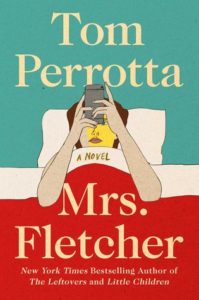 Tom Perrotta, Mrs. Fletcher
Perrotta's seventh novel revolves around a single mom who faces an empty nest, her college-age son, and the newcomers who enter her life via the Internet.
Caroline Leavitt (San Francisco Chronicle) calls Mrs. Fletcher "sublimely funny." "About love, sex, disability, able-bodiedness and gender, it also skewers how we navigate parenthood, morality, letting go and moving on."
Ron Charles (Washington Post) is lukewarm. "Scour the Internet all you want, but you're not likely to find a more pleasant story about pornography than Tom Perrotta's Mrs. Fletcher," he writes. "It's as well-behaved as The Abstinence Teacher, his 2007 novel about a public school sex-ed instructor. Which raises the question of when it's bad to be good."
"If Mrs. Fletcher has a theme, it's the reshaping of American erotic life by technology," writes Laura Miller (The New Yorker). "An anonymous text sets off Eve's foray into the Internet's pornutopia: 'U r my MILF!' it reads. 'Send me a naked pic!!' . . . Technology can just as easily be used to tame and confine sex. Whenever Amanda needs an ego boost, she signs on to Tinder to set up a tryst with a grateful middle-aged man. This she regards as a necessary vice, on a par with tequila, and one that exacts a similar hangover. Genuine desire, the elusive marvel Eve seeks in her nightly explorations of milfateria.com, barely enters into Amanda's transactions, but they are so much easier to secure than the real thing. The Internet hasn't actually transformed sex, but it has enlarged the number and the kinds of people with access to the whole spectrum of erotic experience. For every lover whose horizons expand, there's one who wants gratifications as anodyne and tidily packaged as fast-food meals."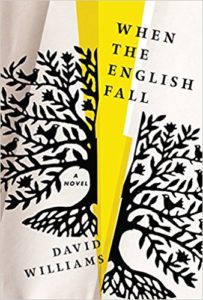 David Williams, When the English Fall
Williams's apocalyptic first novel has a contemplative tone and a surprising protagonist.
Sam Thielman (Newsday) points out that Williams' novel is "another end-of-the-world story, a la Emily St. John Mandel's Station Eleven, Chang-rae Lee's On Such a Full Sea and Cormac McCarthy's The Road." He adds, "Williams' slim book is set not among vampires or twee actors or the slaves of capitalism but in Amish country, among farmers whose material concerns are studiously simple and unadorned and who are better equipped to weather the fall of civilization than most."
"Told through journal entries found at an abandoned farmhouse, this version of world's end has no bad guy—no zombies, aliens, or plagues," notes Yvonne Zipp (Christian Science Monitor). "There's no nuclear war or even a Rapture. Its arrival, at least as seen from the hills of Pennsylvania, is silent: A solar storm takes out the power grid, causing planes to fall from the sky and wiping out most transportation and communications systems. So the end comes, not with a bang, but with dancing, colored lights and a night sky filled again with stars as the world's cities go dark. . . . Jacob, a farmer philosopher and father of two, is a solemn bystander to chaos, as he quietly continues to go about days ordered by time-honored tradition: crafting furniture, planting beans, drying jerky, going to prayer meetings on neighboring farms."
Swapna Krishna (Los Angeles Times) concludes:
It's rare to find a debut novel as finely crafted as When the English Fall. This book drew me in with its first line—"I hold her, tight in my arms, and she screams," and kept me riveted long after I'd finished it. The open ending leaves room for a sequel, and I'd be glad to spend more time with this community and discover what's next for it. But whether it's a direct follow-up to this book or a different story entirely, you can bet I'll be reading whatever Williams chooses to do next."
---