5 Book Reviews You Need to Read This Week
"You cannot applaud his debut novel without getting blood on your hands."

Our special reserve of stupendous reviews this week includes Giri Nathan on Nana Kwame Adjei-Brenyah's Chain-Gang All-Stars, Audrey Wollen on Catherine Lacey's Biography of X, Leah Finnegan on Ben Smith's Traffic, Hermione Hoby on Max Porter's Shy, and Jim Ruland on John Wray's Gone to the Wolves.
Brought to you by Book Marks, Lit Hub's "Rotten Tomatoes for books."
*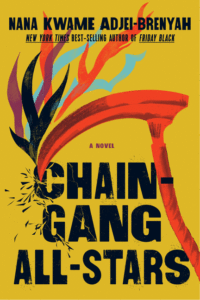 "This is one queasy testament to Nana Kwame Adjei-Brenyah's talent: You cannot applaud his debut novel, Chain-Gang All-Stars, without getting blood on your hands. To enjoy the action is to share in the guilt of the bloodthirsty fans sitting ringside at the live-broadcast death matches between prison inmates. Adjei-Brenyah is so good at writing fight scenes that our moral disgust never definitively stamps out the primitive thrill of reading them … This is also why his book works. It is an act of protest, but it does not straightforwardly preach … This book is not shy with its allegories … Adjei-Brenyah… bends the lurid into the lyrical—pretty words about hideous deeds.
Some of his best fight sentences sound as if Joe Rogan had fallen into a trance and assumed the diction and rhythms of Toni Morrison. If you recoil at that unholy fusion, that's kind of the point; and the author keeps pulling off this shock, page after page. Adjei-Brenyah has a fine intuition, an almost spatial sense for what we need to see and what we don't … The novel is a thorough display of authorial control; Adjei-Brenyah only ever loses his handle on the pace and tone in a few meandering dialogues … A writer who was up to the ideological but not the emotional task of such a novel might have settled for thinner characters. But Adjei-Brenyah, flitting from perspective to perspective in brisk chapters, assumes all of them easily and fills the characters' inner lives to the brim, especially those of the incarcerated."
–Giri Nathan on Nana Kwame Adjei-Brenyah's Chain-Gang All-Stars (The New York Times Book Review)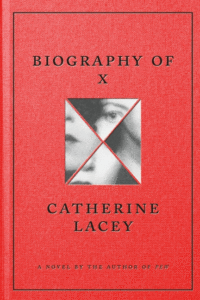 "Lacey's Christian Coup is not a new novelistic premise…but Lacey creates a particularly elaborate and polarized counterfactual world on its basis. What motivates this second attempt at the Confederacy is the well-established impetus behind much of American politics: retribution … Biography of X is built from these carapaces, historical figures without the meat of their lived deeds and principles. Names, Lacey proposes, are merely vessels, as X so brazenly demonstrates, and anything can be poured inside … to Lacey's credit, I can't remember the last time that I've read a recently published novel and amiably wondered if its narrative strategies were, in fact, completely legal…Lacey's willingness to use and misuse every kind of material comes with a certain thrill.
But, without an underlying pattern, Biography of X acts more as a blender than a quilt-maker, whirring the twentieth century into a blur and sacrificing cause and effect … the world that Lacey conjures, born of such drastically different politics, is almost culturally indistinguishable from our own, down to the same words in the same songs. Biography of Xossifies a sliver of bohemia as it already existed, preserving the basic provocations of the counterculture while evacuating the material conditions of the culture that it responded to. The novel's conclusion is ultimately sorrowful: everything could change, and nothing would be different … X and Lucca act like Nabokov and Véra, titan and helpmeet. The most alive parts of Biography of X are about widowhood, as Lucca is liberated from the monster and bereft of the duty, and sincere pleasures, of care … X emerges as an element of pure relationality, a corporealized bohemian scene. Like a mycelium network in sunglasses, she is everyone she knows and all the ways in which they know one another. At first, I thought her biography was choral, a single song made by many bodies, but by the end I started thinking of it as lip-synched, one body mouthing many songs …
At times, reading Biography of X, I felt baited into a protectiveness toward the dead, a desire to stand guard at the gates of their fixity…Some part of me thought, Stop. Let them rest, dead in their own way. Let us not create Frankenstein's monsters out of the corpses of feminist intellectuals. Another part of me thought, This novel is almost like a spiritualist document, an effortful séance that grows increasingly heartbreaking and garbled. Perhaps all biography is built from that kind of earnest ventriloquism, that kind of clouded remembering. Ghosts appear in our mouths, confused and out of time. The widows stand vigil: writing, writing, writing."
–Audrey Wollen on Catherine Lacey's Biography of X (The New Yorker)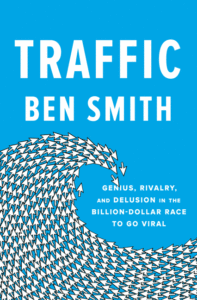 "I didn't quite expect this book to be funny—the absurdity of the early aughts internet is enough on its own—but at least that it would be juicy. The untold number of illegal stimulants that went into building the viral internet, the scads of interoffice dick pics, the terrible pay. It's not, which is disappointing. The lack of juice, however, means that the book doesn't truly engage with the dirty business of how all this traffic got created in the first place, and who created it.
Perhaps to go there would open up a whole other can of worms, and I suppose the qualities I admire in Ben don't lend themselves to telling that story. He was a newsroom leader, not a peon shoveling memes into a CMS. And so we get a narrative that reads at once like a plea for David Fincher to option it and a benign mea culpa. Was writing this an act of bravery, or self-delusion?
At times I feel like Ben is almost being genuinely contrite, but he ultimately emerges as a cipher, and one who now walks through the world a richer man, seemingly unencumbered by the wrath traffic wrought … Journalism, at its core, is incompatible with traffic; pursuing both at once is a fool's errand. Peretti may have supported Smith's obsequiousness to the god of objectivity, but imagining these two in a room talking about media ethics with Steve Bannon—well, that says a lot about who was in charge of things …
But it's hard to say if the public ever had trust in BuzzFeed in the first place, let alone knew what it really was. Gawker, at least, came with a built-in point of view and didn't care if it was respected by the public at large. No matter how serious the reporting at BuzzFeed, any fuck-up could be reduced to the fact that it was published on the website that also encouraged readers to find their inner potato."
–Leah Finnegan on Ben Smith's Traffic: Genius, Rivalry, and Delusion in the Billion-Dollar Race to Go Viral (The Baffler)
"Shy's disordered, multidimensional consciousness careens through Max Porter's brief and brilliant fourth book, a bravura, extended-mix of a novel that skitters, pulses, fractures and coalesces again with all the exhilaration and doom of broken beats and heavy bass lines. It's best read in one deranging sitting. The ostensible setting is an institution called Last Chance, a boarding school for troubled boys in a dilapidated old house in the countryside.
With uncharacteristically printable eloquence, the usually profane Shy sees the building as being 'hunched over the garden like a chunk of grumpy history.' Despite the best efforts of the saintly-patient staff, it's a grim place, not least because 'the boys just rip and rip at each other, endless patterns of attack and response, like flirting's grim twin.' The book's true setting, however, is the sprawling, shifting terrain of Shy's mind. Though the novel's time frame is just a few hours of one night, it's a night of 'a shattered flicker-drag of these sense-jumbled memories' and one in which 'the solid world dissolves then coheres like broken sleep, and he shambles into it, remembering.'
In other words, the night's as big as Shy's life … He's both a hapless, hurting child and a dangerous, violent young man, and his author has loved each part of him into being with the same steady attention … This is, however, an ultimately optimistic book, even if saying so risks casting a slick of the sentimental over a work so admirably grounded. I won't unsee that sheet of blood, but nor will I unsee a comic, charismatic, deplorable, lovable, still living and not-entirely-hopeless boy doing a little dance by himself, headphones on, at 3 a.m., to an audience of two dead badgers."
–Hermione Hoby on Max Porter's Shy (The New York Times Book Review)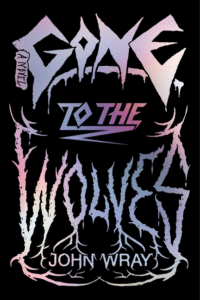 "There is a direct relationship between the amount of crap you take for the music you love and the depth of your devotion to it. This is why headbangers and punks are the most loyal fans on the planet. Enduring everything from insults to parking lot beat-downs, devotees of extreme music earn their fandom … Kip's takedowns of the pay-to-play fame seekers who cavort about the Whisky a Go Go's stage on weekday nights to half-empty rooms with glitter cannons and paisley scarves, are scabrous enough to give the likes of Lester Bangs and Kickboy Face pause …
By refusing to imbue the shenanigans of the Sunset Strip with the banal glamour of MTV, Wray correctly presents it as a cultural morass even less enlightened than the Youth Center parking lot in Venice, Fla. … Even if you didn't spend your adolescence puking on your shoes in parking lots, flirting with calamity as distorted riffs thunder out of blown-out speakers or shutting your eyes while driving down the highway as you crank up to Fade to Black, Gone to the Wolves captures the feeling of loving something so intensely it just might kill you."
–Jim Ruland on John Wray's Gone to the Wolves (The Los Angeles Times)
---