5 Book Reviews You Need to Read This Week
Of new books by Tom Hanks, Emma Cline, Haruki Murukami, and More

Our smorgasbord of superior reviews reviews this week includes Dwight Garner on Jonathan Eig's King: A Life, Ron Charles on Emma Cline's The Guest, Dan Kois on Tom Hanks' The Making of Another Major Motion Picture Masterpiece, Rumaan Alam on Haruki Murukami's Novelist as a Vocation, and Daisy Hildyard on Sara Baume's Seven Steeples.
Brought to you by Book Marks, Lit Hub's "Rotten Tomatoes for books."
*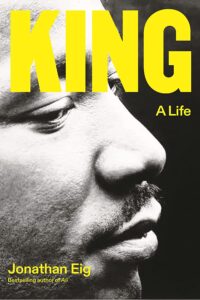 "…[a] supple, penetrating, heartstring-pulling and compulsively readable new biography … Eig's is the first comprehensive biography of King in three decades. It draws on a landslide of recently released White House telephone transcripts, F.B.I. documents, letters, oral histories and other material, and it supplants David J. Garrow's 1986 biography Bearing the Cross as the definitive life of King, as Garrow himself deposed recently in The Spectator … It's a clean, clear, journalistic voice, one that employs facts the way Saul Bellow said they should be employed, each a wire that sends a current. He does not dispense two-dollar words; he keeps digressions tidy and to a minimum; he jettisons weight, on occasion, for speed. He appears to be so in control of his material that it is difficult to second-guess him. By the time we've reached Montgomery, King's reputation has been flyspecked. Eig flies low over his penchant for plagiarism, in academic papers and elsewhere. (King was a synthesizer of ideas, not an original scholar.) His womanizing only got worse over the years. This is a very human, and quite humane, portrait …
As this book moves into its final third, you sense the author echolocating between two other major biographies, Robert Caro's multivolume life of Lyndon Johnson and Beverly Gage's powerful recent biography of J. Edgar Hoover, the longtime F.B.I. director … Eig has read everything, from W.E.B Du Bois through Norman Mailer and Murray Kempton and Caro and Gage. He argues that we have sometimes mistaken King's nonviolence for passivity … Eig's book is worthy of its subject."
–Dwight Garner on Jonathan Eig's King: A Life (The New York Times)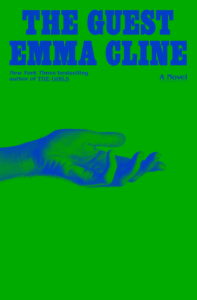 "In an uncanny way, the overwrought coverage of Cline seemed to demonstrate the central theme of her fiction: that young women must constantly contend with how they're valued, how they look and how they're distorted … Her new book, The Guest, is a quintessentially American tale, a smoldering thriller that explores desire and deception from the point of view of an escort named Alex … Cline writes in a sleek, cool style that conveys both Alex's naivete and her mirthless irony. The young woman's astonishment is subtly imbued with Cline's sometimes witty, often piercing critique of America's class system. Alex is such an attentive expert in the stunted psychology of the very rich that she almost pities them … Cline stays outside but very close to Alex's point of view, catching the syncopated rhythms of her poise and panic. In these precise sentences, we see a young woman always looking simultaneously outward and inward, which drops 'an asterisk on any sincere feeling' …
Moving in and around the estates of this 21st-century House of Mirth, Alex can never pass through the invisible membrane that separates the economically blessed from the permanently doomed … The sharp irony of the novel is that it's structured as a frantic race toward Labor Day—one last blowout holiday for these beach house folks who know nothing of actual labor. It's a scene tangled with optimism and futility, accelerating like a falling object of great sentimental value. Alex's desperate actions play out on some of the most expensive real estate in America and on some of the most hallowed ground in American literature. With her smeared makeup and her stained party dress, she's a pathetic attenuation of that earlier grifter, Jay Gatsby, who a century ago imagined he could insinuate himself into these people's lives."
–Ron Charles on Emma Cline's The Guest (The Washington Post)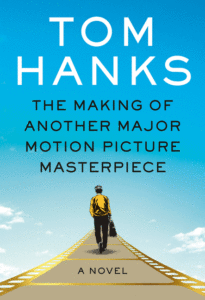 "…the star portrays the creation of a single blockbuster not as a systematic, predictable process but as a chaotic series of accidents, happy ones and unhappy ones, steered by the same kinds of steely, homespun pros who brought Apollo 13 back down to earth … Yes, it's a little embarrassing for everyone involved, but I choose to look on the bright side: At least he's not doing crypto commercials. Mediocre books hurt no one, and I can only hope at least a few obscure poets are getting Knopf contracts thanx to Hanx. And there are things that Tom Hanks is naturally gifted at writing. Incisive satire, no. Rich, complex characters, no. But charming banter? Homespun coinages? Wry yet inspirational speeches about show business—'the Business of Show,' as his characters like to call it? Those are his sweet spots … In Tom Hanks' moviemaking universe, when you do all that without complaining or even being asked, you're on the fast track to success in the Cardboard Carnival. (That's another of Hanks' whimsical coinages.) It might be the most charmingly old-fashioned detail in a portrait of the industry that, like Hanks' recent career, sits uneasily on the edge of the old Hollywood and the new …
Some readers may find Hanks' corniness fatal. I admire, I admit, his commitment to this idea of moviemaking, one that ignores the stupid, corrupt, even ugly parts of the process. I admire his relentless good cheer, the good cheer of a guy who, by all reports, has managed to remain a nice guy despite being the priceless object at the center of a multibillion-dollar industry for decades. The Business of Show, in Masterpiece, has the well-scrubbed sheen of a Ron Howard picture. Contra Hanks' interview, moviemaking in this novel does not even come close to breaking anyone. It is hard work, but joyous hard work, well paid, with a product at the end of which everyone feels immensely proud. Suspend your disbelief, indeed."
–Dan Kois on Tom Hanks' The Making of Another Major Motion Picture Masterpiece (Slate)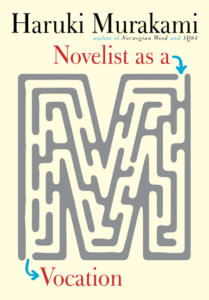 "Having published 14 novels and five collections of stories in his 40-plus-year career, Murakami surely knows that whatever fiction requires of an artist can't be distilled into steps like a recipe. But Novelist as a Vocation is elusive for another reason, too: Much like Murakami's fiction, it's a work more interested in questions than in answers. The novelist's protagonists are often people adrift, destabilized by something that never quite comes into focus—sometimes a psychic trauma, sometimes a paranormal force. Murakami's impulse is to document these lives without worrying too much about explaining them.
Novelist as a Vocation, in this way, is like so many of his novels, and it hinges on a trick at which Murakami is well practiced: the promise of revelation that turns out to be a disappearing act … though it often tries to avoid the genre, Novelist as a Vocation will be read by some as a book on the craft of writing, especially by writers who aspire to be like Murakami. That's a risky proposition, as Murakami is among the more sui generis of contemporary writers. His readers might recognize his signature touches—affectless narration, illogical plot turns, strangely dispassionate sexual encounters, all brought to life via a suite of signifiers with an unarticulated personal meaning, such as the many references to music, baseball, cats, cooking, and so on—but they belong to Murakami."
–Rumaan Alam on Haruki Murukami's Novelist as a Vocation (The Nation)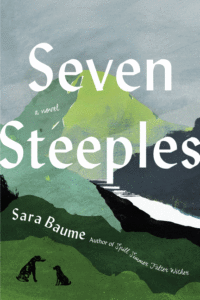 "Are novelists required to like humans? It's fair to say, on the evidence of her published writing, that Sara Baume is not a people person … Seven Steeples is a peculiar and distinctive book: the adventures of two people and two dogs who go feral on a mountain and sometimes shop for tahini. I like that about it. Baume does her own thing. Perhaps this is why she is such a likable writer, despite her unforgiving narrators—she receives admiring reviews and endorsements, and her writing has won or been nominated for many literary prizes. In all her novels, but especially Seven Steeples, I had the feeling that she knows exactly what it is she needs the book to do. Each novel has its own conception, while partaking of a shared Baumeish atmosphere. A doggy, dirty house, a clapped-out car, a meal of tinned vegetables dumped in a crusty frying pan, a whole lot of alliteration. A universe whose bleak nastiness is tempered by its silly sense of humor. Baume's protagonists lurch through minor and major catastrophes, glaring at other humans with a hatred so baseless and often so bonkers that it's hard to take it to heart …
Even a novelist who chooses not to depict feeling isn't necessarily giving up on the hope of creating a felt experience. But love and pain, conventional subjects for the novel, are also a matter of the surroundings (perhaps more instrumental than ever now, in an anthropogenic geological epoch, as human needs and wants are changing everything, everywhere), and they're powerful. So it feels like a lot to lose. I hope that new stories like Seven Steeples will teach their readers to be moved by a robin, seaweed, or the fall of a bath mat—enough to want to know what happens next."
–Daisy Hildyard on Sara Baume's Seven Steeples (The New York Review of Books)
---