5 Book Reviews You Need to Read This Week
"All the culture war Mad Libs can't distract from the dull coldness at this book's core."

Our quintet of quality reviews this week includes Jennifer Szalai on Ron DeSantis' How to Be Free, Alex Preston on Eleanor Catton's Birnam Wood, Brian Dillon on Nona Fernández's Voyager, Ron Charles on Donal Ryan's The Queen of Dirt Island, and Katherine Dykstra on Cristina Rivera Garza's Liliana's Invincible Summer.
Brought to you by Book Marks, Lit Hub's "Rotten Tomatoes for books."
*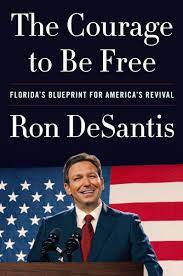 "As governor of Florida, Ron DeSantis has been casting himself as a Trump-like pugilist. But the overall sense you get from reading his new memoir is that of the mechanical try-hard—someone who has expended a lot of effort studying which way the wind is blowing in the Republican Party and is learning how to comport himself accordingly … all the culture war Mad Libs can't distract from the dull coldness at this book's core …
Even the title, with its awkward feint at boldness while clinging to the safety of cliché, suggests the anxiety of an ambitious politician who really, really wants to run for president in 2024 and knows he needs the grievance vote, but is also trying his best to tiptoe around the Trump dragon … For the most part, The Courage to Be Free is courageously free of anything that resembles charisma, or a discernible sense of humor. While his first book was weird and esoteric enough to have obviously been written by a human, this one reads like a politician's memoir churned out by ChatGPT."
–Jennifer Szalai on Ron DeSantis' How to Be Free (The New York Times)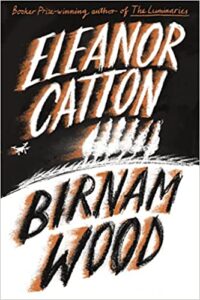 "I'm not sure I've read a novel whose ending so brilliantly and brutally changes our perception of what has gone before as Birnam Wood … For nine-tenths of its 400 pages, Birnam Wood comes across as a Kiwi Jonathan Franzen—a smart, satirical novel about the clash between a gardening collective and a scheming tech billionaire. There are numerous Franzen tropes here—countercultural/capitalist discord; the striving for ideological purity; the relentless and vampiric march of big business; environmental crisis. There's even a rare bird—here it's an orange-fronted parakeet. Birnam Wood is like a Franzen greatest hits album until its glorious, apocalyptic final pages enlarge and complicate our understanding of its message … Birnam Wood is a dark and brilliant novel about the violence and tawdriness of late capitalism. Its ending, though, propels it from a merely very good book into a truly great one."
–Alex Preston on Eleanor Catton's Birnam Wood (The Observer)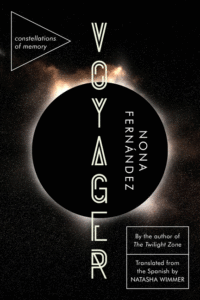 "How to write about such events, such an inheritance? Especially if, like the novelist and actor Nona Fernández, who was born in Santiago in 1971, the story is both yours and not yours to tell? Voyager is a memoir of sorts, with childhood and adolescent recollections of the Pinochet years, reflections on the legacy of dictatorship for her own teenage son, and a narrative about the writer's mother—the holes in her memory, the loss of the recent past. The book is also an essay, or a drifting series of linked essays, on collective memory, on astronomy, on the nature of consciousness.
Fernández moves readily, but sometimes not so smoothly, between her subjects, sketching a constellation of themes and obsessions rather than any kind of argument, let alone polemic, about relations between individual lives and vast historical or cosmic forces. The result is a beguiling pattern whose center is sometimes unclear, like a heavenly body that won't quite resolve to the upturned gaze … 'There is no such thing as forgetting possible to the mind,' wrote the Romantic essayist Thomas De Quincey, himself a keen amateur astronomer. Memory remains, De Quincy felt, even if we lose access to it, much as the stars only seem to disappear in the light of day. In Voyager, Fernández pursues that thought far into the night, where it had seemed all was lost."
–Brian Dillon on Nona Fernández's Voyager (4Columns)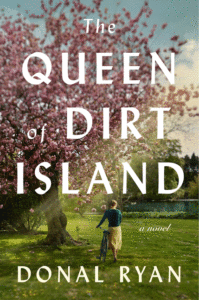 "These stories could get precious if Ryan weren't so attentive to the strains of violence and heartache running under the surface of the village. The same rumors that provide so much entertainment can suddenly turn vicious and wreck a home or snuff out a life. Ryan captures the despair that sometimes opens up under a young person with no more warning or explanation than a sinkhole; families are torn apart by greed …
In many delightful ways, this is territory well traveled by other great contemporary Irish writers, including John McGahern, Niall Williams and Claire Keegan. But Ryan has his own emotional range and a way of capturing the largeness of what look like tiny lives but aren't—as when Saoirse notices her mother at a relative's wedding and feels 'a surge of sadness and love so strong that it winded her.' Reaching the last page, I had the same reaction."
–Ron Charles on Donal Ryan's The Queen of Dirt Island (The Washington Post)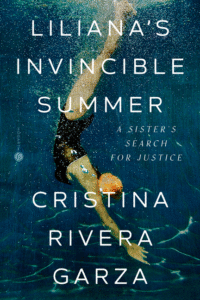 "This collaged portrait is one of the most effective resurrections of a murder victim I have ever read … Rivera Garza draws her sister, then complicates that drawing and then complicates the complication, creating layer upon layer of nuance. That said, Rivera Garza's choice to place so much of the narrative into the hands of others… while preserving Liliana's voice, also occasionally makes for a challenging read …
This modern contextualization is so much more pointed than the meditations and recollections exposed by Liliana's own writing or the interviews Rivera Garza conducted with her peers, and yet I understand why Rivera Garza cedes the narrative to Liliana and her friends when she does: In this book, it's the very lack of language that's significant. By displaying the fragmented, liminal space in which Liliana and her friends discuss Liliana's life, Rivera Garza is bearing witness to the dearth of ways they had to speak about violence that was right in front of them."
–Katherine Dykstra on Cristina Rivera Garza's Liliana's Invincible Summer (The New York Times Book Review)
---