5 Book Reviews You Need to Read This Week
"What would 1984 be like if Winston Smith had an endearing personality?"

Our basket of brilliant reviews this week includes Lydia Kiesling on Marisa Crane's I Keep My Exoskeletons to Myself, Bindu Bansinath on Jen Beagin's Big Swiss, Adam Davison on James B. Stewart and Rachel Abrams' Unscripted, Samuel Moyn on Robert Kagan's The Ghost at the Feast, and Sam Sacks on Fiona McFarlane's The Sun Walks Down.
Brought to you by Book Marks, Lit Hub's "Rotten Tomatoes for books."
*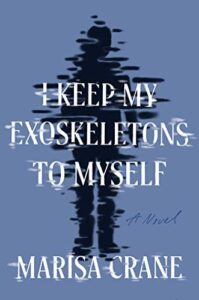 "What would 1984 be like if Winston Smith had an endearing personality? Crane's book gives us a disarming model for life under surveillance. Kris's voice is everything in this novel—she's a morose, prickly, paranoid yet lovable narrator with exquisite comic timing … Readers who like every mechanism and metaphor of control mapped out may be underwhelmed by the novel's world-building, which is quiet. But the subversive intelligence of the book is its representation of the stolen pleasures and general unease of a hemmed-in life. The mood created by Kris's interiority—which reflects the jumpiness of living with trauma and surveillance—makes questions raised by the sparsely rendered workings of the state largely irrelevant to the novel's enjoyment. In any case, the novel operates on a level of verisimilitude; in life as in the novel, the long struggle for queer people to enjoy open, public lives now meets legislative bigotry across America.
Crane's novel understands that fascism creeps in fits and starts, and that state violence lets some people enjoy 'normal life' while others are targeted with grotesque specificity. The book also knows that in these circumstances, people suffer; they also find love, form networks, make plans. I Keep My Exoskeletons to Myself is a meditation on those precious acts through which Kris finds her way: the joy of queer parenting and chosen family, the beauty of forgiveness and the resistance inherent in expansive love."
–Lydia Kiesling on Marisa Crane's I Keep My Exoskeletons to Myself (The New York Times Book Review)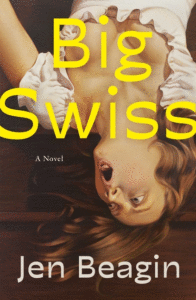 "There's a recent trend in fiction to reduce characters to their dark backstories, using their trauma to conveniently explain everything they think, do, and feel—what critic Parul Sehgal calls the trauma plot. But Big Swiss is a refreshingly anti-trauma-plot novel, posing the question: Does self-victimization come at the cost of an interesting or, at the very least, okay life? Beagin presents her two heroines as opposite models for coping with formative wounds … It's easy to imagine a trauma-plot version of Big Swiss in which Greta's life ends in suicide and Big Swiss finds herself trapped in a world of monstrous men.
But the women of Beagin's story buck those fates. Instead, they give each other countless orgasms as their dogs hump in the corner of Greta's farmhouse. The women act in ways that show their futures aren't predetermined by their pasts. They make strange, illogical, and frequently destructive choices. The book is wry, fresh, and absorbing, without flashbacks, maudlin confessions, or self-seriousness … Of course, things don't go anyone's way. Beagin delivers harsh lessons to both Greta and Big Swiss, suggesting that neither of their approaches to healing is the better than the other. You could do everything in your power to leave the past behind and it could still find you anew. None of it, Beagin seems to say, changes the fact that the future is still wide open and unpredictable. Your hurt does not exempt you from living."
–Bindu Bansinath on Jen Beagin's Big Swiss (The Cut)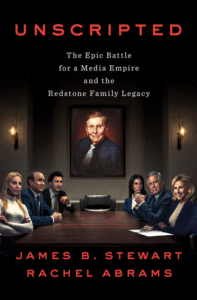 "A model of how gracefully to tell the most grotesque of stories … The writing is elegant and the story so weird and compelling—I lost some sleep unable to put this book down—that the reader may be the only witness to this spectacle who never feels manipulated. It is hard, though, to imagine anyone who reads this book not coming to some clear conclusions: Wealth and power can metastasize until they become toxic, destroying families, companies and countless lives … Redstone is as odious a character as I have encountered in fact or fiction. Iago, Charles Foster Kane and Logan Roy have nothing on him …
Stewart and Abrams set the emotional stage with this seamy domestic drama before turning to one of the most spectacular business debacles of our age: the yearslong collapse of Viacom and the misrule at CBS … Unscripted need not be thought of as a moral fable with larger import. For those predisposed to curiosity about the machinations of wealth and power, it will be a delicious treat. But I also found it a crucial cautionary tale at a time when too many people equate wealth with some sort of generalized mastery."
–Adam Davison on James B. Stewart and Rachel Abrams' Unscripted: The Epic Battle for a Media Empire and the Redstone Family Legacy (The New York Times Book Review)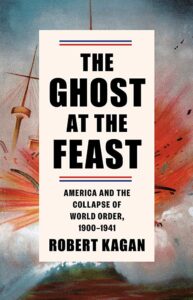 "Kagan—the most sophisticated spokesman for the neoconservative foreign policy school—has gotten another hearing. In the last few years, Kagan has reconstructed himself as a defender of America's liberalism against threats within and without, and helped to reforge a centrist pact that approaches world affairs from the shimmering belief that the greatest armed power in history is the exceptional and indispensable force for global freedom. That belief had been tottering on the precipice; the Ukraine War restored its appeal overnight. F. Scott Fitzgerald was wrong: Neoconservatives, at least, can get a second act in American life. Kagan's new history of U.S. foreign policy in the early twentieth century, The Ghost at the Feast, shows how he has repackaged his beliefs for an era of recently challenged but suddenly renewed optimism about America's exceptional role in world affairs. The book is a study of the years leading up to World War II—a period that both liberals and neoconservatives like to use to prove that sometimes America's only responsible option is military intervention.
Yet as Kagan proceeds through the years of rejection of U.S. warmongering before 1941, and the 'great debate' about whether to intervene at all before Pearl Harbor, he inadvertently recognizes the power of the historic and recent alternatives to U.S. militarism. While he is regaining influence, his history can equally be read as cautioning against militarist lessons so often drawn from the past … From Iraq to Ukraine, Kagan may well be one of the most damagingly influential foreign policy intellectuals the United States has produced in our time, helping American exceptionalism survive long past its sell-by date. His recent comeback may be his most chilling—and spectacular—success … The truth is that, all along, not much ever separated neocons such as Kagan from a nationalist such as Trump, except the pretense that what is good for the United States, including all its war-making, is good for the world."
–Samuel Moyn on Robert Kagan's The Ghost at the Feast: America and the Collapse of World Order, 1900-1941 (The New Republic)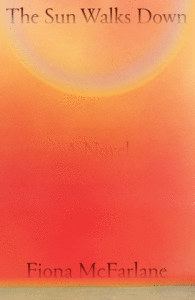 "To make such worked-over material new and interesting, in other words, you have to be extremely good. Well then, Ms. McFarlane must be extremely good indeed, because her novel is a thrilling success. The Sun Walks Down intelligently continues Australia's historical and literary tradition but feels unburdened by its heritage and unconstrained by ideological agendas. Its retelling is both more down-to-earth than usual melodramas of disappearance… and more expansive … There are instances when Ms. McFarlane's messaging becomes explicit … But mostly the novel exploits its premise to delve into the many meanings of settlement and lostness as they pertain to civilization, family, love and the creation of art … Ms. McFarlane spins a novel full of mystery and wonder."
–Sam Sacks on Fiona McFarlane's The Sun Walks Down (The Wall Street Journal)
---