40 Overlooked Books from 2017, as Chosen By Booksellers
A Year-End Reading List from America's Great Readers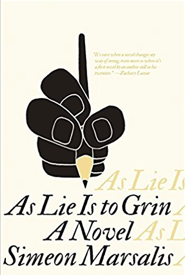 Simeon Marsalis, A Lie is to Grin 
As different as my experience was to the protagonist David's, no other book I've read has better captured that particular, sharp, almost thorn-like confusion I felt trying to figure my life and myself out in the first couple of years of college.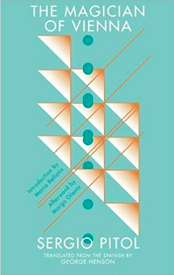 Sergio Pitol, The Magician of Vienna 
With the release of The Magician of Vienna, Pitol's groundbreaking memoir/fiction/critical theory/travelogue trilogy is finally complete in English.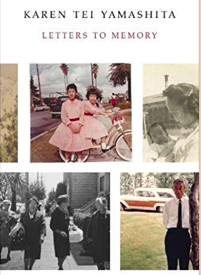 Karen Tei Yamashita, Letters to Memory 
Through exploring her family's archive of letters and other documents, Yamashita creates a powerful dialog between herself and her past, including her family's experience in the WWII Japanese internment camps, how they reacted, how they coped, and how they moved on when they got home. More than just a memoir, this book teaches by example a new kind of relationship you can have with your familial, national, and cultural story. This is an important book.
–Josh Cook, Porter Square Books, Boston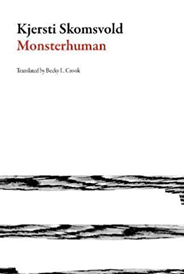 Kjersti Skomsvold, Monsterhuman (trans. Becky L. Cook)
A powerful and personal story of a teen with chronic fatigue syndrome who finds madness and solace…and eventually a tether to the world beyond her bed…through writing. While the novel examines internal experience of sickness and loss, it's also a simultaneous critique/celebration of the writing life.
–Kevin Elliott, Manager, Seminary Co-op, Chicago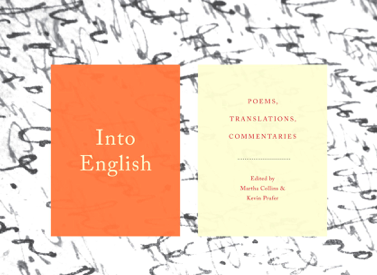 Into English, Ed. Martha Collins and Kevin Prufer
A delightful way to consider poetry and translation, Into English follows the lead of similar volumes, such as Columbia's wonderful Ghazals of Ghalib, printing multiple renderings alongside the original. From Basho and Sappho to Szymborska and Amichai, this anthology spans epochs and cultures, collecting obscure and well-known poems into a volume that will help the reader reflect on the mechanics of verse, and the varieties of poetic experience.
  –Jeff Deutsch, Director, Seminary Co-op Bookstores, Chicago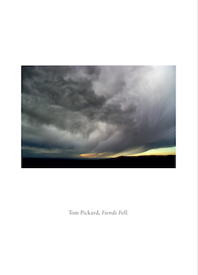 Tom Pickard, Fiends Fell 
Tom Pickard's blowy sojourn on a hilltop near the English-Scottish border tabs the space between days and the lines between poem and prose over the course of a year, charting taxonomies of debt and isolation, in language more playful and strenuous than most of our surefooted, limp-hearted American verse.
–Colin McDonald, Marketing Manager, Seminary Co-op, Chicago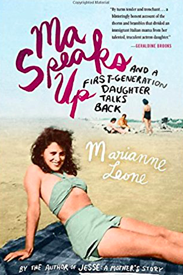 Marianne Leone Cooper, Ma Speaks Up
Ma Speaks Up is a moving and oftentimes hilarious portrait of the relationship between a first-generation daughter and her immigrant mother told in a kaleidoscope of luminously written vignettes. This memoir is also something else: a meditation on what it means to be an American. Leone has accomplished that rarest of authorial feats: completely drawing the reader into a story seemingly about another time and another place and another person, only to have the reader realize the story is about them, too.
–Mary Cotton, Newtonville Books, Newton, MA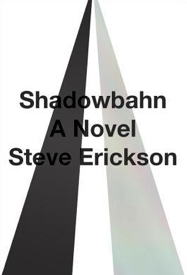 Steve Erickson, Shadowbahn
It seems to me that Steve Erickson sees what the rest of us do not, or cannot, or don't want to. Since his first novel came out in the mid-80s, Erickson has been an apocalyptic visionary (and America's most painfully underrated author). Each new book feels less like a standalone work and more like another truck stop along the narrative highway he's been traveling his entire career. Shadowbahn is a surreal road novel in which the Twin Towers inexplicably appear in the middle of the Badlands and people travel from far and wide to see this bizarre spectacle. At the same time, Shadowbahn creates an alternate history of the second half of the 20th century based on one hypothetical: what if Elvis Presley, not his twin, had died in childbirth? How does Erickson bring these two narratives together? Don't ask; just read, chasing the horizon of his American mythology.
–Benjamin Rybeck, General Manager, Brazos Bookstore, Houston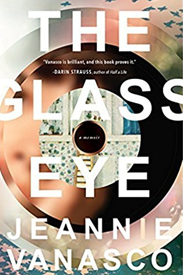 Jeannie Vanasco, The Glass Eye
Somewhere between grief and madness lies The Glass Eye. This stunning debut memoir delves deep into young Jeannie Vanasco's ordeal in overcoming the twin miseries of her beloved father's death and the severe manic depression she is no longer able to keep in check. A visceral, haunting confessional-style read from an extremely talented woman that deserves to find a wide audience.
–Keaton Patterson, Buyer, Brazos Bookstore, Houston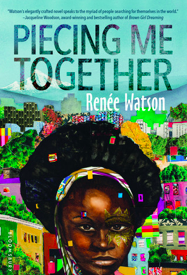 Renee Watson, Piecing Me Together
If you aren't reading Renee Watson's brilliant, nuanced novels, then you are missing one of the best voices talking about race, gender, class, and more. Jade's story is set in Portland, OR, and is a thought-provoking and moving tale of a young African-American woman finding her voice and her art. Hands down one of the best books I've read this year.
–Joy Preble, Kids Specialist, Brazos Bookstore, Houston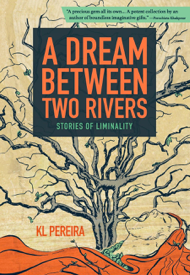 K.L. Pereira, A Dream Between Two Rivers: Stories of Liminality 
Dark, impish, whip-smart, brave, and beautifully written. Loved this work.
–Tim Huggins, Brookline Books, Brookline, MA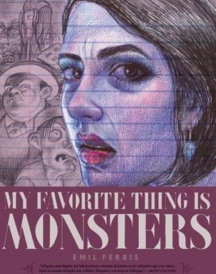 Emil Ferris, My Favorite Thing Is Monsters
The canon of graphic masterpieces just grew by one. My Favorite Thing is Monsters, told through the sketch-diary of ten-year-old, self-identified Wolfman Karen Reyes, is a rich, painful, bizarre exploration of what it means to be a monster—to be hunted, to be cruel, to be both feared and afraid. I've seen few better articulations of the power and pain that comes from being different, and for that, I've made a home in my heart for this story. I'm sure you will too.
–Currie McKinley, Brookline Books, Brookline, MA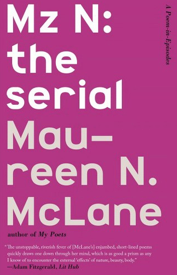 Maureen N. McLane, Mz N: The Serial
There simply is no comparing McLane to any other poet. Comprised of a whittled down concoction of cultural points of light mirror-balling off the walls of a rapidly enclosing society, McLane (via Mz N) derides, amuses, and educates us back into reality.
–Carl Annarummo, Brookline Books, Brookline, MA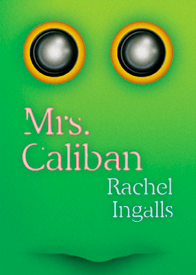 Rachel Ingalls, Mrs. Caliban
Mrs. Caliban is unusual, to say the least. This truly original spin on Beauty and the Beast is a disturbing, unfathomable anxiety dream.
–Russ Barker, Brookline Books, Brookline, MA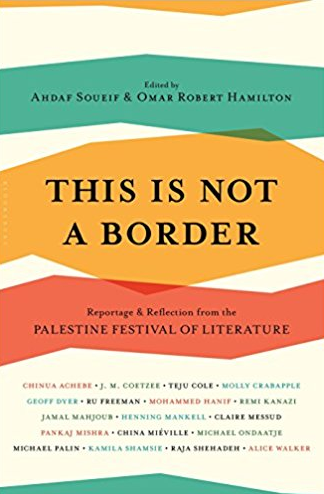 This Is Not a Border: Reportage & Reflection from the Palestine Festival of Literature, Ed. by Ahdaf Soueif and Omar Robert Hamilton
One of two incredible anthologies published this year (the other: Kingdom of Olives and Ash edited by Michael Chabon and Ayelet Waldman) that confront occupation through reflections, photos, essays and poems by international writers who have visited Palestine. This Is Not a Border is rigorous, contemplative and illuminating.
–Shuchi Saraswat, Brookline Books, Brookline, MA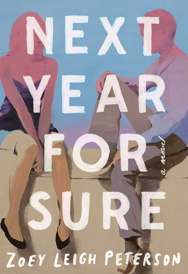 Zoey Leigh Peterson, Next Year, For Sure
A man has a crush. His girlfriend of nine years says, "You should ask her out." And instead of 250 pages of unbearable garbage, Peterson somehow pieces together a book that feels like holding a baby bird in your hands—terrifying, precious, and wonderful. These characters breathe. I love them all deeply. Months after reading it, I still feel lucky and surprised that I picked up a book and found this inside. Just thinking about it still makes my breath catch.
–Alex Schaffner, Brookline Books, Brookline, MA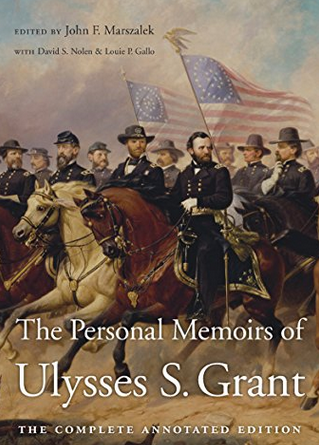 The Personal Memoirs of Ulysses S. Grant, Ed. John F. Marszalek
Ron Chernow's Grant has been a national bestseller, deservedly so, but we think that the new edition of The Personal Memoirs of Ulysses S. Grant (Harvard), edited and annotated by John F. Marszalek should share that spotlight. Possibly the best presidential memoir written, annotations by Marszalek with David Nolen and Louis Gallo, illuminate and contextualize the memoir for the modern reader.
Robert Olmstead's novel Savage Country (Algonquin) is related in his powerful and gorgeous prose, which stops this side of grandiloquent, and tells the tale of a Civil War veteran coming to help his widowed sister-in-law hunt buffalo to pay off her late husband's debts. Olmstead makes no moral judgment from our present vantage point, but his telling of the harsh life might lead a reader to understand that time, and perhaps from there consider what our choices and actions might look like a century from now.
–Lyn Roberts, Square Books, Oxford, Miss.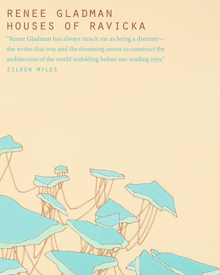 Renee Gladman, Houses of Ravicka
The latest volume of the Ravicka cycle is an incandescent meditation on the metaphysical (even downright pataphysical) dilemmas of space at the heart Gladman's afaltering metropolis. If you haven't been following Gladman, in the new year do yourself a favor and get ye to Ravicka.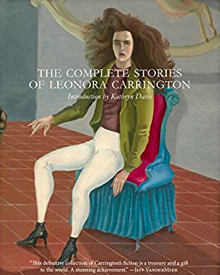 The Complete Short Stories of Leonora Carrington
Incandescently strange, imbued with equal parts doom and whimsy, these stories are a delight—and a little terrifying. A master of delirious imagery, Carrington also wield a narrative prowess that reads like Edgar Allen Poe dosed by Lewis Carroll.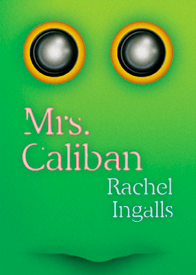 Mrs. Caliban by Rachel Ingalls
Like Joan Didion and David Lynch composing a B-movie fantasia, Ingalls' novel was one of the best surprises of the year—everything a good reissue is supposed to be.
–Jarrod Annis, Greenlight Bookstore, Brooklyn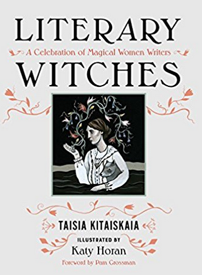 Taisia Kitaiskaia, Literary Witches
Had a book like Literary Witches been around when I was a young pizza-faced hooligan, I might have put down my pack of stolen smokes and picked up a pen (or paintbrush) a lot sooner. This enchanting book will have readers of all ages mesmerized by just how much women writers rule!
–Julie Poole, Malvern Books, Austin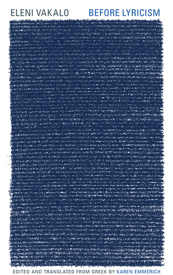 Eleni Vakalo, Before Lyricism (trans. Karen Emmerich)
I haven't heard so much as a peep about this incredible poetry collection released in August, which is a shame because it's the first Eleni Vakalo book in English translation, and Before Lyricism actually contains six book-length poems that Vakalo, a Greek art historian and critic who lived from 1921 to 2001, considered parts of a larger whole. The first poem alone, 1954's "The Forest," has had me under its spell for months, and I suspect any English reader obsessed with landscape will cherish it as much as I do (thanks to Karen Emmerich's entrancing translations):
At night people betray one another
And when the forest
Begins
To smother you
You cry out
As if
You were not in
The forest.
–Stephanie Goehring, Malvern Books, Austin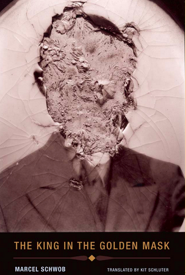 Marcel Schwob, The King in the Golden Mask
A lot of great stuff came out this year, but I was surprised to not see this in more end of the year lists. Like some sick joke Wakefield Press has been putting out all of Schwob's books! The darkness and light in these stories are very much needed these days.
–Fernando Flores, Malvern Books, Austin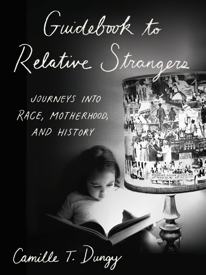 Camille Dungy, Guidebook to Relative Strangers
Camille Dungy is a poet and teacher who spends much of her career life traveling the country, often with her young daughter in tow. In these essays, she uses her poet's attention to detail to observe her daughter's blossoming relationship with her surroundings as well as the ways in which motherhood changes how she sees herself and how the world sees her. It is a beautiful distillation of being in the world: in space, in nature, in history, in one's body, in one's family.
–Rachel C., Harvard Book Store, Cambridge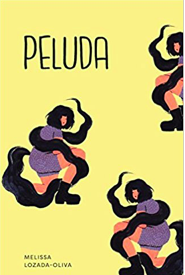 Melissa Lozada-Oliva, Peluda 
I opened Peluda at random one time and it grabbed me by the ventricles and I think I'm a better person for it.
–Rachel S., Harvard Book Store, Cambridge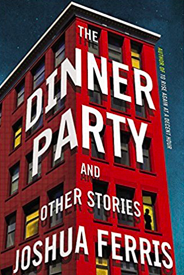 Joshua Ferris, The Dinner Party
In The Dinner Party I found all the things I love about a Joshua Ferris book. His acerbic wit! His darkness! The unabashed manifestation of those ugly and indefensible facets of our character! The ugliness of every relationship, our hearts measured by Ferris's precise seismograph! And the Ultimate Big Qs: How have we become so talented in sabotaging all good things, dismantling our relationships, justifying our worst habits?
The pure fun of this book made it one of my favorites published this year. It's for all fans of workplace fiction, from Babbit to Bartelby to The Office. It's for anyone who has felt frustrated by love, felt love is a ruse, thrown their arms up and throttled their fists at love, or have had the urge, like a Catherine Lacey character, to simply disappear. Or have marveled, like Tom Robbins, 'Who knows how to make love stay?'"
–Spencer R., Harvard Book Store, Cambridge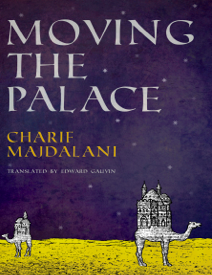 Charif Majdalani, Moving the Palace
I had shamefully little knowledge of Lebanese culture and of military campaigns in North Africa, but that has been somewhat rectified by Moving the Palace. Majdalani writes beautifully of a young Lebanese man serving in the British military who finds himself on adventures in that service and with a quixotic quest to move a dissembled palace across the desert expanses of North Africa and the Middle East. The success of the novel lies not only in his accomplishments but in Majdalani's telling of them.
–Katie Orphan, The Last Bookstore, Los Angeles
The gripping and true story of two teens whose lives were both changed in an instant when their paths intersected on a public bus in Oakland, California. Rather than trying to simplify unexplainable questions, Slater leans into them, and it's in her resistance of easy answers that The 57 Bus shines.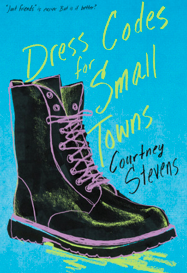 Dress Codes for Small Towns, Courtney Stevens 
In rural Otters Holt, Kentucky, preacher's daughter Billie McCaffrey's two best friends are falling for each other—and she might be falling for both of them. Courtney Stevens understands what being a teenager feels like better than almost any YA writer working today, and her pages hum and pulse with that feeling, breathing messy, complicated life into Billie, her friends and family, and the very town of Otters Holt itself.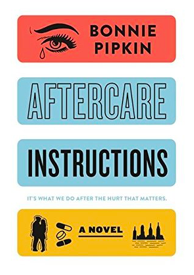 Aftercare Instructions, Bonnie Pipkin 
After terminating her pregnancy, Gen walks into the waiting room at Planned Parenthood expecting that her boyfriend will take her home, and discovers instead that he has abandoned her. Pipkin shifts between first-person prose and screenplay-style scenes as Gen sifts through memories of her relationship, and the result is a stylistically innovative, emotionally resonant, and deeply necessary portrait of a young woman coming to terms with her past so that she can begin to reach for a hopeful future.
–Stephanie Appell, Parnassus Books, Nashville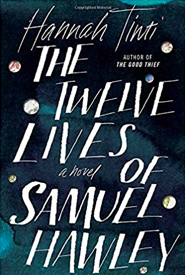 Hannah Tinti, The Twelve Lives of Samuel Hawley
Loo and her father, Samuel Hawley, were on the run until Loo turned 12, when they settled down in the small New England fishing town her mother was from. Haunted by his wife's death as well as his past—which we see through the stories of the twelve bullet scars on his body—Hawley tries to find a new normal with Loo. The past and present eventually collide.
­–Catherine Bock, Parnassus Books, Nashville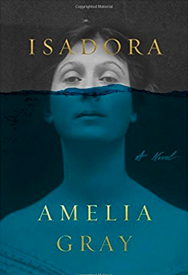 Each sentence of this strange, brilliant novel conveys not only Isadora Duncan's deep grief and mental unraveling after losing both her children in a freak accident, but author Amelia Gray's astonishing talent. It's as if Gray were there in Paris in 1913, watching Duncan's every move and recording her thoughts.
–Halley Parry, Parnassus Books, Nashville
Bryn Chancellor's debut novel explores the ramifications of a high schooler's disappearance on her friends and loved ones 18 years after she goes missing. No breakneck-paced plot twists or narrative stunts here—this is a slow burn of a story that takes the time to ask and answer delicate, difficult questions.
–Mary Laura Philpott, Parnassus Books, Nashville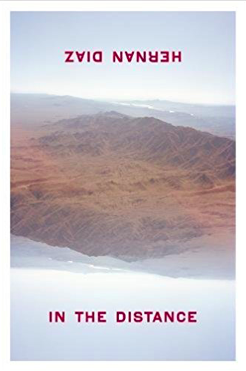 Hernan Diaz, In the Distance
A gritty, dreamy anti-Western Western. This book's unflinching exposure of our foundational American myths about individualism and violence is so well-executed that it feels nothing short of subversive. Surreal, cerebral, and affecting beyond what I thought possible.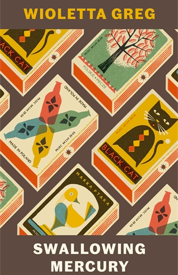 Swallowing Mercury, Wioletta Greg
One of my absolute favorite books this year. Crystalline, beautiful, poetic, subtly dark and political. A masterwork of perspective and narration that also captures the vibrancy and idiosyncrasies of protagonist Wiola's rural Polish town in the 1980s.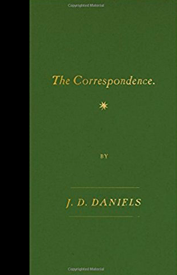 J.D. Daniels, The Correspondence: Essays
An acerbic and wicked smart debut. The Correspondence is a cutting examination of masculinity and violence, more clever and self aware than just any tough guy bravado. Regularly closes paragraphs with sentences so well crafted they are literally breathtaking.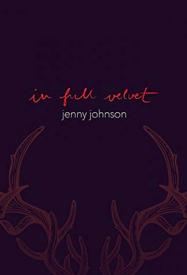 Jenny Johnson, In Full Velvet
I know it's hard to get poetry on the year-end lists, but damn, this book is so good and deserves all the praise that comes its way. Formally stunning poems about love, lust, queerness, and the natural world. Johnson's lines hum with precision and liveliness.
–Daley Farr, Milkweed Books, Minneapolis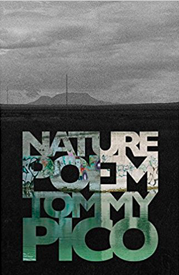 Tommy Pico, Nature Poem
Tommy Pico's second full-length poetry collection, from Tin House, was my favorite book of the year. It's an epic poem that struggles with how we understand nature and poetry, and nature poetry as a genre. It's whip-smart, funny, and blends colloquialism and lyricism beautifully. It's an absolute joy to hand-sell.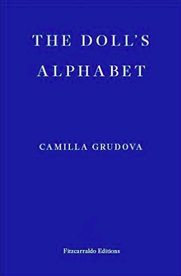 Camilla Grudova, The Doll's Alphabet
This is a short story collection about women in a dystopic, spartan world. The world building is intricate and beautiful, and it's an amazing portrait of the uncanny. It's one I've hand sold to people who are fans of Lesley Arimah, Roxane Gay, and Carmen Machado.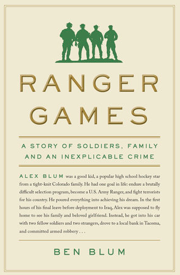 Ben Blum, Ranger Games 
This got pretty widespread press coverage but I didn't see it on any year-end lists. It's almost Serial-like in how utterly absorbing it is—it's a study of personality, honor, family, and order told through the shocking crime the author's cousin commits—and unlike a lot of stuff in the genre, the writing is really fantastic.
–Celia Mattison, Milkweed Books, Minneapolis
---