30 Books in 30 Days: The Lonely City and Am I Alone Here?
Michele Filgate on Olivia Laing and Walton Muyumba on Peter Orner
In the 30 Books in 30 Days series leading up to the March 16 announcement of the 2016 National Book Critics Circle Award winners, NBCC board members review the 30 finalists. Today, read Michele Filgate offers on criticism finalist Olivia Laing's The Lonely City: Adventures in the Art of Being Alone (Picador) and Walton Muyumba on Peter Orner's Am I Alone Here? Notes on Living to Read and Reading to Live (Catapult).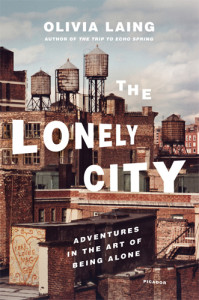 Michele Filgate on Olivia Laing's The Lonely City
"Loneliness feels like such a shameful experience, so counter to the lives we are supposed to lead, that it becomes increasingly inadmissible, a taboo state whose confession seems destined to cause others to turn and flee," Olivia Laing writes in The Lonely City: Adventures in the Art of Being Alone. Reading her latest book, a work of nonfiction that so artfully combines autobiography and criticism, produces the opposite effect, however. Instead of turning away, the reader can't help but want to keep reading, to get at the root of why this pervasive sadness haunts so many people.
Laing writes about artists who dealt with loneliness in their own work, including Edward Hopper, Andy Warhol, Henry Darger, and David Wojnarowicz—and she diligently digs into her own life, describing a time when she lived in New York City and felt a sense of wanting "to be seen" but also feeling "dangerously exposed." She wonders if it's the "fear of contact that is the real malaise of our age, underpinning the changes in both our physical and virtual lives."
What Laing really excels at is analyzing her own life through the example of others. She did this beautifully in her previous book, The Trip to Echo Spring: On Writers and Drinking. The Lonely City feels like the book that she was born to write: a book that proves, as she suggests, that "looking itself was an antidote, a way to defeat loneliness's strange, estranging spell." Whether it's Hopper's paintings, which often depict "a feeling of separation", or Warhol's belief that "technology liberated him from the burden of needing other people," Laing writes about the many ways that people can isolate themselves.
As I wrote in my Lit Hub essay about The Lonely City and Melissa Broder's So Sad Today: "Is loneliness worth it if it sometimes leads to great works of art? It's a feeling that won't ever go away for some people, no matter the good fortune that surrounds them. But loneliness can lead to despair, an inability to function, and suicide. Isn't it crucial, in that case, that there's an open dialogue about it? It's a relief, then, when writers address the subject with a certain amount of vulnerability and emotional honesty."
Laing does exactly that in this sharp-eyed and compelling book.
Michele Filgate is the VP/Awards for the National Book Critics Circle and a contributing editor at Literary Hub. 
*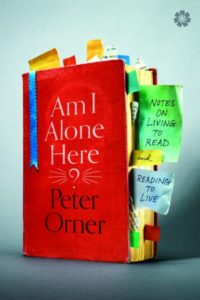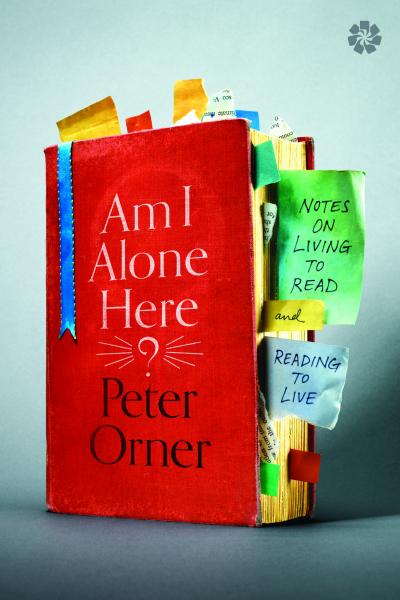 Walton Muyumba on Peter Orner's Am I Alone Here?
One sees, rather immediately, that Peter Orner's Am I Alone Here: Notes on Living to Read and Reading to Live is an essay collection about his personal library. Because he's dressed his passionate responses and remembrances in easy, workaday, colloquial, Midwestern intelligence, you could even call this a kind of daybook about books and reading. Orner explains that these essays, which began as "morning notes," veer away from his intention. Instead, what emerged is this "book of unlearned meditations that stumbles into memoir." Orner's diary describes a writer naming and mining his catalog for the narratives that might help him deal with his failed marriage, his absences as a father, and his grief—as the failed and absent son—about his own father's death.
Writing about story collections, novels, and plays from the likes of Eudora Welty, Lyonel Trouillot, Gina Berriault, Vaclav Havel, Anton Chekhov, Isaac Babel, Andre Dubus, A. S. Byatt and James Salter, Orner's beautiful and excellent briefs exalt the notes of mysteriousness that these writers strike in their own short stories. His essays play similar progressions. Working through Richard Bausch's Spirits and Other Stories, Orner realizes that his reading has been driven by a fundamental misunderstanding: "For a long time I thought reading would somehow make me a better writer. So I'd read in order to write. I'd justify the hours I spent with my feet up and call reading 'my work.' Now I see how ludicrous this is. All the Chekhov in thirteen volumes won't help me write a sentence that breathes. That comes from somewhere else, somewhere out in the world . . . And yet I have come to the conclusion that reading keeps me alive, period."
What's enlivening in literature is the force that makes us imagine, dream, and think. Stories inspire dreams that makes us realize we're not alone in our lives or our losses because both are "collective." "If they are not," Orner surmises, "we're truly doomed. If we can't overcome them ourselves the very least we can do is recognize that we aren't the only ones out here trying to get by." In Juan Rulfo's works Orner finds "people unburdening themselves of the stories they can't stop telling." Recollection and repetition, Orner explains, is living. "And our defeats are our stories."
With every work, Orner seems to be equipping himself to recollect, reimagine and rethink his father, Ronald Orner: "He's been gone a year. I'm still trying to wander off my father's death." Even though, as one essay title exclaims, "All Fathers Are Fictional," Am I Alone Here? is a book of mourning, a kaddish. As Leon Wieseltier writes in his Kaddish: "What death really says is: think." And so, Orner thinks through Mavis Gallant's Overhead in a Balloon, or Imre Kertesz's Kaddish for a Child Not Born or Elias Canetti's The Tongue Set Free to get back to his father, a man he never knew well but claimed nonetheless: "One other thing: Whenever my father was asked his name, he'd say it once than then spell it out 'Ronald Orner. O-R-N-E-R.'  I am my father's son. Whenever I say my name, I always, before I can even help myself, spell out the letters." Orner's kaddish, a book of criticism about reading, coping with the self, and reckoning with personal loss, is a grand expression of Kenneth Burke ageless dictum: literature is equipment for living.
Walton Muyumba is a writer and critic. His essays and reviews have appeared in Oxford American, The Crisis, NPR Books, The Chicago Tribune, The Dallas Morning News, and The Los Angeles Review of Books. He's the author of The Shadow and the Act: Black Intellectual Practice, Jazz Improvisation, and Philosophical Pragmatism (Univ. of Chicago Press, 2009). He is an associate professor of American and African Diaspora literature in the English Department at Indiana University-Bloomington.
---