18 Books You Should Read This October
From Witches to Wangs to Glam and Back Again
Seriously, winter is coming, and you're going to need more books. So we asked Lit Hub contributors to recommend a few, and here are 18 that should be good.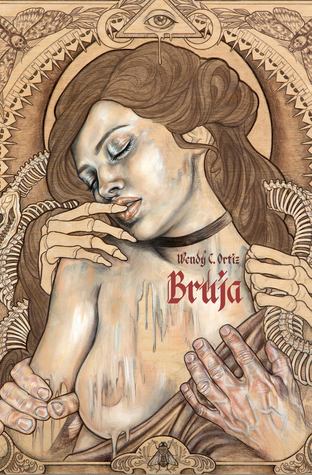 Bruja, Wendy C. Ortiz (Civil Coping Mechanisms)
There's a small but distinct group of writers whose preferred narrative approach changes dramatically from book to book. With her third book, Bruja, I think it's safe to add Wendy C. Ortiz to that list. All three can be described as memoirs, but their form is vastly different: Excavation was wrenching in its use of realism, while Hollywood Notebook adopted a more experimental and fragmented approach. Bruja incorporates dreams into its structure, and denotes Ortiz as one of a growing group of writers making personal nonfiction narratives into some of the most vital and thrilling books out there right now.
–Tobias Carroll (Lit Hub contributor)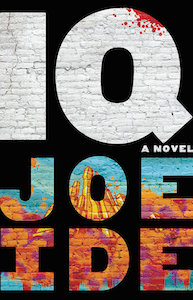 IQ, Joe Ide (Mulholland)
I've never been a Sherlock Holmes devotee, but when you transport the old consulting detective to South Central Los Angeles and put him to work protecting a hip hop impresario, somehow I'm hooked. That's the conceit in Joe Ide's debut novel: Sherlock's powers of deduction live within IQ, an unlicensed PI living hand-to-mouth in a hardscrabble LA neighborhood. It's a perfect marriage of hardboiled and Victorian mystery, with oddball characters, sharp dialogue and a jaded attitude, but all in the service of a satisfying puzzle.
–Dwyer Murphy (Lit Hub contributing editor)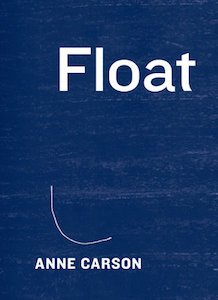 Float, Anne Carson (Knopf) 
One of the many beauties of Anne Carson's mind is how capacious she finds cracks in the edifice of language. Take a word, like eros, or a color—red—and Carson will turn that blunt object into a myth, a genealogy, even a song. No poet in the last century has leaned into words with such interrogative charm. For this reason she is not a writer for a reader who wants tidy stepping stones to epiphany. But if you are happy to slip your way somewhere unexpected Carson can be a cultish guide. In her career there have been books that pan back from Carson's archaeological work as an essayist and translator and put on an exhibit of her concerns. Plainwater—which includes among its contents an imagined dialogue with a 7th-century poet, translations, and a dazzling essay on water—was one such book. Float, her latest, is another, and it's extraordinary to see how the show has grown. Squeezed between a see-through box are twenty-some essays, poems, reviews of performances, riffs, and translations—it is like someone has drilled a hole into Anne Carson's brain and now we can peek inside. Here is Carson resurrecting H.G. Wells' long-suffering wife from obscurity, and Carson spreading a fan of sonnets across the page like tarot cards, and Carson basically demonstrating her absolute mastery of more forms than we knew existed.
–John Freeman (Executive editor at Lit Hub)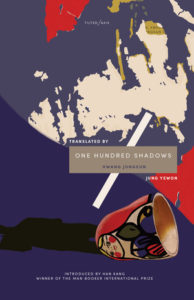 One Hundred Shadows, Hwang Jungeun (Tilted Axis Press, trans. by Jung Yewon)
Hwang Jungeun's One Hundred Shadows is too odd to be this tender, and too sharply materialist to be this mystical, and too lyrical to be this gritty. It's set against the backdrop of a sprawling and ramshackle electronics market—soon to be gentrified out of existence—and yet somehow poverty and the grim difficulty of survival become a love story about a young boy and a young girl, both hoping the other won't follow their shadow into the woods forever. What does it mean? I don't know! But the novel's symbols are as compelling as they are opaque, and it sucked me up and spat me out a different person.
–Aaron Bady (Lit Hub contributor)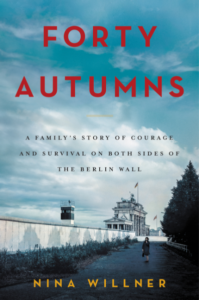 Forty Autumns, Nina Willner (William Morrow)
As a very young newlywed in 1986, I spent a great part of each day in US military quarters with a picture-window facing the southernmost stretch of "Die Mauer"—the Berlin Wall, which was actually two walls—one on "our" side, one on "theirs." From our second-floor apartment I could see the stretch of no-man's-land between the two, and a guard tower manned 24/7 by an East German soldier with a rifle.
Many books about Berlin and its sad division from 1961 to 1989 have been published since then, but none until Nina Willner's have told such a rich, human, and multifaceted story. Willner herself was born to a mother who escaped and a US Army officer; she became a US Army officer, too, and did important intelligence work—all while a major part of her family remained trapped behind a political barrier.
Nina Willner and I share an age range, a "home city," and a commitment to freedom. This book is kind, honest, incredibly well-written, and important, a testament to humanity and courage. It's history, but not the stodgy sort. Living history, the kind I lived through in a different role.
–Bethanne Patrick (Lit Hub columnist)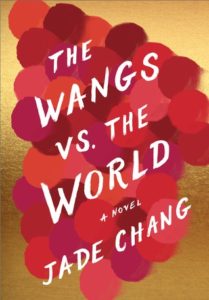 The Wangs vs. the World, Jade Chang (Houghton Mifflin Harcourt)
"The American Dream is dead," Donald J. Trump trumpeted last April, but he hasn't met the Wang family. And likely the demagogue won't, not because the Wangs are fictitious, but because they are Chinese immigrants who dare defy such Trumpian pronouncements. Debut novelist Jade Chang takes us on a rocket ride of a family road trip, from wealth to poverty, from ancestral lands and back, and in doing so, questions the very tenets of the America Dream. The Wangs' cross-country adventure provides a levity and velocity that's sure to hurtle us past the November elections with far fewer grimaces on our faces.
–Kerri Arsenault (Lit Hub columnist)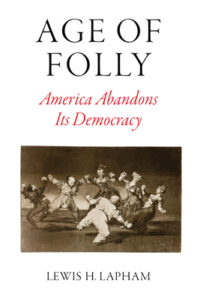 Age of Folly: America Abandons Its Democracy, Lewis Lapham (Verso)
There is a forehead-thumping moment as one reads these essays spanning the last 25 years: "It's deja-vu all over again." Juxtaposing Yogi Berra with Lapham is apt: clown vs intellect. A pairing too familiar for comfort. To read Lapham's work, so erudite and conscientious, is to realize that saving our democracy will take bold-face truth-telling, bravery and a populace willing to change: An alchemical improbability. However, if you can read this book and not want to commit to the work necessary to save our democracy, you are already lost.
–Lucy Kogler (Lit Hub columnist)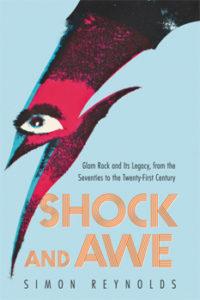 Shock and Awe, Simon Reynolds (Dey Street Books)
Glam rock has always been punk's better dressed and slightly weird younger sibling, better mannered but prone to flights of fancy. Critic Simon Reynolds, whose books on postpunk and Retromania are both excellent, has now turned his considerable intellect to a grand unified theory of glam in the glorious Shock and Awe, which traces both the music and its trappings from old time practitioners (T Rex, Sweet, Gary Glitter) to today's performers (Kanye, Nicki Minaj). Time to sharpen the eyeliner and give the old platforms a whirl, or just dig up your Bowie and Mott the Hoople records.
–Lisa Levy (Lit Hub contributing editor)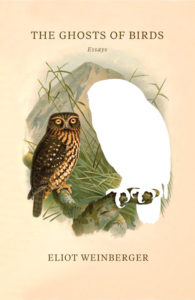 The Ghosts of Birds, Eliot Weinberger (New Directions)
In The Ghost of Birds, part of which is a continuation of the serial essay begun in An Elemental Thing, Eliot Weinberger further establishes himself as one of our singular and singularly great essayists. A modernist with the horror and absurdity of the 20th century behind him, Weinberger's collection—which moves from medieval Irish legends to contemporary politics and poetry—is tinged humor and grace, fully alive to the weirdness of the world.
–Stephen Sparks (Lit Hub contributing editor)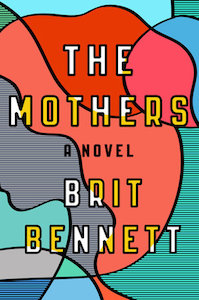 The Mothers, Britt Bennett (Riverhead)
The Mothers tells a young girl's coming-of-age story, but it's different than any others you've read, for real. For starters, it features abortion front and center. The way it explores blackness, friendship, relationships, family, identity and grief is heartbreaking, but also unapologetically sincere and true. Brit Bennett has, at 26, written one of the novels of the fall and, surely, of the year—and she's just been chosen as one of the National Book Foundation's 5 under 35. The characters of The Mothers will stay with you long after you've read this novel—and every minute of their company will be worth it.
–Marta Bausells (Lit Hub editor-at-large)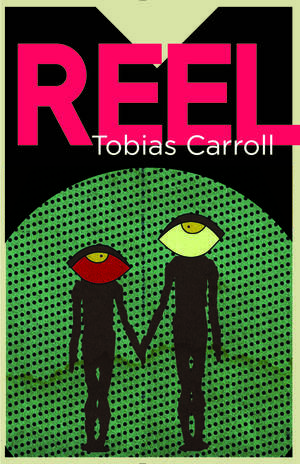 Reel, Tobias Carroll (Rare Bird Lit)
I'm excited for the release of my friend (and frequent Lit Hub contributor) Tobias Carroll's debut novel! I read a manuscript several years ago, and I'm so happy that other readers get to experience this book for the first time. Anyone who knows Toby understands that he is a walking encyclopedia when it comes to music, literature, and art—so it's thrilling to see what that means in his own work. The result is a smart, sophisticated story about two people whose lives overlap when they meet at a punk show.
–Michele Filgate (Lit Hub contributing editor)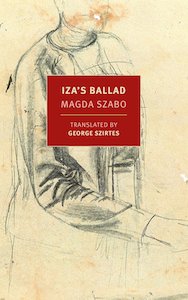 Iza's Ballad, Magda Szabo (New York Review Books, trans. by George Szirtes)
Magda Szabo's work casts an indirect light upon the dimness that exists between our public and private selves, a place wherein our betrayals—both personal and political—flicker uneasily over the walls. Her subtle, aching artistry isn't so much continued as it is consummated in the 1963 novel Iza's Ballad, reissued this month by NYRB. When Ettie's husband dies, her daughter Iza insists she give up the family home and join her in Budapest. Despite their attempts at accommodating one another, the past will leave neither alone, Ettie being as desperate to remain within its familiar embrace as Iza is to flee it forever. Coming on the heels of 2015's stunning The Door, Iza's Ballad should solidify Szabo's standing as a master novelist amongst her English-language readers.
–Dustin Illingworth (Lit Hub staff writer)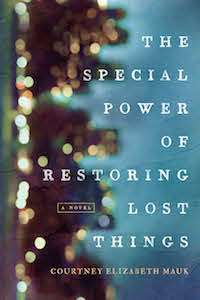 The Special Power of Restoring Lost Things, Courtney Elizabeth Mauk (Little A)
I have always been drawn to novels about absence; stories about characters who seek to fill the void in their hearts when memory alone is insufficient. The Special Power of Restoring Lost Things, Courtney Elizabeth Mauk's third novel, begins with a mother trying to inhabit the spirit of her daughter, who has been missing for a year. Carol is searching for Jennifer, even taking to wearing her daughter's clothes as she tries to settle into her life, going to the bars and clubs she frequented. Anything to find a lead. Carol wonders about the parts of her daughter's life she doesn't quite understand, even the votive candles in her apartment. She "can't guess why they were there, for art or salvation. She has no idea what prayers might move her daughter's lips or where she could have learned." There is no easy way to learn the secrets of the missing.
–Nick Ripatrazone (Lit Hub contributor)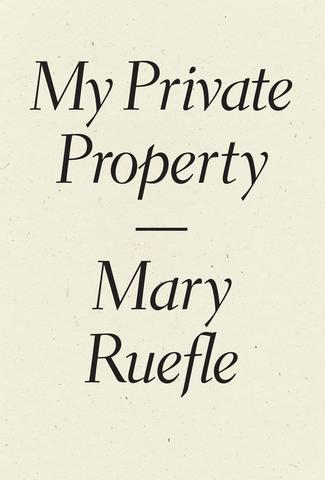 My Private Property, Mary Ruefle (Wave Books)
I love it when a poet can use her poet's mind to redefine the essay form. That's precisely what Mary Ruefle did with Madness, Rack, and Honey, one of the most memorable essay collections I have read in years, and also with The Most of It, an eclectic mixture of short prose pieces that had me thinking of Anne Carson. So I'm hugely looking forward to Ruefle's next book of short prose, My Private Property, which promises to show me new ways to think and beautiful, profound combinations of words that I never would have imagined went together.
–Scott Esposito (Lit Hub contributor)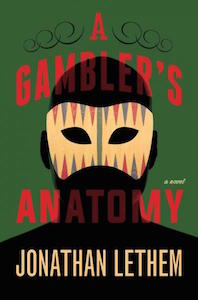 A Gambler's Anatomy, Jonathan Lethem
Lethem's first novel since 2013's multigenerational saga Dissident Gardens is the story of rakish backgammon hustler Alexander Bruno, who may or may not be psychic, and the tumor that takes him from the extravagant gambling dens of Singapore and Berlin back to his old stomping ground of Berkley, California. There he must navigate anarchist collectives, grotesque burger joints, sexual misadventures, and an old classmate turned nefarious Bay Area robber baron. Lethem is famous for his genre bending approach to fiction and this delightfully unusual tale is no exception. A Gambler's Anatomy is a spy story wrapped up in a farce wrapped up in a social justice quest narrative, with a dash of horror and the paranormal thrown in for good measure. A tragicomic gem.
–Dan Sheehan (Lit Hub assistant editor)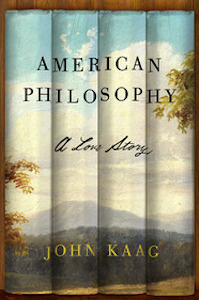 American Philosophy: A Love Story, John Kaag (Farrar, Straus and Giroux)
"American Pragmatism" sounds pretty unsexy as far as philosophies go—but as an articulation of a way of being in the world that values curiosity and discovery, and thinking rather than thought, it's actually pretty cool. This—among many other things—was a discovery that "disillusioned philosopher" John Kaag made upon undertaking a cataloguing of William Ernest Hocking's long-neglected library. Hocking, a Harvard philosopher of some renown during the early part of the last century, was himself a student of American philosophical greats like William James, George Santayana, and Josiah Royce, and his intimate relationship with some of the greatest philosophical minds this country has produced is reflected in the details of his massive library. Along with discovering personal notes from Walt Whitman and inscriptions by Robert Frost, Kaag makes some discoveries about his own life, the intellectual life of America, and how the two intertwine.
–Jonny Diamond (Editor, Lit Hub)
The Motion of Puppets, Keith Donohue (Picador)
I have a confession: while recent stories in the news about clowns have a lot of folks creeped out, I've always harbored a secret fear of marionettes. The idea of being connected by strings to a puppet master is the stuff of nightmares for me. Combine that premise—of being turned into a puppet—with a setting in the Old City of Quebec City, and I felt the chill of the gothic begin before I even opened the book. Donohue takes a familiar theme—the husband who must rescue the wife from hell—and makes it new again in, at times, Poe-like prose. It's a perfect book for autumn evenings when the spirits are about.
–Lorraine Berry (Lit Hub contributor)
Patricide, D. Foy (Stalking Horse Press)
Brutal beauty and beautiful brutality abound in D. Foy's latest novel, Patricide, where memory and its more colorful companions—regret, blame, guilt, nostalgia, mourning, veneration, repression, trauma, dread, introspection, recurrence, reflection, truth—take center stage. Foy sculpts his novel with, simultaneously, the blunt force of a hammer, the soft touch of a brush, and the sharp precision of a scalpel. His sentences stay with you; his questions infect your thoughts. "Where do they come from, your memories? Where have the images that make your memories been hiding across the years?" You could cite influences here—everyone from Samuel Beckett to Gertrude Stein, Franz Kafka to Herman Melville, Witold Gombrowicz to Jack Kerouac—but as much as D. Foy's writing is a memory of those pasts, it is also something that feels fresh, new, alive.
–Tyler Malone (Lit Hub contributing editor)
---