18 Books You Should Read This August
Reading Suggestions for the Dog Days of Summer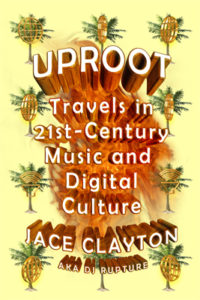 Uproot: Travels in Twenty-First-Century Music & Global Digital Culture, Jace Claton (FSG Originals)
Jace Clayton's creative work is rigorous, challenging, and eye-opening. That's as true for the music he's made under his own name and as DJ /rupture as it is for his writing, which illuminates musical genres, styles, and theories in unexpected ways. Here, he takes a global view on music with an eye towards innovation and unpredictability.
–Tobias Carroll (Lit Hub contributor)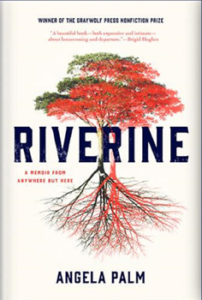 Riverine, Angela Palm (Graywolf)
This winner of the 2015 Graywolf Non-Fiction Prize definitely deserved it. Bruce Lee told us to be shapeless, formless, like water—Palm's prose takes the form of water. She flows through a history of family and environment that could've so easily been washed away and forgotten had she not been diligent in remembering and telling. Too dope.
–Yahdon Israel (Lit Hub contributor)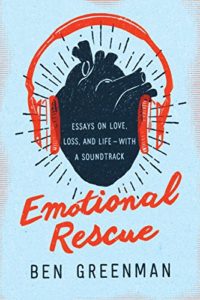 Emotional Rescue, Ben Greenman (Little A)
Greenman's new book of essays hopes to "explore (and reward) the connection between pop songs and the labile emotional state of young adulthood." Emotional Rescue comes with a soundtrack: it's like a very literary DJ offered you a route through life's emotional highs and lows, complete with smart and funny commentary. There's a wide range of artists here, from Miles Davis to The Knack to Little Richard to Cheap Trick to Wu-Tang Clan. Greenman arranges the essays by themes like "Pain/Pleasure," "Sense/Nonsense," "Secrets/Revelations" and "Silence/Conversation." The arrangement allows readers to gravitate toward whatever they are feeling or needing at the moment. Emotional Rescue is audio therapy for the soul.
–Nick Ripatrazone (Lit Hub contributor)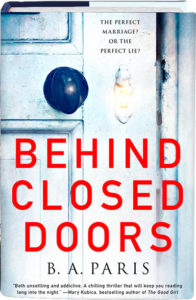 Behind Closed Doors, B. A. Paris (St. Martin's)
Here's a dirty secret about being a book critic: you get a lot of packages. So many that your neighbors are curious and the UPS man knows you by name (I still miss Barrington, he was my first). As I open the packages it's pretty easy to sort books into no way, maybe, and OMG it's (fill in this space with something I requested). I did something odd recently: I picked up a random book and just started reading. Granted, the publisher had given it a little extra love (a fancy jacket), but otherwise, I knew nothing about book or author. And reader, it was really freaking creepy. And really good. Until the end, which was an honest gasp and imaginary pearl clutching moment. Yes, that good.
Reader, if you want to read the thriller that enthralled even this jaded soul, pick up Behind Closed Doors by BA Paris. And throw in Alex Marwood's excellent The Darkest Secret while you are at it. Then draw the blinds and turn off your phone because you will not want any interruptions.
–Lisa Levy (Lit Hub contributing editor)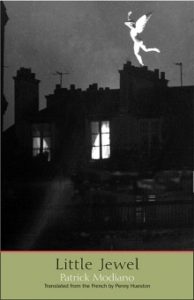 Little Jewel, Patrick Modiano (Yale University Press)
Newly translated Modiano is always cause for celebration. A young woman pursues a figure in a yellow raincoat through Paris, believing it may be the mother who abandoned her years before. The fairly straightforward plot provides Modiano ample room to explore his thematic obsessions: the enigma of memory, the menacing beauty of the city, the tidal force of the past. A noirish spell you'll willingly fall under.
–Dustin Illingworth (Lit Hub staff writer)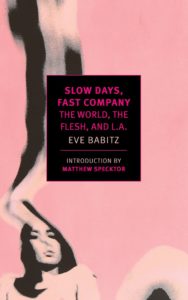 Slow Days, Fast Company: The World, The Flesh, and L.A., Eve Babitz (NYRB Classics)
One of the best things about being friends with Matthew Specktor, the finest of LA's literary citizens, is that he's a wellspring of book recs. Not only does he always manage to recommend books that are worth reading (the first sign of a decent book peddler), but the recommendations themselves are reliably artful and intelligent, whether done in person or in print. He begins his insightful introduction to the new NYRB release of Eve Babitz's Slow Days, Fast Company: "Any writer may be in or out of step with his or her time, but a great one is inextricably bound to place." Babitz definitely fits this description, one of those rare LA writers who understands the tone and texture of this sprawling monster of a metropolis. Early on in the book, Babitz claims: "You can't write a story about LA that doesn't turn around in the middle or get lost." Well, I say get lost in Babitz's LA, a consistently alluring locale that is, as Specktor explains, "as idiosyncratically true as William Faulkner's Mississippi, and as distinct from that place as it is from Joan Didion's LA."
–Tyler Malone (Lit Hub contributing editor, The Scofield founder & Editor-in-Chief)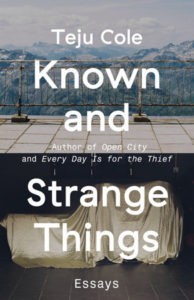 Known and Strange Things, Teju Cole (Random House)
Teju Cole's Known And Strange Things is an indulgence in a sort of intellectual voyeurism. In his first essay collection, he takes the reader through his relationships with books in his impressive library, specific photographs and works of art, social media, and the world. His writing is a reminder that current events, art, and day-to-day drudgery are all connected and worthy of a healthy mix of light and analytic thought.
–Shani Gilchrist (Lit Hub contributor)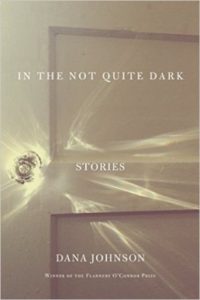 In the Not Quite Dark, Dana Johnson (Counterpoint Press)
Dana Johnson's first collection, Break Any Woman Down, won the Flannery O'Connor award. Several of these stories revolved around Avery, a young black girl whose family moves from Central LA to West Covina. Her novel Elsewhere, California, builds out Avery's universe, exploring, race, class and coming of age. In her new collection, In the Not Quite Dark, she offers 11 electrifying stories filled with tension and truth about present-day Los Angeles. "My mother died telling me what to do," her narrator begins in "No Blaming the Harvard Boys," a story about a young black student at a midwestern writers' workshop navigating the caste system at a tumultuous party at her professor's house. "She Deserves Everything She Gets" builds around the tension between the lessons parents teach young women about protecting themselves against rape and the dangers they don't foresee. Johnson's vision is razor sharp, her voice unmistakable.
–Jane Ciabattari (Lit Hub columnist)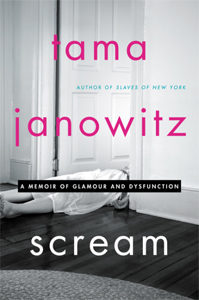 Scream, Tama Janowitz (Dey Street Books)
In 1986, Tama Janowitz became part of the club. That club—the literary Brat Pack—which also included Bret Easton Ellis and Jay McInerney, and which became known, and later revered, for their minimalist style in describing 80s New York and all its yuppie and creative madness. She was "it" in the heyday of the period largely thanks to her story collection Slaves of New York, a run-down of the city's arts scene and its sexual politics. She's returned with the backstory, and that of her life afterwards, in her first memoir. It turns out it wasn't all a bed of roses—and those years of glamour and fame probably weren't either. I can't wait to read all the details…
–Marta Bausells (Lit Hub editor-at-large)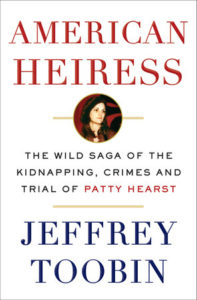 American Heiress: The Wild Saga of the Kidnapping, Crimes and Trial of Patty Hearst, Jeffrey Toobin (Doubleday)
1970s Bay Area—is there a more fascinating time and place in modern American history? The Summer of Love was over. The Manson family was on trial. Reagan was governor. The Weather Underground and the Black Panthers were out in full force. American Heiress, the new book by Jeffrey Toobin—the CNN analyst, New Yorker staff writer, and easily the best legal storyteller working today—looks at the Patty Hearst kidnapping in 1974 in Berkeley, and the madness that ensued: the fugitive days, the bank robberies, the shoot-outs, the trial. The last time Toobin took on a story like this, we got The Ride of His Life and FX' hit show The People vs. OJ Simpson. The Patty Hearst story promises to be every bit as compelling.
–Dwyer Murphy (Lit Hub contributing editor)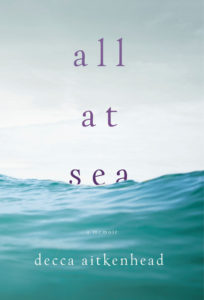 All at Sea, Decca Aitkenhead (Nan A. Talese)
Decca Aitkenhead rescues her son from the waters of a Jamaican bay and then can only watch as her lover, Tony, drowns. What begins as a grief memoir turns into a meditation on race and class and ritual as Aitkenhead reflects on her relationship with the father of her two boys. She grew up in the English countryside, the white daughter of the middle class, surrounded by books and dinner conversations about ideas, and became a journalist for the Guardian; Tony was black, fostered out to a white family when he was a toddler, a man who had started out as a street dealer, but was a counselor to troubled youth at the time of his death. Aitkenhead unpacks the rituals of love and grief, of class and race before coming to terms with the long-buried original source of her heart's wound that had preceded Tony's death.
–Lorraine Berry (Lit Hub contributor)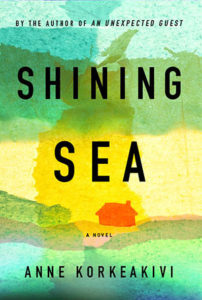 Shining Sea, Anne Korkeakivi (Little, Brown and Company)
If you haven't yet found your perfect beach and/or Labor Day read, fret not: Anne Korkeakivi's Shining Sea is the family saga you want to read—with a message about war damages that won't leave you queasy from sweetness. Korkeakivi (An Unexpected Guest) writes beautifully; gobble this one up and keep an eye out for her next.
–Bethanne Patrick (Lit Hub contributing editor and columnist)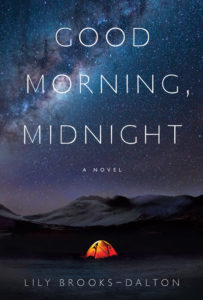 Good Morning, Midnight, Lily Brooks-Dalton (Random House)
I love apocalyptic fiction, and Lily Brooks-Dalton's Good Morning, Midnight promises to be a riveting addition to the genre. At a research center in the Arctic, an aging astronomer named Augustine receives news that the planet has experienced a catastrophic event. He and his colleagues are called to evacuate, but he refuses to abandon his work. Left alone, he discovers one of his biggest mysteries yet—a young child named Iris. Meanwhile, an astronaut named Sully is returning from a mission into deep space when Mission Control goes silent. Sully and Augustine's lives soon intertwine as they learn how to face a future they never imagined possible. The debut novel has already earned praise from Colson Whitehead and Yiyun Li. I can't wait to pick it up!
–Amy Brady (Lit Hub contributor)
The First Wife, Paulina Chiziane (Archipelago Books)
On the surface, Paulina Chiziane's The First Wife looks like a few different stories that we might have heard before: the feminist critique of polygamy, the women-band-together-and-turn-the-tables-on-their-cheating-husbands, or the ethnographic novel exploring traditional life. In some ways, it is these stories, but in so many ways it isn't; the first novel translated into English by Mozambique's first female novelist is first of its kind in other ways, too: the first time you've ever seen the problem of an exploitative informal polygamy solved by organizing a labor union of wives.
–Aaron Bady (Lit Hub contributor)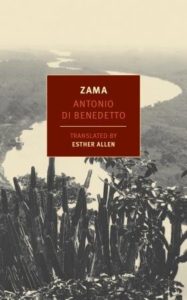 Zama, Antonio Di Benedetto (NYRB Classics)
While Borges was inventing worlds of infinite possibility, his fellow Argentine, Antonio di Benedetto, was imagining a place of almost zero potential: it is the 18th century and Zama is a colonial bureaucrat in what will one day become Paraguay. His entire life is a protracted fight just to stay in the same place, a vision of deep existential futility that would sit well with the likes of Camus and Beckett. Except: Borges is also an appropriate reference point for this strange, possibly perfect short novel. There is a reason that many of my favorite contemporary Latin American writers think this book is a masterpiece.
–Scott Esposito (Lit Hub contributor)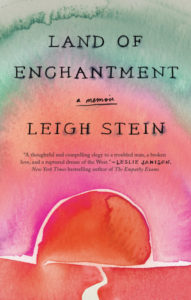 Land of Enchantment, Leigh Stein (Plume)
Leigh Stein has already given us a great collection of poems and a damn funny novel, so it's really no surprise that she could produce a memoir about love, tragedy, and the ghosts that haunt us that's as moving and beautiful as Land of Enchantment.
–Jason Diamond (Lit Hub contributor)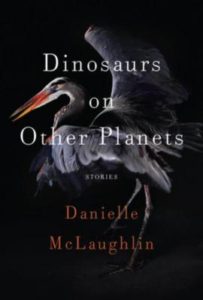 Dinosaurs on Other Planets, Danielle McLaughlin (Random House)
The best Irish writers are short story writers, and the best Irish short story writers—for at least the last decade—have first been published by the small, independent press The Stinging Fly (my former employer; so I'm biased—whatevs). Following the successes of other Fly alums Colin Barrett and Claire-Louise Bennett, Dinosaurs marks the stateside debut (in book form, at least—a number of these already have appeared in The New Yorker) of Danielle McLaughlin, a writer of exceptionally deep empathy in the naturalistic tradition of John McGahern and Claire Keegan but with a knack for keen, and often disturbing, observation all her own.
–Emily Firetog (Lit Hub Managing Editor)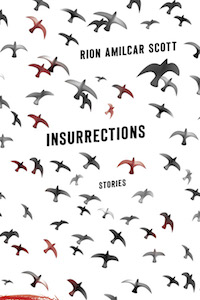 Insurrections, Rion Amilcar Scott (U of Kentucky Press)
Rion Amilcar Scott's first story collection takes place in the fictional town of Cross River, Maryland, a tight-nit, predominantly African-American community "founded in 1807 after the only successful slave revolt in the United States." Scott tells the stories of Cross River's inhabitants with toughness and honesty—in precise, propulsive language—with an empathy that never veers into sentimentality. (For a taste, read "A Friendly Game" at Literary Orphans.)
–Jonny Diamond (Editor, Lit Hub)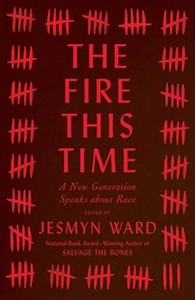 The Fire This Time, Jesmyn Ward, editor (Scribner)
The Fire This Time (subtitled, "a new generation speaks about race") is a compilation of smart writing and necessary perspectives. This book should be the freshman read at all colleges and universities as well as required reading by public servants of all echelons.
–Lucy Kolger (Lit Hub contributor and columnist)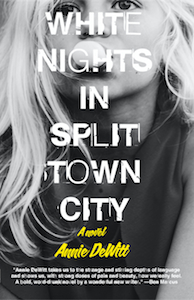 White Nights in Split Town City, Annie DeWitt (Tyrant Books)
I'm a sucker for coming-of-age stories, and DeWitt's is brilliant. I agree with Ben Marcus, who says: "A bold word-drunk novel by a wonderful new writer." Set in the early 1990s in rural Massachusetts, it contains one of the most memorable narrators I've come across in contemporary fiction.
–Michele Filgate (Lit Hub contributing editor)
---