17 Sci-Fi and Fantasy Books to Look Forward to in 2022
Featuring R. F. Kuang, Emily St. John Mandel, John Darnielle, John Scalzi, and more


This is a bittersweet list! I'm excited to talk about all these titles, but this will also be my last SFF book list for Book Marks. It has been so much fun rounding up stuff to recommend and working with Dan Sheehan and Katie Yee—so much fun, in fact, that I'm going out with a bang by recommending 17 new titles that are going to hit shelves in 2022.
These books include but are not limited to: humans caring for endangered Kaiju! A god on the run! Multiple books about witches fighting the system! Multiple century-spanning tales of loss and redemption! A cosmic Biblical update! A story of magical maps, and a story of magical shadows! And many, many more!
*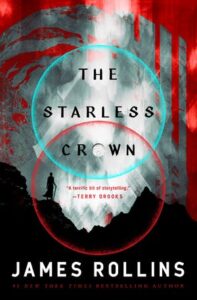 The Starless Crown by James Rollins
(Tor Books, Jan 4)
Nyx is a student at the Cloistery of Brayk. She's nearly blind, until she attacked by venomous Myr bats and is astonished to realize that their poisonous bites have restored her sight. Unfortunately, they also give her a vision of the apocalypse. Even worse, Highking Toranth ry Massif wants to imprison Nyx to be a bloodbag for his physicians. She gathers a group of allies and hits the road with three goals: stay ahead of the Highking's minions, find the man who might be her father, and, if at all possible, avert the deadly Moonfall of her vision.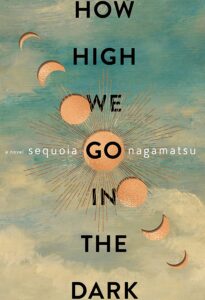 How High We Go in the Dark by Sequoia Nagamatsu
(William Morrow, Jan 18)
Sequoia Nagamatsu's debut novel spans hundreds of years to create what can only be described as a tapestry of grief. In 2030 an ancient virus is unleashed on the world, and the ensuing generations have to improvise ways to cope—for instance a theme park designed specifically for the needs of terminally ill children, and the skyscrapers built to house the dead when traditional funeral homes aren't enough. Some look for escape, like the mother and daughter team who research possible new home planets. And others look for hope in unexpected places, like the scientist who, after his heart is broken again and again as he searched for a cure, begins to think he might be able to be a new kind of father when one of his test pigs develops the ability to speak.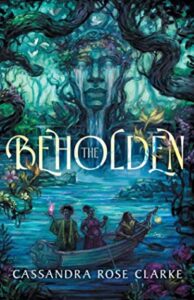 The Beholden by Cassandra Rose Clarke
(Erewhon Books, Jan 18)
The good thing about asking for a favor from the Lady of the Seraphine is that she can deliver: the orphaned De Malena sisters are swiftly granted the boon they ask for, with Celestia matched up with a wealthy husband, and Izara off to the academy to study magic. The downside becomes apparent five years later when the river goddess calls in their favor. Now the pregnant Celestia has to yank her sister out of school so the two can go on a mission. And the mission? A simple matter of leaving their home country, trekking across a frozen desert, and attempting to find a god in hiding in the hopes that it can thwart the end of the world.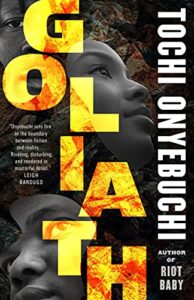 Goliath by Tochi Onyebuchi
(TorDotCom Publishing, Jan 25)
World Fantasy Award-winner Tochi Onyebuchi returns with his adult novel debut, an epic work of science fiction that melds Biblicale with space colonization. By the 2050s, Earth's infrastructure teeters on the edge of collapse and the rich and privileged have feld to space. The remaining Earthers have become gleaners, sifting through the detritus to try to survive—even as the space-dwellers strip Earth for parts, recreating neighborhoods in retro-Earths. Onyebuchi tells the story through a variety of eyes and voices, from street-level laborers trying to rebuild Earth's former glory to the journalist trying to cover the exodus as it happens, and one of the space-dwellers who wants to save their depressive lover with memories of life in Connecticut.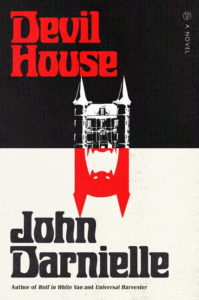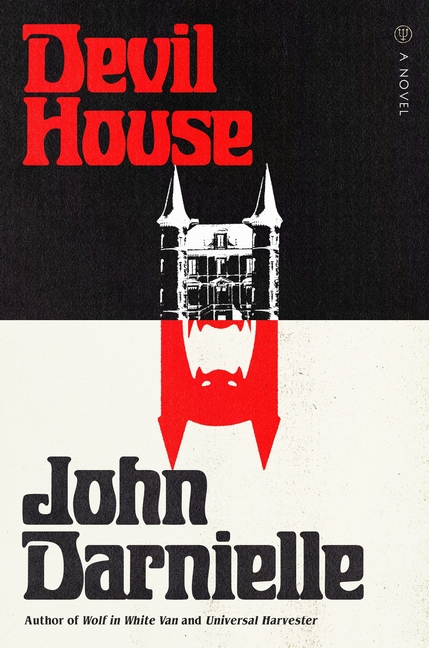 Devil House by John Darnielle
(MCD, Jan 25)
The world's greatest mountain goat returns with a new book! This one probably isn't technically "SFF" but it is a genre-bending story about the Satanic Panic, so I wanted to give it a spot. Gage Chandler has had one great success as a true crime writer, along with a shelf full of books that weren't really hits. When he's offered the opportunity to live in a house that was the site of "Satanic Panic" murderers, he realizes that it'll mean visiting his childhood best friend's hometown. He dives into his research, increasingly unsettled by the specific crime he's investigating, and his own role in sensationalizing true crime as a genre.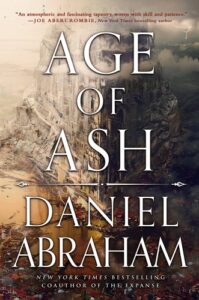 Age of Ash (The Kithamar Trilogy Volume 1) by Daniel Abraham
(Orbit Books, Feb 15)
Daniel Abraham is one half of the team that's brought us The Expanse, one of the greatest examples of modern sci-fi. But now Abraham is hopping genres for a new epic fantasy trilogy. But here's the twist: this epic takes place over the course of one year, within the walls of one bustling city: Kithamar.
In the first entry in the trilogy, we travel to the slum neighborhood of Longhill. Alys is a petty thief most of the time, but when her brother is murdered she decides to investigate a crime none of the elites will care about. As she searches for answers, each new clue leads her closer to the roots of the city itself, and puts her in more danger than her petty crime career ever did.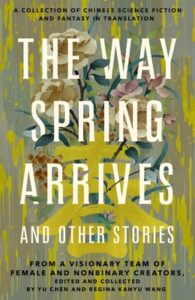 The Way Spring Arrives and Other Stories, edited by Yu Chen and Regina Kanyu Wang
(TorDotCom Publishing, March 8)
From editors Yu Chen and Regina Kanyu Wang come a collection of stories that have never before been published in English. From delicate fantasies in which roses perform Shakespeare, to intergalactic restaurants, to visits to the island of the gods, to visits to Death itself, these stories trace the past and future of Chinese science fiction and fantasy.
Join an award-winning team of authors, editors, and translators for a collection that honors ancient tales while also pointing toward a bright future for the country's speculative fiction.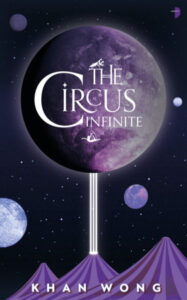 The Circus Infinite by Khan Wong
(Angry Robot, March 8)
If you need to disappear, you could do worse than hiding out on a pleasure moon that hosts a neverending party, and a constantly shifting populace who just wants to have anonymous fun. Jes is on the run from people who want to turn him into a test subject for his gravity powers, but one of moon's many casinos is happy to take him in and exploit them in a different way—paying him to be a member of their circus. It's a perfect life…until the casino's boss finds out about the price on Jes' head. Now he has to do anything and everything the boss says, or risk vivisection. But how can he keep his head down and his mouth shut when the boss sets the circus up to be a patsy in a bad drug bust? But how can he fight back when any false move will turn him into a science experiment?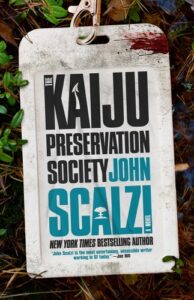 The Kaiju Preservation Society by John Scalzi
(Tor Books, March 15)
Jamie Gray is grinding her way through the COVID-19 pandemic, driving for food delivery apps in New York and dreaming of a way out. When she makes a delivery to an acquaintance who says his "animal rights organization" needs a worker for their new project, she says yes without a second thought.
She maybe should have had a second thought. Working for the Kaiju Preservation Society means caring for gigantic creatures from an alternate dimension, who lived happily and freely until some very short-sighted people figure out a way to bring them back to our Earth. Can Jamie protect the Kaiju from those who would harm them—while also protecting humanity from the most lethal endangered species in the universe?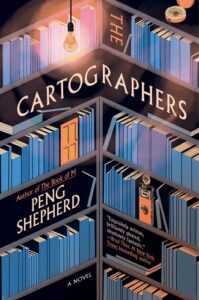 The Cartographers by Peng Shepherd
(William Morrow, March 15)
The author of The Book of M returns with thriller about family secrets and magical maps!
Nell Young hasn't spoken to her father in years—not since a fight over a cheap highway map led to the father-and-daughter cartographers severing ties, Daniel wrecking his daughter's professional reputation along the way. But when he's found dead in his office in the iconic New York Public Library, Nell has to reconnect with her past. Why did her father have that worthless map hidden in his desk? What value did he see in it?
Soon she's embarked on a full investigation into the map's history, only to find that the map is the last of it's kind. To her horror, she soon realizes a sinister collector has been destroying every other copy, along with anyone who tries to stop him. Can Nell find the truth and learn her father's secrets before the collector comes for her, too?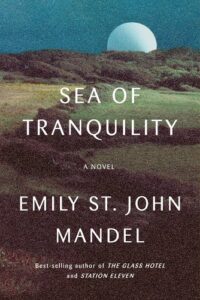 Sea of Tranquility by Emily St John Mandel
(Knopf, April 5)
Emily St. John Mandel returns with a century-spanning novel full of nesting stories and mysterious echoes. Love a mysterious echo! In 1912, teen aristocrat Edwin St. Andrew flees British society for the Canadian forest, baffled when he not only finds an airship terminal, but hears violin music without any apparent source. Two hundred years later, author Olive Llewellyn leaves her home on a moon base for a book tour on Earth. Her book mostly concerns a pandemic, but why was she compelled to write a weird section about a man playing a violin in an abandoned airship terminal? Meanwhile, in Night City, a detective is sent to Canada to investigate an odd situation: an earl's mad son exiled to the wilderness, a writer exiled far from home by a pandemic, and the detective's own childhood friend, who believes that a strange anomaly has disrupted the universe.
Will the detective have a crime to solve, or is he about to find a secret that will unravel his reality?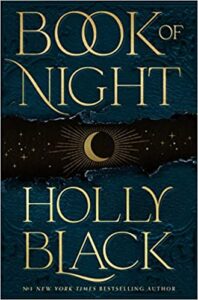 Book of Night by Holly Black
(Tor Books, May 3)
Holly Black's adult debut takes us into a world where a person's shadow can be manipulated for fun and profit. (Mostly for profit.) You can change your shadow for amusement or cosmetic reasons, or you change someone else's to shape their feelings or memories. Your shadow can be a literal shadow self, holding all your unsavory habits and deep dark secrets, gliding along right behind you. In this world, Charlie Hall tries to lose herself in a bartending gig to get some distance from the shadow-trading underground she used to frequent.
But pasts can be much harder to shake than any shadow, and when a lethal former associate turns up, Charlie will need every skill in her arsenal to stay alive, with her shadow firmly attached.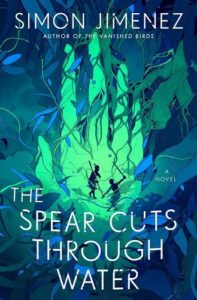 Spear Cuts Through Water by Simon Jimenez
(Del Rey, May 3) 
The author of The Vanished Birds brings us a tale of a god on the run! The Moon Throne—a tyrannical emperor and his three sadistic sons—has ruled the land for centuries. Their people are crushed under their harsh laws and tithes, but there's no way to rise against them, for the Moon Throne is no ordinary human dynasty. You see, the Emperor and his sons draw supernatural power from the god they have locked in the dungeon.
But even a reign of centuries must come to an end at some point, and when a bitter guard finally decides he can't hold his post any longer, he enlists an outcast named Keema to free the god and topple the Emperor. Can the two humans help the god on her quest for freedom—and a chance to break the Moon Throne's power forever?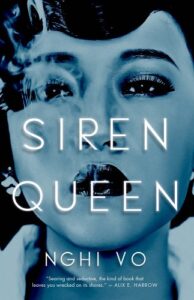 Siren Queen by Nghi Vo
(TorDotCom Publishing, May 10)
Luli Wei wants to be a movie star. That dream would be tough enough for a pretty blonde Midwesterner, but Luli is a Chinese American girl from Hungarian Hill, and she knows that making it in the racist world of pre-Code Hollywood is going to require not just sacrifice, but supernatural intervention.
Fortunately Luli's world is one in which the Hollywood machine feeds on blood sacrifice, unbreakable magical contracts, and appeasing a variety of monsters that exist just beneath the city's glamorous façade. If Luli wants to live her dream, she'll need to create powerful magic of her own—and she just might have to become a monster. But better that than a lifetime spent playing maids with "funny" accents.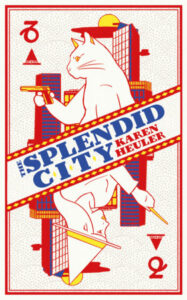 The Splendid City by Karen Heuler
(Angry Robot, July 12)
Novice witch Eleanor expected a bit of a grace period as she learned her craft from her coven. But her state, Liberty, is not so big on free speech, or free movement, or free anything, and now she's under house arrest. Worse, she's under house arrest with Stan, a hated former coworker—and if she didn't like Stan then she likes him even less now that he's taken the form of an obnoxious talking, craft beer-loving cat. How is she supposed to improve under these conditions?
But when a neighbor coven reports one of its witches missing, Eleanor realizes she has to help with the case, even if it means going up against whoever has been sabotaging Liberty's water supply—even if it means tolerating Stan.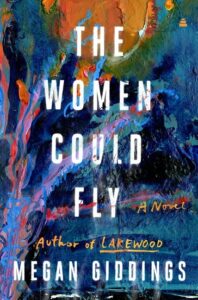 The Women Could Fly by Megan Giddings
(Amistad, August 9)
The author of Lakewood returns with a story of dystopia and a search for freedom. Josephine Thomas' mother disappeared 14 years ago. Was she murdered or kidnapped? Did she simply walk out the door to start a new life? Or was she a witch? As a girl growing up in a world where witchcraft is real, and accused women—especially Black woman—regularly stand trial, this last possibility is the most frightening. Because at 20-years-old, Jo is rapidly approaching a state-mandated deadline: when she turns 30 she must either be safely married, or submit to the government surveillance that controls all single women.
As 30 looms, Jo begins to empathize more and more with her mother's disappearance. There is one last request left in her mother's will. Should she leave her life behind to honor it? And will that bring closure, or offer Jo a way to escape from the society that wants to control her?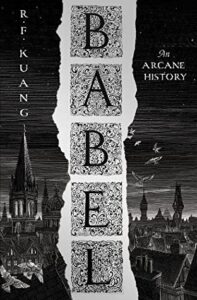 Babel, or The Necessity of Violence: An Arcane History of the Oxford Translators' Revolution by R.F. Kuang
(Harper Voyager, Aug 23)
Traduttore, traditore: An act of translation is always an act of betrayal.
In early-1800s Britain, a Cantonese orphan is swept away from his home and taken to Oxford by the mysterious Professor Lovell. It's a place of learning that he could only dream of before, and he's immersed in an intensive training program, studying Greek, Latin, and Chinese. He knows that he's expected to join the researchers at Oxford University's Royal Institute of Translation, in the elite program known as Babel. Babel is the secret weapon in Britain's relentless colonization, a center of the magical blend of translation and silver-working that uses magical silver bars to bend language itself as Britain envelopes the world.
As Robin continues his studies, he becomes increasingly unsure of Britain's imperialism, and His worries finally come to a head when Britain starts a war for China's silver and opium. Is there any chance of reforming Babel from the inside? Does change only come through violence? How much will Robin have to give up to do the right thing?
*
Leah Schnelbach is a staff writer for Tor.com, a fiction editor for No Tokens, and an associate prose editor for Fairy Tale Review. Her fiction appears in Joyland, Volume 1 Brooklyn, Madcap Review, and The Boiler, and her criticism appears in Tin House Online, the Geek's Guide to the Galaxy podcast, and Electric Literature. Her work has been anthologized in Speculative Fiction 2015 and Rocket Fuel: Some of the Best of Tor.com Non-Fiction. You can find her on twitter @cloudy_vision
---