17 Living Writers Currently Immortalized on Stamps
Send Your Mail with Alice Munro and Toni Morrison
Earlier this week, Literary Hub Editor-in-Chief Jonny Diamond (who is Canadian) came across an image of an Alice Munro stamp (also Canadian) and wondered aloud if there were very many living writers who'd been immortalized on stamps. No one in the office was sure—after all, until 2011, the United States Postal Service did not allow living people to be featured on stamps (though several, it should be said, have slipped through in various ways), and furthermore, most stamps tend to go to more widely-known contributors to society—like musicians, or exotic plants. But still: I looked. And as it turns out, the stamp policies of other countries tend to be rather less draconian than ours, resulting in quite a number of international stamps featuring great living authors. Therefore, you may want to consider the following to speed along your next letter (perhaps when you're out of town):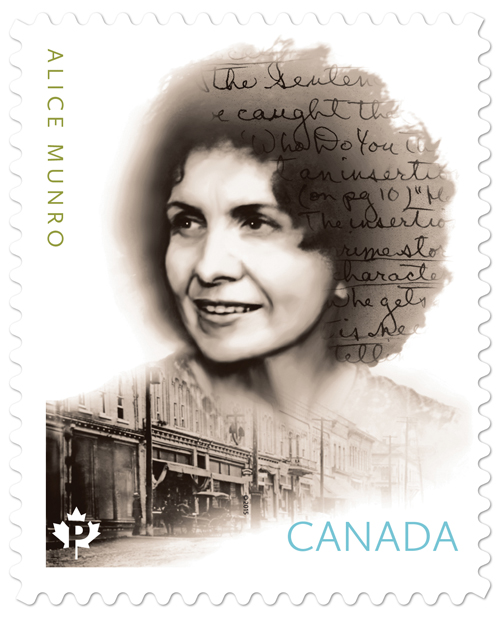 In 2015, Alice Munro, the first Canadian woman to be awarded the Nobel Prize in Literature, was honored with an official Canadian stamp. The stamp features a photograph of Munro taken by her daughter, a replication of Munro's handwriting, and a vintage image of Wingham, Ontario, her birthplace. "Our stamp program recognizes the achievements of Canadians," Deepak Chopra, President and CEO of Canada Post said in a statement. "As fans of this prolific author know, Ms. Munro's literary talent, wisdom and humanity, reflected in her stories over several decades, have earned her recognition that few writers in any language or country attain." The stamp was released on Munro's birthday, July 10th.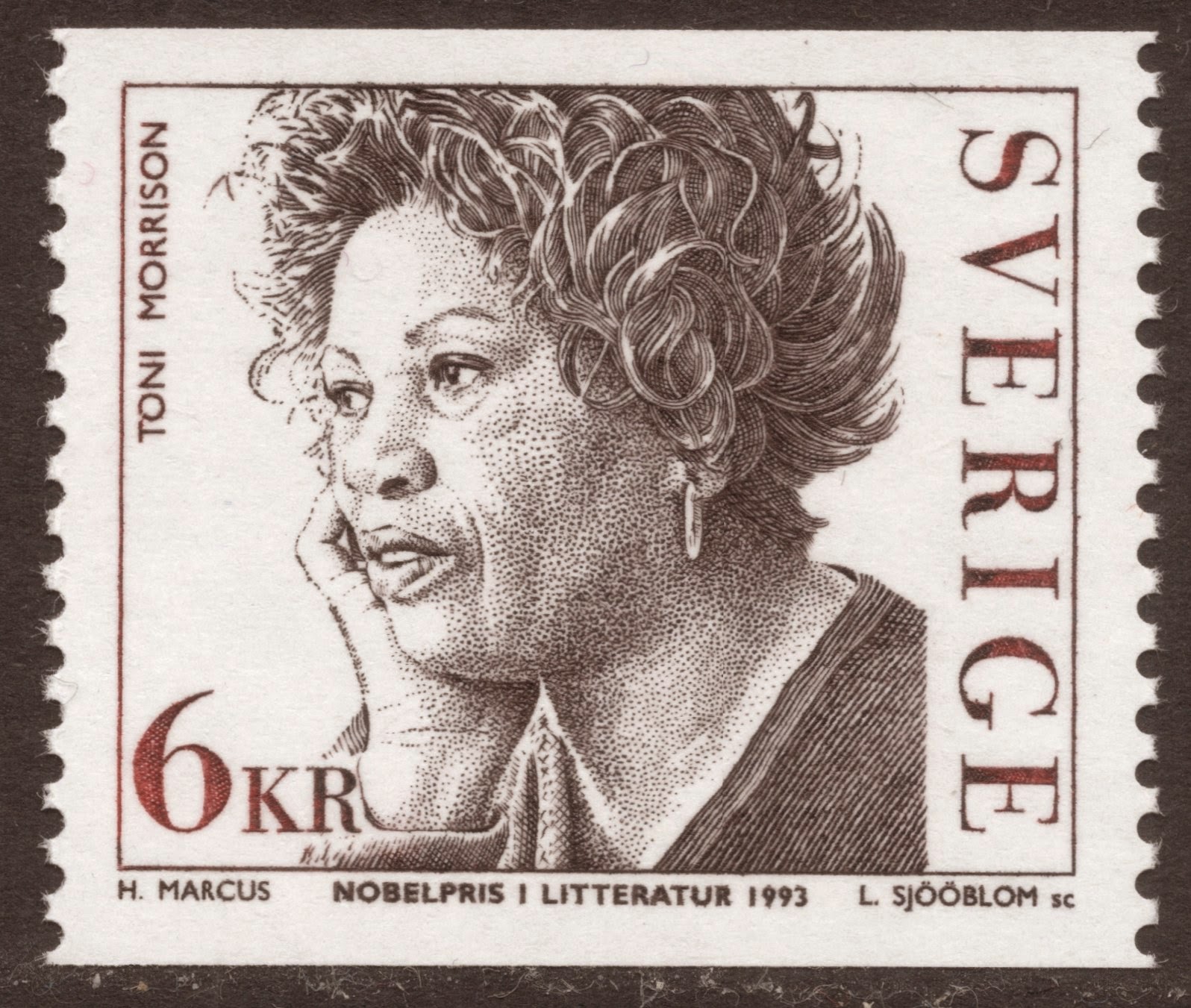 This stamp honoring Toni Morrison was issued by the Swedish Academy in 1993, the same year she won the Nobel Prize in Literature.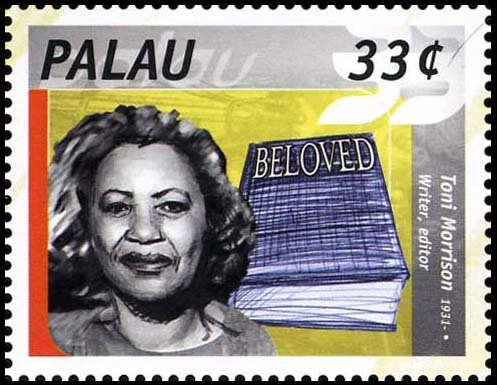 This one was issued by Palau as part of their Visionaries of the 20th Century series.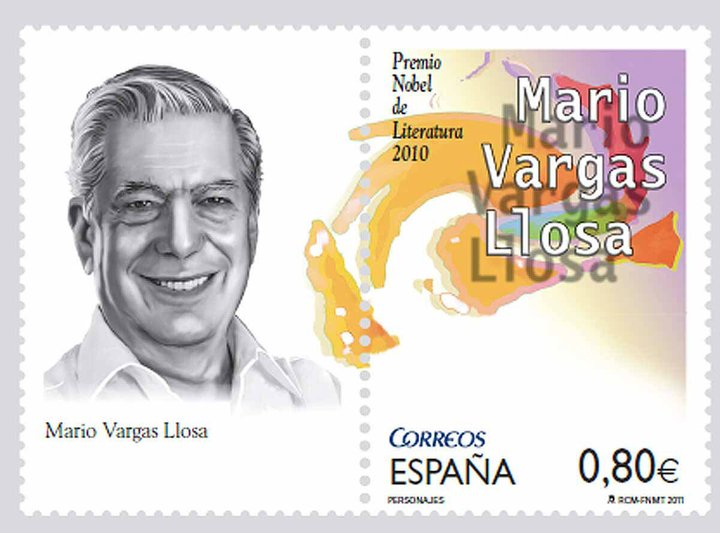 In 2011, Correos (the national postal service of Spain) and the Instituto Cervantes (a Spanish non-profit dedicated to promoting Spanish language and culture) joined forces to release 300,000 €0.80 stamps honoring Mario Vargas Llosa, who won the Nobel Prize in literature in 2010. In a statement, Correos president Angel Agudo called the writer "a connoisseur of the human soul. Today, 300,000 opportunities arise to contribute to the recognition of one of the greatest contemporary writers in the Spanish language."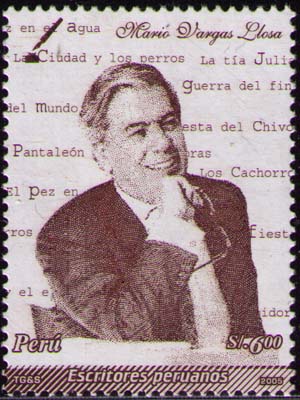 And here's another, issued by Peru, Llosa's birthplace, in 2006.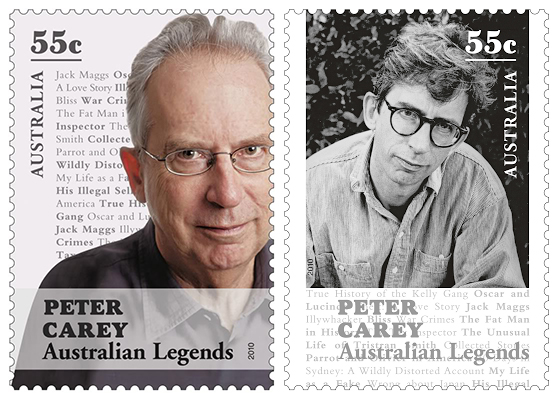 These Peter Carey stamps were released by Australia Post in 2010 as part of their "Australian Legends of the Written Word" series, which also included David Malouf, Bryce Courtenay, Thomas Keneally, Colleen McCullough and Tim Winton. ("Stamps aren't what they used to be," Bryce Courtenay joked to The Sydney Morning Herald. "It was the king's head on stamps when I was young. Now they just put old shitbags on them.") But there was swift pushback; in case you hadn't noticed, that list of writers is entirely white and only includes one woman. "What sort of message does this send out to the young kids of Australia? That almost all of Australia's great writers are white men? That is demonstrably wrong and decidedly insulting," Evan Maloney wrote in The Guardian. "Whoever commissioned these stamps and selected the authors should be given a short lecture in contemporary Australian literary history instead of logging on to IMDB to get their facts."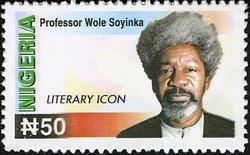 This stamp honoring 1986 Nobel Prize winner Wole Soyinka was issued in 2006 by the Nigerian Postal Service as part of a group of stamps honoring great Nigerian minds, including writers, scientists, and mathematicians. "The stamp launch on these important personalities is intended to re-enact in the consciousness of the public, especially the youths, the importance of excellence in literary and science education," a letter from the Acting Postmaster General's Office stated. "It is also to bring to the knowledge of world community the contributions of Nigerians to the advancement of civilization."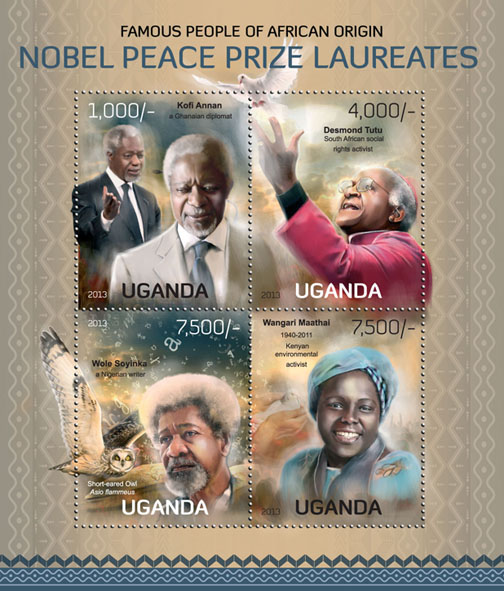 And here, in a sheet honoring recipients of the Nobel Peace Prize, released in 2013 in Uganda, Soyinka, a recipient of the Nobel Prize in Literature, shares space with a Short-eared Owl.
In 2009, the Belgian Postal Service included living Belgian writers Anne Provoost, Tom Lanoye, Pierre Mertens, Amélie Nothomb, and Henri Vernes in its Literature collection "This is Belgium," designed by Gert Dooreman.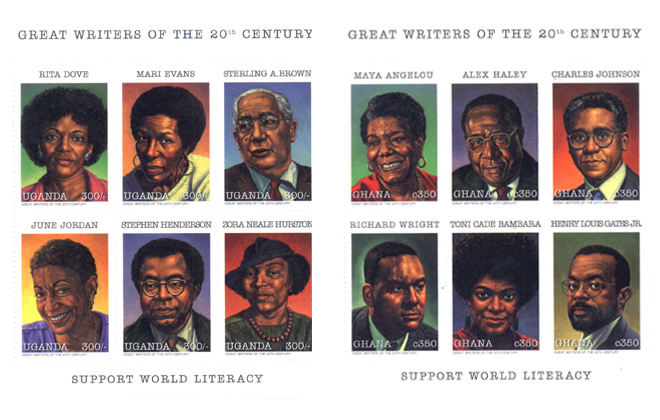 In 1997, a set of stamps entitled "Great Writers of the 20th Century" and commemorating 12 African American authors, were issued by Ghana and Uganda. The project was organized by E. Ethelbert Miller, director of the African American Resource Center at Howard University, who told The Seattle Times, "I did not compromise [my standards]. I feel I did the right thing, and I feel I came up with 12 who are worthy—though I could easily choose 12 others who are just as worthy, and someone else could choose 12 entirely different writers who also are as worthy." The stamps, designed by Gary Aagaard, feature living writers Rita Dove, Stephen Henderson, Charles Johnson, and Henry Louis Gates, Jr. (though at the time of their publication, Mari Evans, Maya Angelou, and June Jordan were alive as well).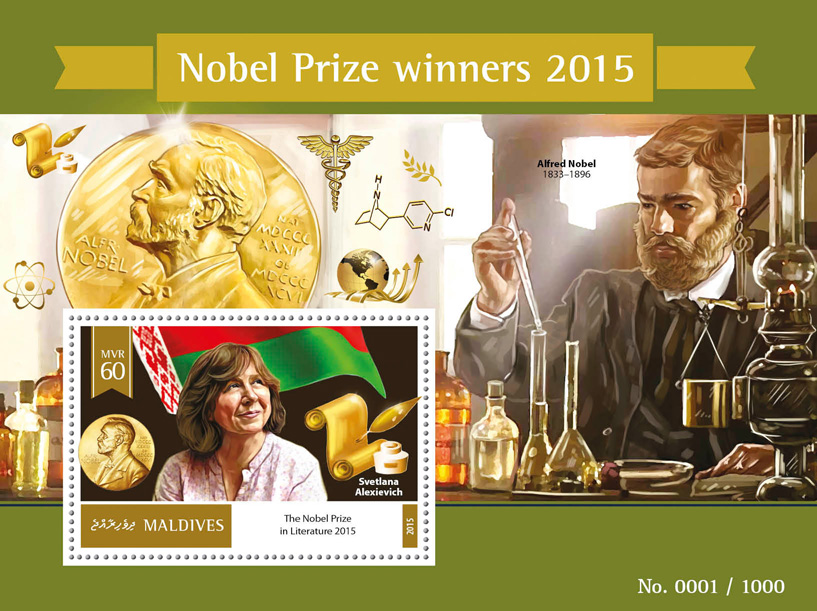 Belarusian Nobel Prize winner Svetlana Alexievich was featured on this commemorative stamp issued by the Maldives in 2015. She's been on similarly-branded Nobel Prize winner stamps used in the Solomon Islands, Sierra Leone, and likely elsewhere.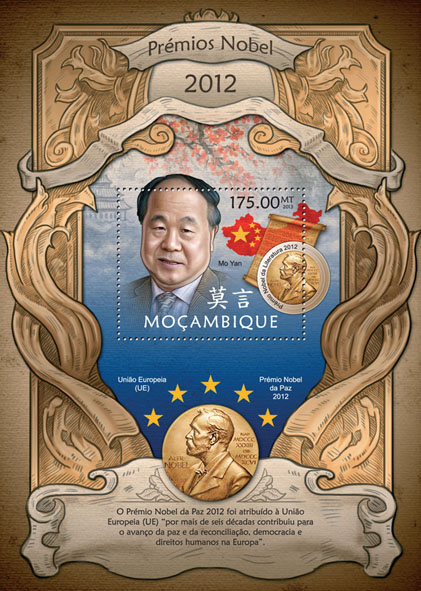 A commemorative Mo Yan stamp from Mozambique.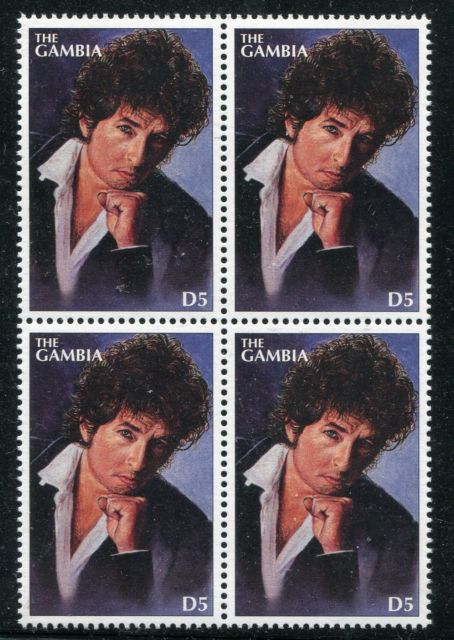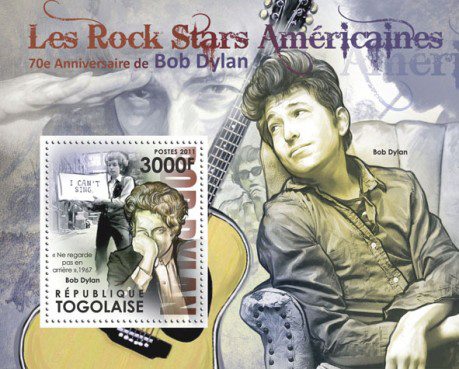 Finally: with all these Nobel Laureates in Literature commemorated in stamps, how could I ignore our latest Sweden-approved literary titan? Turns out there are lots of stamps featuring the visage of Bob Dylan, so I've picked just a few of my favorites. From top to bottom: Gambia, 1996; the Republic of Djibouti, 2011 (with Chuck Berry and Frank Zappa), and the Togolese Republic, 2011.
---