14 Books Not to Read if You're Hungry
Cooking Memoirs, Culinary Profiles, Fictional Restaurants, and More
I've spent most of my life working in restaurants and grocery stores, yet I never get tired of reading good food stories. In these books, food is so much more than just something to eat. It brings people together and sets them apart. It connects us with tradition and history, yet teaches something new about the future and ourselves. It inspires, delights, and challenges. And of course, it's mouth-wateringly, heart-stoppingly delicious. Read these books on an empty stomach at your own risk.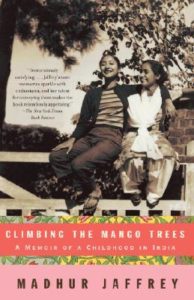 Madhur Jaffrey, Climbing the Mango Trees
Growing up, my mom was often cooking something from one of Jaffrey's brilliant cookbooks. Jaffrey's memoir about her childhood in Delhi and Kampur is just as delicious. It begins on the high mango trees, where the older cousins and siblings climbed to pick and slice the juicy fruits and the younger kids dipped them into salt, red chilies, and smoky cumin. Elaborate meals were served for a boisterous extended family, presided over by the benevolent but moody patriarch Babaji. Jaffrey writes with insightful precision about the Hindu, Muslim, and British influences that shaped her country, and the devastation of partition and its aftermath. When teenage Jaffrey leaves for acting school in London, her "palate had already recorded millions of flavors" from her home—and we're so lucky it did.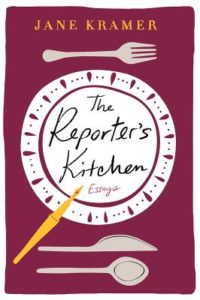 Jane Kramer, The Reporter's Kitchen
"Good cooking is much easier to master than good writing. But great cooking is something different," muses Kramer in her collection of culinary profiles, book reviews, and personal essays. The Reporter's Kitchen takes readers around the world to snack on drugstore candy with Israeli-British chef Yotam Ottolenghi, forage for sea lettuce on a windy Danish beach with Rene Redzepi, and to search for amorphous authenticity with cookbook author Claudia Roden in an Asturias farmhouse. I found myself feeling intensely jealous of Kramer—of her exotic culinary adventures, her job at The New Yorker, and her summers spent cooking (great cooking?) in her Umbria kitchen. A girl can dream.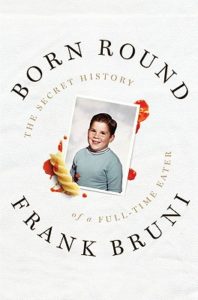 Frank Bruni, Born Round
Sure, I want Jane Kramer's life, and her kitchen. But I want Bruni's former job: New York Times restaurant critic. I worked at NYC restaurants while Bruni held that position; he was the formidable figure that would make or break you. A postage-sized printout of his face was stuck behind every host stand and office phone. Born Round is a meditation on Bruni's obsession with food—his primary relationship "wasn't with a parent, a sibling, a teacher, a mate," he writes. "It was with my stomach." His journey from a fat, gay kid to a personal trained rock-star journalist to restaurant critic is touching, funny, and wonderfully honest.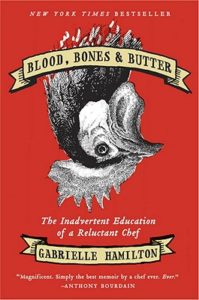 Gabrielle Hamilton, Blood, Bones, and Butter
If I'm asked about my favorite food memoir, this is it. New Yorkers know Gabrielle Hamilton for the epic yet cozy brunches she serves at her East Village restaurant Prune, worth the wait even for someone impatient like me. Blood, Bones, and Butter's stories begin in a "wild castle built into the burnt-out ruins of a 19th-century silk mill." The book takes us to the Lone Star Café, where 17 year-old Hamilton works as a cocktail waitress until the police get involved, on a hungry, brutal backpacking trip around Europe, and into a troubled marriage (almost) saved by pasta. Food is the complicated, hopeful, and redemptive thread.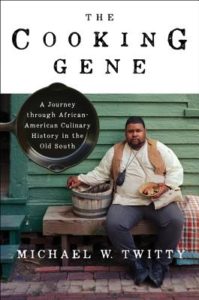 Michael W. Twitty, The Cooking Gene: A Journey Through African American Culinary History in the Old South
The Cooking Gene just won Book of the Year from the James Beard Foundation, and it's no wonder. Twitty's blog, Afroculinaria, delves into intersections of history, race, politics, social justice, and food. The Cooking Gene captures the blog's rich, broad purview—it's part memoir, part social history, part genealogy, and even part poetry. "The Old South / With soul food in its mouth / and I, who am African American, must know her," Twitty writes. He explores his multifaceted identities as a black, gay, Jewish, southern food scholar. His powerful book shows that a single dish can speak to "politics and race, sexuality and spirituality, memory, brokenness, repair, reclamation and reconciliation, and anger."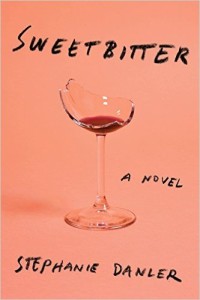 Stephanie Danler, Sweetbitter
I worked with a bunch of Union Square Café alum, where Sweetbitter is loosely based. As I read the novel, I kept thinking that I knew the real life inspiration for Simone, the brilliant veteran server who takes the protagonist Tess under her wing, or Jake, the quintessential sexy bad-boy bartender. "Your hunch is probably right," a USC friend told me, which was a thrill. But even if the characters are pure fiction, the descriptions of New York City restaurant life are juicy and spot-on, from the revelation of tasting your first briny oysters to "throwing up between your feet on the subway stairs. On a Tuesday."
Samin Nosrat, Salt, Fat, Acid, Heat: Mastering the Elements of Good Cooking
Nosrat's approach to cooking is intuitive yet genius: salt enhances flavor, fat imparts character, acid balances, and heat determines texture. Combine these four elements and you have a perfect plate of food. Alice Waters, who taught Nosrat to cook at Chez Panise in Berkeley, says that Nosrat's book "captures how it should feel to cook: full of exploration, spontaneity and joy." Salt, Fat, Acid, Heat is part cookbook, part food science lesson, and part hanging out in the kitchen with a really smart, lovely, and patient guide. There are 100 foundational recipes with countless variations, which is how I love to cook—start by following the rules, then mess with them more and more. Plus, Wendy MacNaughton's whimsical illustrations blew me away.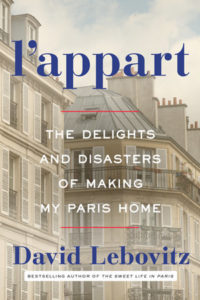 David Lebovitz, L'appart: The Delights and Disasters of Making My Paris Home
If you've ever fantasized about buying an apartment—l'appart—in Paris, this memoir's for you. The dream turns out to be more complicated than chef Lebovitz intended when his architect friend declares that his new home requires costly, extensive repairs. Red tape be damned, there's still a kitchen to be built. The story is peppered with recipes from his Paris kitchen, moments of delight at tearing into a still-warm crusty baguette, and reminders that joy and deliciousness can be found "regardless of a few bad pommes."
Ito Ogawa, The Restaurant of Love Regained
When this novel's chef heroine Rinko comes home after work one night, she finds that her boyfriend has absconded with her TV, her life savings, and (gasp!) even her prized Le Creuset. She returns to the country village of her childhood and rekindles a relationship with the mother she left behind. In her new/old home, Rinko does what she does best—cooks. She opens an organic restaurant that serves up sangetan soup with whole chicken brewed in shochu, and sautéed radish with shiitake mushrooms. In The Restaurant of Love Regained, food is the path to healing and love.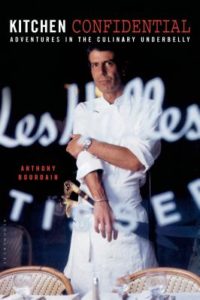 Anthony Bourdain, Kitchen Confidential
I read Kitchen Confidential in secret at my first ever job, scooping gelato for a struggling business in Hoboken, New Jersey. My days were excruciatingly dull, and Bourdain's fiery, fast, whip-smart prose was the perfect antidote. The sharp knives, amphetamine-fueled shifts, crazed yet brilliant cooks, and "stinky runny cheeses that smelled like a dead man's feet" kept me company. And when I went to find my next gig, it was Kitchen Confidential that led me to a serious New York City restaurant. Thanks, Tony!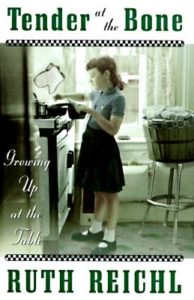 Ruth Reichl, Tender at the Bone
Ruth Reichl's journey begins with her bipolar mother, who earns the nickname the Queen of Mold by serving ingredients way past their prime. "Food could be a way of making sense of the world," Reichl discovered. "If you watched people as they ate, you could find out who they were." Our precocious child narrator grows up to be a young adult in Berkeley during the height of the 1970s food revolution. Reichl's culinary education continues as she explores North Africa and Europe, waitresses at a failing French restaurant in Michigan, and moves to New York's Lower East Side. This is a classic coming of age tale at its most relatable and delectable.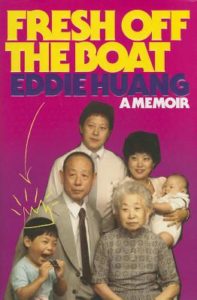 Eddie Huang, Fresh Off the Boat
Before there was the TV show, Huang's witty, provocative memoir detailed life as a "Chinese-American kid in a could-be-anywhere cul-de-sac blazing his way through America's deviant subcultures." Sure, there are hip-hoppers and skate boarders, but there is also his mom's dreamy beef noodle soup. His parents made plenty of misguided attempts to turn Huang into a full-fledged dork, but they also instilled a love for serious food. After two trips to jail, dropping out of college, and traveling in Taiwan, Huang opens Baohaus in the East Village where he slings pork buns and (sort of) lives happily ever after.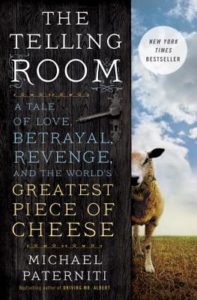 Michael Paterniti, The Telling Room
A book about cheese—well, that's my kind of book. Paterniti grew up with Kraft singles and Cheetos, which somehow makes his search for Páramo de Guzmán, a staggeringly expensive Spanish sheep's milk cheese, extra meaningful. The other star of The Telling Room is the Ambrosio Molinos de las Heras, who lives in a Castilian town, population 80, and tells stories in the ancient cliff-side cave that the book is named after. But it's not all sheep, chorizo, and jugs of local wine; The Telling Room is full of betrayal, theft, heartbreak, and hope.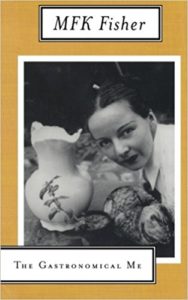 M.F.K. Fisher, The Gastronomical Me
For last, this foodie classic. Fisher is the Grand Dame of food writing, perhaps the single voice who helped elevate the genre from domestic drudgery to literary relevance. "I do not know of anyone in the States who writes better prose," Auden said of her 1943 memoir. Rereading The Gastronomical Me recently, I was reminded of how quirky Fisher's voice is, how unexpected her adventures (a scene with one-legged husband hobbling to a dining car on the train to Switzerland comes to mind), and how refreshing her takes on food and life. She turns the cliché of food making people feel at home on its head—she cooks for guests so that they will "forget Home and all it stood for."
---