10 Short Stories for the International Day of the Girl
Jenny Zhang, Alice Munro, Helen Oyeyemi, and More
I am a short story apologist—as both a writer and a reader. Perhaps it's because of a short attention span or because they are easier to digest on my commute into work. Like many short story lovers, I came to the form through some American masters: Carver, Cheever, Fitzgerald, and Hemingway. Unfortunately, as a feminist writer, I confess it wasn't until much later that I devoured the many important female short story masters. I plan to spend the rest of my life making up for this deficit.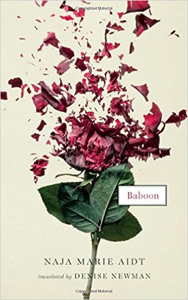 "She Doesn't Cry," Naja Marie Aidt, from Baboon (trans. Denise Newman)
Aidt's collection glimpses the mundanity of life—making jam, buying groceries, a bike ride with the family—and at the moment the reader least expects it, she infuses each story with violence. In "She Doesn't Cry," a girl of three waits at a train platform with her father. We see the world through her precocious eyes, as she grasps at the world of adults. Whereas most of the other stories in Baboon turn on an assault, here the great tragedy is the little girl's realization that she has left her beloved doll behind on the platform as her train pulls away. Though more subdued than the other stories, the impact is felt no less because the reader knows this is the girl's introduction into a life in which loss can happen at any moment. Our hearts break for the girl who doesn't cry, as she steels herself for the many tragedies ahead of her.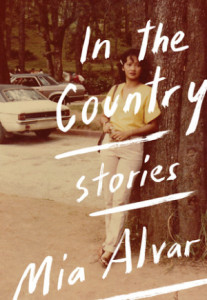 "The Miracle Worker," Mia Alvar, from In the Country
Though "The Miracle Worker" is about Sally, a Filipina special education teacher living in Bahrain, the child under her care becomes the focal point of the story, a symbol of the collective hurting of the story's cast of adult characters. Five-year-old Aroush suffers from many developmental challenges, including immobility and speechlessness. Her mother believes with the right teacher and the right amount of money, she can find a miracle worker, an Anne Sullivan to her Helen Keller. She makes this comparison to Sally upon their first meeting, and Sally lives with this pressure for many months as Sally witnesses Aroush make little progress. As Sally better gets to know both Aroush's mother and Minnie, one of the servants in Aroush's house, she comes to see the myriad ways life disappoints a grown woman, from relationships to jobs to children. Aroush takes the brunt of these women's feelings, whether it's Minnie's acts of anger toward the child, her mother's false hope in her, or even as the catalyst to Sally's realizations of her own adult disappointments.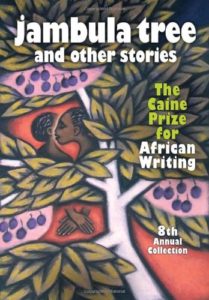 "Jambula Tree," Monica Arac de Nyeko, from Jambula Tree and Other Stories: The Caine Prize for African Writing 8th Annual Collection
This story of first love won Africa's prestigious Caine Prize. As with most first love, it ends in first heartbreak, not because of anything narrator Anyango or her friend Sanyu do to each other, but rather because they are two young girls caught kissing by Anyango's elderly neighbor Mama Atim. The story is set in the Nakawa Housing Estates in Uganda, a community where everybody knows everybody else's business and where all look down upon same-sex relationships. The story is told from the perspective of an adult Anyango looking back on her and Sanyu's joint loss—of each other, of love, and of their naive girlhood belief that they could exist in a world that wouldn't judge them for who they love: "Our names became forever associated with the forbidden. Shame."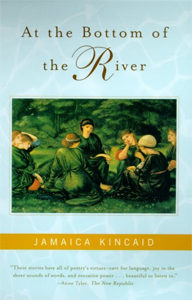 "Girl," Jamaica Kincaid, from At the Bottom of the River
Kincaid's "Girl" is a three-page list of instructions from an unknown speaker instructing an unnamed child how to properly be a girl. Rules for womanhood range from common household knowledge—how to set a table and wash clothes—to the harsher roles presented to females. "On Sundays try to walk like a lady and not like the slut you are so bent on becoming," the narrator warns in the first of many references to the girl's supposed promiscuousness. Kincaid draws from her own Jamaican childhood with instructions on soaking salt fish and cooking doukona, but it's the narrator's comments on the young girl's sexuality and how it will interact with the world that make the story universal to all girls. No matter what we do, there will be someone who will tell us how to dress, eat, behave, and love. Sometimes it's our mothers, sometimes it's strangers, but always it is with the sense of entitlement the world has over our lives.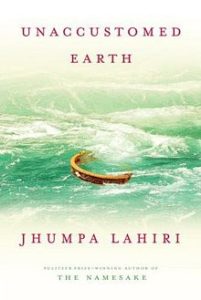 "Once in a Lifetime," Jhumpa Lahiri, from Unaccustomed Earth
Like many of Lahiri's characters, young Hema finds herself at the crossroads of two cultures: her parents' India, a place she associates with distant relatives and yearly visits, and the only home she has ever known, Massachusetts. When Hema's parents take in their old friends currently in transition from India to the States, Hema's life is forced to make room for them and their teenage son, Kaushik. This story is about Hema's first crush and how all-consuming those feelings are when you're a teenager. Ultimately, in a third-act reveal, the story becomes about what it means to experience loss for the first time. Much like first love, our first experience of death stays with us forever.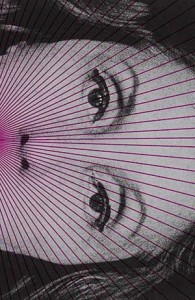 "Gertrudes Asks for Advice," Clarice Lispector, The Complete Stories (trans. Katrina Dodson)
Gertrudes, or Tuda, is a 17-year-old girl who reaches out to an older woman for help understanding the emotional, physical, and sexual awakening she is experiencing. The older woman is a therapist whose advice columns Tuda reads in magazines. After Tuda sends her a series of letters with her teenage philosophical musings—"I don't like anything. I am like the poets"—the doctor invites her to visit at her office. As with many of Lispector's introspective stories, much of the development of the story takes place within the main character's head. We see her mood swings and fantasies, particularly of the liberation from the banalities of adolescence she'll receive just as soon as she befriends the doctor: "'I'm 17 years old and I think I'm ready to start living." Where Tuda hopes to find a mentor, someone to make sense of her anxieties and longings, she finds only an overworked, exhausted person weighed down with her own problems. Many of Lispector's stories focus on unfulfilled women experiencing the assault of adulthood's disappointments. In "Gertrudes Asks for Advice," she gives us a young woman standing on the cusp of a banal adulthood, still young enough to have the optimism, perhaps naïveté, that her life will somehow be different.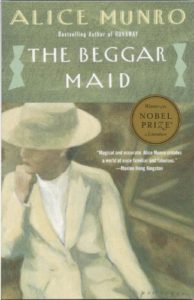 "Royal Beatings," Alice Munro, from The Beggar Maid
This is a story about parent-child relationships, and the many ways they can look. Rose's relationship with her father is distant, disciplinary. Her biological mother died when she was a baby, and the only mother she has known is Flo, a woman who makes up for her lack of education with a scrappy, fighting spirit. Rose is often pitted against Flo in a meager attempt to win attention from an emotionally reserved father. Once he dies, Rose must come to terms with the only parent she has left. But instead of focusing on that aftermath as the emotional core, Munro instead introduces Becky Tynde, another young girl, crippled from polio who has her own troubled home life. Every child must experience that disappointment the first time her parent lets her down. Munro doesn't go for the obvious scene, a moment of reconciliation between Rose and Flo, but instead she flashes to the future and ends on an anecdote about a supporting character involved with Becky's family tragedy that Rose wishes she could tell Flo at the nursing home. Your family is made up of the people you want to call in moments like this.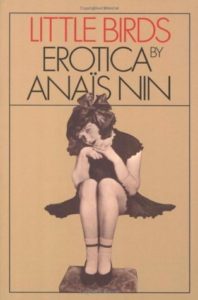 "A Model," Anaïs Nin, from Little Birds
Nin explores the sexual awakening of a 16-year-old Parisian model navigating a career in New York with a combination of hilarious observations by the naive teenager and stark realities of what it means to have a sexualized body. Upon discovering the sexual functions of her body and assuming them unique, she reflects, "My private impression was that I was a great sensualist." Her sexual education happens during gigs posing for artists—often mature men who impose their overbearing sexual appetites on the ingénue—and from a mother who lives in fear of her daughter's loss of virginity. The model embodies the opposing feelings many teen girls have: the desire for sensuality up against the societal pressures to wait until marriage and the fear of the choice of sex being made for her. "I did not like being a virgin, always defending myself. I felt that everyone knew I was a virgin and was all the more keen to conquer me," the narrator complains. It's an illustrator who bestows a piece of wisdom on the model that serves as the thesis for Nin's story: "'You must not give that first surrender so much importance. I think that was created by the people who wanted to preserve their daughters for marriage, the idea that the first man who takes a woman will have complete power over her.'" If only Nin could be required reading in public school sex ed classes.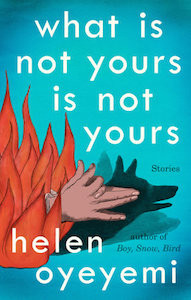 "is your blood as red as this?" Helen Oyeyemi, from What Is Not Yours Is Not Yours
The stories in Oyeyemi's most recent collection are casually weird. In "is your blood as red as this," there is a talking ghost and puppets come to life, and neither are disconcerting to Radha, a young girl who enrolls at a puppeteering school in order to impress her crush, the older girl Myrna. Oyeyemi's stories are also casually queer; many of them have a same-sex couple as the central relationship. It's refreshing to see this portrayed without any sense of self-congratulation on the author's part. This is not a coming out story. It's a story about how crushes can consume you, how relationships are sometimes messy and complicated, especially amongst a group of sexually fluid friends, and it's also about how helpful it can be to have a living puppet for a friend.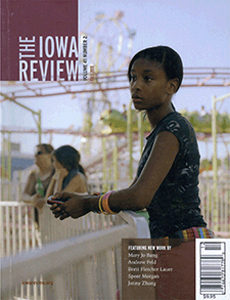 "You Fell Into the River and I Saved You!" Jenny Zhang, from The Iowa Review Volume 41, Issue 2
Jenny—seen at age 10, 21, 4, and 13—is Chinese-American and at odds with her family in the way many kids stuck between their parents' way of life and the new culture they have adopted are. We see Jenny as a teen throwing a fit at a family gathering because her beloved aunt, uncle, and cousins are moving; Jenny visiting her relatives in Shanghai and feeling disconnected from their food and fond memories; Jenny as a small child on the phone with a grandmother thousands of miles away and unable to form the words to speak to her, not because she can't remember the Chinese her mother practiced with her but because she doesn't want her love for her family to exist over telephone wires. This is a story about the distance between us and our families when people grow up, marry, and move away; when we spread out across the world and only see each other once a year and yet are somehow required to pretend no time at all has passed and that we haven't changed. She thinks of this distance, physical and emotional, "every time my relatives pressed into me, every time they fussed over me, every time they waited for me to say something to relieve them of their fear that I would always be distant, that I would always move away from them."
Read the story here.
---