10 Larry Davids of Literature
To fill the Curb-shaped hole in your heart
This weekend, the long-awaited (and mostly given-up-on) ninth season of Curb Your Enthusiasm comes to an end. This was a particularly literary season, considering that its central conceit was that Larry David had written a musical based on the life of (or more specifically, the fatwa against) Salman Rushdie. So it seems appropriate to fill the long, dark, Curb-less nights that face you now with a few literary Larry Davids, to annoy, goad, and charm you into submission while you wait for that tenth season. Now of course, Larry David is his own beast. No one is really like him. But there are plenty of indifferent, misanthropic social assassins out there in the world of letters, so if you're dreading the end of the season, you may find these literary replacements prettay, prettay, prettay good.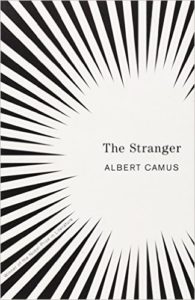 Albert Camus, The Stranger
"Today, Maman died. Or maybe yesterday, I don't know." You know who else doesn't know when his mother died? Larry David. Of course, it's not because he got an indistinct telegram about it, it's because his mother told his father not to bother him while he was in New York. But more to the point: like Larry, Meursault is indifferent to social norms (to the point of absurdism), willing to speak what he considers to be truth (no matter the circumstances), and well, essentially amoral. On the other hand, Meursault would never even think to look around and ask "no good?" So perhaps he's an exaggerated version, but a version nonetheless.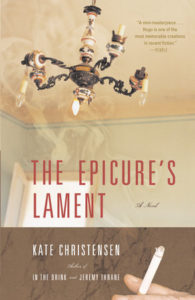 Kate Christensen, The Epicure's Lament
Larry isn't always the picture of an epicure ("I'll have a vanilla—one of the vanilla bullshit things. You know, whatever you want, some vanilla, bullshit, latte, cappu-thing. Whatever you've got, I don't care."), though he does finance a restaurant and get a sandwich named after him in the course of the show. He definitely still has no idea how to tip, though. But the main character in Atkinson's novel, Hugo, reminds me of Larry for a different reason: he has a fatal disease that he could cure if he would just quit smoking, but he's actually too stubborn to do it. He likes smoking. This nonsensical, self-defeating stubbornness is a quality that also bleeds into his relationships, to predictable effect. Now, where have I seen that before?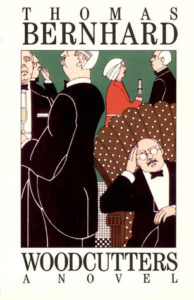 Thomas Bernhard, Woodcutters
If you could get inside Larry David's head on his worst day, it might sound a little something like this. The narrator of this novel is an unnamed writer sitting in a chair at a party—a party he deeply wishes he hadn't attended—and thinking about how much he hates everybody there, and how pathetic their pretensions, and how moronic their social niceties, and how boring their small talk, and how pompous their king, and how he used to be one of them. Plus, look at the haircut and glasses on the above cover. It must be fate.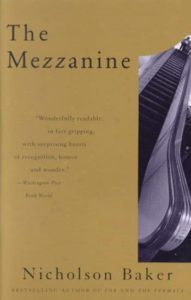 Nicholson Baker, The Mezzanine
Considering how long Larry can fixate on the tiniest, most unimportant of slights or details, I think this novel—which consists of the insignificant thoughts a man has on the escalator, about shoelaces, and straws, and men whistling in the bathroom, only elaborated, abstracted, and footnoted into ecstatic oblivion—is more than appropriate. It's the tedium and internal mania of everyday life made pleasurable. I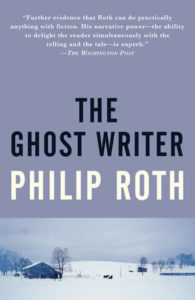 Philip Roth, The Ghost Writer
Philip Roth is to Nathan Zuckerman as Larry David is to, well, Larry David. In the Zuckerman novels, Roth explores the tension between creator and created, and also investigates Jewish and masculine identity in America. And it's not just the project that is similar. Both Zuckerman and Larry can be myopic and abrasive—though Roth has much more to say about sex than Larry, whose character at least seems almost wholly asexual—and honest to the point of alienation. And like Curb, Zuckerman Bound (the trilogy that begins with The Ghost Writer) is tragicomic gold.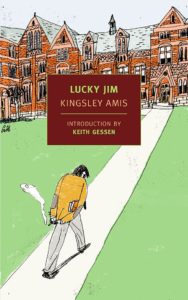 Kingsley Amis, Lucky Jim
Amis himself is a deeply Larry David-ish figure, though admittedly British and also worse. His first wife once described Amis's "endless complaints about what seemed to me harmless things like apparently ordinary, nice people going through the swing-door at Elliston's restaurant. He'd start muttering, 'Look at those fools; look at that idiot of a man,' and so on. If doors got stuck, or he was held up by some elderly person getting off a bus, or the wind blew his hair all over the place, he would snarl and grimace in the most irritating fashion." (His politics weren't great either.) Perhaps he was drawing from experience in writing Lucky Jim, whose protagonist is utterly unable to get along with people, even when it's of utmost importance that he do so—it's a comedy of anti-manners, a tragedy of shooting oneself in the foot.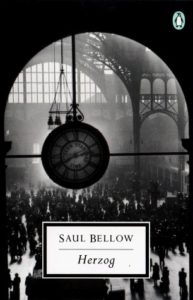 Saul Bellow, Herzog
Moses Herzog isn't an exact match for Larry David, but he's also a middle-aged, neurotic, overly-intellectual Jewish man with a penchant for divorce and hackneyed plans. Charming but erratic; well-intentioned but deeply cranky. Not to mention starring in a work of art that also bears his name.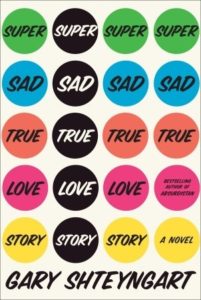 Gary Shteyngart, Super Sad True Love Story
This one is admittedly a little inexact, but none of the above choices really capture the essential silliness—and many tragicomic failures—of Larry David as he exists on Curb. He makes a lot of mistakes, most of them utterly avoidable, and the result is a lot of useless flopping back and forth. Similar is Lenny, the protagonist of Shteyngart's third novel, though he is perhaps more hopeless and definitely less sure of himself. But that said, were Larry David a single man trying to date in the future of this novel, he might be equally self-conscious and buffoonish.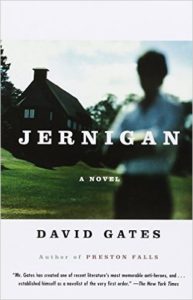 David Gates, Jernigan
The eponymous narrator of Gates's novel is, as Michiko Kakutani put it in The Times, "irresponsible, hostile, defensive, cruel, lazy and destructive. He is also funny, conflicted, self-aware and oddly sympathetic." He is outfitted with "one of those distinctive, all-American voices: brash, sarcastic, rueful and boyish, all at the same time. He sounds like a Holden Caulfield who has grown up to find himself trapped in a novel by Richard Yates." Like Larry, Jernigan is a selfish but fascinating misanthrope who is somewhat unhinged by social norms. Unlike Larry, of course, Jernigan is a drunk. But hey, there's still time.
Don DeLillo, Americana
Like Curb Your Enthusiasm, Americana is essentially plotless, and it also concerns a not-completely-likeable TV executive, David Bell, and it also investigates the superficiality of everyday life—which, I would argue, Larry David does both with and within his television shows. But more importantly, an essential dissatisfaction permeates both works, a dissatisfaction that is both subject and atmosphere. Then we came to the end of another dull and lurid year. . . 
---