10 Contemporary Baseball Books for the New Season
A Reading List for that Most Literary of Pastimes
Baseball is a nostalgic sport. Its glories are in the past, the thinking goes. You should have seen Ted's swing. Jim Palmer, now there was a pitcher. The same could be said for the game's literature. The old books tend to loom the largest. Jim Boulton's Ball Four is a Book of the Century, according to the New York Public Library. Summer of '49 and October 1964 were penned by David Halberstam, the Pulitzer Prize-winner who gave us definitive accounts of Vietnam, the Kennedy Administration, and just about every seminal moment of post-war America. And then there's Bernard Malamud and The Natural. What novel has a better claim to a place in the American canon? (Full disclosure—at eight, I nearly lost my left thumb trying to fashion a bat from the trunk of a lightning-struck tree.)
But the art of baseball writing didn't die with Red Smith; it's alive and well. Talented novelists still look to America's pastime for insight into the national condition. Journalists and historians still unearth new stories and forgotten figures, revising the old narratives. Something in the game's pace, its stubborn oddity, and its long history seems to ensure there will always be new and worthwhile writing to consider. To celebrate the new season, I've compiled a list of ten notable baseball books released over the last few years (more or less). It could have been 20 (a very honorable mention to David Duchovny's new release, Bucky Fucking Dent), but it's best not to take too much attention away from the games. So pick up a few of these titles, turn on the TV, or the radio, if that's your style, and get ready for another 160-odd games (depending on how well your team does…). Hell, it's April—this might just be your year.
FICTION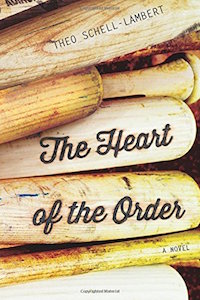 The Heart of the Order (2015), Theo Schell-Lambert
Schell-Lambert's debut novel is as much about the game as its absence. Built from the diary entries of Blake "Xandy" Alexander, a veteran pro with a blown-out knee and a season of rehab ahead of him, The Heart of the Order looks at what happens to a great athlete no longer able to practice his trade. The rituals and routines of the game still mark Xandy's days, but the best reward he can hope for now is a kind word from the physical therapist. Xandy isn't your typical jock. He has a novelist's sensibility: an eye for detail, a curious mind, and a keen sense of where the mundane pours over into the beautiful. In case you're worried there's not enough baseball in this book, don't be. Have you ever ogled a new glove or Louisville maple? Have you wondered what the fourteenth day of an August road swing is like? Do you want a thousand words on how to properly track a fly ball? This is your novel.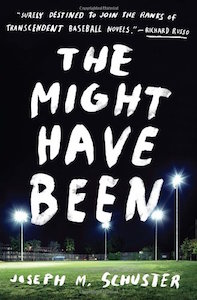 The Might Have Been (2012), Joseph M. Schuster
If you've ever spent time around the margins of professional baseball, you'll know that nobody has better stories or more pathos than a minor-league manager. In Schuster's 2012 debut, we get Edward Everett Yates, a washed-up player, now a manager, who had a cup of coffee with the St. Louis Cardinals, busted his knee, and thirty years later, with his life looking more than a little tattered, still can't give up the game. Two promising youths come on the scene. That's the way it is with baseball. There's always some new prospect, some new reason to get out of bed and believe this is the week, the month, the season all those disappointments finally get redeemed. Like any sports novel worth its salt, The Might Have Been is about regret, limitations, and our infinite, absurd capacity for hope.
The Art of Fielding (2011), Chad Harbach
Harbach's 2011 bestselling debut has quickly become the benchmark by which contemporary sports novels are judged, and Henry Skrimshander—the shortstop who shows up for his first day of college with a pro-ready glove, a good arm, and a tattered book of baseball philosophy—looks poised to claim a place alongside Roy Hobbs, Moonlight Graham and other luminaries of baseball fiction. The Art of Fielding follows a familiar arc—the span of a magical season, a Midwestern setting, bouts of the yips. Harbach is fluent in the game's minutiae, but he's just as interested in Melville, Emerson, and our country's literary legacy. Behind the folksy charm and clubhouse pontificating, Harbach has a subtly ambitious task: a meditation on the idea of America, where we stand and where we're going.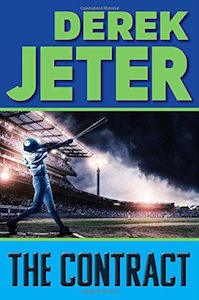 The Contract (2014), Derek Jeter and Paul Mantell
Okay, this one doesn't make the cut on literary quality. It's strictly a curiosity: a middle grade novel 'by' and 'about' Derek Jeter, released as the first in a series from the Jeter Publishing imprint. (Jeter is also dipping his fingers into sports journalism, in case you didn't know, with The Players Tribune, a magazine supposedly written and edited by professional athletes.) Look past the plot, which mostly focuses on young Jeter's burning desire to move from second base to short (that's what Gatsby was about, too, right?), past the hagiography, past the craven capitalism of the whole endeavor, and there's something worth contemplating here: who are our sports heroes nowadays? How do they see themselves, and their childhoods? Granted, unless you have a kid in the right age group, you're never going to actually read this one, but the next time you're wandering around a Barnes & Noble, it's worth a quick flip through the pages, and a simple thought: why won't they move that kid to short?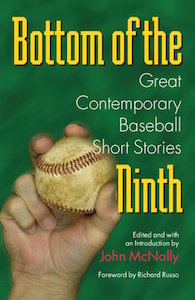 Bottom of the Ninth (2003), edited by John McNally
This collection (stretching the definition of contemporary, but this is baseball, and we're on a centuries-long timeline) boasts serious literary bona fides, with stories from Jim Shepard, Stuart Dybek, Patricia Highsmith, and Andre Dubus, as well as a foreword by Richard Russo. The novel gets most of the attention when it comes to baseball fiction, but the short story—where nothing much needs to happen, where truths both subtle and grand can be teased out of the everyday—is the real match for the game. Consider the pivotal moment from Shepard's "Batting Against Castro." A former pro, now playing in Cuba, digs into the box against El Comandante himself. Does he strike out in disgrace? Take the dictator deep? This is a short story, not a novel. (Don't read this last bit if you don't want to know what happens…) He steps in and takes the pitch on the hip. Who needs doorstoppers when you can get moments like that one in the span of a few graceful pages?
NON-FICTION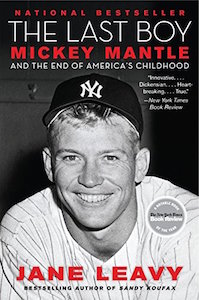 The Last Boy (2011), Jane Leavy
Jane Leavy, the longtime Washington Post scribe, wrote one of sports' great biographies in 2005, with Sandy Koufax: A Lefty's Legacy. Her follow-up, an exhaustively researched and deeply felt portrait of Mickey Mantle, might be even more impactful. Mantle was the golden boy of his era, but he was also a wicked drunk who resented the spotlight and spent his later years testing how far he could degrade himself and those around him. Leavy was there at the casinos to interview Mantle as he hocked signatures and memorabilia, there to see him closing down the bar. The Last Boy is a clear-eyed look at a star in all his glory and cruelty. Leavy offers up a perfect synopsis of the project: "So how do you write about a man you want to love the way you did as a child but whose actions were often unlovable? How do you reclaim a human being from caricature without allowing him to be fully human?"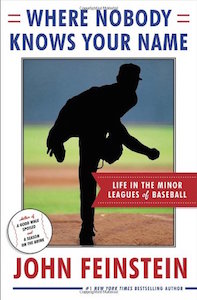 Where Nobody Knows Your Name (2014), John Feinstein
How could you have a list of great sports books without a contribution from John Feinstein? He's the modern master, the author of A Good Walk Spoiled (inside the PGA tour), A Season on the Brink (Bobby Knight's Indiana Hoosiers), and March to Madness (ACC basketball in the mid-90s). If you're a reader and a former athlete between the ages of twenty and forty, chances are, at some point in your life, you had one of Feinstein's classics on your bookshelf. In 2014, he went on the minor league baseball circuit, focusing on the final level just short of greatness: AAA. AAA is a kind of purgatory, where guys hang on looking for one more chance at the show, where a few AA studs go for seasoning, where the crowds are loyal, the owners are strange and the ballpark promotions skew toward the dancing bear and all-you-can-drink variety. Did you take class trips to Pawtucket when you were a kid? Ever find yourself in Raleigh with a July evening to kill? Prefer the middle sections of Dante's Divine Comedy? You and Feinstein might be cut from the same cloth.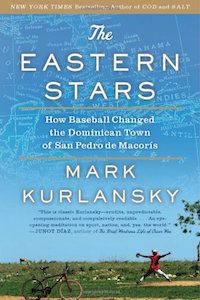 The Eastern Stars (2011), Mark Kurlansky
The Dominican Republic has come to define the modern game as much as any country, including the US. No town produces more stars than San Pedro de Macoris. Sammy Sosa, Robinson Cano, Luis Castillo, Johnny Cueto. They all came from the same small city on the southeast coast of the D.R. Kurlansky went there to find out what was happening: how had this town become an incubator of world-class athletes? What were the stars leaving behind? The Eastern Stars takes a hard look at what is, undeniably, an exploitative system: kids signed at sixteen-and-a-half, marooned at remote academies, then, if they're lucky, shipped north to the hinterlands of the American minor leagues. A few succeed wildly. Far more fail. Kurlansky, author of Salt and Cod, has a knack for breaking down complex social and economic systems. After reading his take on San Pedro de Macoris, you'll never see the sport's pipeline in quite the same light.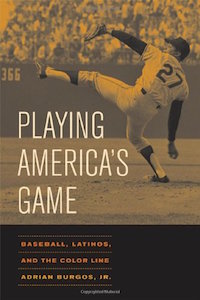 Playing America's Game (2007), Adrian Burgos Jr.
Consider this a companion read to Eastern Stars. Burgos Jr. looks at the history of Latino players in America, from the earliest days of 19TH century pro-ball, to the official integration of the game in the late 1940s, to the modern-day stars who still struggle with questions of racial and cultural identity. Burgos Jr. is an historian (he teaches at the University of Illinois) and has a professional's comfort with original-source documents, first-person accounts, and archival treasure hunts. His book reclaims the game's forgotten stars and championship squads: Martín Dihigo; Bobby Estalella; the 1947 New York Cubans, who won the Negro League Championship the same year the Yankees and the Dodgers (with their new star Jackie Robinson) locked horns in an epic seven-game World Series.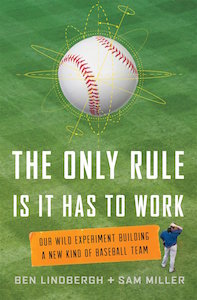 The Only Rule Is It Has to Work (2016), Ben Lindbergh & Sam Miller
Anyone who's followed sabermetrics—the analytical worldview now dominant in baseball—will be familiar with Lindbergh and Miller. Both have served as Editor-in-Chief of Baseball Prospectus, spiritual heir to Bill James's Baseball Abstract, and one of the major driving forces behind the statistical revolution. Last year, the two of them were given the reigns to an independent league team, the Sonoma Stompers, and allowed to put their theories to a real-world test. This isn't your typical season-with-the-team book, and it's not a Michael Lewis-style retrospective, either. It's a tinkerer's diary. Lindbergh and Miller revel in esoteria, but they're admirable communicators, too, and unafraid to explain exactly why and how a particular idea failed or succeeded. If the game has recently started to seem a little impenetrable to you, this might be the book that brings you back into the fold, a welcome reminder of all that's eccentric, idiosyncratic and optimistic in baseball.
---