10 Books You Should Read This May
Recommended Reading from Lit Hub Staff and Contributors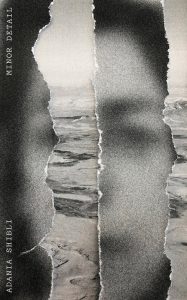 Adania Shibli trans. by Elisabeth Jaquette, Minor Detail
(New Directions)
Reading Adania Shibli is like stumbling on a colorist in a world which has been sketched in black and white. Her brief, poetic novels are intimate, strange and visually striking. "Touch," (2010) evokes a little girl's life in the West Bank in a mere 72 pages, yet it feels vast as childhood. In "We Are All Equally Far from Love," (2012) the book's cast talk back and forth in letters which are often opened in a quest to catch collaborators. In Shibli's work, the dramatic frames of Palestinian life—the Naqba and endless occupation, the daily assaults on dignity and the way this bears down on Palestinian politics—are inverted in their position and power to frame. They are of course part of her books, but Shibli draws as much with silences as almost any poet alive. Using these lacunae, letting them speak, Shibli takes the pressure off her characters to explain and gives them the freedom to show us the interior of their hearts. Writing this way, she has situated the violence of Palestinian life within a living body, rather than an imagined or projected one. Her latest book, "Minor Detail," (New Directions, May 25) is her most ambitious yet in that regard. Once again, she keeps the setting close. In the near present, a woman in Ramallah is transfixed by the rape and murder of a Palestinian woman in 1949, 25 years to the day before she was born. Moving between this crime and its erasure, then its retrieval, Shibli has created a powerful set of dual heroines, women wracked with disquiet and violence, resisting the frames that have first, been chosen for them, then denied to have ever existed. This is an astonishing, major book.
–John Freeman, Lit Hub executive editor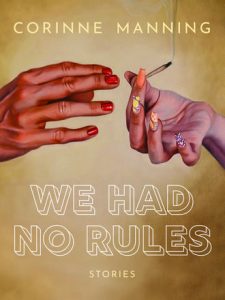 Corinne Manning, We Had No Rules
(Arsenal Pulp Press)
When it comes to Corinne Manning's collection We Had No Rules, I'm not entirely unbiased — we published an early version of one of the stories contained within here at Vol.1 Brooklyn a few years ago. Manning's fiction deftly explores complex emotions and relationships, and I'm eager to read an abundance of their work in once place. Plus: great cover artwork never hurt.
–Tobias Carroll, Lit Hub contributor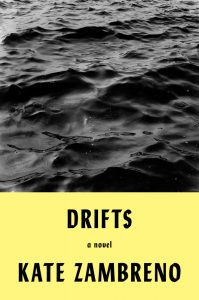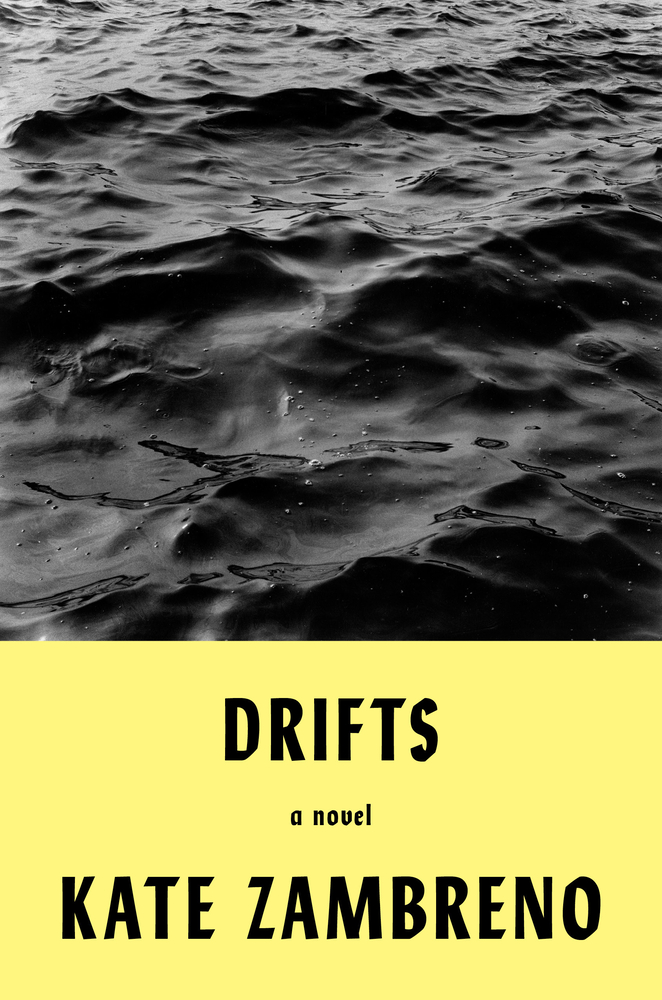 Kate Zambreno, Drifts
(Riverhead)
Written in the winding and sensory-electric manner of Rainer Maria Rilke's The Notebooks of Malte Laurids Brigge, Kate Zambreno's Drifts is a purposeful riff on one of the great expressionistic novels of the 20th century. In the spirit of Rilke, Zambreno captures the mind-bending experience of being a body moving through space and time, lurching after stability, teetering down urban and memory alleyways in search of a place to fix one's quivering body and mind.
–Nate McNamara, Lit Hub contributor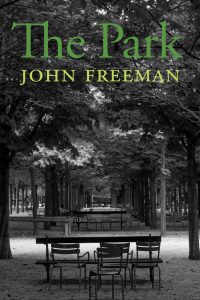 John Freeman, The Park
(Copper Canyon Press)
When I received The Park, I immediately thought of Freeman's first book of poems, Maps, and then, of how a park looks on a map: a large or tiny green zone within a city.  Was Freeman using his pen as a kind of zoom device, taking us from the expansive to the particular? A metaphor for world and person? Then I read this line from "The City Without" : "A park's / purpose is to temper the machine / in us." and knew that these poems would help all who read them understand the emotional machinations/complexities of the stories that exist within a common space of any kind: That the machine in us can in fact be tempered by purposeful engagement with all of the world, engagement with these poems.
–Lucy Kogler, Lit Hub columnist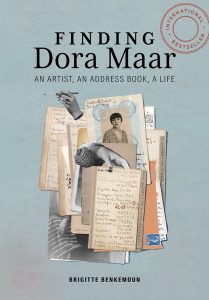 Brigitte Benkemoun trans. by Jody Gladding, Finding Dora Maar
(Getty Publications)
This is a deliciously acerbic, dishy, fascinating, intelligent telling of the story of a 1951 Hermes address book that fortuitously fell into the hands of a writer whose curiosity and insight led her to identify this book as having belonged to the formidable woman/artist/onetime mistress of Georges Bataille and Pablo Picasso, Dora Maar. Once identified as Maar's, Benkemoun makes it her mission to identify the listed while sussing out the relationships and connections.
I must give credit to the translator, Jody Gladding, for capturing what can only be called the "tone" of Benkemoun's insightful and believable conjectures and appraisals of Maar, her fellow artist, friends, sometime friends, and contemporaries. Having pictures of people and art work would have enhanced, making vivid, this fascinating moment in art history.
–Lucy Kogler, Lit Hub columnist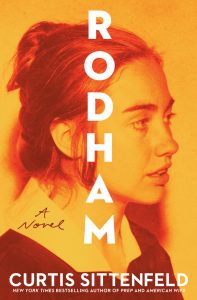 Curtis Sittenfeld, Rodham
(Random House)
Listen, I understand if "alternate history of Hillary Rodham Clinton's life beginning when she met Bill" does not sound like your ideal pandemic read. It's a tough elevator pitch! Having just torn through Curtis Sittenfeld's Rodham, though, I am here to tell you that the novel is, against considerable odds, an absolute balm. Reading it felt like listening to an incredibly juicy piece of gossip, conveyed by your smartest friend. It's beautifully paced and deeply humane and (this is Curtis Sittenfeld, remember) very funny. It's the perfect literary treat for this moment.
–Jessie Gaynor, Lit Hub social media editor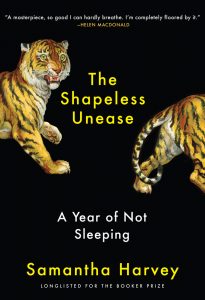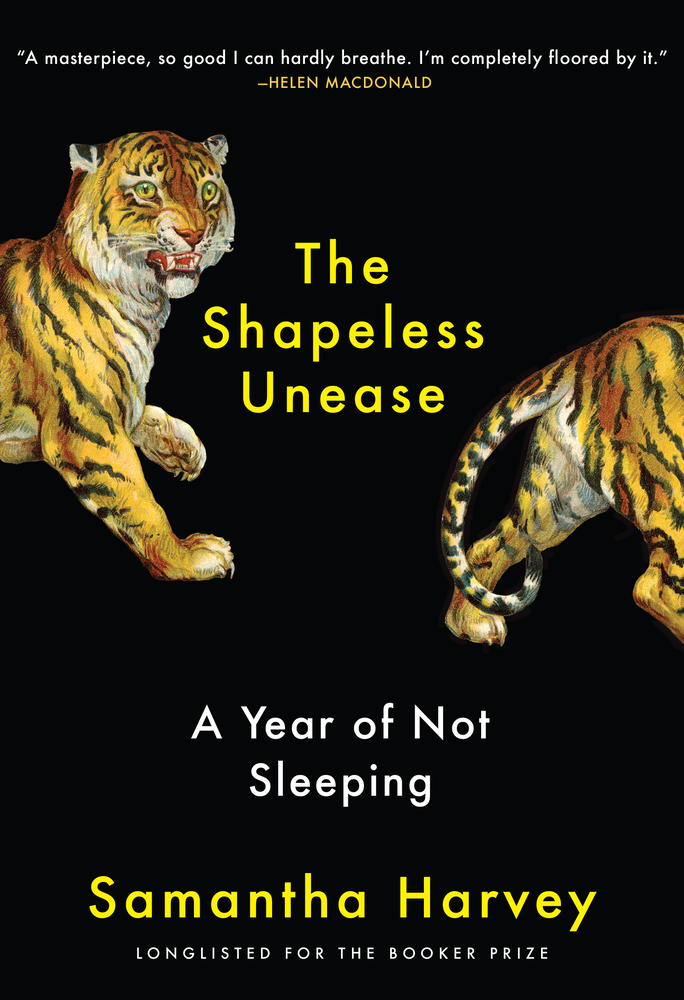 Samantha Harvey, The Shapeless Unease
(Grove Press)
Samantha Harvey's The Shapeless Unease chronicles a year of insomnia. It's the perfect thing to pick up right now because it's also an examination of anxiety and fear. How do we talk about these amorphous things? How do we know the difference between them? It's fitting that The Shapeless Unease doesn't fit comfortably into one genre or another; it's part memoir and part cultural criticism, but the language is all poetry. In my personal favorite bit, Samantha Harvey takes a look at language, the way its structure affects the way we experience time. She writes about the Pirahã people of the Brazilian Amazon, whose language does not allow for recursive thought, who don't change verb tenses in one sentence. Samantha Harvey extrapolates, "What a thing this is, to be so firmly entrenched in the here and now. What a thing. We are, I am, spread chaotically in time." The book is full of these little gems, glinting and guiding you in the dark.
–Katie Yee, Book Marks assistant editor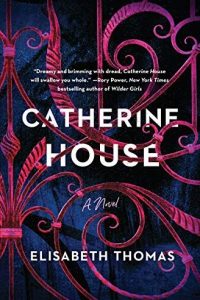 Elisabeth Thomas, Catherine House
(Custom House)
I absolutely inhaled Elisabeth Thomas's debut, Catherine House, a modern gothic/campus novel that is basically set in my dream location: a mysterious, secluded, highly selective and highly experimental university whose students trade three years of freedom (and contact with the outside world) for assured success and prominence in the years to follow. Is it a college? Is it a cult? And what's really going on in the New Materials lab? Ines is going to find out, and you won't be able to put the book down until she does.
–Emily Temple, Lit Hub senior editor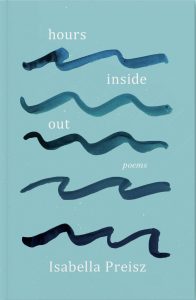 Isabella Preisz, hours inside out
(Not a Cult)
My May recommendation is hours inside out, a poetry collection available May 18th from Not a Cult publishing. In this debut collection, Isabella Preisz explores what it means to exist in simultaneity. Across these visceral poems, Preisz recreates moments of adolescence, sexual exploration, shame, and dissociation to examine what it means to occupy the body. She fragments language to display growing as a conglomerate experience of past, present, and future remembrance. Catching language on the boundary of formation, she exposes the process of healing as fluid as egg yolk—gooey, runny, and easily ruptured.
–Melissa Ximena Golebiowski, Lit Hub national assigning editor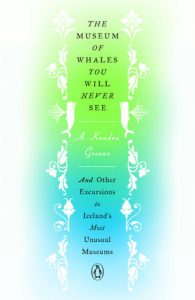 Kendra Greene, The Museum of Whales You Will Never See
(Penguin Books)
In The Museum of Whales You Will Never See, Kendra Greene takes us to Iceland on a rollicking trip through its museums filled with the mythic, the marvelous, and the eccentric. She opens some of that country's hundreds of cabinets of curiosities—from the Icelandic Sea Monster Museum to the Icelandic Phallological Museum to The Museum of Icelandic Sorcery and Witchcraft to other storehouses of natural history and unreal marvels—and rummages through them to uncover tales about our deep desire to collect, organize, and discover. Greene is a splendid guide with a playful voice—imagine Hermes writing with whimsy and charm—and takes us around to show a world "chockablock with untold wonders" and overflowing with people drawn to reveal the extraordinary in the ordinary. This amusing, searching collection of essays, threaded with Greene's rangy curiosity, is an ode to the joys and rewards of paying attention.
–Garnette Cadogan, Lit Hub contributing editor
It's not just the extraordinary title, or that Greene begins with writing about Iceland's mammal penis museum, or that she illustrates the book herself, or that she's a polymath (artist, educator, curator, typesetter, bookmaker, and so on) that makes this book so damn good (though they help). It's Greene's curiosity, the way she examines, evaluates, and writes about things perhaps considered mundane (buffalo coats, sea glass, bones). Combined with a dry humor, a brisk intelligence, and carefully curated prose, Greene propounds treasures and collections (for proof, check her Instagram account) that often go unseen.
–Kerri Arsenault, Lit Hub contributing editor
---