10 Books by Women You May Have Missed in August
Bethanne Patrick Recommends Liane de Pougy, Misimi Kubo, Angel Khoury, and More
During the "dog days" of August I had a bit more reading time than usual—a busman's holiday of a summer vacation, if you will. Therefore, this month's column includes 10 titles instead of five, and all of them are by women. Some are in translation (don't miss the fin de siècle de Pougy novel), some are great examples of genre (the Tuti and the Jang), and at least one might make your toes curl (the Kubo).
*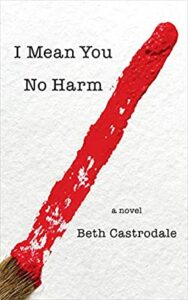 Beth Castrodale, I Mean You No Harm
(Imbifrex Books) 
I Mean You No Harm approaches organized crime from a new-ish angle: its effects on the relationship between sisters. Layla and Bette take a road trip from Ohio to Arizona as a sort of Thelma and Louise of Family Healing. The death of Layla's estranged father Vic Doloro and the ill-gotten inheritance he drops in her lap occasion the journey, in which Layla and Bette hope to learn more about their mother's death. Castrodale is the real thing, a novelist who fuses mordant humor and great genre tropes with warmth and courage.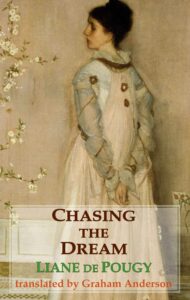 Liane de Pougy, trans. by Graham Anderson, Chasing the Dream
(Dedalus Limited)
Chasing the Dream is part of the Dedalus European Classics series, and it's an amazing novel, but I'm going to do something I never do and just share a writer's biography:
Born in 1869 near the town of Tours, Liane de Pougy married a naval officer, after becoming pregnant by him while still at her convent school, aged 16. She soon left her violent husband to go to Paris. Their son, Marc Poupre, born 1886 was brought up by his grandmother. She was a dancer at the Folies Bergère in the 1890s and had occasional acting parts but it was in the demimonde she rose to fame. As a runaway teenage mother, celebrity courtesan, and in later life a princess, a fundraiser for disabled children and, finally, a Dominican lay sister, Liane de Pougy led an extraordinary life.
Don't you want to read her book, like, now?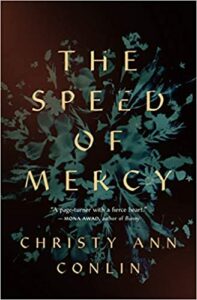 Christy Ann Conlin, The Speed of Mercy
(House of Anansi Press)
The Speed of Mercy introduces a new Canadian voice to US readers, and what a voice it is, strongly feminist and strongly Nova Scotian. However, although Conlin's protagonist Mal acknowledges her family's roots and the area's colonial past, she's invested in recovering her province's entire root system, which includes Black Loyalists in 1775, white Loyalists, tight Scottish clans, and of course, indigenous groups. Now, on the banks of the Mercy River, Mal, in what her long-expatriated mother calls "the Georgia of the North" attempts to trace a crime back to its source. With a cover blurb from Mona Awad and an author with several awards to her credit, this would be an excellent choices for fans of Ivy Pochoda and David Heska Wanbli Weiden.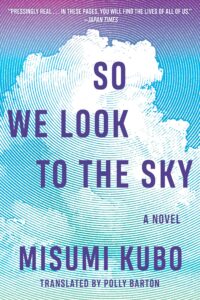 Misimi Kubo, trans. Polly Barton, So We Look to the Sky
(Arcade Publishing)
Kubo, the multiple-award-winning author of seven novels, has both delighted and shocked her national audience already with a novel consisting of linked stories that starts with an affair between a student and an older woman having cosplay sex. Her husband's secretly taped videos of their couplings wind up online and wind up influencing lives that include a teenager, a bullied wife, one of the student's classmates, and even his mother. From adolescent desire to infertility to eldercare to poverty to philandering, this absolutely startling and beautifully grounded book should be the first one you pick up here and, if your time is limited, maybe the only one. It's that important, even if it's not all over our usual lists.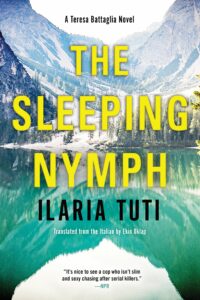 Ilaria Tuti, trans. Ekin Oklap, The Sleeping Nymph
(Soho Crime)
The Sleeping Nymph is a 2021 Sue Grafton Memorial Award Nominee, and Tuti's second book is that kind of terrific, the kind of procedural there can't be enough of, especially when the officer in charge is Superintendent Teresa Battaglia, last seen in Flowers Over the Inferno. Don't think Patricia Scarpetta, mystery aficionados; think Barbara Havers. Battaglia is over 60, overweight, and trying not to seem over the hill, despite her Alzheimer's diagnosis. When a WWII-era painting is found to contain blood from a human heart, she has to muster all her wits to confront a very old, very personal enemy. While you needn't read the books in sequence, you'll want to read them both, and you'll hope for more from Tuti, very soon.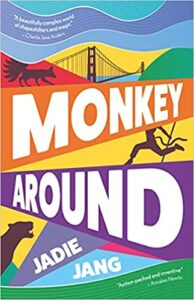 Monkey Around by Jadie Jang
(Solaris)
Monkey Around had me, I confess, at the term "were-monkey." Claire Light, writing as Jadie Jang, mixes up the traditional Chinese tale of the Monkey King with its incarnation as a 21st-century San Francisco barista and activist named Maya McQueen, who just happens to also be a were-creature. In the era of Occupy Wall Street coming to the Bay Area amidst a huge shakeup of the paranormal underworld, Maya has to face her own problems and those of a lot of othered others before she'll be able to help solve a string of shapeshifter murders for her boss Ayo (who runs the café as a sanctuary for supernaturals, natch).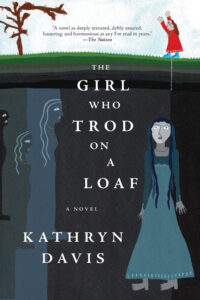 Kathryn Davis, The Girl Who Trod on a Loaf
(Graywolf Press)
Davis's second novel, reissued in August along with the paperback of her superb The Silk Road, will I hope convince many more readers to appreciate the original and sinuous work of the author of Duplex, among others. This novel, originally published in 1993, involves magical realism of a most American sort as a waitress and single mom named Frances Thorn becomes her former Juilliard professor, elderly Danish composer Helle Ten Brix. Ten Brix, whose final and unfinished opera was based on the Hans Christian Andersen story of the title, needs to work a few things out, using Thorn's person. The result weaves myth with gender issues with artistic process.
Fariha Roísín, Like a Bird
(The Unnamed Press)
Like a Bird explores racism and family dysfunction among affluent South Asians in Manhattan. Taylia and Alyssa Chatterjee grew up on the Upper West Side with a deep sadness at the core of their family that they have never fully understood. The Chatterjee parents disown Taylia after she experiences a violent sexual assault, but instead of playing their victim, she finds work and support at a local café. As she comes to terms with her past and learns more about her family's, too, Taylia saves herself. The author spent 18 years on this debut novel and it is infused with her intensity and redemption.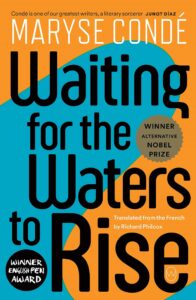 Maryse Condé, trans. by Richard Philcox, Waiting for the Waters to Rise
(World Editions)
This book comes from the esteemed winner of the 2018 Alternative Nobel Prize, and it's just plain ridiculous that she isn't up for a "real" version thereof. Condé, who is from Guadeloupe and writes in French, has won many other awards for her novels examining race, gender, colonialism, and more. In this, her 18th novel, the protagonist is Babakar, a doctor living alone in Guadeloupe who dreams of his childhood in Mali. When he becomes the guardian of a little girl whose mother died in childbirth, they fly to that mother's home country of Haïti where he hopes to help the child Anaïs find family. Babakar, a Haitian man named Movar, and a Palestinian man named Fouad all begin to search for Anaïs's kin in a story as much about what is possible between cultures as what is desperate about Haïti.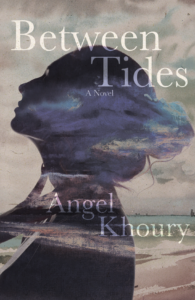 Angel Khoury, Between Tides
(Dzanc Books)
This book should help fill in the space in your TBR between summer's end and autumn's logjam of new titles. Beginning in Chatham on Cape Cod in the 1890s and moving to Hatteras on the Outer Banks in the 1940s, Khoury's debut novel weaves together families and eras in a lovely examination of how women can heal family histories. "People like to talk about a man with two wives, but I rather like to think about the two wives with no husband," she writes. Dive between the covers of this elegant tale and make your vacation memories last a little longer.
---