When London Got the Marilyn Monroe Fever
"And so started a summer of Brits, young and old, doing everything they could to be just like Marilyn."
On her arrival in England, Marilyn Monroe expressed how much she wanted to meet two people—poet Dame Edith Sitwell and dramatist Sean O'Casey. The latter was thrilled to hear this news, and told the Stage newspaper, "I would love to see her, and I would like to meet her husband, Arthur Miller, one of the greatest American playwrights." In the end, despite an invitation to O'Casey from Laurence Oliver, Marilyn was unable to meet him, though she did manage to spend time with Sitwell.
Talking to a reporter from the Daily Mail, Sitwell said that although she was currently busy with her work, she would be thrilled to see Marilyn while she was in London. "She is a delightful girl," Sitwell said. "But I can't say when or where we shall meet. If I knew I wouldn't tell you. I don't want a lot of strangers there."
Marilyn had met Sitwell in 1953, and although the two seemed very different, they found they had a great deal in common. Like Marilyn, Dame Edith had gone through an unsteady childhood. Brought up by uncaring parents who always seemed to have an insult or hurtful comment to share, Sitwell had put up many barriers, which were often hard to penetrate. She could terrify the staunchest of interviewers, but had warmed to Marilyn as the two shared enthusiastic views on authors, books, and philosopher Rudolf Steiner.
By the time the two women said goodbye, they had formed a bond. Marilyn admired Dame Edith's strong personality, especially when it came to standing up to men. Dame Edith, meanwhile, decided that Marilyn had been treated terribly in the industry, but remained enchanting nevertheless. From that moment, Sitwell became a staunch supporter of Marilyn's life and career. "Of course, I'd be delighted to play literary mother to her," Sitwell told reporter William Barbour. "Marilyn is a very seriously minded girl." To another writer she disclosed that, "If anybody deserves credit she does. Once a poor girl with no education, on her beam ends—and now look how she has got on."
Marilyn was thrilled to hear that Dame Edith would like to spend time with her in London, and columnist Eve Perrick offered to arrange it on the understanding that she could be present for the chat. And so it was that sometime during the weekend of July 20th and 21st, Marilyn and Arthur were driven from Parkside House, and taken to the Sesame Imperial and Pioneer Club, located at 49 Grosvenor Street. During the journey into London, the chauffeur took the opportunity to show them two of the Queen's residences: Windsor Castle and Buckingham Palace. The extended journey meant that the couple were 45 minutes late, but Marilyn was so in awe of the palaces that they were one of the first things she mentioned during her conversation with Dame Edith.
The poet greatly enjoyed spending time with Marilyn once again, but she had made the unfortunate decision to take the meeting in the busy lecture room, rather than in her private quarters. Suddenly, people who would not normally visit the room felt the need to pop in and read their newspapers and books, all the while trying discreetly to catch a glimpse of the famous visitors and overhear their conversation.
Dame Edith decided that Marilyn had been treated terribly in the industry, but remained enchanting nevertheless.
Despite the intrusion, the group enjoyed a genial get-together, during which time they drank gin and grapefruit juice, and Marilyn shared stories about the ongoing arrival of bicycles at Parkside House. Arthur thanked Dame Edith for being so kind to Marilyn when they had met three years before, and then the poet introduced her nephew Reresby, who was so overcome that he gave Marilyn a small bow.
Sitwell even entertained her guests with tales of how she had once met Edward VII at her first court ball, which caused Miller to burst into whoops of laughter. Onlookers gazed over their newspapers and adjusted their glasses, but they did not get to meet the famous visitors. Instead, Dame Edith introduced Marilyn to some of the club staff, and then it was time for the Millers to hop into the car and head back to Parkside.
"You see what a nice, quiet girl she is?" Dame Sybil asked her nephew, as they waved the Millers goodbye. On another occasion she commented, "[Marilyn] knows the world but this knowledge has not lowered her great benevolent dignity, its darkness has not dimmed her goodness."
Another meeting that weekend was with cinematographer Jack Cardiff, who visited Marilyn at Parkside House. As he rolled up to the gate at 10 am, Cardiff was shocked when a team of security men sprung out and demanded to see an official Marilyn Monroe Productions pass. He later described the experience as being harder than getting into Buckingham Palace, and by the time he was cleared and waved up the driveway, the cinematographer was in a foul mood.
He had plenty of time to calm down, however, as Marilyn wasn't yet out of bed. Cardiff spent the next 30 minutes chatting with Arthur Miller, and then eventually the actress appeared, barefoot and wearing a robe. Marilyn rushed into her husband's arms, and when she finally noticed Cardiff, she didn't speak to him directly. Instead, she turned to Miller and told him how lucky she was that Cardiff would be working on her movie. "He's the greatest in the world," she murmured.
A great lover of poetry and literature, the actress could often be seen absorbed in the book during breaks on the set of The Sleeping Prince.
After the meeting, the two became great friends, and during one evening (it should have been morning, but Marilyn was late) Cardiff took photographs of Marilyn at Parkside—one of which became Arthur Miller's personal favorite. Later, when the cinematographer presented Marilyn with a volume of poetry by Dylan Thomas, she was overcome with happiness. A great lover of poetry and literature, the actress could often be seen absorbed in the book during breaks on the set of The Sleeping Prince (now titled The Prince and the Showgirl).
During the making of the movie, Cardiff would discover that his new friend was not the easiest person to work with, and several years later he told the People that, "I doff my hat again and again to Sir Laurence Olivier." But although the cinematographer thought that their work was nerve-wracking, he loved Marilyn, and held their friendship close for the rest of his life.
*
On the same weekend that Marilyn enjoyed time with Dame Edith Sitwell and Jack Cardiff, 12-year-old Brian Smith from Kent donned a slit dress, high-heeled sandals, blonde wig, and false eyelashes, and then headed off as Marilyn to the Minster and Monkton Flower Show. There he impressed judges Paul Carpenter and Kim Parker, who voted him the winner of the over-tens fancy dress competition, and he got his photo in the local paper. Brian wasn't the only little boy to take inspiration from Marilyn. Several weeks later, young Fred Greenway from Cwm, Wales, entered himself into the boys' and girls' fancy dress competition at the Ebbw Vale Urban Council's fete and carnival. He not only received many cheers, but also won as Cwm's very own Marilyn Monroe.
And so started a summer of Brits, young and old, doing everything they could to be just like Marilyn. Keen to be able to emulate the star's sultry walk, young women began studying her films and news footage in the hope of learning how to do it. London dance instructor Robert Howes heard about the craze and saw an opportunity. On July 23rd, Howes announced that he and his fiancée Jean Turner had written a pamphlet, which broke down "the Monroe walk to a series of foot and hip movements … I want to prove that what Marilyn Monroe can do, British girls can do as well, or better."
Jean had discovered that she could move like the actress while dancing the rumba with Howes, and had spent the past several weeks perfecting the movement. She told a reporter that she felt self-conscious practicing it in the supermarket, but would feel better if everyone else did it too—hence the need for a pamphlet presumably. Marilyn would have found the idea of an instruction manual amusing and bewildering. "All that stuff about how I wiggle when I walk is silly," she said. "I just walk. Like anybody else. I've never tried to walk any special way and I've never been told to walk any special way. I walk naturally. I've always walked the same way."
Rehearsals for The Sleeping Prince struggled on and, at the same time, Marilyn was inundated with invitations for events, parties, and galas. There were rumors that she would turn up at the wedding of Barbara Lyon, daughter of Ben Lyon, the man who gave Marilyn her first film contract. They proved to be false, as did the story that she would bowl the opening ball at a cricket match, and then head up to Scotland to visit the hills and lochs.
Captain D. E. J. Cooper, Arbroath's publicity and entertainments officer, thought it would be a tremendous idea to have Marilyn attend an extravaganza in Victoria Park. He assured the Millers of a warm welcome, and ended his invitation with the words, "Bless you both for helping to lift this troubled world of ours out of the eternal rut of strife and conflict." The response from Marilyn's people was disappointing but inevitable—her schedule simply wouldn't allow a trip to Scotland.
Not to be put off, Skegness businessman Harry Segal was sure he could persuade Marilyn to open his new jazz club in the town. Despite his enthusiasm, the actress could not make it to the Lincolnshire coast, and the opening ceremony was hosted by comedian Benny Hill instead. Meanwhile, the residents of seaside town Morecambe were left in a tizzy when it was rumored that Marilyn would be present to switch on the illuminations. When approached for a comment, one of the actress's agents denied all knowledge, claiming that no invitation had been received, let alone accepted.
"I do not think she can possibly cope with it," he said. "She is at the height of her filming at that time and will be working solidly five days a week…. There is no question of her not wanting to do it. It is merely a question of her not being able to do it." However, rumors created fantastic publicity for The Sleeping Prince, so the agent added that even though he had already received dozens of requests for Marilyn to appear at fetes, bazaars, and dinners, if they were invited to the Morecambe illuminations, he would give it a great deal of support. "[It is] a very worthwhile affair," he said, although, in the end, Marilyn never did switch on the lights in Morecambe or anywhere else.
Everyone in England must surely have known that Marilyn was in town.
Builder's laborer Johnny Smith didn't care about the rejected invitations. All he wanted was for Marilyn to meet him and members of the Penge Teddy Boys, to hang out and eat fish 'n' chips for an hour or two. He told reporters that most of his group had Marilyn posters on their walls, and they would love to see how she enjoyed a classic British meal. Johnny dictated his telegram invitation from a phone box: "Dear Marilyn Monroe, Me and my boys . . . invite you . . . and Mr Miller . . . to be our guests . . . at our local cinema . . . and to join us afterwards . . . at a fish and chips supper."
It is unlikely that Johnny got to hang out with Marilyn, but one invitation she did accept was on Tuesday, July 24th, when Terence Rattigan hosted a party for the Millers at his home, Little Court in Sunningdale, Berkshire.
The playwright was thrilled to entertain Marilyn, and made plans for 100 guests, 20 chauffeurs, waiters, a porter, and a chef. He ordered 42 bottles of champagne, two bottles of sherry, five dozen tonic waters, one dozen bottles of Coca-Cola, seven bottles of Gordon's gin and a variety of other drinks, which all came to £103—the equivalent of over £2000 in today's money. Vivien Leigh was on hand to give suggestions for the food, which consisted of a magnificent lobster buffet.
As Rattigan sat at his desk to compile the guest list, he jotted down names of people he felt would entertain him more than anyone else. He hoped that Marilyn would find the guests interesting too, though he considered that as a definite secondary factor. Once the first draft was done, he then went back through it, scratching people off until he had what he hoped would be an engaging and pleasurable blend of attendees.
The final guest list read like a Who's Who of showbiz royalty. John Gielgud was present, as was Alec Guinness, John Mills, Douglas Fairbanks Jr., Dame Margot Fonteyn, and The Sleeping Prince actor Richard Wattis. The Duke and Duchess of Buccleuch were due to pop in, as were Lady Diana Cooper and Dame Peggy Ashcroft. Costume designer Beatrice "Bumble" Dawson was also on the list, as was Marilyn's hairdresser, Sydney Guilaroff, and journalists Radie Harris and Louella Parsons. Laurence Olivier was credited as a co-host (and would spend much of the evening seeing that everyone had enough to eat and drink), and Vivien Leigh promised to head to Sunningdale after her performance in South Sea Bubble.
On the evening of the party, a policeman by the name of PC Packham was installed at the end of the private road that led to Rattigan's home. He was asked to make sure that no uninvited guests made it into the house, and as each car pulled up, he carefully checked the invitations, and then allowed the guests onto the property.
What PC Packham hadn't been told was that Marilyn didn't need an invitation, since she was the guest of honor. When her car swung into the lane shortly after 10:30 p.m., he waved it down and asked to see the paperwork. What happened next came as quite a shock to the unsuspecting policeman: "Some lunatic immediately leapt from the nearside front passenger seat and, actually brandishing an empty wine glass in my face, told me aggressively to get out of the way. It was, to say the least, an unusual greeting; neither did his arrival inspire confidence regarding the other occupants of the car. I relieved him of the wine glass and was desirous of knowing what precisely he was up to.
"'It's Marilyn, you fool,' he hissed, 'get out of the way.'
"Of course! In a blinding flash of the absolute obvious the penny dropped. Everyone in England must surely have known that Marilyn was in town. The tabloids were full of it. I looked in at the open door of the limo. It was, of course, Marilyn and, had any further proof been necessary, she was accompanied by her then husband, Arthur Miller. I told the driver to carry on, closed the door, and they sped away without the little dogsbody, or whatever he was. He was last seen hoofing it up the long drive to the house, muttering as he went dire imprecations on all coppers."
Journalists had followed Marilyn from Parkside House and, seeing the altercation, bumped their cars onto the grass verges. By the time they managed to run towards the action, the limo had already sped off towards the house, but they phoned in their stories anyway, weaving a fictitious tale that PC Packham had never heard of Marilyn Monroe.
____________________________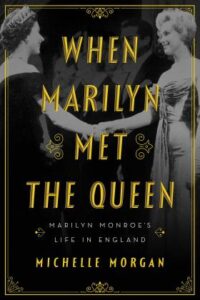 From When Marilyn Met the Queen: Marilyn Monroe's Life in England by Michelle Morgan. Copyright © 2022 by the author and reprinted with permission of Pegasus Books.
---