The Most Scathing Book Reviews of 2022
"Reading this book reminded me of watching a cat lick a dog's eye goo."


'Tis the season for schadenfreude. Yes, for the sixth year running, we've emerged from the bowels of the book review mines trailing behind us an oozing sack of pans—each one riper and more wince-inducing that the last.
Among the books being gored and devoured by feral hogs this year: Jared Kushner's soulless work of sycophancy, John Boyne's shameless sequel to The Boy in the Striped Pajamas, and Hanya Yanagihara's "anti-accomplishment" doorstopper.
So here they are, in their fabulously festering fulsomeness: the most scathing book reviews of 2022.
*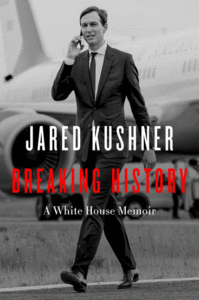 "It's a title that, in its thoroughgoing lack of self-awareness, matches this book's contents … He betrays little cognizance that he was in demand because, as a landslide of other reporting has demonstrated, he was in over his head, unable to curb his avarice, a cocky young real estate heir who happened to unwrap a lot of Big Macs beside his father-in-law … Breaking History is an earnest and soulless—Kushner looks like a mannequin, and he writes like one—and peculiarly selective appraisal of Donald J. Trump's term in office. Kushner almost entirely ignores the chaos, the alienation of allies, the breaking of laws and norms, the flirtations with dictators, the comprehensive loss of America's moral leadership …
This book is like a tour of a once majestic 18th-century wooden house, now burned to its foundations, that focuses solely on, and rejoices in, what's left amid the ashes … Reading this book reminded me of watching a cat lick a dog's eye goo… The tone is college admissions essay … Kushner, poignantly, repeatedly beats his own drum … A therapist might call these cries for help … The bulk of Breaking History—at nearly 500 pages, it's a slog—goes deeply into the weeds … What a queasy-making book to have in your hands."
–Dwight Garner on Jared Kushner's Breaking History: A White House Memoir (The New York Times)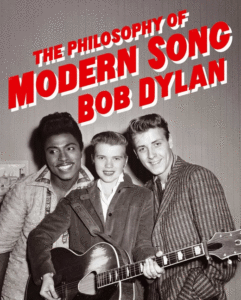 "The Philosophy of Modern Song is a mouthful, a phrase that puts on airs. It asserts that the book is an important work, a tome that merits a place on your loftiest library shelf, up in the thin air where you keep the leather-bound, gilt-edged stuff … But the title is also a wisecrack, too puffed up and self-important to be taken at face value … As a work of prose, The Philosophy of Modern Song is relentless. It rip-snorts along, charging from song to song, idea to idea. Dylan can write what journalists call a great lede: a first sentence that detonates like a hand grenade … What does all this add up to? Not quite a philosophy of modern song, or at least not a coherent one. But coherence isn't what you want from Bob Dylan …
You have to plow through 46 chapters before encountering a song by a female artist … Yet women loom large in his consciousness and are omnipresent in his pages—appearing in such monstrous form, evoked in language so marinated in misogyny, that, reading The Philosophy of Modern Song, I began to feel like a therapist, sneaking glances at my watch while the crackpot on the couch blurts one creepy fantasy after another … It's a bummer, to put it mildly, to find a Nobel laureate…mixing metaphors and spouting nonsense like an elderly uncle who bulk-emails links to Fox News segments."
–Jody Rosen on Bob Dylan's The Philosophy of Modern Song (The Los Angeles Times)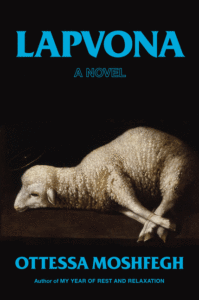 "Moshfegh's own sacraments involve a different orifice, so you will forgive her if her search has led her up her own ass … At first glance, Lapvona is the most disgusting thing Moshfegh has ever written…Yet Moshfegh's trusty razor can feel oddly blunted in Lapvona. In part, her characteristic incisiveness is dulled by her decision to forgo the first person, in favor of more than a dozen centers of consciousness. This diminishment is also a curious effect of Lapvona itself … Lapvona is the clearest indication yet that the desired effect of Moshfegh's fiction is not shock but sympathy. Like Hamlet, she must be cruel in order to be kind. Her protagonists are gross and abrasive because they have already begun to molt; peel back their blistering misanthropy and you will find lonely, sensitive people who are in this world but not of it, desperate to transform, ascend, escape …
This is the problem with writing to wake people up: Your ideal reader is inevitably asleep. Even if such readers exist, there is no reason to write books for them—not because novels are for the elite but because the first assumption of every novel must be that the reader will infinitely exceed it. Fear of the reader, not of God, is the beginning of literature. Deep down, Moshfegh knows this….Yet the novelist continues to write as if her readers are fundamentally beneath her; as if they, unlike her, have never stopped to consider that the world may be bullshit; as if they must be steered, tricked, or cajoled into knowledge by those whom the universe has seen fit to appoint as their shepherds …
It's a shame. Moshfegh dirt is good dirt. But the author of Lapvona is not an iconoclast; she is a nun. Behind the carefully cultivated persona of arrogant genius, past the disgusting pleasures of her fiction and bland heresies of her politics, wedged just above her not inconsiderable talent, there sits a small, hardened lump of piety. She may truly be a great American novelist one day, if only she learns to be less important. Until then, Moshfegh remains a servant of the highest god there is: herself."
–Andrea Long Chu on Ottessa Moshfegh's Lapvona (Vulture)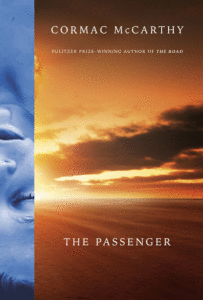 "Reading it is like immersive theatre: one of those elaborate warehouse productions where you stumble about from tableau to tableau, trying to piece the story together … The novel is long on atmosphere and short on sense. There are slick, movie-style conversations with a private investigator, a Vietnam vet, and a trans woman; long lunches with a garrulous criminal friend; flashbacks to Alicia's hallucinations; the obligatory bit of survivalism (would it even be a McCarthy novel without an episode involving tinned foods and roadkill?) …
James Joyce is invoked. An oblique reminder that great literature requires hard work? But McCarthy's difficulty is perverse. The decision to open The Passenger with an impenetrable conversation between Alicia and her hallucinations; the quantum mechanics; the pinball structure; the confusing dialogue—all this just makes the novel hard to read. Nothing meaningful is gained. It's a shame because at times these books are more interesting than McCarthy's key works … We think these books are unflinching. Really, they are kitsch: McCarthy's is an art of exaggeration. A con trick is being practised … That's how you garner comparisons to Hemingway and Faulkner—when, in fact, you're a mediocre hybrid of both."
–Claire Lowdon on Cormac McCarthy's The Passenger (The Sunday Times)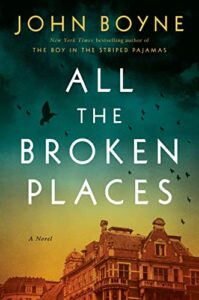 "With his latest treacly tome All the Broken Places—complete with title so maudlin it preempts all mockery—Boyne has gifted us with a Holocaust novel so self-indulgent, so grossly stereotyped, so shameless and insipid that one is almost astonished that he has dared … This is not literature. As a grown-up sequel to children's trash, All the Broken Places serves two roles. First, to demonstrate that Boyne definitely did not think that the Germans were innocent, definitely knew they were 'complicit' and 'guilty' and that history is 'complicated,' etc, thanks very much. Second, to serve as a sort of fan fiction for those peculiar adults who long for the comfort of a childhood favorite. As to this first goal, at least, it is a consummate failure, a wildly simplified narrative that misrepresents the extent of Nazi ideology. As in The Boy in the Striped Pajamas, Boyne underestimates the family's awareness of the Holocaust, lending his German characters an exaggerated naivety, or implausible deniability …
Boyne flaunts a teenager's understanding of the causes and consequences of the Second World War … As with so much Holocaust fiction All the Broken Places utterly fails in its stated purpose: making the next generation slightly less likely to participate in the next genocide… Boyne's reduction of Nazi ideology to a fringe belief, expressed in infrequent outbursts—'those filthy Jews'—is all the more absurd now that he's writing for grown-ups …
We don't need anyone to teach us how to recognize the barefaced devil; the danger is the insidious and gradual creep of violence into the civilised and everyday. This is what the philosopher Theodor Adorno's dictum—'To write poetry after Auschwitz is barbaric'—warned of: art unable to recognise the break the Holocaust represented with the past, afraid to apprehend the failure of the civilising project. With this childish drivel in which the villains and victims come labelled and sorted, Boyne yet again seems immune to its lessons."
–Ann Manov on John Boyne's All the Broken Places (The New Statesman)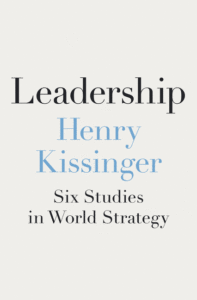 "99 years old, but still, still pushing out the kind of platitudes that not only can be used to excuse the most evil people in the history of the species but that are designed to do exactly that… This rhetoric-as-strategy is obvious right from this book's cast of characters…A reader might first wonder what Konrad Adenauer is doing drawn among these heartless hinds, but eyebrows might raise at de Gaulle and even Sadat as well… A moment's thought reveals the beady-eyed rationale behind this grouping; it's not to pull down good men, it's to raise up genuine fire-eyed black-pelted yellow-fanged monsters… Henry Kissinger might not be able to climb a flight of stairs anymore, but he's still capable of telling a lie before he's even finished his Table of Contents… As he's winding up this ghastly, conscienceless book, Kissinger contentedly admits that his subjects weren't always popular… Not everyone admired them or 'subscribed to their policies'… Sometimes, in fact, they faced resistance, and their separate memories still sometimes face such resistance… Almost like there might be debate about their legacies, or something… Leadership might very well be Kissinger's most mandarin-hateful book, even surpassing 2014's truly odious World Power… It's his 19th book… Here's hoping it's his last."
–Steve Donoghue on Henry Kissinger's Leadership: Six Studies in World Strategy (Open Letters Review)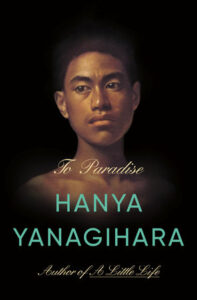 "To Paradise is so unusually terrible that it is a sort of anti-accomplishment, the rare book that manages to combine the fey simplicity of a children's tale with near unreadable feats of convolution. It is too juvenile to attract serious adult readers and too obtuse to aspire to popular appeal. If A Little Life dragged and self-dramatized, at least it did so via a welter of readily legible, melodramatic thrills. But soap opera fanatics will fare no better with To Paradise's contortions than will seasoned belletrists. There is nothing to recommend it to anyone. As I trudged through the novel's 700 pages, I found myself nostalgic for books plagued only by quaint defects, such as confusing descriptions and characters who behave inconsistently—not that Yanagihara, who has a special gift for garbled metaphors and bizarrely specific yet impenetrable imagery, spares us such infelicities …
It is hard to summon the will to enumerate To Paradise's thematic or even stylistic shortcomings, for its basic construction is so irretrievably botched as to eclipse the rest of its defects. The fundamental problem is simple and devastating: the book does not make any sense … Aside from its sheer incoherence, its most notable feature is only its punishing length. On and on it goes, sprouting new subplots, amassing new contrivances. Anyone must have a brain of stone to finish it without shedding tears of relief."
–Becca Rothfeld on Hanya Yanagihara's To Paradise (Times Literary Supplement)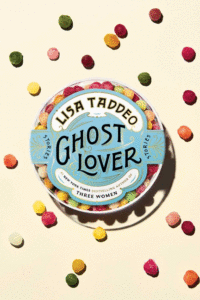 "Viral success has emboldened [Taddeo] to abandon everything patient and methodical in her investigation of women's darker appetites in favour of the literary equivalent of chasing clicks … Ghost Lover is a nine-course tasting menu that is all spice and no flavour … The main dish is always the same facile serving of female jealousy. In every effortfully flippant tale, self-conscious women compete to be the most desirable female in the room … At least the proper nouns denote actual things. When Taddeo attempts metaphor, we run into more serious trouble … Throughout, Taddeo rams words together in unexpected ways. 'His voice turned throaty, filled with wetness and trees.' Trees? …
Perhaps Taddeo has read Lolita and feels excited about experimenting with the English language. Only it feels more as if she has done the experimenting in another tongue, Finnish or Swahili, perhaps, then run a series of untranslatable local sayings through Google Translate … In the course of producing this Goop noir, Taddeo has abandoned any interest in women as complex, conflicted humans. Her characters are myopically focused on blow-dries, blow jobs and brow tints … Inspires depression."
–Johanna Thomas-Corr on Lisa Taddeo's Ghost Lover (The Sunday Times)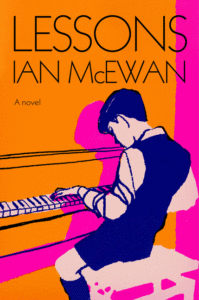 "Everything in Lessons, whose story concludes within a year and a half of its publication date, gives the impression of having been written in extreme haste. Its prose, for example, is pocked with first-order clichés, second-order clichés, dull metaphors, mixed metaphors, limp similes, oxymorons, pleonasms, catachresis, jejune diction, trivializing double entendres, pomposities, flagrant abuse of self-reflexive questions, and barely-concealed cribbings from more talented stylists like Nabokov … Within the first fifty or so pages, Roland experiences no fewer than three portentous epiphanies, none of which turn out to have any bearing on the subsequent four hundred, as though they were narrative coupons McEwan cut out but forgot to cash in …
McEwan's novel is not so much an epic as it is three novellas in a trench coat … If this all sounds pat, it has less to do with the necessary evil that is plot summary in book reviewing, than to the didacticism with which McEwan imparts these and other praecepta in the novel itself. Yet perhaps worse than the way the book comes pre-interpreted for the reader is the way it comes pre-criticized … The trench coat is History. Draped loosely from the backs of these three narratives are hundreds of named political and cultural events, persons, and phenomena, starting with Dunkirk and ending with the storming of the US Capitol on January 6, 2021, which range from the genuinely consequential to the merely newsworthy to the unmentionably trivial."
–Ryan Ruby on Ian McEwan's Lessons (The New Left Review)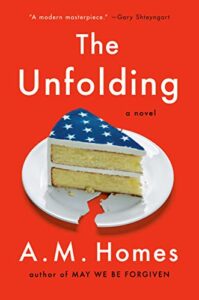 "There is a good, though not excellent, short story hidden somewhere in the four hundred pages of A. M. Homes's The Unfolding … But on balance, The Unfolding is depressingly shallow, arriving too late and with too little intelligence, humor, wit, or insight to be useful or entertaining … The plot is simple … The structure—dilating and contracting across a narrow band of time—works best in subtly paralleling personal and familial breakdowns with national upheaval, but at its worst, the form makes this novel feel interminable … Homes is dedicated to the idea of these men as so pickled by their own vice and privilege that there's not an intelligent thought to be found among them. They remain static in their grumbling and their vague schemes, which prevents the irony from deepening or sharpening its critique. What ought to be a central driver of the plot or the evolution of the novel's themes becomes an inert gimmick …
Homes trades away her characters' convictions and depth for attempted comedic effect. No contrast. No pathos. These men are hollow, which makes the story itself hollow … Homes for some reason describes any surface or object that comes into contact with her characters as though she were writing about the contours of the human soul. Do we need to know what the taxi seats feel like? … I was bored by this book. By its lazy stances, its lax politics, and its rote writing."
–Brandon Taylor on A.M. Holmes' The Unfolding (4Columns)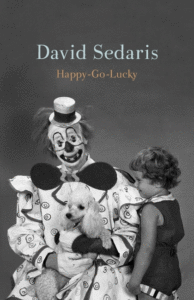 "The institutional tone in 21st-century humor is unequipped to deal with anything that matters. In Happy-Go-Lucky, his new collection of essays about the pandemic, aging, and the slow but inevitable death of his father, David Sedaris simultaneously asserts himself as the undisputed past master of this tone and captures its fundamental weakness, applying the style he has developed for the last 30 years to a subject matter for which it is almost eerily unsuited … It is ironic, then, that relatability also turns out to be the absolute bête fucking noire of this collection, cropping up again and again to recast Sedaris not as the antsy everyman we grew up with but rather as some kind of moneyed Aspergers case …
For a different author, that would be comedy gold—or at least a bracing opportunity to try something new, to go somewhere more vulnerable and potentially less funny, but also maybe incisive and bittersweet in a way that made the late-life output of funny writers like Twain and Joan Didion so paradoxically invigorating. But Sedaris can't seem to do it. Either he doesn't have enough tools in the box or he just refuses to look too closely at any of these understandably difficult subjects, so instead he writes about them in the same tone he used to write about department-store Santas and being bad at French, with disastrously jarring results …
Sedaris is like the social director running around the deck of a listing cruise ship, frantically playing for laughs and doing jazz hands while the reader wonders whether he doesn't know the ship is sinking or just refuses to acknowledge what's going on … A man with a dozen houses confronts death, the coronavirus pandemic, Black Lives Matter, and broad cultural changes that he cannot fully understand. 'Ha ha!' he says. It sounds just like a laugh, just like it always has, except it does not sound true."
–Dan Brooks on David Sedaris' Happy-Go-Lucky (Gawker)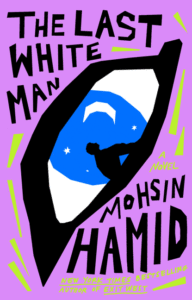 "Even if you're unfamiliar with this tradition of stories about race transformation, you'll suspect what's coming … Tone above all distinguishes Hamid from these precursors. Whereas most of these writers bend race transformation toward satire, offering us topsy-turvy and hysterical tales, Hamid is deeply earnest about his conceit. The novel is that wan 21st-century banality, a 'meditation,' and it meditates on how losing whiteness is going to make white people feel. Mostly sad, as it turns out … The sex improves; the prose does not … The novel evinces the worst of Hamid's style …
As in his earlier novels about social mobility and immigration, romance supplies the plot and casts an aura of 'love' over the politico-speculative gimmick … This is the novel's cure for white despair over the loss of whiteness: Keep calm and carry on … What exactly is being born—or rather, borne? Darkness in The Last White Man is an ordeal. Those who were already dark have little presence and no internal life in the novel … If Hamid's novel were a self-aware satire of this ideology of whiteness and its violent effects, it would be pitch-perfect. But The Last White Man's structure affords us no way to know if this is what Hamid intends: It includes no higher judgment, no specific history, no novelistic frame against which to measure the reliability of the narration, no backdrop across which irony can dance …
The Last White Man feels like a primer for mourning whiteness, not a critique of it … It's one thing for a character to be afflicted with blurred vision or the race 'blindness' that grants Oona a 'new kind of sight'; it's another for the novel to suffer the same confusion of perspective."
–Namwali Serpell on Mohsin Hamid's The Last White Man (The Atlantic)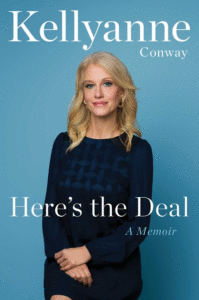 "… surely the nastiest Trump administration memoir yet, and possibly, given Conway's track record, the most flagrantly dishonest … in 500 pages packed with more score-settling than a Quentin Tarantino movie, Conway gives free rein to her contempt for Jared Kushner, Steve Bannon, Mark Meadows, Brad Parscale, Reince Priebus, Sean Spicer, and countless other unnamed male Trump staffers … let no one call this book meticulously edited … When she can't confuse a discussion with arguments as tangled as a pailful of eels, Conway simply avoids it … feels most alive when she's seething at the 'overrated, underachieving men who had ridiculed and dismissed me for years' …
Can be read as the delusional account of a woman blind to the shortcomings of the powerful man who gave her a shot. But it can also be read—will be read, by those who matter—as an advertisement for her own consultancy business. She's such a skilled prevaricator that I found myself wondering if she really hates all those male GOP consultants so virulently—or is she just taking out the competition? Furthermore, the ease with which she burns her bridges with Kushner while buttering up her one-time client Mike Pence make clear who she thinks her party's next candidate will be. Only a fool would trust her, but only a bigger fool would write her off."
–Laura Miller on Kellyanne Conway's Here's the Deal: A Memoir (Slate)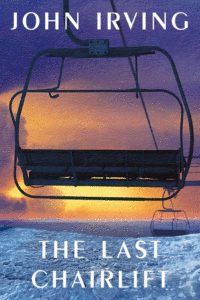 "John Irving's 15th novel is 11 shy of 900 pages long. And boy, did I feel every one of those pages … a baffling amount of weak literary explication and juvenile political opining … The most notably shoehorned element (and there are many, including the ghosts that irritatingly scamper throughout) is the inclusion of excerpts of Adam's film script—so unnecessary and ill-advised in this already flabby book, it's difficult not to wonder if this might have been a rejected love-project of Irving's …
The truly discomfiting aspect of this book, though, has to be the hyper-sexualisation of the female characters therein. Early on, a young woman's loud orgasm is described or referenced, by my count, 16 times. Yes, Irving could argue that this is told from a teenage boy's perspective, and thus that focusing on all things arousing is only natural. But these leering and, again, endlessly repeated descriptions, read more like the errant mental wanderings of a horny older man than the thoughts of a pubescent boy … There is so much more I could've written, but thankfully, unlike Irving, I have a word count to consider."
–Sweeney Byrne on John Irving's The Last Chairlift (The Irish Times)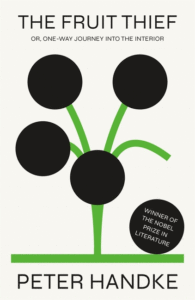 "As an avant-garde firebrand in the 1960s, Handke wrote an 'anti-play' titled Offending the Audience, but now his strategy has shifted perilously close to Boring the Audience to Tears. Much like the narrator imagining the character of the fruit thief, I kept trying to envision a subset of readers who genuinely find this stuff delightful. Lacking most of the elements that draw people to fiction—insight, suspense and so on—it falls to either the language or the narrative material itself to make the novel worth the reader's while. Although both have their moments—a mad speech in the final pages, an interlude at an inn that takes on the lighting and atmosphere of old European folk tales—the meal served up by this deeply eccentric novelist is spare and saltless, with no wine and no dessert. I suspect it's the destiny of such an uncompromising writer as Peter Handke to end up writing basically for an audience of one. His most loyal readers, perhaps, adopt an attitude of veneration, hushed and solemn and more or less bored, the way many people attend Mass."
–Rob Doyle on Peter Handke's The Fruit Thief (The New York Times Book Review)
*
Hungry for more harsh critiques? 
Reacquaint yourself with The Most Scathing Book Reviews of 2017 , 2018, 2019, 2020, and 2021.
---