On Finding the Balance Between Solitude and Community at an MFA Program
For Sanjena Sathian, a Room of One's Own Came with Roommates
On the thirteen-hour drive to Iowa City, where I was due to begin graduate school, I could think only of the attic. I hadn't seen my future home in person. I'd signed the lease on it from afar almost entirely because of the blurry Craiglist photos of the attic—a tunneled sunny space with an angled roof, which the landlord said past tenants had used as an art studio. I filled in the rest: a room of my own, a door that shut, a table all mine, the crucial solitude required to at last become a Writer.
When I pulled onto South van Buren Street at 2 am, I did not immediately make for the space in question. I may have been afraid it would let me down. But in the mid-August daylight, I dared crack the door. The staircase was steep, with slippery, worn carpeting. The room itself was long—24 feet; I measured it later to get my home-office tax deduction—and about seven feet at its highest, slanting steeply on either side so that even I, at five-one, knocked my head on its lowest flanks. The walls were made of some imitation wood, maybe vinyl, and a few boards gaped open, exposing beams. The carpet was rubber-cement gray. A window A/C unit was slathered in cobwebs. A stink bug landed impertinently on my forearm. I yelped. There were two windows. Through one, you could see the overgrown backyard. Through the other, the handful of other houses on the street, all with more recent paint jobs. I began to feel nauseous with what was to come, already afraid I'd spend many hours failing and fraying up here.
*
I had attempted solitude before. One summer in a small town in the tea hills of eastern Nepal. An autumn in the basement of some friends' co-op in Boulder. Both times I hoped to enter a profound, silent anonymity and emerge a Writer. Nepal yielded about 700 salvageable words; Boulder, only a realization that I had to toss my second major attempt at a novel. Both times I felt myself revealed not as a Writer but a madwoman and fraud, defeated by both the projects' wrongness and by the frightening directions my mind veered while in isolation. How it turned on me, hated the work, hated itself.
Virginia Woolf, told us, of course, that a woman needed money and a room of her own to write. But I was interested in the more extreme advice of Rainer Maria Rilke: to walk inside yourself and meet no one for hours. Not just space, but a great separation from the known world.
The latest geography I had hoped would magically turn me into a Writer had been India, where I moved to be a reporter. That time, I foiled my own plans when I decided to bring along a new boyfriend. I think I did so in part because the memory of the old lonelinesses, and their accompanying spirals, remained visceral. It was a self-protective instinct that proved to be an overcorrection.
Virginia Woolf, told us, of course, that a woman needed money and a room of her own to write. But I was interested in the more extreme advice of Rainer Maria Rilke: to walk inside yourself and meet no one for hours.
In Bombay, nothing felt my own in C. and my shared flat. No doors could shut against our constant fights. I had nowhere to sit and work. C. adhered to the standing desk movement, which meant in our living room there was no writing surface, only a comical heavy wooden table the height of a bar, and two inhospitable stools. For a feature I never finished, we hired and expensed to my employer a vastu shastra (Indian feng shui) consultant. He advised on where to place an image of the goddess of prosperity, Lakshmi, but not where to place a person who wanted to be left alone to write.
After two years in India, I found myself packing for Iowa, having broken up with C. The pendulum swung again: I craved the loneliness. I was not about to let anything puncture the quiet of my life in the cornfields.
*
Parts of Iowa City are picturesque college-town idyll, literary romance; South van Buren is not. The house sat up the way from a sex shop called Romantix, and a gas station-liquor store whose Desi owners demanded two forms of ID from me and zero from anyone else. Nearby, next to a vacant dog wash, a dimple-chinned podiatrist named Dr. Paul Sehl grimaced at drivers on Highway Six from his billboard, our own T.J. Eckleberg. Dr. Sehl's neighbor in the Iowan valley of ashes was a brick jazzercise studio which I never saw anyone enter, though the sign changed regularly—something like LADIES NIGHT FREE LADIES morphed into something like SATURDAY ALL GIRLS DANCE PARTY.
But the attic was Romantic, hold the x. I had a table of my own—one where I could sit. I pushed it up against the window and draped it with Nepali prayer flags and twinkle lights. A pile of expired stinkbugs gathered by my postcard of Flannery O'Connor, who watched me write. I covered the desk with post-it notes of spare ideas, and, soon, plot points for the novel I was beginning. Every morning around ten, a hefty man on the block walked his purse-sized dog. He did so again in the afternoon, around two. I sat down just before the first walk and rose around the time of the second. So far, I was not losing my grip. I was even doing some writing.
It turned out, though, that what mattered as much as what happened when I shut the attic door was what happened when I opened it.
I'd found a roommate, Janelle, a poet in my graduate program. When I descended from my attic, she and I ran into each other in the kitchen; she was sometimes just getting up around the time of the tiny dog's second walk. We talked easily and expansively—about race, immigration, and feeling multiplicitous. At times, we had both found our realities overwritten by men; we both knew what it was like to feel we'd gone mad. She could move from scatological humor to serious discussions about biopower in a breath, and her poetry displayed a similar enviable range; she grasped the political in the personal, and could laugh at both. I wanted to think more like her, to write more like her.
Outside South van Buren, I made a handful of other friends. The first was Andrew, another fiction writer who was living in a bed and breakfast on the postcard-quaint side of town. I often drove Andrew back to the B&B, and we'd sit making no eye contact, addressing the cobblestone street, talking while my car idled. We unpacked differences between novels and short stories, laid out our thoughts on expository versus reticent narrators, sometimes disagreed heatedly over favorite books, other times agreed on shared patron saints. It seemed like he'd already read every canon, watched every film, and sustained every epiphany I was just coming into about literature; his fiction—he was already working on a second novel—reflected that same confidence. I wanted to keep up with him in conversation and on the page. I desperately wanted him to like my work.
In December, Andrew, seeking something more permanent than the B&B, asked after the unused third bedroom in the South van Buren house. The third bedroom was in a clammy basement that our washing machine frequently flooded. Painted in black on the door to the bedroom was the word HACK, a hangover from our landlords' incomplete remodel. Janelle used the room when she was putting on makeup, pregaming a poet party with vodka and Powerade. Also, the shower down there was infested with spiders Janelle refused to evict. It did not seem suitable for living, and I said as much. Privately, I was afraid someone new—even someone I liked—might puncture my fragile equilibrium between quiet and conversation. I blew Andrew off. But then Janelle ran into him at a party, and, perhaps with some help from the vodka and Powerade, cheerily invited him to live with us. He moved in that January.
*
Andrew woke earliest of us all. We'd run into each other while I was fixing breakfast and he was on his way out the door to write in a café. I at first dreaded the morning encounter. C. and I often fought in the morning. A small comment over masala eggs escalated, brutalizing the possibility of quiet, or writing. But Andrew and I simply did not speak. He came up from the basement with his headphones in, hat and gloves on. He'd raise a single hand, the same way I would stop traffic crossing a road in India. I'd lift my eyebrows in greeting. I've been told that this is aberrant roommate behavior. For me, it was a gift.
Shortly after my neighbor's dog's second walk, I'd find myself in the living room, eating leftover tempeh, while Janelle heated up frozen okra and garlic bread, and Andrew slurped tomato soup. We talked shit and talked projects. Sometimes one of us was so disgusted with our own work that nothing could be said. But other times, articulating the source of the self-loathing which might otherwise have festered in solitude felt like lifting a window, letting the air in. Or, like cracking a door.
A mention over lunch of my struggles with the structure of the second half of my novel-in-progress, followed by Andrew's twin confession, led to a morning when we did actually speak to one another, working through our outlines at the coffee table for several hours. That day probably saved me six months of private agonizing. Andrew's intuition about plot, which he reminded you was only as good as the characters you drew up, caused Janelle to deem him the "Plot Rabbi." Janelle popped in and out of our pastoral care sessions, sometimes reading us her latest—poems eventually collected in her first chapbook, Like a Thin Hustle—and her work reminded me, amid all the outlining, that art requires irreverence and spontaneity.
Sometimes, articulating the source of the self-loathing which might otherwise have festered in solitude felt like lifting a window, letting the air in. Or, like cracking a door.
There were other friends, too, who came through the space made possible by our cracked doors. The novel I completed during those years, Gold Diggers, is a product of that particular constellation of people. I risked what I thought was my most precious solitude and gained everything.
I've spent the two years since leaving Iowa constantly trying to find a space as good as my attic. I lived in India, New Zealand, and Alaska, all infinitely more interesting places than Iowa City, but all of which lacked my perfect room, and of course, those roommates.
When the pandemic sent me back to my childhood bedroom in Atlanta for four months, I grew jealous of Janelle and Andrew, both of whom were posted up with their respective partners in the Midwest and Northeast. I suspected they might not need me anymore. But then would come a buzz on our group chat, still titled after the house that is no longer ours. One of us is obsessed with a certain novel. One of us loathes that book. Debate ensues. Even when we fall silent with each other for long periods, the denizens of South van Buren still penetrate my hard-won solitude. Considering a sunset adulterated by smog, I try to hear how Janelle, with her gift for noting the simultaneous beauty and grime of an image, would describe it.
Eavesdropping on a conversation between rich Southerners, I borrow Andrew's ear for comic dialogue. When I wonder about my career, I hear the batty yet sensible counsel Janelle used to offer Andrew when his first novel, The Altruists, was about to be published: "Think of it this way," she'd say. "You're already dead. The book's already come out. It was already a hit, or it was already a flop, but you're dead, so it doesn't matter." I hear Andrew's self-bracing sigh, which precedes and ironizes his more sentimental statements, and then his somber reflection that the point is not to reap anything, but to simply be granted the chance to write, and look at us, doing that every day. And I remember what it was like to sit in our living room as Iowa iced over outside, as '90s hip hop bumped, and we fell silent, lulled by each other's company.
______________________________________________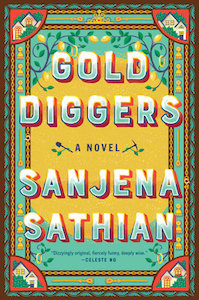 Sanjena Sathian's Gold Diggers is available now via Penguin Press.
---