Corrupt Russian Oligarchs Trying to Destroy You? Better Call John Moscow
Bill Browder on What Happens When You Name and Shame the Bad Guys
In 1989, the same year the Berlin Wall came down, I graduated from Stanford Business School. Three years after that, I joined the East European desk of the US investment bank Salomon Brothers in London. The opportunities were so great in that part of the world that, in 1996, I moved to Moscow to set up a hedge fund called the Hermitage Fund. I named it after the Hermitage Museum in St. Petersburg, where Russia keeps its most precious art treasures.
Running the fund wasn't smooth sailing. The companies we invested in were being robbed blind by Russian oligarchs and corrupt officials.
My compatriots in the financial markets blandly accepted this as the cost of doing business in Russia, and nobody said a thing. But I couldn't accept that a small group of people could steal virtually everything from everybody and get away with it.
I decided to fight back. Instead of just focusing on companies' income statements and balance sheets like normal fund managers, my team and I would research how money was being stolen, how the thieves were doing the stealing, and who pocketed the stolen money. We would then use this information to file lawsuits, launch proxy fights, and brief government ministers on the damage this was doing to their country.
This activism had some impact, but our most effective weapon was to air this dirty laundry with the international media.
I didn't have to put a complete stop to the stealing, I just needed to create enough pressure for marginal change. The share prices of the companies were so undervalued that any improvement would push up their valuations dramatically.
The more our lawyers dug, the worse things got.
This naming-and-shaming approach turned out to be remarkably profitable, and the Hermitage Fund became one of the best performing funds in the world. At the height of my career, I was responsible for $4.5 billion invested in Russian equities.
But, of course, exposing corrupt oligarchs didn't make me very popular in Russia. And in time, my actions led to a cascade of disastrous consequences.
In November 2005, Putin declared me a threat to national security and expelled me from Russia. In order to protect my clients' assets, my team liquidated the fund's holdings in Russia. I also evacuated my team and their families, including our chief operating officer, Ivan Cherkasov, and our head of research, Vadim Kleiner, to London. This evacuation turned out to be prescient.
Eighteen months later, our office in Moscow was raided by dozens of officers from the Russian Interior Ministry, led by one Lt. Col. Artem Kuznetsov. At the same time, the Interior Ministry also raided my lawyers' office in Moscow. The items they seized included the seals and certificates for our investment holding companies, which proved our ownership. (The seals were mechanical devices used to make embossed impressions on paperwork—you couldn't do any company business without them.) These were then passed to Maj. Pavel Karpov, also at the Interior Ministry. While these items were in his custody, they were used to fraudulently re-register the ownership of our investment holding companies to a group of violent ex-convicts.
Because we'd liquidated our assets, these holding companies were empty, so their theft wasn't a major financial blow. I might have left it at that, but the Russian authorities had opened a criminal case against my colleague Ivan Cherkasov as a pretext for the raids. If Ivan had still lived in Russia, this case would have been disastrous for him. He would surely have been arrested and detained. However, even if he was safe in London, we still had to defend him, or it would come back to bite him.
To do so, we hired a team of Russian defense lawyers. Working together, they quickly found evidence proving that the case against Ivan had been fabricated.
In the process, though, our lawyers made a shocking discovery. The people who had stolen our holding companies had also forged documents to claim those companies owed $1 billion to three empty shell companies. The shell companies then sued our stolen companies in three separate Russian courts for that fictitious $1 billion. Lawyers working for the criminals represented both plaintiffs and defendants, who pleaded guilty. Corrupt judges then approved the fraudulent claims with no questions asked in five-minute hearings.
The world is full of defense lawyers, but what we needed was an attack lawyer. As I searched, four separate people gave me the same name: John Moscow.
We didn't know what they would do with these fraudulent claims, but because corrupt police officers were involved in this case, we hoped that once we reported them to Russian law enforcement, they and their criminal partners would be arrested and prosecuted, and the case against Ivan would be closed.
In early December 2007, we filed three separate criminal complaints in Russia, naming the officers involved in the fraud, including Kuznetsov and Karpov. However, instead of launching a real investigation, the Interior Ministry assigned Karpov to the case, effectively to investigate himself. His first "investigative action" was to initiate a criminal case against me. He subsequently placed me on Russia's domestic wanted list.
The more our lawyers dug, the worse things got. In June 2008, one of them, Sergei Magnitsky, discovered that the criminals had used our stolen companies and their fake claims to apply for a fraudulent $230 million tax refund. This was the same amount of taxes our companies paid in 2006 after liquidating our holdings in Russia. The refund request was approved in one day, on Christmas Eve 2007, and paid out two days later. A large portion was wired to an obscure Russian bank called Universal Savings Bank. Altogether, it was the largest tax refund in Russian history.
Universal Savings Bank was owned by a shadowy figure named Dmitry Klyuev, and could hardly even be called a bank. It was ranked as the 920th "largest" in Russia, with only one branch and total capital of $1.5 million. It was more like a shell company specializing in money laundering than a legitimate financial institution.
Our lawyers filed new complaints, hoping for a different response. Maybe the Russian government didn't care about a foreigner getting ripped off, but certainly they would be offended by the theft of their country's own money. Instead, there was just more retaliation.
The criminals dispatched two of their associates to London, who went to the DHL office in Lambeth, a neighborhood just across the Thames from Westminster. From there, they sent documents that had been used in the fraud to one of our Russian lawyers in Moscow. They put "Hermitage Capital Management, 2 Golden Square, London, England" as the return address on the package. The goal was to make it appear as if we had sent the fraudulent documents from our office in London to our lawyers in Moscow.
Almost as soon as the package was delivered, the Interior Ministry arrived at our lawyer's office in Moscow and "seized" the documents.
Afterward, our lawyers were summoned for interrogation by the Interior Ministry. The picture was now crystallizing. Our adversaries were going to frame us for the theft of the $230 million, and our lawyers were on the front line. Two of our lawyers quickly fled Russia for London under cover of night, but one stayed—Sergei Magnitsky. We begged him to leave as well, but he wouldn't. He believed Russia was changing for the better and that the rule of law would ultimately protect him.
If he was going to stay and fight, he needed reinforcements.
The world is full of defense lawyers, but what we needed was an attack lawyer. As I searched, four separate people gave me the same name: John Moscow. I laughed every time I heard it.
"I've spent a lot of time locking up bad guys. This is what I do."
John Moscow had served at the New York District Attorney's Office for 33 years and was one of their most aggressive prosecutors, having led fights against domestic corruption and international financial crime. He was renowned for being the lead prosecutor against the Bank of Credit and Commerce International, which was at the center of one of the largest money laundering scandals in history. He also led the prosecution against executives at Tyco, a US conglomerate whose CEO and CFO were found guilty of stealing hundreds of millions of corporate funds from the company. In the mid-2000s, John Moscow went into private practice, eventually joining the New York office of the prestigious international law firm BakerHostetler.
I reached out to BakerHostetler in September 2008 to set up a call with John Moscow. His secretary told me that, coincidentally, he was in the UK attending something called the Cambridge Crime Conference. She offered to have him visit us while he was in England.
The man who arrived in our office a few days later didn't look like the vicious crime fighter everyone talked about. He was below-average height, with gray hair and a lazy eye. His demeanor could only be described as awkward.
I tried to make small talk, but he either didn't want to or didn't know how. It was only when I handed him a thick PowerPoint presentation showing the chronology of the fraud that he became animated and started asking questions.
"This Lieutenant Colonel Kuznetsov," he said, his finger resting on a picture of the man who'd led the raid on our offices. "We need to prove what happened in the raid, what he took, and where that stuff showed up afterwards."
"That's no problem," I said. "They actually left an inventory of what they seized."
He smiled. "Is that an official document?"
"It is." Russia is fastidiously bureaucratic. They keep track of everything.
"That's helpful." He flipped through a few more pages of our presentation. "Now, these seals and certificates–"
"Yes, those were used to re-register the companies' ownership."
"If this thing ever goes to trial in the US, you'll need someone who knows Russian law to describe how these corporate seals work. Anyone come to mind?"
I liked the way this guy was thinking. The thought of a trial in America was a lot more than I'd even considered when I first called him.
"I'm sure Sergei Magnitsky would testify," I said. "He's one of the smartest lawyers in Russia."
"Good. The key to any successful prosecution is the quality of the evidence and the credibility of the witnesses."
"Does it bother you that we'd be going up against some really dangerous people?" I asked.
"Bill, I've spent a lot of time locking up bad guys. This is what I do."
I now understood where his reputation came from. I definitely wanted him on our side.
______________________________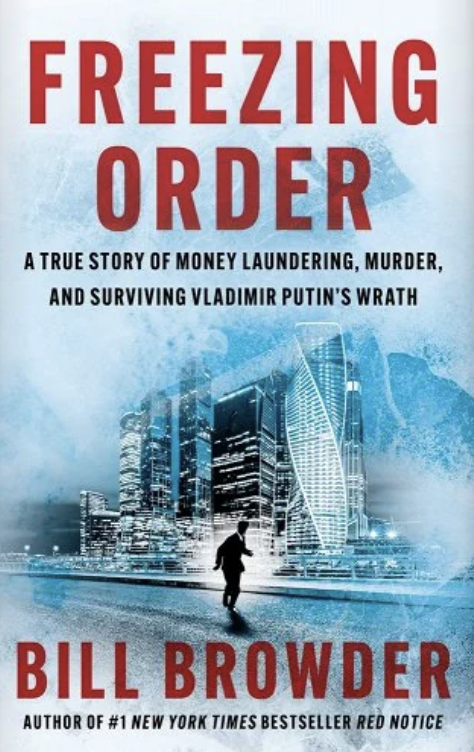 From Freezing Order by Bill Browder, courtesy Simon & Schuster. Copyright 2022 Bill Browder.
---